Kiri: Eye on the Revolver
The mind behind Revolver's witty designs talks about his role at the esteemed Japanese label.

1 of 2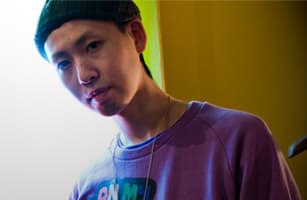 2 of 2
Shortly after creating a buzz with his last fall/winter collection, Revolver's head-designer Kiri gave us an opportunity to check out his Harajuku studio and share his thoughts about the state of Japanese street fashion and the evolution of Revolver. Find out more about one of the most influential designers in the industry in our interview below.
Interview with Kiri (Creative Director of Revolver)
First of all, congratulations! Revolver has celebrated its 10th year anniversary last October in Paris. What does this mean to you?
Thank you… I have had various experiences in these past ten years and there are also many more things I'd like to accomplish. I have had numerous new encounters with different people who inspired me and I always felt there is so much more to do. I never really had the chance to reflect back on these past 10 years so it is hard to answer this kind of question…
Over the past 10 years, you've become a reference for the Japanese street fashion scene. Could you tell us more about the evolution of the industry here in Tokyo?
Back when I started, there weren't many Japanese street fashion brands. Revolver belongs to the generation which came shortly after Undercover and A Bathing Ape. However, three to four years after we started, there have been many new brands popping up everywhere. It was like almost anyone could start a brand. For instance, a stylist, model and even a hair stylist! But when they started, it was easy to see the end… it boomed and it peaked very quickly.
In a previous interview with Bedwin's Masafumi Watanabe, he mentioned that this time period is like the "winter" in Japanese street fashion in terms things were quiet and in a state of hibernation. How do you feel about that?
That's why only people with ability and skill can survive in this field. For me, it is all worth it. The times have changed, we won't sell as much as we used to but it doesn't make it less exciting. I am having much more fun now despite it being harder to sell. I feel its a lot more satisfying and worth while compared to the time when it was very business like.
Recently, we've seen you collaborating a lot with So-Me and the Ed Banger crew. Could you tell us more about your relationship with them, how you guys connected?
It was four years ago. I did some work with SO-ME's agent in England. At that time, one of this agents' artists had a book out on the coffee table and I took a look at it. I didn't know much about ED BANGER. I didn't know anything about SO-ME or even that he was French. I liked what I saw in the book and became interested. I asked the agent who he was and what he was like. The agent told me that he was young and interesting and that I might get a chance to work with him. So when I was planning for my next exhibition, I thought about SO-ME and decided that I would really like to work with him. I contacted the agent and SO-ME contacted me back directly. Through emailing back and forth for a while I learned about his hobbies, likes in music and movies. I felt we had a lot in common and similar taste. Whenever I asked SO-ME to come up with something, he always did even more than what I had expected. During this whole time, ED BANGER started getting big and when Pedro (BUSY P) visited my office we talked about doing a collaboration but it wasn't anything huge, it was casual like, "yea, let's do something together". Not a business move but more like friends working together.
Your brand's image and also the music that you spin are influenced by the "golden years" of Hip-Hop. What's your opinion on Hip-Hop nowadays?
I'm more influenced by the Hip-Hop of the late 90's. Artists such as The Neptunes, Timbaland, Swizz Beatz. I really liked Common's new album (Universal Mind Control) because it had a new sound. When I listen to a new album I am always looking forward to hearing things I haven't heard before. I am very receptive to new sound!
How do you feel about Kanye West wearing one of your shirts?
There is a story behind that. VERBAL, of TERIYAKI BOYZ is good friends with him and when VERBAL came to one of my exhibitions he picked out that shirt and said, "Kanye would definitely like this shirt…" Verbal then put in an order for Kanye. Verbal introduced me to Kanye at a Dior Homme party and Kanye said to me, "I need that shirt!". So I thought, I have to get him this shirt. I received an email from SO-ME saying Kanye really wanted that shirt so I immediately sent it to him. I was really happy that he wanted the shirt that badly.
Could you tell us more about your winter 08-09 collection, a lot of interesting collaborations… SO-ME, Phenomenom, Roc Star …
With SO-ME, it wasn't really a collaboration. Yes, he is an artist from Ed Banger but he was more like the art director for REVOLVER. He has been doing it for three and a half years now. Usually I give him a theme and it is mixed with the many ideas he has himself. This time there wasn't any specific theme it was very mixed and various.
With BIG-O, we collaborated on the stadium jacket. We thought that there hasn't been one in a while so we thought why not.
Recently, the Revolver-related articles on HYPEBEAST have sparked off some interest amongst our viewers. How do you feel about that?
I am definitely happy to hear that. As I mentioned earlier, there are many brands that are fading out however there are still a lot of great things happening out there. It isn't the greatest era for Japanese street fashion at the moment but when i receive this type of positive feedback it really makes it all worth while.
Interview: Jey Perie
Photography: James Lisle
Translation: Mariko Gale