Corbin Shaw Comments on UK Food Inflation With Tesco-Customized Louis Vuitton Bag
"Death, Taxes and Supermarkets. Tesco Expense. Makes u think dunt it?"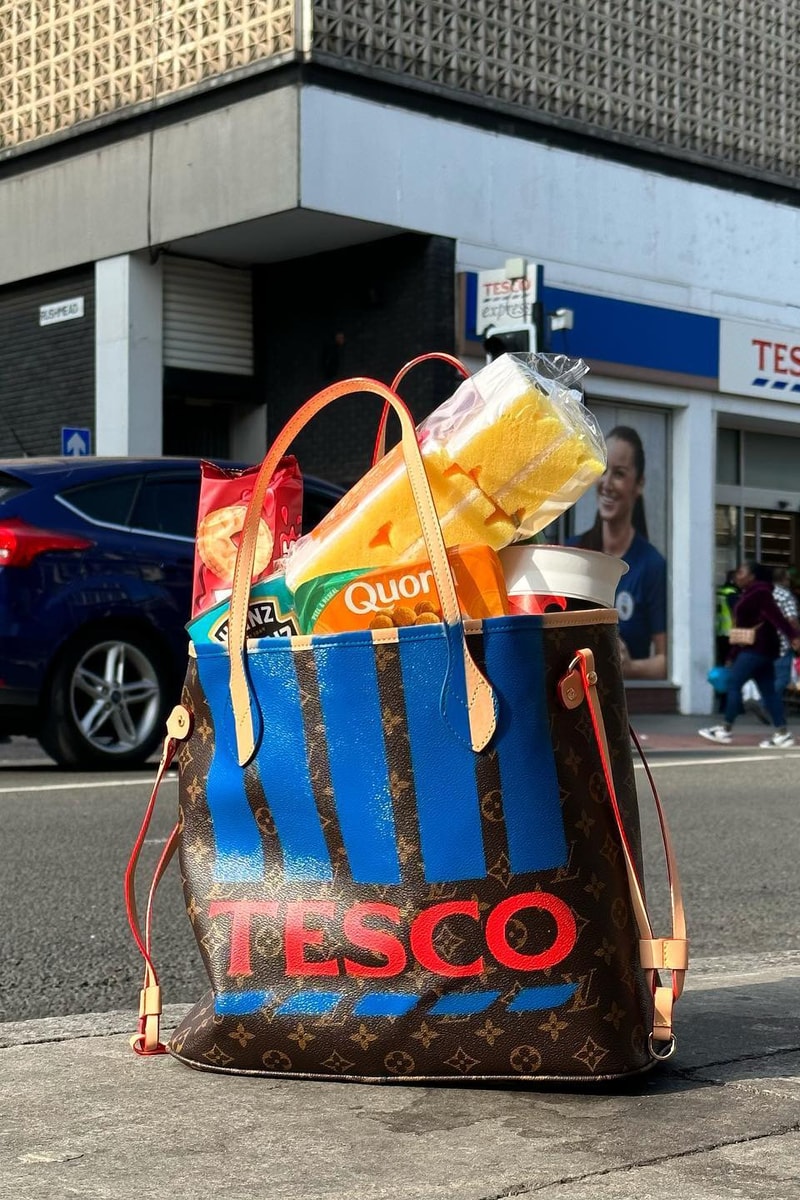 Corbin Shaw Comments on UK Food Inflation With Tesco-Customized Louis Vuitton Bag
"Death, Taxes and Supermarkets. Tesco Expense. Makes u think dunt it?"
With food prices at an all-time high and the UK government considering putting a cap on those rising prices to curb the cost of living crisis, and inflation mixed with Brexit causing our favorite cheeses to rise by 80% and fruit and vegetables being rationed, it's safe to say the state of the UK is in disarray. This is the topic on everyone's mind, notably the London-based artist Corbin Shaw who has revealed his latest work, inspired by the UK supermarket Tesco.
Taking to Instagram, Shaw notes: "Death, Taxes and Supermarkets. Tesco Expense. Makes u think dunt it?". This is the caption related to his new work — a customized Louis Vuitton tote bag painted with Tesco's logo.
The correlation, or sarcastic remark, made here alludes to the fact that even a supermarket such as Tesco (which is considered one of the more affordable places to shop in the UK), is now another place hit by the cost of living crisis. Once a place for affordable buys is now hit by inflation, affecting anyone who shops there.
Additionally, the Louis Vuitton tote bag is being used as a shopping bag. The comparison and commentary is clear, once again showing how Shaw explores the hardships of modern-day life in Great Britain, à la his Laws to Live by, Laws to Eat Off series that aimed to offer more affordable art, or his work Foreign, 2021, commenting on the irony of what built England.
Take a look at Corbin Shaw's latest piece above.
In other news, a new documentary is coming that explores artists choosing to stay in Ukraine.