Roadtripping With the New Range Rover Sport
A jack of all trades, and a master of them all.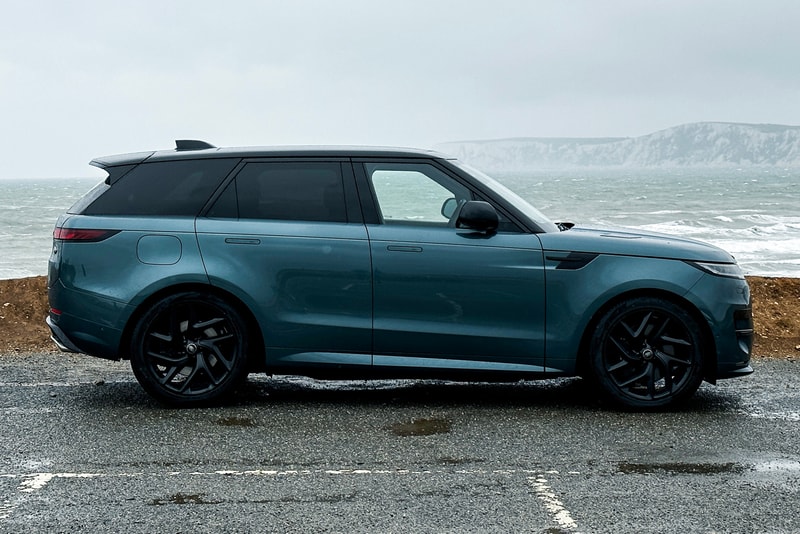 A Range Rover Sport is a rite of passage. It's a car for grown-ups who don't want to grow up; you tell the outside world that you've got it together, but only you – the driver – know what you're really up to. You could buy the fully-fledged Range Rover, but you're not the kind that goes rambling on a Sunday jaunt. Nor are you shooting in the Great British countryside, or a motorway-blasting executive who wants to be chauffeured in luxury. 
No, by owning a Range Rover Sport you're saying one thing: I want to be able to do all of the above and to have fun at the same time. This is a tall order for Land Rover Range Rover's teams, as it has to pack driving dynamics, style, sophistication, technological advancements, performance, handling, and, above all else, off-roading credentials into a sporty-looking-and-feeling package. 
With the New Range Rover Sport, this has been achieved – and then some.  
Having spent the best part of a year with it, we've gotten to know and, inevitably, fall in love with the new RRS. It's a gentle giant of a car, weighing in at almost 2.7 tonnes. Our £93,660 plug-in hybrid three liter six-cylinder turbocharged variant, which is slightly heavier than usual thanks to the additional batteries on board. Earning its "Sport" moniker is the 440 BHP that it produces, charged to all four wheels via an advanced four-wheel-drive system that features rear-wheel steering, helping it manoeuvre around town. 
Aside from those headline figures, few owners will ever experience the full potential of the RRS. Little did you know, the new model has enough technical gubbins to get it up The Spillway – a large dam that was no match for the RRS – and even on a day-to-day basis, there's much more to the RRS than just being a high-powered SUV. 
It's capable of providing you with anything you'll ever need, every time. It can wade through water; crawl up, down, and along the most treacherous of terrains; it can be switched into a multitude of driving modes depending on the demands ahead of it. But it does all this while providing a thoroughly relaxing experience. It's a jack of all trades — but also a master of many, too.
The  RRS will seldom be taken off-road, instead reserved for the city streets of London and the occasional backroad blast. That was until Hypebeast took the car to the Isle of Wight – a small island 14 miles off the British coast. 
It's a place drenched in natural beauty, and its elements and terrain throw up challenges to even the most experienced drivers. Forget enjoying a twisty and tricky section of tarmac, as all you'll be concerned about is keeping the RRS between the white lines and on the road itself. Sheer drops on either side and blind corners combined, it's the only place we felt was fit enough to put the RRS through its paces. Can it be sporty, refined, dynamic, and a true 4×4 all at the same time?
Of course. It's a Range Rover Sport – the last word in conquering the above elements. 
In "Dynamic Mode," the RRS kicks its sports gearbox into action, allowing us to use paddle shifters cut in metal to find the car's sweet spot. Feedback is impressive for a car of these proportions, giving confidence at every bend and turn before using its 440 horsepower to sprint down straights. Brakes are sharp and regenerate battery for electric-only driving, too, so no matter how hard you push the RRS you feel like you're also helping to save the planet (well, as much as you can in an SUV, that is). 
In the meantime, our RRS is loaded up with passengers who are traveling at speed and in sumptuous comfort. It's all very Jekyll and Hyde: on the outside the car is hurtling from one side of the Isle of Wight to the other, and inside, the heated seats are on, as is Apple CarPlay and Spotify, ambient lighting, and all manner of things to keep you calm and collected. 
When it came to going off-road, the RRS had that on lock too. Switching modes is as simple as turning a dial or touching the highly-responsive infotainment screen. Before you know it, the car is raised into its most capable settings. The suspension height climbs and the car does the work for you, or if you'd rather do it yourself, you can. From sand to loose, wet muddy surfaces, and the occasional field or rock, there's little the RRS couldn't handle. And in case it wasn't already made clear – all this happens without a single hesitation, certainly not worrying its occupants inside. 
Put simply, the Range Rover Sport is the ideal all-rounder. It might be the most expensive Range Rover Sport ever produced (starting at £83,620 for the entry-level spec before rising to £171,460 for the flagship SV Edition One, before options), and it might be less sporty-looking than the previous generation, but that is no compromise. What the Land Rover Range Rover team has done is blend the panache and grandeur of the full-fat Range Rover with the Sport's spirited abilities. 
Combined, the New Range Rover Sport is the best there has ever been. Not just for the British marque, but across the luxury SUV market as a whole. Name a better "everything" car.
We'll wait.