Bernie Gross and the Nike Blazer for Hypebeast's Sole Mates
Extra Butter's creative director riffs on his love of the Blazer and how he champions community through events and releases.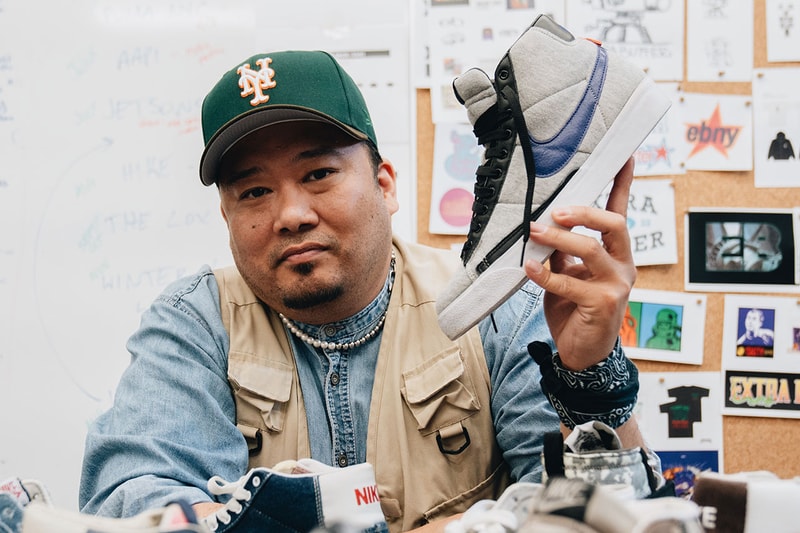 Bernie Gross — creative director at Extra Butter — approaches retail marketing in the same vein that he would breakdancing. You respect your opponents, but it's your job to compete, showcase your own style and take others under your wing so that they can keep propelling the culture in the right direction. The New York native has adopted this mentality throughout his career and has found purpose through various aspects of street culture, from design to blogging to retail strategy. "Instead of being the old head that complains about how streetwear and sneaker culture aren't how they used to be, I view evolution as fuel to engage with the younger audience and educate them on how the past has inspired the present," he told Hypebeast.
All sneaker purists have that one silhouette that they've established an identity with, and for Gross that model is the Nike Blazer. You could fill a large U-HAUL box with the coveted collaborations, unreleased samples and limited-edition colorways in his arsenal. Many of the iterations in his stash reflect his endearment for certain streetwear brands, adoration for various artists and connection to late loved ones, which is why it the Blazer is the focal point of his Sole Mates feature.
We caught up with Gross to discuss the importance of building community through Extra Butter's events and releases, what his favorite Blazer colorways are and the influence that New York sneaker culture has had on him.
What got you into sneakers?
My love of sneakers ties back to my history as a B-boy. B-boying is about self-expression and style, and one of my B-boy mentors owned a skate shop. He got me into the world of skate and Nike SBs during their golden era. Growing up as an artist and designer, I gravitated towards Nike's artist collaborations of the time as well. I remember when I first heard about Nike teaming up with ESPO and how it forced me to do more research about him. I loved the idea of Nike recognizing these artists weren't mainstream or in museums, but were still well-respected. It shifted my perspective on creativity and art, and that eventually led me down the sneakers and streetwear path.
How did growing up in Long Island and Queens influence your sneaker journey?
New York gave me the opportunity to be immersed in various subcultures like breakdancing, graffiti art, DJing and streetwear. I grew up in a great period where I was exposed to the pioneers of New York, and I befriended a lot of the young guys who had chips on their shoulders. It was important for me to have my own flair, but to be able to connect where that inspiration came from, so I learned a lot from both of those groups. The other side of the coin is that there's always been this preconceived notion that nothing energetic ever comes out of Long Island, but I always make the argument that a ton of rappers and streetwear figures are from Long Island. Brendon Babenzien of Noah is from Long Island as well as SNS' Wil Whitney. Rakim, Busta Rhymes, MF Doom and Biz Markie are also from Long Island, yet we're always overlooked.
When did the Nike Blazer first come into the picture for you?
The b-boy in me always needed to stand out, and I remember getting tired of everyone being into Jordans, Air Maxes and Air Force 1s. I felt that the Blazer design was clean and classic. It also spoke to other classic sneakers that I loved like Pro-Keds which weren't readily available since they were out of production. My dad is a lightbulb salesman that still does his own deliveries today, and I remember being a kid driving around with him on the weekends throughout Harlem, Queens, Long Island and Brooklyn, and stopping by mom and pop shops to score Blazers on discount. It became my flex to buy sneakers that no one was wearing (and at low prices, to boot) and it got to a point where if other people found a size nine in a Nike Blazer, they knew that I would buy it off of them.
"When I see people wearing Blazers and I see a crease right below the back collar, I know they're lazy."
What are some of your favorite pairs in your collection?
The OG Stüssy x Nike Blazer was one of the first Blazer colorways that I fell in love with. I was fortunate enough to find a pair in Europe for a couple of hundred bucks when I did because I think Stüssy's resurgence would have made its aftermarket prices skyrocket. I have four pairs of the "Beautiful Loser" Blazers, which were inspired by a documentary that was released in 2008 and followed the journeys of artists like ESPO, Geoff McFetridge, Barry McGee and KAWS. I thought it was so fire and was a great representation of how Nike championed up-and-coming artists because it shows that they have a beat on what's next.
The Nike Blazer "Loopwheeler" will always have a special place in my heart as well because of my late friend Poe Hwang, who was a big-time Loopwheeler fan. I worked with Poe at Freshness Mag, and he was an encyclopedia of streetwear and a true New Yorker. I get to look at that pair and appreciate the quality and craftsmanship that he admired and have them be a token of my relationship with him.
Is there a secret way that you put Blazers on?
There's no secret, the struggle is a badge of honor. You will never catch me shoving my foot in and breaking the heel. When I see people wearing Blazers and I see a crease right below the back collar, I know they're lazy. The time it takes to unlace the shoes and move the tongue so that you can slip your foot in became a personal and visceral experience for me. It's similar to the way that some people treat their denim. I don't mind beating them up, because I'm a firm believer in wearing my sneakers, but I put effort into controlling how they age.
The Blazer was originally designed to use on the court but it has become such a lifestyle icon now. What is it about the shoe that has allowed it to have this evolution and have such a long lifespan?
The lifespan of the Blazer is attributed to the fact that most basketball sneakers were adopted by skate culture. You saw a revival in the Blazer after Nike SB brought it into its assortment. It's interesting that it became a skate shoe because it originally wasn't a low top, wasn't bulky and didn't have padded tongues. It was more sleek, so if I saw someone skating in Blazers, I knew that they had a better feel for their board. I wore them more for style points over function.
Which Blazer catalog do you favor more, Sportswear or Nike SB?
I lean towards the Sportswear versions because they have less of a clunky shape. SB Blazers don't have the toe bumpers on the front and it makes the shoes look a little cartoon-y and bulky. The Vintage '77 Blazer is my favorite silhouette.
Describe the role of the Nike Blazer within Extra Butter's retail strategy.
It hasn't been a shoe that's been integral to the EB business, but every time it comes back I work with the buying team to champion it as best as I can. No matter how much I love it, I have to be pragmatic as to what the consumer reaction is going to be I use the Blazer as a metaphor of what EB is in terms of thinking outside the box. When customers come in, and they're expecting Jordans or Yeezys but see a Blazer, I see that as an opportunity for our staff to start a dialogue and hopefully open the customer's mind to other ways they can bring out their own style.
Are you glad that the wave of the Blazer being Nike's foremost lifestyle silhouette is over or did you enjoy that run?
My initial reaction to people wearing any secondary or obscure style is "Great!" because all it does is help expand sneaker culture and get people outside of the hype box. There's a great opportunity for brands to be able to venture out and paint a full picture of heritage rather than conform to an oversaturated, single model.
However, it did bum me out that the Blazer became a gym rat shoe. Growing up, the Converse Chuck Taylor was a great weightlifting shoe because they were super flat, and Converses weren't weren't as coveted. Then the Blazer came out and as fitness and wellness spiked — especially during COVID — people wanted the new and cooler flat shoe and so the Blazer became that culprit. It's great because it I'm sure the sales gave Nike the confidence to keep it in the assortment and it keeps my consumer obsession alive by hopefully seeing more colorways, but what I would love to have seen is that the shoe was integrated more as a lifestyle and fashionable shoe rather than being the go-to for gym rats.
You seem like someone that's very comfortable being in the spotlight but doesn't seek it and it seems like the Blazer is similar. Can you draw any parallels here?
The Blazer is represented by lowkey style and I think that's what we want the customer at EB to be. We want someone who has enough confidence to look for something special, but they're not necessarily looking for clout. It's more of just a reflection of who they are as an individual, and I think that's what the Blazer stands for. It's always going to have a spotlight, but not in a way that is necessarily screaming for attention like other models.
"[Extra Butter uses] movies as a dialogue starter, but when you get to dive deeper into the brand, you realize that music, art, storytelling and community come into play and that's important for us to show."
Now that you've seen sneakers from the consumer's side and the retailer's side, has your perspective on them changed?
Being in the industry this long and still being a consumer myself, it's easy to become cynical. I have to remind myself that I am in a very fortunate position and have a job that people dream about. When I do get bummed about where sneaker culture is going or how people decide to consume, I have to remind myself that I have influence there. What I wish would change in the sneaker community is the hive mentality. A lot of people feel left out when they can't buy a certain colorway, and that's the reason why the resale game has had such an influx. There's a demand to feel included and I wish it was the opposite — where if you see other people wearing something, you don't want to be a part of the conformity and find something else to stand out.
Has your perspective on creativity and art influenced how you build community at Extra Butter today?
100%. When it comes to fashion, there are certain individuals that use it to define them. However, you shouldn't be one-dimensional. You should continue to find ways to build complexity and layers, which is what Extra Butter stands for. We use movies as a dialogue starter, but when you get to dive deeper into the brand, you realize that music, art, storytelling and community come into play and that's important for us to show.
Why are sneakers and their stories important to you?
Extra Butter was founded on its love for film, and I've always seen a parallel between people's affinity for film and love for sneakers. Both are very subjective and quite visceral. If I were to ask who your favorite director or actor is, there is no right or wrong answer — it's about how you emotionally attach to a film, and it's the same with sneakers. There's no telling why an Air Max 1 is better than an Air Force 1. When we bring stories to life, I know that the small margin of those who understand are the ones I'm after because then I can have a deeper conversation and hopefully then get them into other sneakers or understand my perspective. And as more pop culture, sports and design references become adopted into sneaker design, there's more stories to tell. There's an endless source of inspiration that can be applied to sneakers.