The CLOT x fragment design Nike Dunk Low Is an Extension of the Friendship Between Edison Chen and Hiroshi Fujiwara
An interview between the two streetwear icons.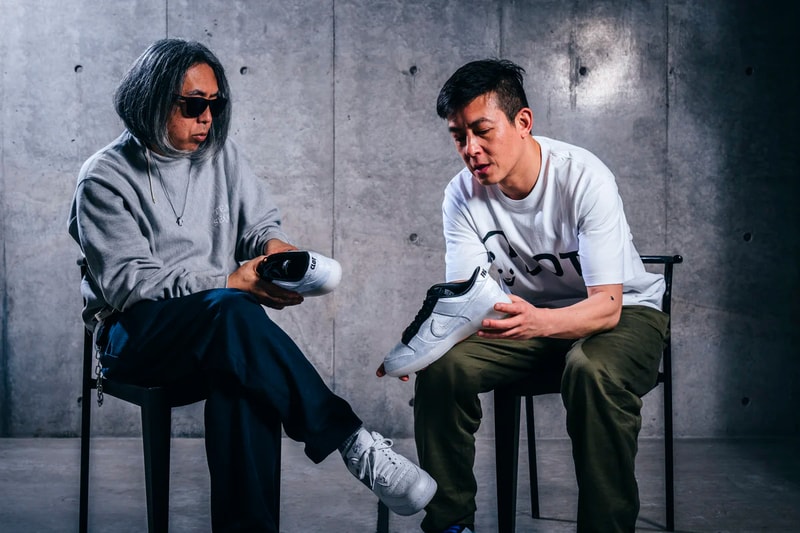 Ahead of the anticipated release of the CLOT x fragment design Nike Dunk Low, Edison Chen and Hiroshi Fujiwara sat down to discuss the relationship and process behind the collaboration. On the surface the collaboration may appear to be another major team-up between CLOT, fragment design, and Nike, but the release is really an extension of the friendship between the two streetwear icons.
"Contrary to what some may think, our conversations rarely revolve around work. Most of the projects that come from me and Hiroshi, they're very organic," shared CLOT Founder and Creative Director Edison Chen. "This project is very rare. I think we trust each other enough that we have a level of standard, and it just moves." The natural flow of the collaboration builds on the experiences the two share, more specifically a trip to a zoo involving pandas. "It's never really a collaboration, it's a conversation," said Fujiwara. "We don't have any middle person, even when we do Nike. Just me and him, that's really easy."
The CLOT x fragment design Nike Dunk Low interestingly also draw from Fujiwara's favorite CLOT footwear release, the CLOT x Nike Silk Air Force 1 "White Silk" from 2018. Mirroring the deep bond between Chen and Fujiwara, the upcoming collaboration featured an all-white silk upper patterned with CLOT's iconic Silk Royale pattern that can be reveal the hidden details underneath. The pioneering tear-away concept, which began with the CLOT x Nike Air Force 1 "1World" in 2009, also serves as a nod to CLOT's philosophy of going beyond the surface and discovering deeper layers of meaning.
Catch the candid conversation between Edison Chen and Hiroshi Fujiwara ahead of the release of the CLOT x fragment design Nike Dunk Low below.
Can you describe your relationship with each other, and how has it evolved over the years?
Hiroshi: How long has it been? 20 years?
Edison: More than. We've known each other for 20 years, I don't think fundamentally anything has changed. He's still Hiroshi to me, and I respect him to the utmost. Contrary to what some may think, our conversations rarely revolve around work. Instead, we mostly talk about food and movies. Most of the projects that come from me and Hiroshi, they're very organic. It's a conversation. It's not really like, I come to him or he comes to me. This project is very rare. We're friends, right? So it goes without saying that we would support each other.
What about each other do you find most inspiring, and how has that inspiration influenced your own work?
Edison: It's the small little things. When I sit with Hiroshi, I notice the stickers on his phone or the grip tape he has on his computer. It's these things and these small nuances that keep me interested. I'm always interested in knowing what he's up to and into, you know, be it music, movies, food, or fashion items. It's really his personality.
You can't really describe it really right? It's just quintessentially Hiroshi.
Edison: It's like he's doing some robot, and I'm sitting next to him, and he says, "Oh yeah, this is the new robot." Then I'm like, "What?" So there's never really anything that I'm searching for. He already has a multitude of interests that interest me. I think that's kind of the source of not only my friendship but also the way I revere Hiroshi.
What is the creative process like when you and Edison collaborate on a project?
Hiroshi: It's not really a collaboration, it's a conversation. Edison and I never really think or talk about what we're going to do next. Like this project, he told me he was working on something, and I asked if I could incorporate a panda theme. I still remember that time he brought me to Chengdu and we saw the pandas. I had a really good time. I always think about it whenever I see pandas. We never feel like we have to force anything or any ideas.
Edison: For example, this shoe right here, I found out we were going to be doing some Dunk Lows about two weeks prior, and while I was in Japan, I asked Hiroshi if he was doing anything with Nike lately. He mentioned a few things, and I asked if he would be interested in doing something with me. He said yes, and I asked him which of our shoes he liked. He mentioned the "White Silk," and there it was. It's not like we sat for 15 days throwing things back and forth. It was just like that – a simple conversation. I think we trust each other enough that we have a level of standard, and it just moves.
Can you tell us more about the panda inspiration? It was a trip to Chengdu?
Edison: Yes, it was the store opening, and Hiroshi really wanted to go see the pandas, so we arranged for him to go in and vibe with them. It was too late and at a weird time, but whenever he wants.
Hiroshi: So these shoes are a message that you have to take me to the pandas. I know you had a good time there.
Edison: I think that's also a testament to how we create, especially together. It's just conversations – he came, he experienced something, we talk about it, and it somehow becomes a creation. I think that's the best way to work – organically, without forcing anything. Because when you force something, it's hard.
Hiroshi: He always has good ideas. Just like these shoes, which are kind of in a Chinese material. That's why I really like them.
You've done many Nike collaborations in the past, are there any projects you find particularly memorable?
Edison: I can talk about his, easily. It was the first kind of snakeskin Air Force with marks on the side. I don't think they were even released. I was in Japan and I didn't know Hiroshi at the time, and I asked about 20 people if they could get me those Nikes. Finally, someone sourced them for me, and it was kind of how I met him, because of those shoes.
Hiroshi: I gave you a pair.
Edison: Yeah, you gave me a pair and I was like, "Oh my God." I think for me, that was a huge moment, Because I was first into sneakers because of Jordan, simple and plain, and afterward I was into sneakers just because I was a kid. Then, I was deep into sneakers again because of Hiroshi. I didn't even know who he was at the time, I just saw him with these woven on and I was like, "Dude, I need these wovens. I need these wovens. I need these wovens."
As veterans of the music, fashion, and footwear industries, you have witnessed various eras and shifts in culture. What would you say is currently defining this culture? do you notice any significant differences from previous eras, or would you say that it remains the same?
Hiroshi: For me, personally, I was the most active in the '80s. When I compare the '80s to today, I see a lot of differences. Back then, music and cultural scenes were more interconnected, but nowadays they seem to be more separate.
Edison: Yeah, I think it's definitely a little bit more divided up, a little bit more fragmented. But I think it depends on where you look. If you look in America, I think that it's different than looking at it in China, so to speak. I definitely think the rawness is still there. It's just that you have to look for it a little bit more right now, and what's mainly causing this difference is that the information highway is just way too fast.
Back when I first came to Japan, I had to rely on a small map in a magazine, hoping that I could find the store. That's how I bought a lot of the electromagnetic stuff Hiroshi made. Like searching, hard searching, and failing too, and then finding it. That feeling, it seems to be gone already. Because there's almost no exploration, no curiosity anymore. I think that somehow, some way, that needs to come back for the true essence of what it is. Because in the beginning, especially even before me, it was underground culture. Underground culture means it's not easy to get. You have to search for it almost, right? Now everything is searchable.
Hiroshi: Many people today complain about how difficult it is to get rare sneakers, that it is impossible. But back then, it was even harder for me. I had to search in English for that kind of stuff.
Edison: He probably did what I did in Japan, but in New York and London, and a decade before me. Though I think that was the fun part too. Being able to research and then go home and do it again with your friends. It wasn't really a flex; it was about knowledge and feeling smart. And now it's more, I feel like, just outwards. Before, it was like how I went to the Wu-Tang store in New York in the '90s, which was probably equivalent to what Hiroshi did in the '80s trying to find Nike shoes. I would buy stuff that didn't even fit me, but I went home and felt proud. It wasn't like I'm sharing these photos because you can't share photos back then, but I felt like I knew something and gained something from it. Now I feel it's just given to you through a screen or an app or something. I don't know how or where the trends are, where it's going, but I think somehow, the curiosity has to be resurfaced. Even sneakerheads now, they're just sitting in front of a computer.
A sense of discovery, right? That's a bit hard to find now.
Hiroshi: Yeah, and it doesn't have to be a rare find. In the '90s, if you went to New York and saw a pair of shoes, you had to buy them on the spot, otherwise, you would never see them again. Nowadays, that sense of urgency is gone. You can easily find them on eBay and buy them anytime later. I can buy them tomorrow. I can buy them next week. It's a different experience.
Priced at $150 USD, the CLOT x fragment design Nike Dunk Low and accompanying capsule collection will be released globally May 19 at select JUICE locations worldwide via raffle. To mark the 20th-anniversary collaboration, CLOT will also be holding a special pop-up in Tokyo with details set to follow.
View this post on Instagram
View this post on Instagram
For more footwear news, the Nike Air Force 1 Mid joins the "Fresh" series.