Best New Tracks: Fred again.. x Brian Eno, IDK and More
Dive into the weekend with these music projects.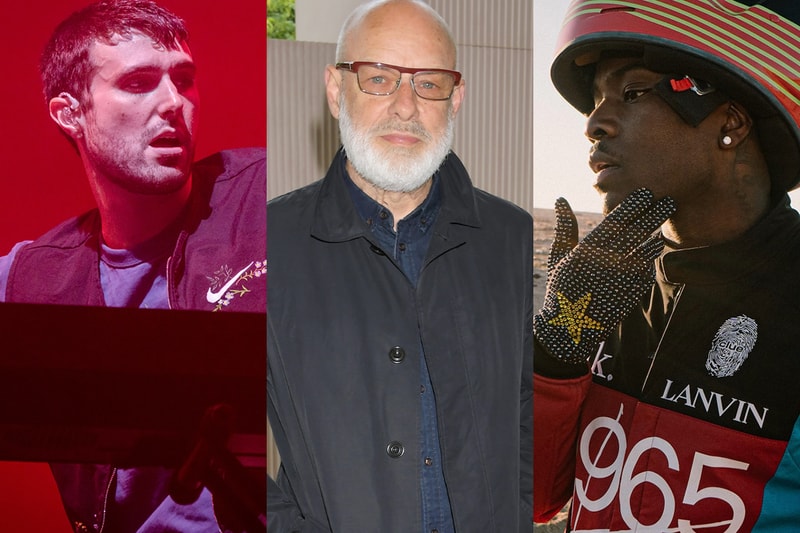 As the week in music comes to a close, Hypebeast has rounded up the best projects for the latest installment of Best New Tracks.
This week's lineup is led by Fred again.. x Brian Eno and IDK, who released the albums Secret Life and F65, respectively. Also joining this selection are fresh offerings from Conway The Machine, Denzel Curry, Bruno Major, Armani White, JELEEL! Q and Lo Village.
Fred again.. x Brian Eno - Secret Life
Fred again.. and Brian Eno drop off their collaborative record, Secret Life. The ambient 11-track record clocks in at approximately 45 minutes and is released via Four Tet's Text Records.
Listen: Spotify | Apple Music
IDK - F65
IDK utilizes his penchant for merging feel-good melodies with thought-provoking topics in his latest album F65, which features contributions from NLE Choppa, Fat Trel, Jucee Froot, Saucy Santana, Tay Iwar, Musiq Soulchild, Rich The Kid, Snoop Dogg and Benny The Butcher. "F65 is just basically me taking the conversation of motor sport F, like as in F1, and then using race to talk about race, color, skin, and then '65 is the year my Uncle Max was assassinated," IDK told Apple Music in a recent interview. "And the reason why I chose to run with my Uncle Max is because I believe that after the era of just Nation of Islam and the things that he was doing and visiting Mecca, it seemed like his approach was about to change in how he felt like the conversation should be had, but right when he was about to have it, he was assassinated. And in my opinion, that conversation was going to be a little bit more open, more about really sitting down at the table and having a comfortable conversation."
Listen: Spotify | Apple Music
Conway The Machine - Won't He Do It
Conway The Machine steps into his new phase with Won't He Do It, the followup to his major label debut God Don't Make Mistakes. The Griselda titans tags the likes of Westside Gunn, Ransom, Goosebytheway, Drea D'Nuir, Jae Skeese, Jozzy, Dave East, Benny The Butcher, Fabolous, 7xvethegenius, Juicy J and Sauce Walka, as well as production work from the likes of Daringer, Justice League, Juicy J and more.
Listen: Spotify | Apple Music
Denzel Curry - Live At Electric Lady
Denzel Curry delivers live performance renditions in his Live At Electric Lady EP. The Spotify-exclusive project features the cut "Lonely Man" and his performances of several of his latest hits, recorded at the legendary Greenwich Village studio.
Listen: Spotify
Bruno Major – "We Were Never Really Friends"
Bruno Major returns with his first new solo material in three years, dropping the track "We Were Never Really friends." This marks the followup to his 2020 record To Let a Good Thing Die, and arrives with an accompanying music video helmed by Kassy Mahea. "'We Were Never Really Friends' paints a picture of the blurry line between friends and lovers," Major explains. "Ostensibly lamenting the loss of a good friend, until the ultimate realization arrives that it was always something more."
Listen: Spotify | Apple Music
Lo Village – "Fallin"
Lo Village, the first Best Rising Artists awadee on this week's list, is back with their new single "Fallin." The Gaithersburg, Maryland trio says of the track, "Sometimes life is like running down a flight of stairs and then falling because we fail to take our time and use the railings."
Listen: Spotify | Apple Music
Armani White – Road to CASABLANCO.
After a successful 2022, Armani White finally drops off his highly-anticipated debut EP, Road to CASABLANCO.. The nine-track project clocks in at approximately 25 minutes and features the hits "GOATED." with Denzel Curry and "BILLIE EILISH.," as well as guest features from A$AP Ferg, Fivio Foreign, Fridayy, Ludacris, Busta Rhymes and N.O.R.E.
Listen: Spotify | Apple Music
JELEEL! - REAL RAW!
JELEEL!, a recent inductee in Hypebeast's Best Rising Artists series, shares his debut EP REAL RAW! Serving as a representation of the Nigerian Rhode Island-born rapper's journey, which includes a phase in his life where he found himself homeless on the streets of Los Angeles, REAL RAW! shows off the rising star's expansive vocal range and flexibility for sonic backdrops while taking inspiration from the likes of DMX and Jeff Hardy.
Listen: Spotify | Apple Music
Q - Soul,PRESENT
Q, another name in the Best Rising Artist series from Spring 2021, releases his highly-anticipated debut studio album Soul,PRESENT. His first project since 2020's The Shave Experiment, the 10-track record hears the artist guide his listeners through his own special fusions of R&B, soul, eighties funk, alternative, pop and rock.
Listen: Spotify | Apple Music