KidSuper's Colm Dillane Wants To Make Footwear Fun Too
Hypebeast spoke with the painterly designer about his UGG collaboration, his original design process and his first-ever Coachella.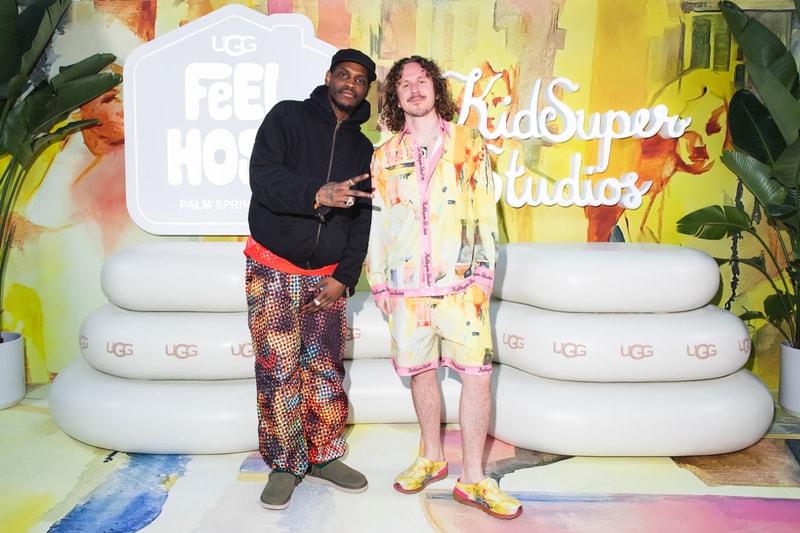 Before the first weekend of Coachella 2023, KidSuper's Colm Dillane had never been to the famous festival. "I wanted there to be a reason," he told Hypebeast of his abstinence from the three-day music and arts event. "One of the things I thought was, 'Could I fake being a DJ for a whole year and get popular enough to get on the lineup?'"
While that dream did not actualize (Coachella 2024, though?), Dillane found himself another reason to attend — and no, it wasn't as the designer of longtime KidSuper fan Bad Bunny's headlining fit. Though parts of the audience, at first glance, were buzzing about it being a Dillane special, that statement-making patchwork puffer was, in fact, ERL. It was the opening of UGG's newest Feel House, a multi-sensory community experience dedicated to "making self-expression comfortable for all" at the Villa Royale in Palm Springs, that summoned him to the desert.
There, UGG tapped the New York-based designer to reimagine its newest Tasman Sport silhouette, exclusively for the three-day experience. Naturally, he plastered the entire silhouette with his artwork, specifically his painting, titled After School Philosophy, which first appeared on his auction-inspired runway in Paris for Spring/Summer 2023. Across a molded, perforated EVA upper and a translucent outsole, Dillane's quintessential abstract artwork provided the comfort-first footwear label's iconic slipper with a classic KidSuper makeover.
View this post on Instagram
To celebrate their collaboration, UGG's Feel House hosted an exclusive kick-off event on Thursday, April 13, where Dillane's artworks encapsulated the entire property. Four looks from his latest collection stood prominently by a pool filled with inflatable iterations of UGG's festival-ready "Aww Yeah" platform shoes, setting the stage for a Coachella-inspired throwdown. To the sounds of DJ Jadaboo, guests customized classic UGG boots, received aura readings and gemmed their teeth. Among them, famous faces included Coi Leray, Cami Morrone and A$AP Nast. Dillane's DJ-ing fantasies might have been crushed, but his goal of attending Coachella with a purpose was not.
Hypebeast was in attendance at Coachella and spoke with Colm Dillane about his collaboration with UGG, his painterly design approach and his thoughts on the festival. Read what the designer had to share below.
How did this collaboration with UGG come together?
Colm Dillane: We had thought about different ways to work with each other and I always loved UGG and thought it'd be a cool brand to collaborate with. They were like, "By the way, we're doing this thing for Coachella." And I was like, "I've never been to Coachella." I was waiting for a reason to go to Coachella besides the actual festival, and this seemed like a cool project. I actually had designed some shoes unrelated to the final product because we didn't know what we were going for. I wanted to take the silhouettes that exist because they're so iconic and try to spice 'em up, but not change the shape too much. And so we did what KidSuper does best and threw a painting on that bad boy.
Can you remember when you first got to know the brand?
Every pretty girl in high school had a pair of UGGs. So that was something I always noticed, and they always looked super comfortable. They started off as a very feminine brand, and I would always think, "Man, why can't I wear those super comfortable-looking slip-on shoes?" And now slip-on shoes have become huge in men's footwear. And UGG is obviously a big player in that market. So now we all have comfortable shoes. I always wanted to do UGG earlier, when it was unexpected to have men wear it. Now it's quite expected. But I do like the idea of taking something that's maybe seen as feminine and making it more masculine.
What did the design process entail for your collaborative Tasman Sport?
When they said it was going to be at Coachella, I wanted it to be a festival shoe, so we went with this rubber one. What's cool about this painting is it's abstract enough to look like it's a pattern, but then if you look closer, you see that it's also a good painting.
When did you create this painting?
This was for the auction fashion show (for Spring/Summer 2023 in Paris). So we did the 23 paintings for 23 looks. And that was an interesting thing because it was like creating a body of work for clothing. We did the portraits, but we needed one that was more of a one-color type of painting, like this one, that could be used as a pattern. So there isn't a specific part that truly stands out.
It's fun because now you're able to dip into your own archives and repurpose those designs. How does that feel?
It is really cool. With KidSuper, I was, and I still am, truly reinventing the wheel every season with completely original art and concept. If you look at other brands, and they're kind of redoing the same thing every season. I was originally against that, but if redo the same thing enough, and do it well, it can be come iconic. And so, I used this painting once, it's cool, but if I continue to use it and it becomes part of the DNA, then it could be something you can recognize as KidSuper. It's pretty cool.
Why do you think it's important to have fun with footwear specifically?
If you want a boring, normal, straightforward shoe, it exists. I never had the true resources to make a perfect shoe, but I could alter an existing one with my own magic. And my own magic is making these expressions. I also thought that if you'e looking at a website and see a KidSuper shoe, you'll know exactly what it is. I use clothing a little bit as a conversation starter.
I think that's also a funny thing, where some super fans of KidSuper will wear my designs head to toe, which is a lot. I'm doing it currently, but sometimes I'm like, "You're not ruining it, but the designs are taking from each other." Me? It doesn't matter because I'm just a walking canvas, and I can do anything. But I do love when people wear a very simple outfit and then they have the one KidSuper piece that stands out, which could be a shoe.
So you've never been to Coachella?
I'd never gone to Coachella because I wanted there to be a reason. One of the things I thought was, "Could I fake being a DJ for a whole year and get popular enough to get on the lineup?" That was one of my goals. That didn't happen, but UGG gave me a reason.
Who on the lineup are you excited about?
I love Bad Bunny. He's an early KidSuper fan. Dominic Fike, I'm a big fan of. I know him really, really well. He walked the first KidSuper show in Paris. Rosalía. We worked together on the Louis Vuitton show, so I'm excited for her too.
What do you think of Coachella style?
It always gets roasted on the internet, but I'm excited to see it. I'm excited to see some KidSuper out there. That would be very cool. Like you even wearing, it's cool to see. (I was wearing his "A Boy Button Up" shirt.) But I haven't spent much, or any, time in the desert. It gets cold at night and it's super warm in the morning, so it's like, what do you wear? Layers or not? You either freeze or you get too hot.
Is there anything else you want to share with Hypebeast?
I love reading the comments. It's the one platform that still has it. Very few have it, so it's cool. When they're hateful, it's fun to read. When they're good, it's even better.