Floyd Mayweather Is Interested in Signing Francis Ngannou
As the former UFC heavyweight champion looks to step in the boxing ring.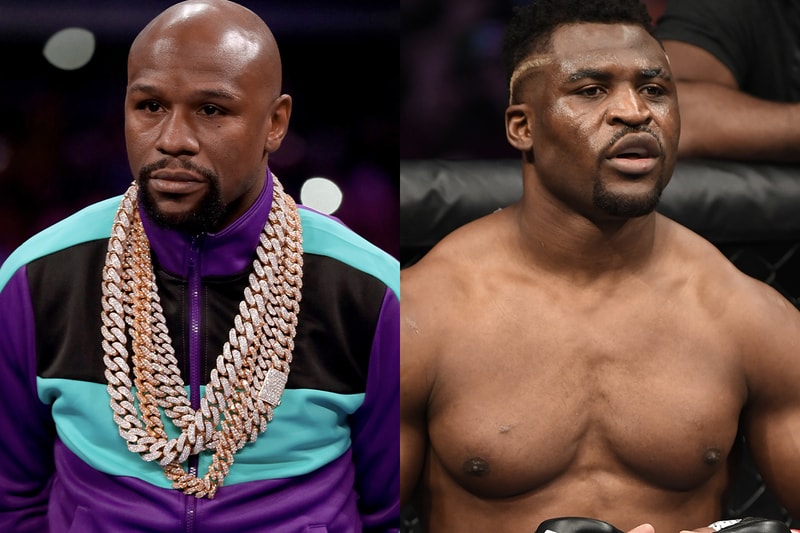 Following his victory over Ciryl Gane at UFC 270, Francis Ngannou officially announced that he's stepping away from MMA, rejecting a contract from Dana White which would make him the highest paid heavyweight in UFC history. Now a free agent, Ngannou is free to pursue his boxing dreams that he has long spoke of. While the power-punching heavyweight takes his time to figure out his next step, Floyd Mayweather reveals his interest in signing the Cameroonian fighter to Mayweather Promotions.
"I would love to work with him," Floyd Mayweather tells Bet Online. "I would love to sign him to Mayweather Promotions. He's a very skilled guy, he was unbelievable from the highlights I was able to see in MMA and if he wants to fight one of the top heavyweight guys, he should do it. With his size, and his strength and his power, anything can happen. He's powerful and with his power and his toughness, he's able to make some noise in the heavyweight division."
Ngannou is reportedly in talks with the PFL at the moment for an unrestricted MMA contract, and potential boxing bouts with Tyson Fury and Deontay Wilder have been teased, but nothing concrete has been confirmed yet.
"I have made a decision," Ngannou told Ariel Helwani on The MMA Hour last month. "Without making a done deal, I know what my next move is going to be. I know that I want to fight boxing first and then after that I will fight MMA. I'm going to sign with one MMA promotion. I haven't made a decision on that yet, [but I'm] very close."
Stay tuned for more updates.
Elsewhere in sports, Michael Jordan tops anonymous player poll as NBA GOAT.