Prestige Watchmaking Meets High Jewelry in Piaget's Watches & Wonders Highlights
Spotlighting the ultra-thin Polo Perpetual Calendar in Blue Obsidian.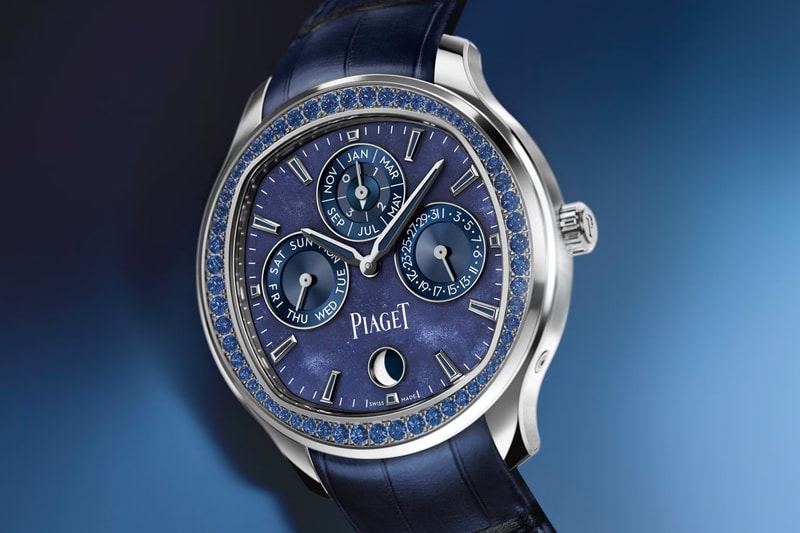 Honoring its watchmaking roots and penchant for jewelry craftsmanship, Piaget has revealed its latest collections at Watches & Wonders. Paying tribute to some of the Maison's most evocative and lavish designs from past eras, the new pieces serve to encapsulate the brand's bold creativity as well as masterful artistry. Read on below for a highlight of Piaget's latest offerings at the week-long event.
Polo Perpetual Calendar Ultra-Thin
1 of 8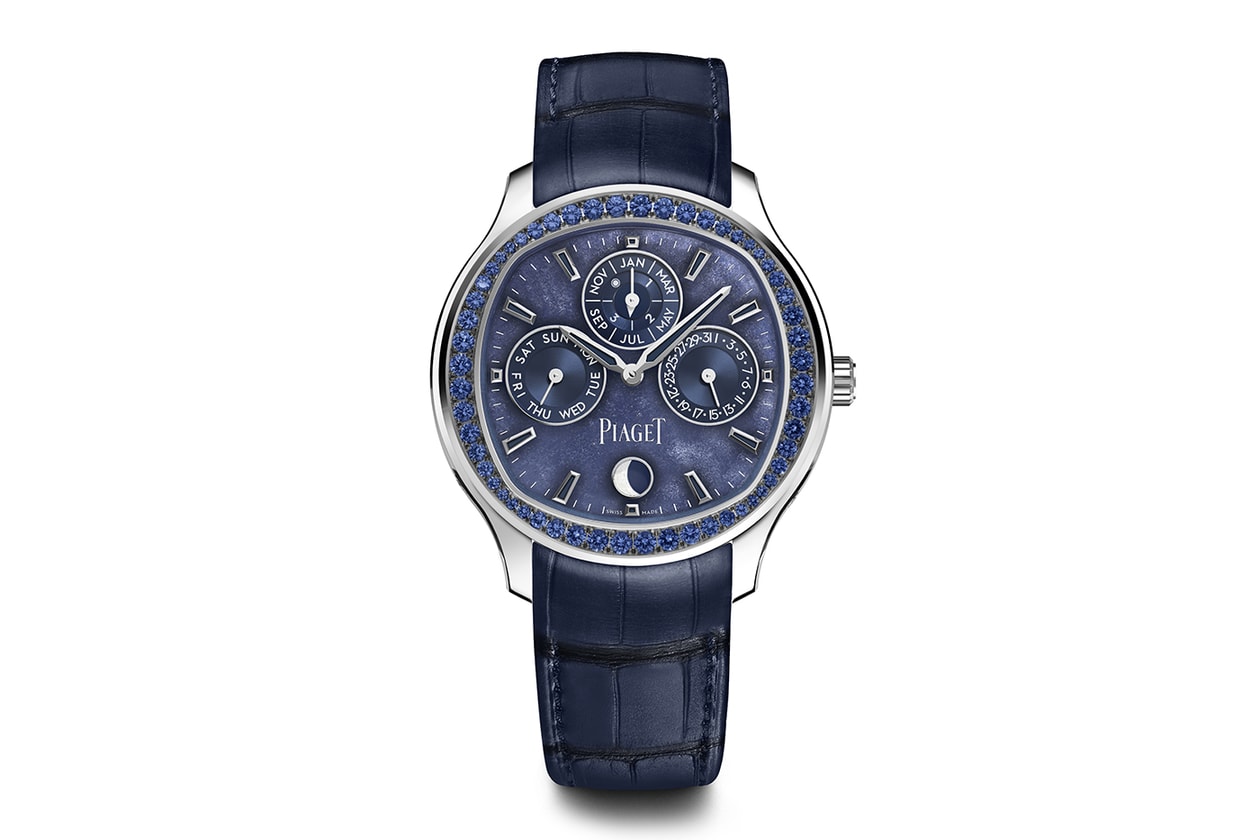 2 of 8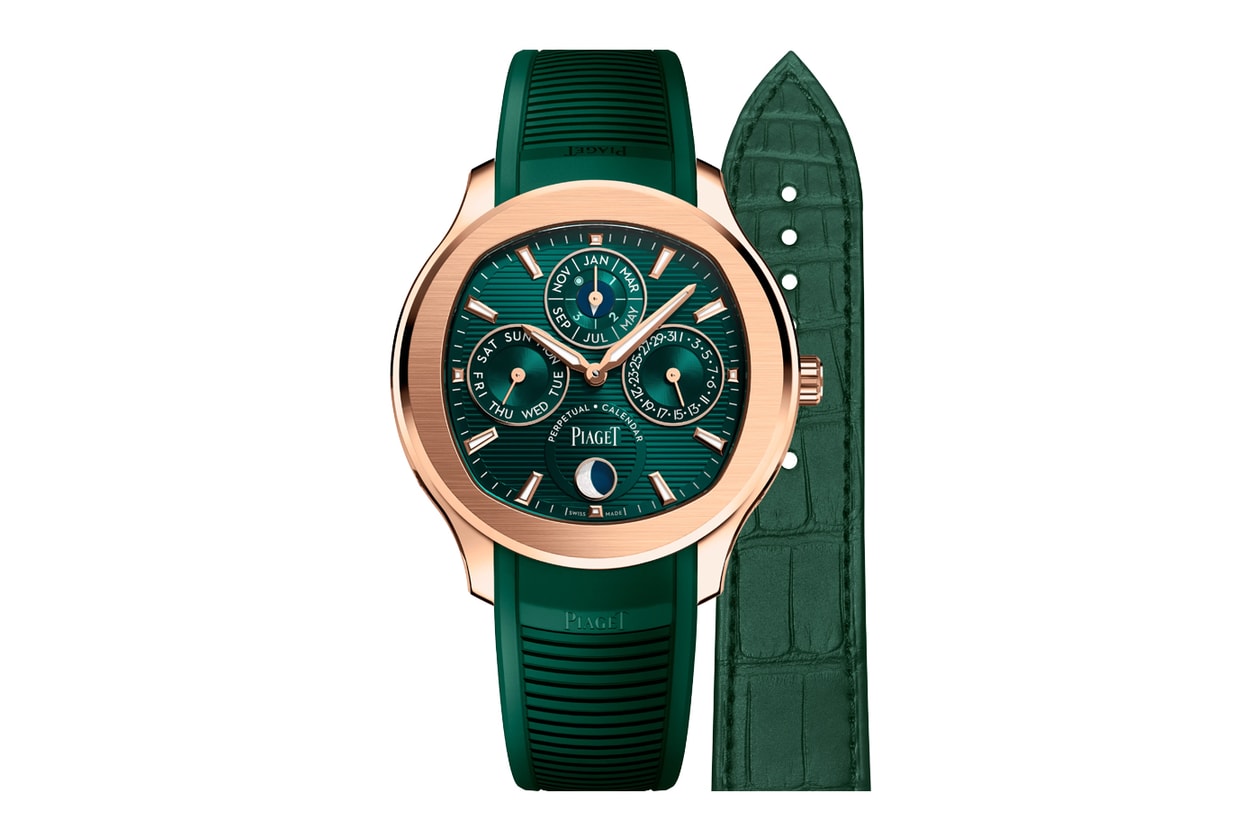 3 of 8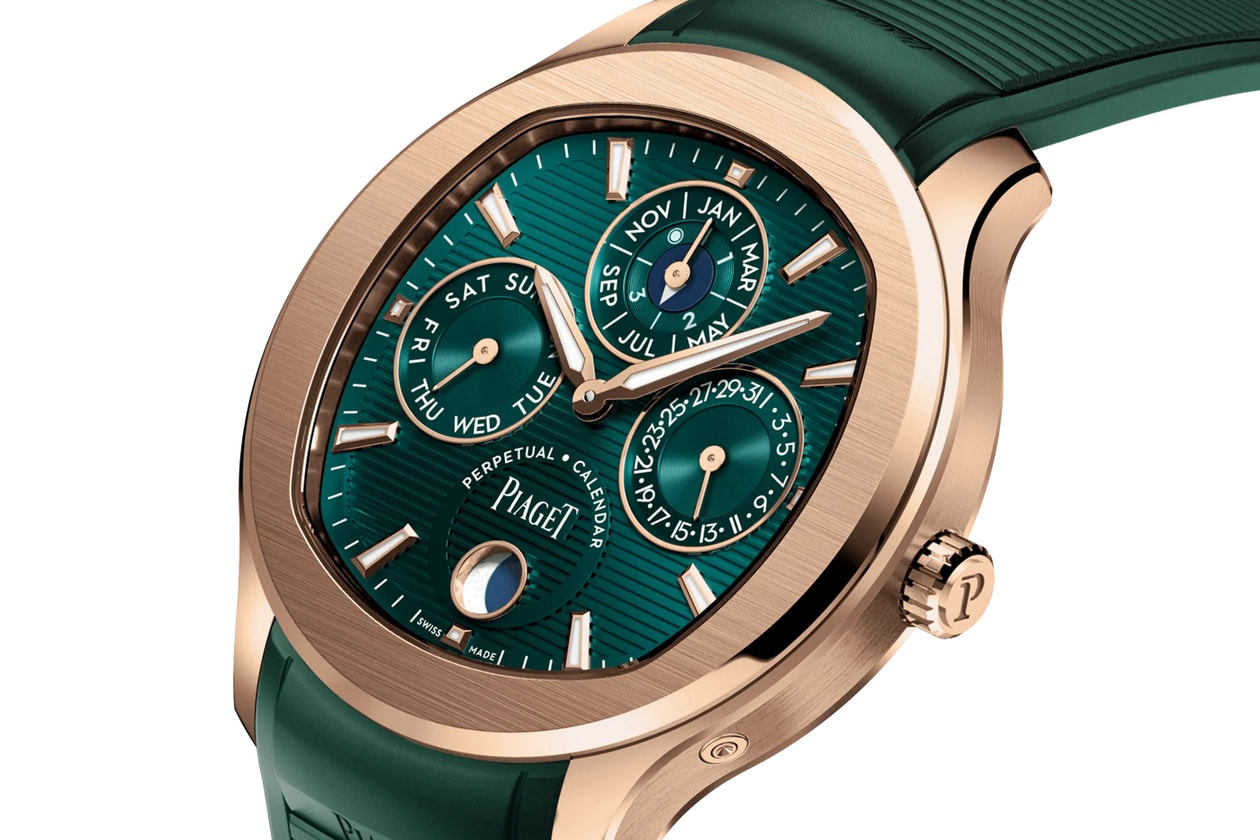 4 of 8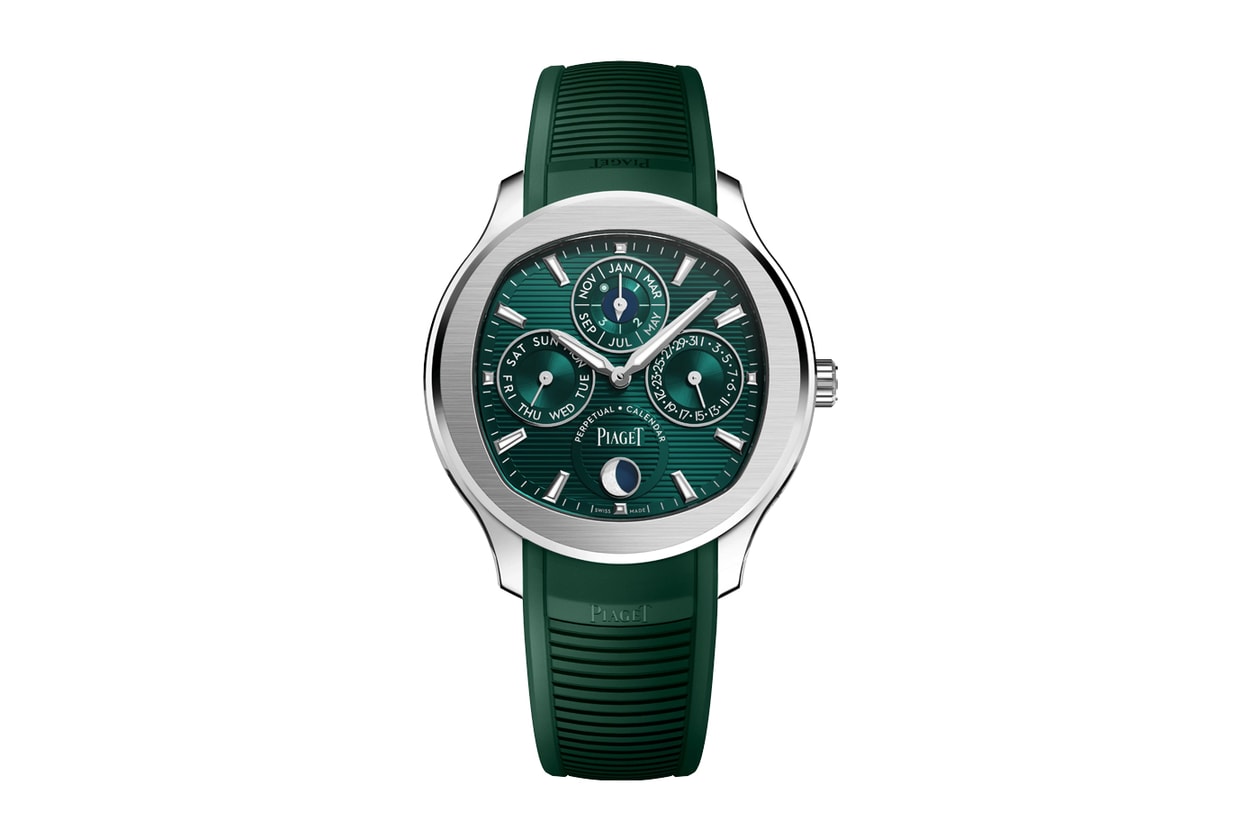 5 of 8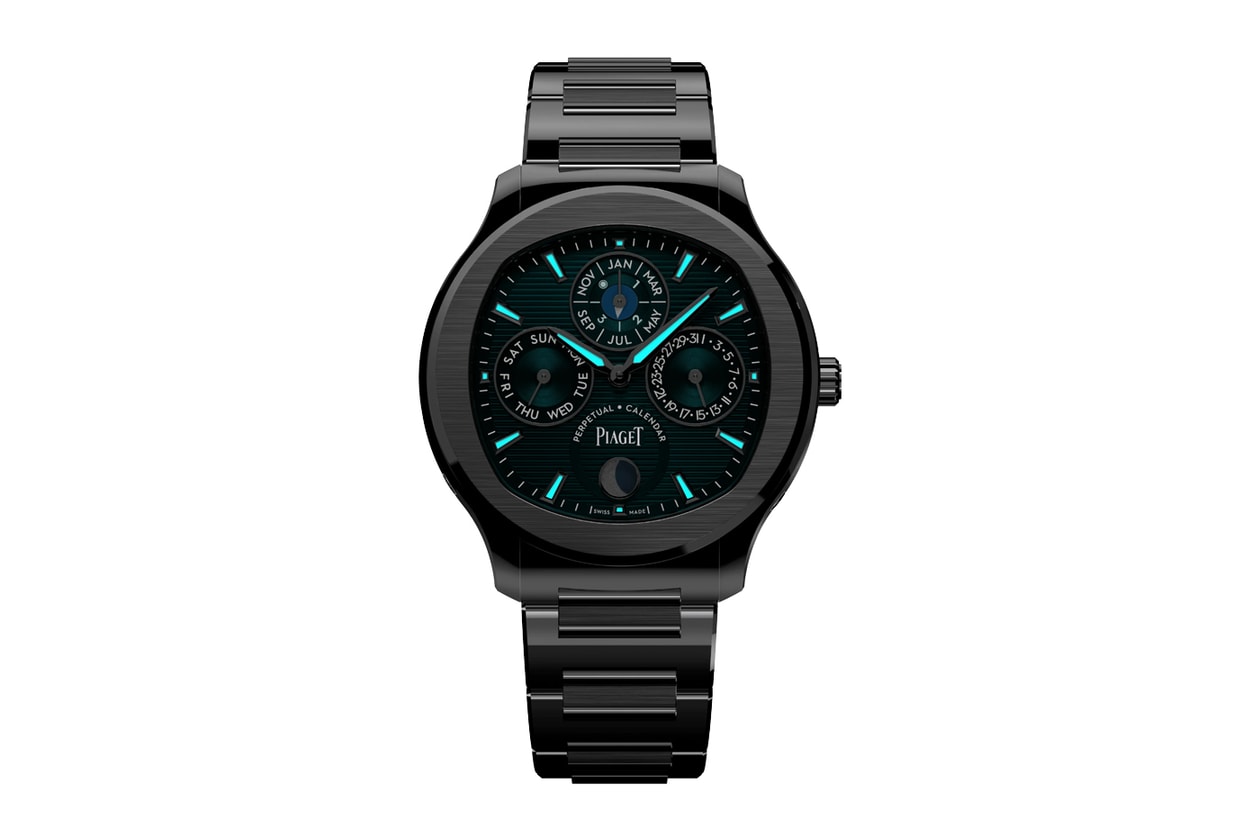 6 of 8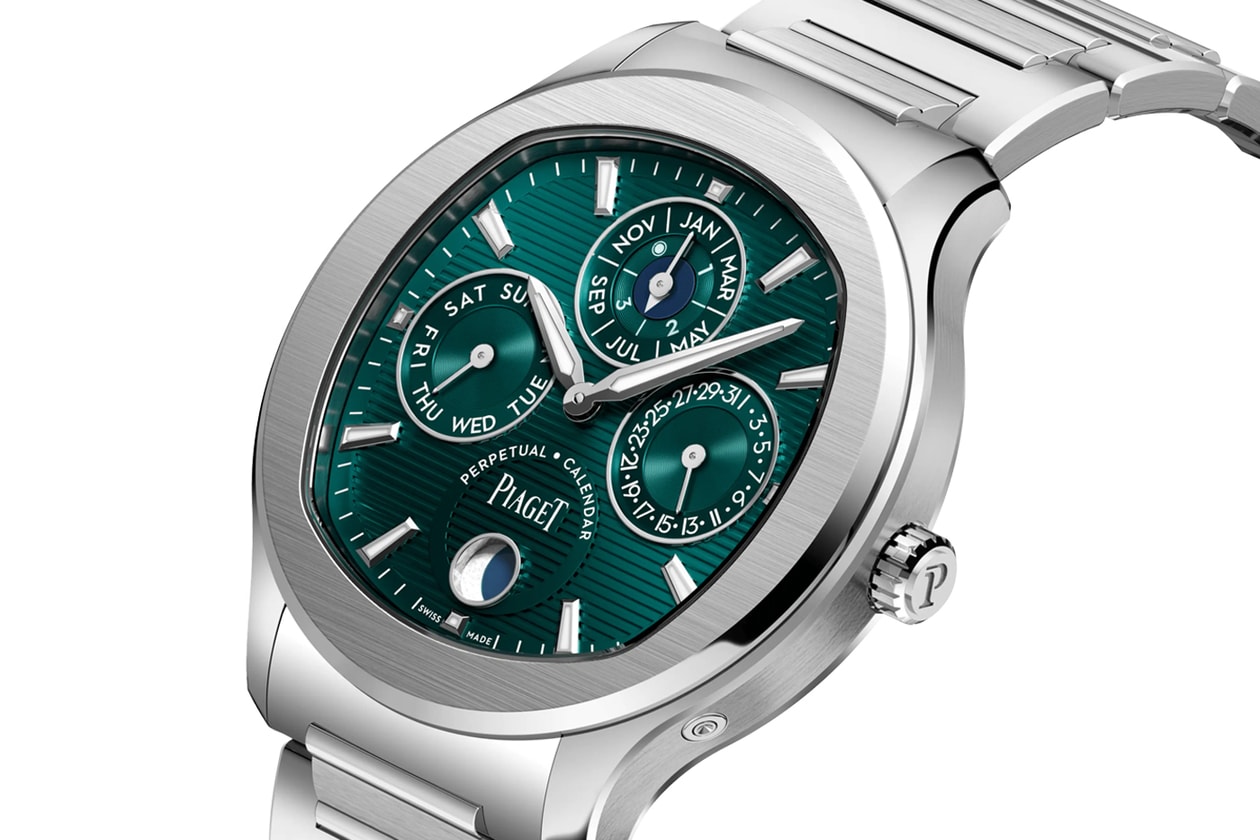 7 of 8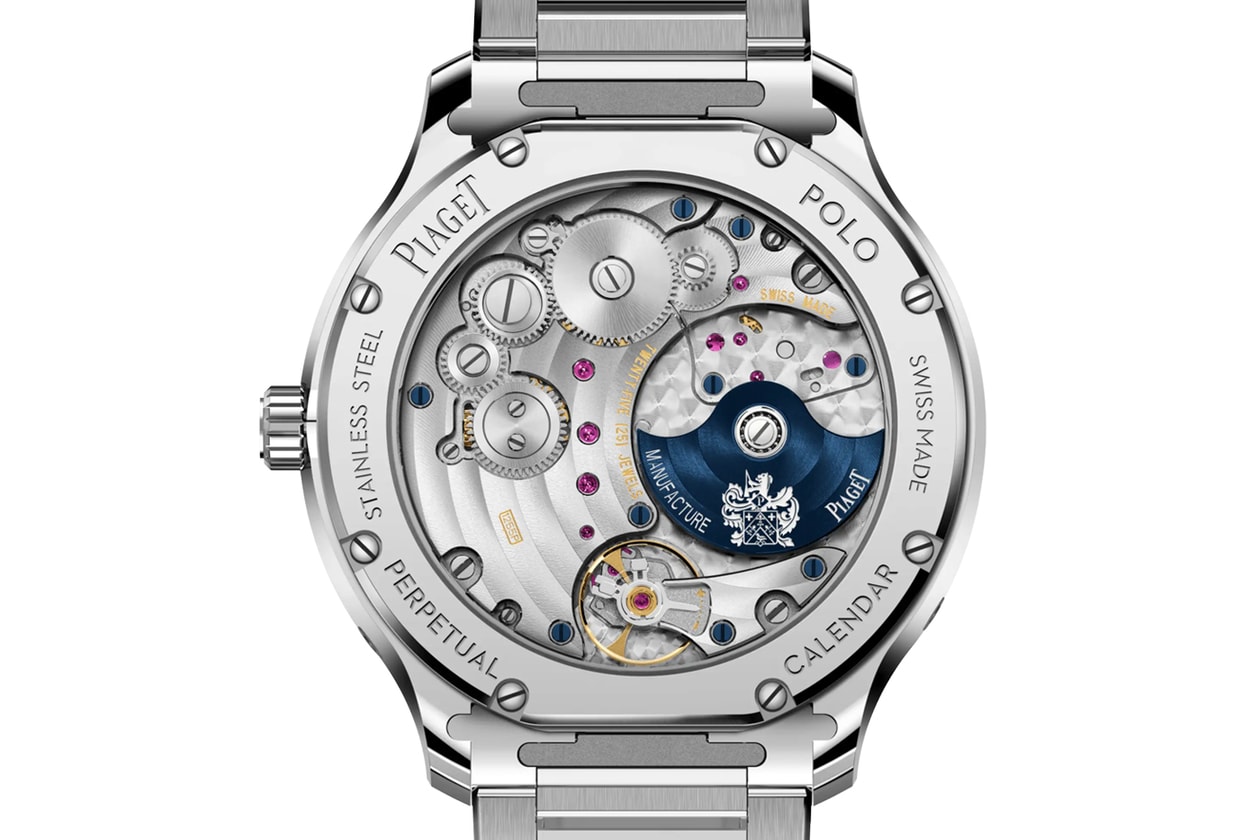 A total of three ultra-thin perpetual calendar watches are revealed for Piaget's Polo series. Leading the charge is the Obsidian reference, an intriguing and radiant timepiece that's attired in a 42mm white gold case with an blue obsidian dial. Aligning with the enigmatic color scheme, 56 brilliant-cut sapphires encircle the bezel, while tonal straps are offered in alligator or rubber materiality. The other two models star a version featuring a rose gold case and a green guilloché dial, meanwhile, the remaining piece boasts a steel build. All three watches run on Piaget's Manufacture 1255P ultra-thin movement, complete with hours, minutes, and moon phases indication. The Rose Gold version retails for $76,000 USD, while the Steel edition is priced at $58,500 USD, with price upon request for the Obsidian Perpetual Calendar.
Limelight Aura High Jewelry Watch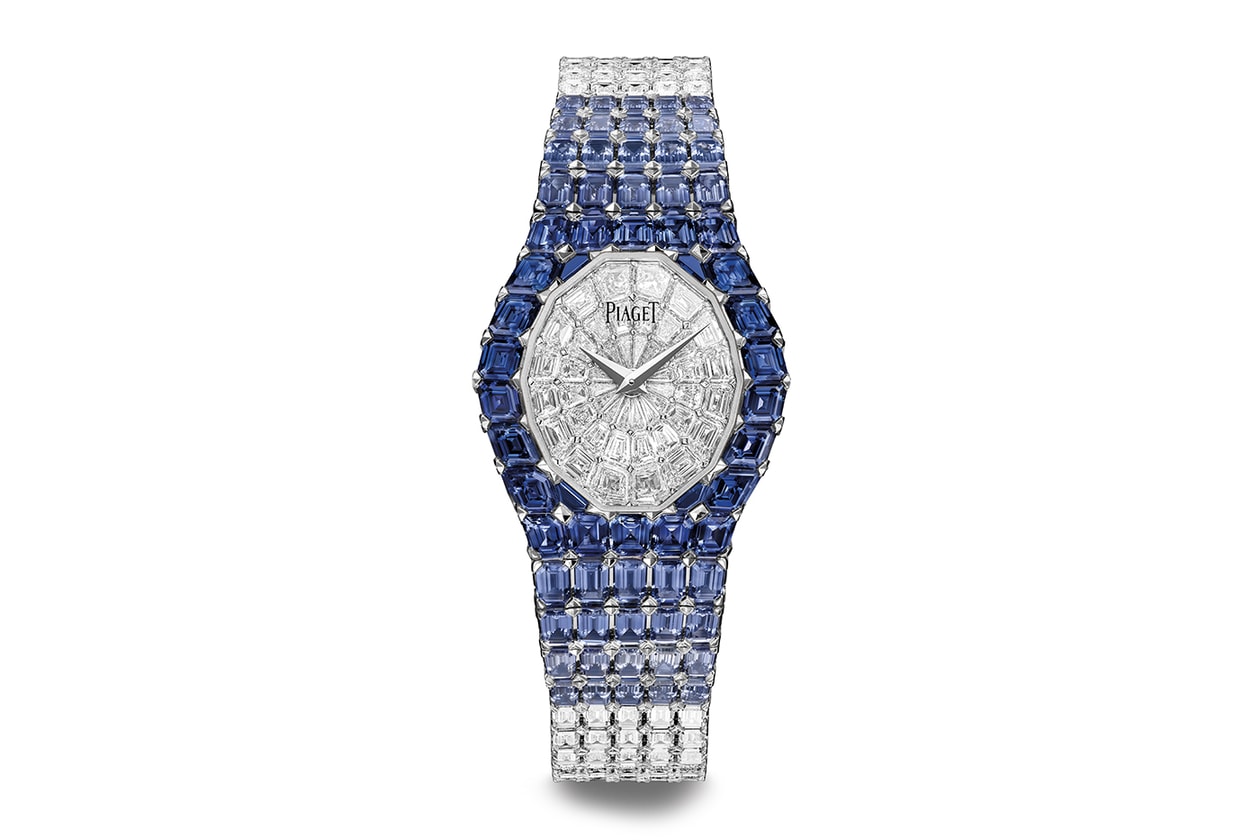 A testament to Piaget's devotion to precious materials, the Limelight Aura stars a 10-carat white gold case, set with all-over diamonds and sapphires. Including the diamond-embedded dial and bracelet, this elaborate time-teller is dubbed by the Maison as a "rare specimen that represents more than 260 hours of impeccable craftsmanship." The timepiece arrives in a slim-fitting silhouette, measuring just 27.5mm in diameter, and 2.1mm in thickness. With price upon request, this women's jewelry watch houses a 430P ultra-thin and hand-wound movement, boasting an average running time of 43 hours.
Limelight High Jewelry Cuff Watches
1 of 3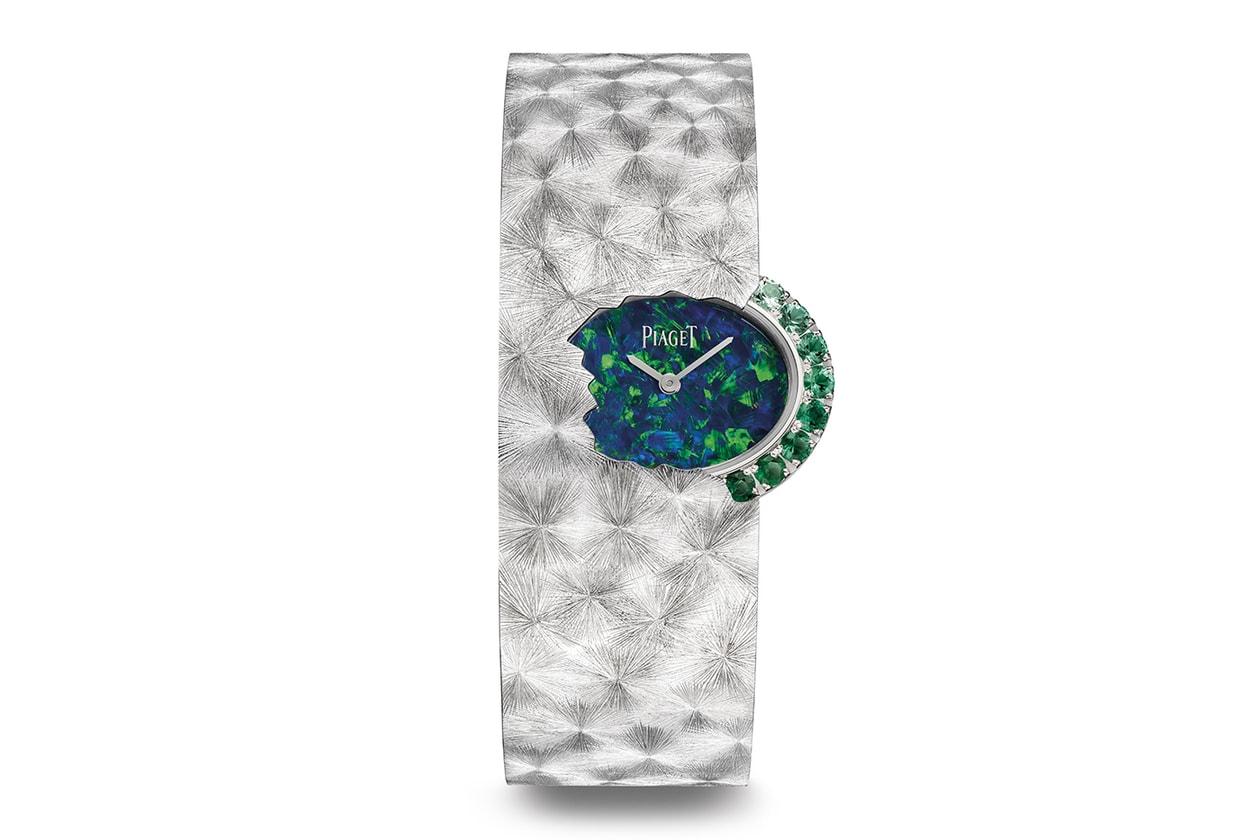 2 of 3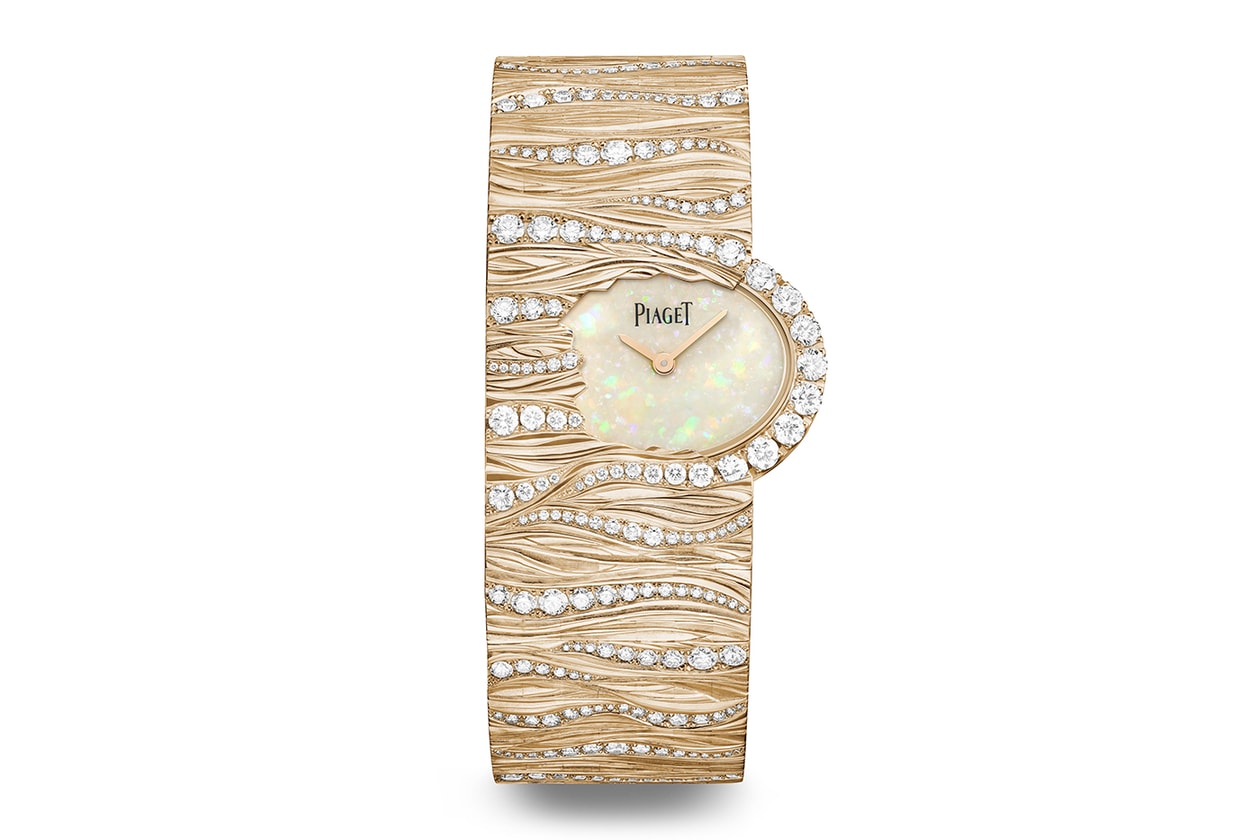 3 of 3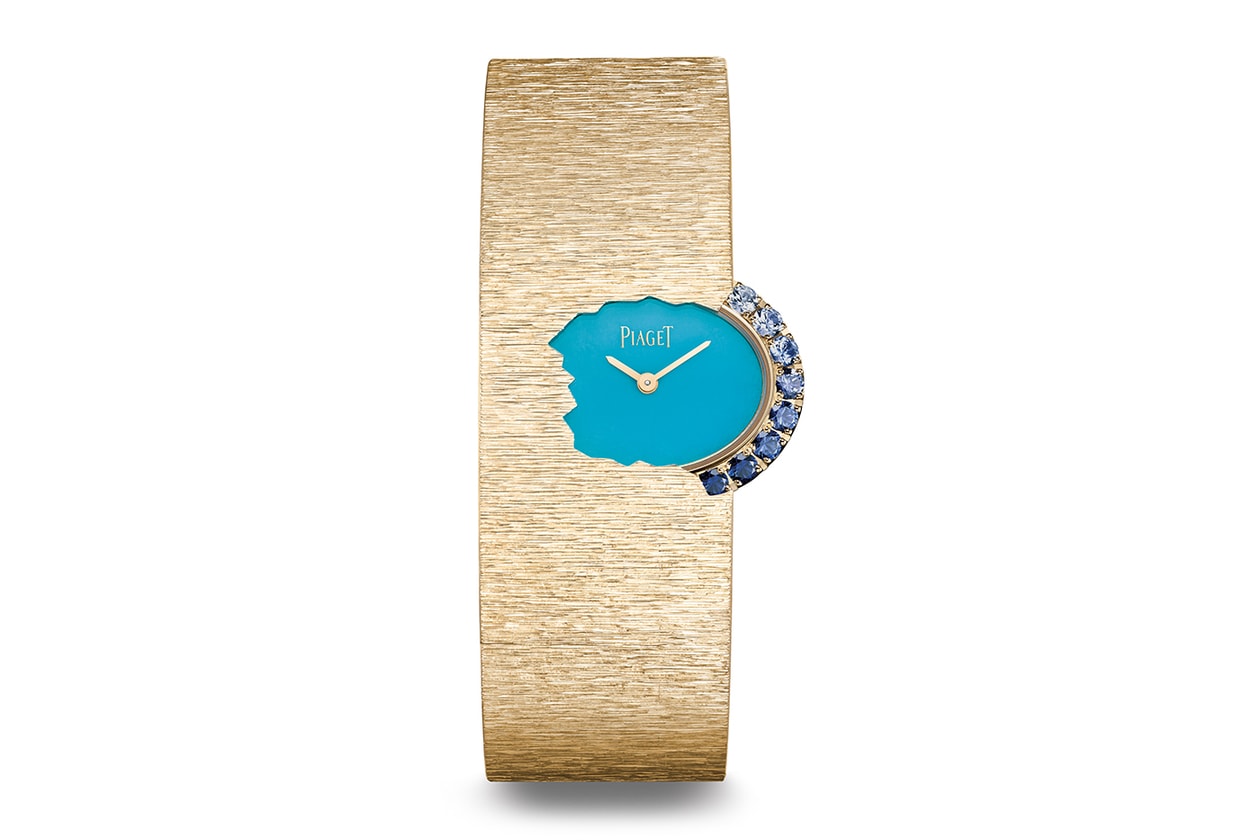 Piaget has also unveiled three contemporary reinterpretations of the Maison's popular cuff watches. Showcasing an innovative yet organic design, the silhouette draws references from hyper-naturalism and free-forming jewelry pieces from the '60s and '70s. Each piece centers around a half-concealed oval dial, accompanied by hand-engraved cuffs in varying details and textures. One version features an 18-carat white gold construction with a tantalizing opal dial and a partially emerald-set case. Meanwhile, another piece stars an iridescent white opal dial, framed by a rose gold body that is set with swirls of diamonds. The remaining watch also presents a rose gold build but with bark-like textured engravings that juxtaposes with its smooth turquoise and tonal sapphire embeds. All three timepieces are powered by the compact 356P quartz movement, with prices upon request.
Head over to Piaget's official website to view its complete Watches & Wonders lineup, orto inquire about the price and availability of the aforementioned novelties.
More Watches & Wonders coverage can be read here.