Jeremy Scott Was the Life and Spirit Behind Moschino
Hypebeast looks back at the designer's irreverent, fun-filled legacy at the House.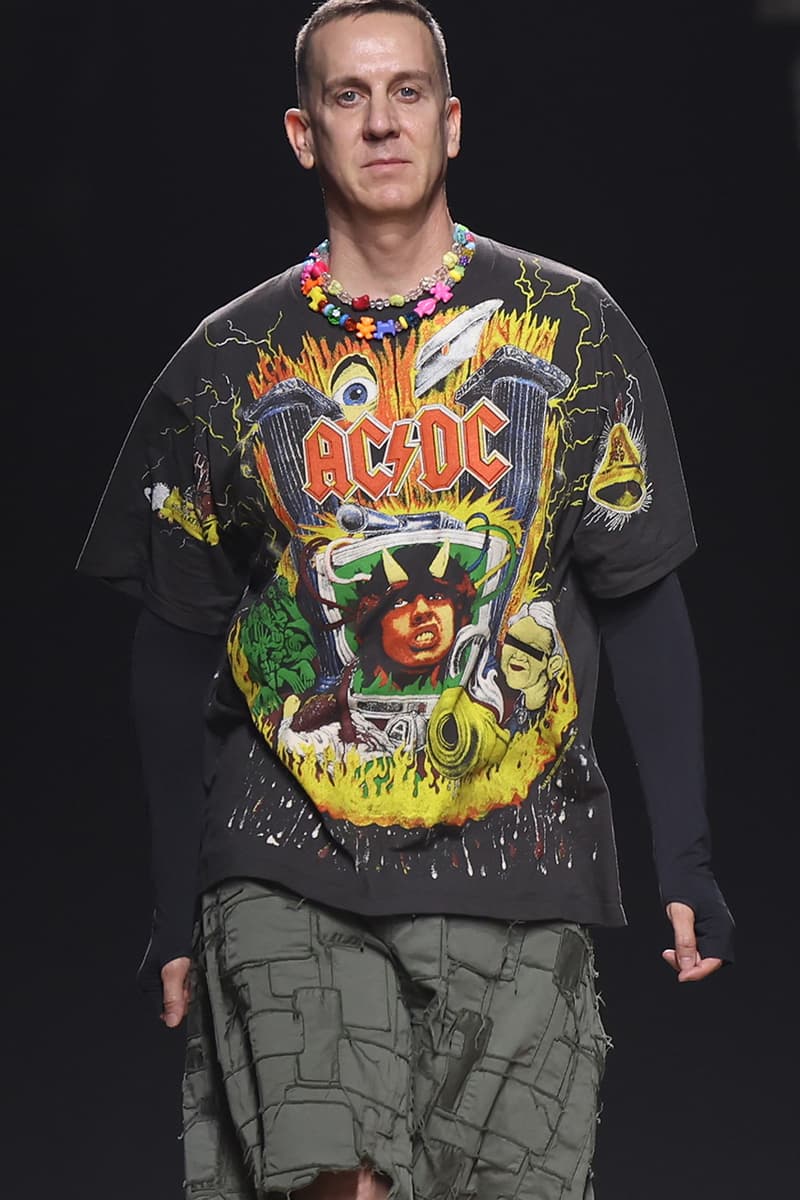 Jeremy Scott Was the Life and Spirit Behind Moschino
Hypebeast looks back at the designer's irreverent, fun-filled legacy at the House.
In its 40-year legacy, Moschino has had just three Creative Directors: its founder Franco Moschino, who reigned until his death in 1994; Rossella Jardini, who frequently collaborated with the late designer before succeeding him; and Jeremy Scott, who took up the mantle in 2013.
But one thing that's seldom changed is the Italian House's funny bone. For Fall/Winter 1988, Franco Moschino sent models down the catwalk wearing looks that combined 1920s flapper girls with '50s Old Hollywood glamor, while oiled-up muscle-clad men dressed in skimpy Roman attire carried the women on thrones. Equally humorous and cheeky, for FW89's "Fun Fur," he mocked the serious nature of fashion by stitching teddy bears together across coats and hats à la Cruella de Vil. 
Throughout the 2000s, Jardini continued the campy kitschiness with mermaid tops, bags shaped like houses, aviation tailoring and more. But by 2010, Moschino had lost its way: fun felt gimmicky in the form of "ECO CHIC" graphic T-shirts, and SS10's menswear show lacked the sophistication of its competitors like Dior Homme, or the sex appeal of Saint Laurent. 
It was time for a shake-up, and who better to revive the brand to its whimsical former glory than American designer Jeremy Scott? 
After graduating from the Pratt School of Design in New York in 1996, Scott went on to launch his eponymous label in '97, debuting his first collection as part of the esteemed Paris Fashion Week calendar. He was immediately cast as one of the enfants terribles alongside Lee Alexander McQueen and John Galliano, serving shock-value club kid couture in Queer arts scenes. His successes were recognized by winning the Venus de la Mode Award for "Best Designer of the Year" two years in a row, and by 2004, he was dubbed one of the most influential people in fashion by The Face. 
Scott pioneered the über-trash aesthetic of the noughties. For FW03, he unveiled his inaugural adidas collaboration within a spoof Hollywood awards ceremony – red carpet, celebrities, paparazzi, and shimmering sneakers in tow. Hypebeast previously called this debut the "sneaker-equivalent of a bejeweled flip phone and chihuahuas hanging out of tiny Louis Vuitton bags," telling you all you need to know about the partnership. The duo went on to craft the "Wings" silhouette in dozens of issues, from metallic gold colorways to pairs covered in a money print, while teddy bears, Mickey Mouse, and Swarovski crystals all got their five seconds of fame within the collaboration. 
As expected, these references went on to inspire much of Scott's own label, as well as his work under Moschino as its Creative Director. Such irreverence and a nerve to bring fun back to fashion underpinned everything Scott created. He was responsible for Britney Spears' "Toxic" music video air hostess uniform, he collaborated with Miley Cyrus during her Bangerz era on SS15's "Dirty Hippie" capsule, and he was the first designer to dress Miss Piggy. 
Of course, this eclecticism did not come without its troubles. In today's day and age, almost every House has been the main character of its own drama. Moschino's drama, on the other hand, was quite the scandal. Scott has a knack for creating looks that dare to be different, push buttons, make you laugh, or make you question what fashion can be – but he went too far with his JS x adidas Roundhouse Mid, which failed to go to market following outcries that the shoe was a reference to slavery, as it ankles were shackled. At Moschino, the designer came under fire for his so-called "Illegal Aliens" campaign, referencing Donald Trump's problematic take on immigration policies. 
Not everyone got on board with Scott's tongue-in-cheek approach. At Moschino, he cooked up a collaboration with McDonald's for his SS14 debut, creating a see-now-buy-now runway collection (this being innovative in itself) that took the Golden Arches to grand new heights – and while all the glitterati could say was "I'm Lovin' It," many others in the real world found this gauche. Likewise, collections with Budweiser, My Little Pony and Spongebob Squarepants all fell within Scott's melting pot of pop-culture references over the years, but such work often begged the question: "you expect me to pay $500 for a Spongebob T-shirt?!" 
But if you got it, you got it.
That is the inimitable spirit of Jeremy Scott, a designer who didn't just transform Moschino, but became it, and vice versa. Pop culture clashed with couture for unmissable runway shows and viral collaborations was the je ne sais quoi that made Moschino the most successful brand within its parent company Aeffe Group, making up roughly 70% of the conglomerate's sales. 
Over the last 10 years, Moschino has given us moments that will go down in the history books. Aside from the debut runway, we saw Barbie storm the catwalk for SS15, Looney Tunes for FW15, and paper dolls come to life by the way of trompe-l'œil for SS17. In more recent times, the designer has used comedy to comment on the world, with SS23's "Inflation Chic" collection bringing inflatables to the runway. He's also gone the other way, exploring sex, love and traditional glamor with SS21, which saw the burlesque star Dita Von Teese and '90s supermodel Shalom Harlow perform an extract from The Women in homage to the golden era of Hollywood. 
And it is this that Jeremy Scott has more-than-often had the front of his mind: empowerment. 
His looks are strong and encourage you to have fun. Wearing Moschino isn't a costume, it's a concept, harnessing the ability to have fun with fashion and not take life too seriously. Without him at the helm, it's hard to say what will happen to Moschino. We can only hope the next Creative Director (Alessandro Michele, Christopher John Rodgers, Christian Cowan, we're looking at you) can carry the torch with as much pizzazz as its epochal former lead.