Mia Khalifa and the Nike SB Dunk Low "What the Dunk" for Hypebeast's Sole Mates
From her seaside hideout in the U.K., Mia tells us about finding inner confidence through streetwear and sneakers.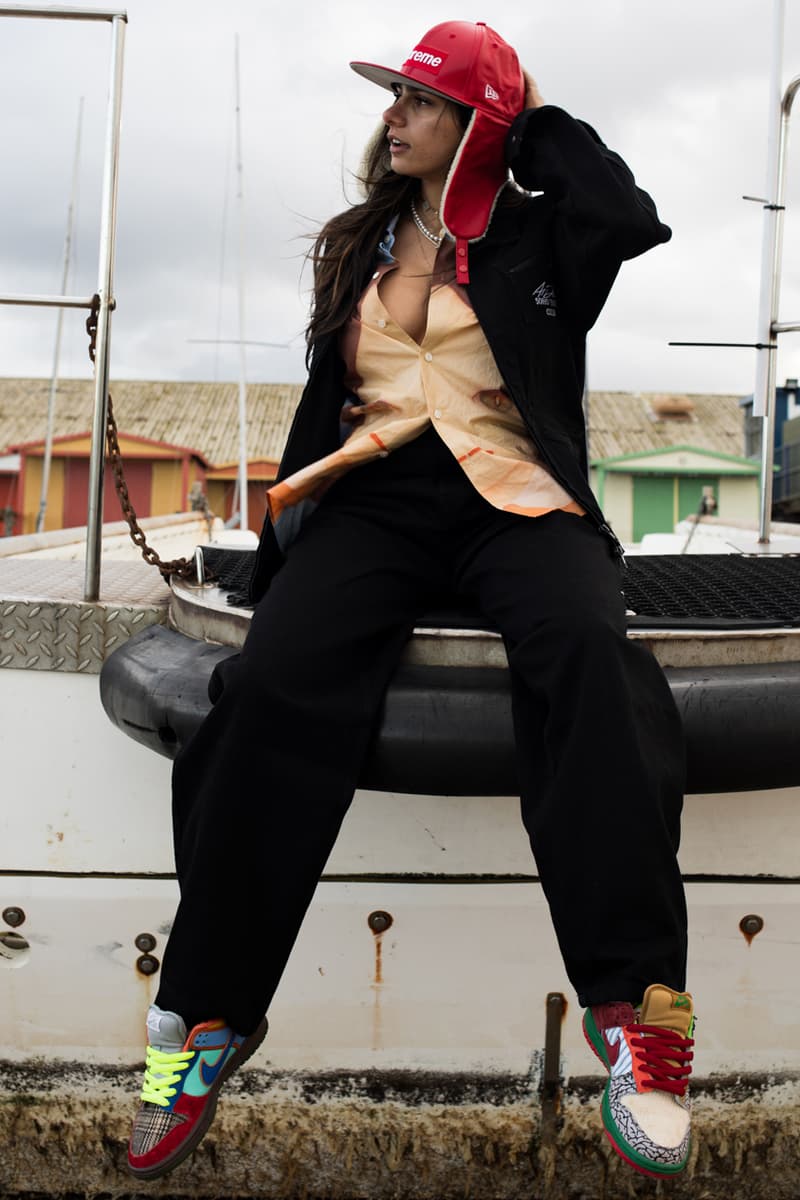 Mia Khalifa and the Nike SB Dunk Low "What the Dunk" for Hypebeast's Sole Mates
From her seaside hideout in the U.K., Mia tells us about finding inner confidence through streetwear and sneakers.
Imagine a world where coveted sneakers lost their status and grasp on society. Imagine Travis Scott's Air Jordan collaborations and sneakers, such as the 2007 Nike SB "What the Dunk", were considered as ubiquitous as a pair of Converse All Stars. Rather than cradling in-demand shoes like a newborn baby, Mia Khalifa sticks to one rule – they're made to be worn. 
Prior to our interview and photoshoot — which took place at her holiday home in a quaint British seaside town — Khalifa confessed that she wanted to wear the fragment design x Travis Scott x Nike Air Jordan 1 OG Highs immediately. "After I got them, and I'd just spent all this money on a pair of shoes, I couldn't stand the thought of not wearing them and getting my use out of them," explained Khalifa, talking about her beloved beaters. "When I posted a picture in them for the first time, people lost their mind that I was bending the toe. But how else do you walk in shoes?"
Khalifa has a strong desire to wear her heart on her sleeve in everything she does, going forward. "I was very lost for a long time. I don't think I chose the lane that people put me in," she says. But after finding streetwear, sneakers, fashion high and low, and a growing love for art and watches, the multifaceted starlet is set on taking ownership of herself. By expressing herself through her love for fashion and streetwear, Khalifa is reclaiming her identity. In short, she's found a new sense of belonging in the community and a better understanding of inner confidence in her taste and passion for culture, and self.
In this issue of Sole Mates, Hypebeast and Mia Khalifa dissect her growing appreciation for sneakers, her newly-purchased Picasso painting, how to find the beauty in clothes, and how she plans to fight her way through the fashion industry's "locked doors." 
Hypebeast: What got you into sneakers?
Mia Khalifa: My friend got a DM from a sneaker store in LA. "We want to give you a free pair, your girlfriend a free pair, and we want to give Mia a discount. Please bring her in." My friends, who are sneakerheads, were like, "Bitch, get in the car!"
They were really intent on getting me a pair of sneakers, so I just got a pair of YEEZY Slides. But they wanted to show me the back room. They were opening all these boxes and showing me all of these sneakers, and they were f*cking hideous. "These are $40,000! What are you talking about!"
Then they opened a pair of fragment design x Travis Scott x Nike Air Jordan 1 OG Highs – I had never seen a backward Swoosh before. 
That. THAT. 
That was… the moment? 
That was the moment. I had no idea what the f*ck they were, I just knew I wanted them. That's when I realized that sneakers were really collectible, like that. 
You're a self-confessed non-sneakerhead. Did the Travis Scotts make their mark on you?
I got it to the extent of "getting" a really f*cking nice watch. A lot of people aren't going to get it, you could buy a car with that. But you get it because you get it. But I f*cking love those shoes and I throw them in TSA bins because they're my everyday shoes – they're beautiful, they're very special and should be worn and appreciated. 
Does that logic apply to everything you own – that things should be used regardless of their prescribed worth?
No. It's the same mentality that I have when I'm buying art, because I look at all these pieces as art. A lot of my clothes cost more than my art prints that hang on my wall protected by museum glass. 
I don't buy something unless I have a personal connection to it. I have a personal connection to Yoshitomo Nara, Yayoi Kusama, the fabrication of Rimowa. I want to support all of these things and be a part of that story, like archival Daniel Arsham and Rimowa collaborations because I'm a fan of both; I think it's so beautiful when different worlds cross and interact. I think that's why I like Hypebeast so much, because you see the ways in which culture is changing in real-time. 
And world's coming together is most evident in the sneaker scene. 
Exactly. I'm not the biggest Travis Scott fan, and I'm not the biggest Nike fan… but I have a connection with something crooked and weird and backward, that makes you double-take. 
Is the same love you have for fashion and art applicable to sneakers?
I have been very vocal in the past about not really "getting" the sneaker "thing." I think what I don't get is the resale market. How is this allowed to happen? It's insane. 
Is the art industry also not fuelled by resale culture?
But I don't respect that aspect of it. I don't buy art just to make a profit off of it and sell it in a year or two. I think that I've been mostly exposed to that side of the sneaker world rather than the appreciation and craftsmanship and story and emotions behind it. I feel like you have to look for that. 
Once you understood and appreciated sneakers, what came next in your journey?
I bought the next two pairs at the same time – the Nike SB "What the Dunk" and the Travis Scott x Nike Air Jordan 1 Low OG "Reverse Mocha" – as it was too cold to travel in my slides. I wanted something a little bit softer so I reached out to the place where I got my first sneakers, and they sent me pictures of the "What the Dunk" and it really stood out to me.
What is it about the "What the Dunk" that stole your heart?
I love the patchwork and I love the Grateful Dead and when I saw that patch. This patch right here [points to a Herringbone tweed panel on the toe] reminds me of the English countryside. 
Have they changed the way you look at sneakers?
Very much. Surprisingly, they work as a neutral because there's so much going on – it's mostly red. It works so well with so many things; it's blown my mind how much I have worn them. When I would have normally reached for any other type of shoe I ended up reaching for these. They make me feel so fun and so special. I also like the looks that they get. 
You love them so much that they've become your beaters?
How can these ever look dirty? There's so much going on. 
That's a refreshing way to look at something so in-demand…
Why would someone covet these so much? What would you do with them otherwise? I'll never take them off. Is it for them to profit off of these one day? If so, where's the love there? 
What has changed since you've become a lover of the sneakers that you own?
It's changed the way I look at styling myself and styling anything. Before I had the "What the Dunk," I don't think I would have wore a pair of sneakers in a campaign that I was in. I wore a pair of Travis Scotts, the "Reverse Mocha," for a campaign because they were the perfect shoe to shoot anything in. 
I needed a neutral shoe but something that would have stood out a little bit. Never in a million years would I have thought to style myself in a pair of sneakers and that they would have worked so well. I really surprised myself at how much I ended up reaching for these when I got them. 
How does this make you feel?
It's making me feel like I don't need to have cleavage to feel sexy. 
That's the shift that it did for me. When I was 25, 26, I could feel sexy in baggier things, in more rough-around-the-edges things, taking risks. I used to look farmhouse-chic because I felt like that was safe. I was in my comfort zone because that's what I thought pretty meant, but now, pretty can be baggy jeans with a little bit of ankle showing, sneakers, and an oversized shirt. 
That's where I find the beauty in clothes now, not just "does my body look good and am I showing enough skin?"
Is it important to experience this change of mindset?
It's given me a new kind of confidence. Ever since then, the things that I have created and have gone for, been willing to do and shoot where I would not have felt quintessentially beautiful, have probably been because of [all of] this. I did a shoot with a mullet, I was asked to take my eyelash extensions off — which have a f*cking chokehold on me, I wouldn't take them off for anybody. This was because I had a mindset change of what I needed to wear to feel beautiful, that I could wear sneakers. 
You're entering the fashion industry — attending the Off-White™ show last year, coming to Paris Fashion Week, appearing on magazine covers and in editorials. Was this trajectory the dream?
It's about putting myself out there and taking the leap to do something I am not necessarily comfortable with. I can only hope that it goes further. 
I would normally have invested in a watch or a piece of art or a sculpture. Now, I've got gears in my head grinding and making me think it isn't so unreasonable to invest in another pair of sneakers that I would wear to death. I want to grow my collection, now. I want to curate it better and take care of it, I want to style more with it and get more use from it, all while taking myself further out of my comfort zone. 
I don't know how I am going to style neon orange tie-dye sneakers, but I will find a way to because I f*cking want them.
Has your time in the U.K. changed your appreciation for sneaker culture, the streetwear scene and fashion?
Yeah. Absolutely. 
I have been on the lookout for a full-on hunting outfit: the hat, the Barbour. [At this point, Mia Khalifa excitedly delves into her London shopping spree, pulling out a red Supreme hunting hat and a brown tartan check Junya Watanabe dress]. 
Being in the U.K. has really opened my eyes to fashion. There's so much beauty in neutrals, forest greens, hunting boots. That sort of thing. I think people are more effortless, here – everything is much more classic. Throwing a sweater over your shoulders and not looking like an annoying country club snob is very hard to achieve in the US – but that comes with British effortlessness. You're not trying to look a certain way; you threw your sweater off because when you left the house it was freezing but, now, the sun is out for 15 minutes. That's it. 
I love coming here. I love seeing people in full-on party dresses and gowns running around in sneakers. It's so sick to see how Sara [Burn, Mia's manager and business partner] styles a wool suit with sneakers, or sneakers and a full dress. You're booked and busy and you don't have time! You're not going to bother carrying another pair of shoes in your bag to change into later, they're sneakers and they're always the same pair. 
The more I am here in the UK the, more I am learning and evolving.
What are your next steps in finding yourself through fashion and sneakers?
I want to see where my tastes go and I'm excited to see what I am inspired by when it comes to sneakers. 
Are you now more of a sneakerhead than ever before?
Yes. In the same sense that right now I am saying this sentence and I am older than I was before I said it. I really do appreciate them and I genuinely think they're special. It's not the rarity. To me, it's simply special. I saw the price tag first, I don't think I'd be wearing them! 
Do you now feel more confident walking into a store to pick what you feel you want?
After having the fragment design x Travis Scott x Nike Air Jordan 1s, there was definitely a shift. I used to look for a pair of heels, but then I started to think about what sneakers were available as well. Now, instead of a pair of crazy Rick Owens thigh-high hot pink boots (which I have because they're insane) or a pair of Windowsen boots the size of a coffee table, I'll think about sneakers. That's where [my mind] used to go for shoes. 
I bought a pair of Windowsen shoes to shoot with a Picasso that I bought — I held it in front of me naked because that's the only thing I thought would go with that Picasso. The next time I shoot with a piece of art, I'm going to think about wearing a pair of sneakers. 
Aren't these "What the Dunk" sneakers a piece of art in their own right?
Each and every little square is a piece of art. The textures, materials, colors that you would never, ever thought of put together. I will never change these laces. I'm going to wear them down. I will love them for the rest of my life and if my kids don't love them, f*ck them kids. 
I don't think I would hesitate to spend $100,000 on a pair of sneakers if I thought about them in the same way as I do art or a downpayment on a house or a car. 
Ultimately, do you think changing your mindset towards your passions, like sneakers and fashion, allowed you to be taken more seriously?
Absolutely. The [industry] has locked doors. Hush hush. It's very intimidating in that way and there's a lot of pressure even thinking about approaching the industry. But I've always admired it. 
It's also really reassuring to see other people doing it. To see what Christine Quinn is doing. She's changed the game.
I was very lost for a long time. I don't think I chose the lane that people put me in. It feels really isolating and like a pigeonhole. I can admire all of these things from afar and what these people have done, but it's not possible for me. 
The confidence I've learned from being able to do things just because I think they're beautiful and that they're unique and exciting and creative and a challenge… That is what I've found as passions. The things I pour my heart into. Those are the things that have started to get noticed, and in turn, it's a very positive catch twenty-two. It has given me the confidence to take risks and be open about the things I'm passionate about!