French Montana Envisions a Second Coming for the Mixtape Era
Over two decades into his career, the 'Coke Boys 6' rapper is still dropping off tapes.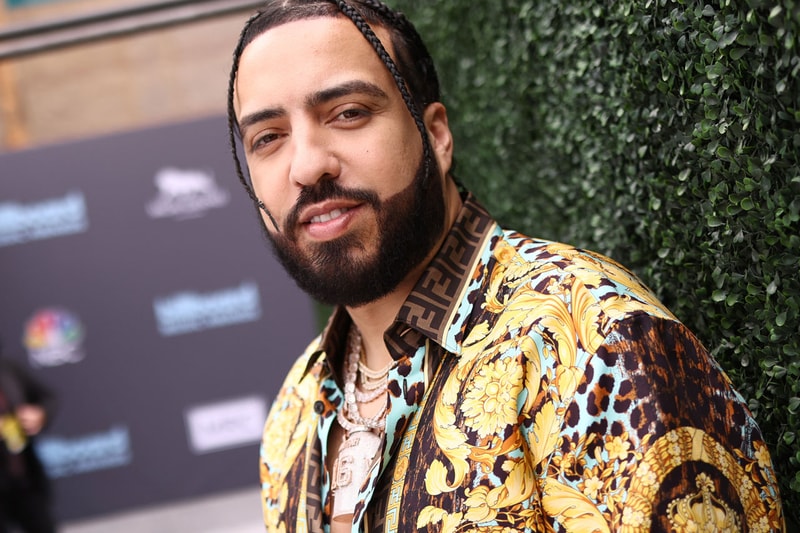 At a time in music when many up-and-coming rappers reject the idea of dropping mixtapes – or at the very least, view the format as archaic compared to the ease of unleashing singles on streaming platforms – French Montana has situated himself at the vanguard of what he predicts will be an industry-wide return to mixtape culture. The New York-by-way-of-Morocco rapper hails from a generation of artists whose discography precedes digital streaming, and, in conversation with Hypebeast, recalls passing out mixtapes by hand around his home borough of the Bronx in the early aughts.
Unlike most rappers, however, Montana has kept up the tradition. Earlier this month, he dropped Coke Boys 6: Money Heist Edition, a joint tape with another champion of the format, DJ Drama, for the latter's Gangsta Grillz series. Since its inception, DJ Drama's infamous series has seen him collaborate with rap's heavy hitters – Pharrell, Lil Wayne, and Meek Mill and, now, Montana.
Just before the release of CB6, Montana spoke about the process of assembling the sixth tape in his namesake franchise, his penchant for collecting samples and what fans can expect to learn from his forthcoming documentary.
CB6 clocks in at 29 tracks, an extensive tracklist for any project. What provoked the decision to make CB6 so much longer than earlier tapes in the series?
I usually collect music throughout the years and have it ready, without or without bars. I collect samples, sounds and beats and just always hold onto them until the time is right. I'm definitely always looking out for samples that haven't been used before. Then, I'll cook it up in the studio. It's like a big gumbo.
"Drug addicts look for drugs and I look for music. That's my high."
How long does it take to condense that "gumbo" into a singular mixtape?
There's no time limit. We don't rush the process. We just keep collecting until we feel like the project has something for everybody out there. The samples are just something that I've been doing ever since I was young. I just like collecting music.
Once I hear something, I can't even explain the feeling I get in words. The best way I can describe it is that drug addicts look for drugs and I look for music. That's my high.
How did the decision to have CB6 be a Gangsta Grillz tape come about, and how was working with DJ Drama different from working on tapes by yourself?
It's called feeding the streets. When I came up, it was a mixtape era, so I got to thinking and called DJ Drama and I was like, "yo, we gotta do a Gangsta Grillz." Me and Drama had done a bunch of music before, but never released it. Mixtapes kind of fell off the map for everybody. Every artist has been chasing the algorithm and the streams, but I feel like the game is going back towards mixtapes.
Coming off of this latest tape, as well as last year's Montega LP, do you already have plans for another album?
Right now, I'm putting some new music together. Once I get to like eight or ten songs, then I'll be like, "okay, let's put an album out." I'm planning on doing a joint album with Kodak Black as well.
"I don't call it a documentary, I call it a real movie. This is a self-made story. We don't highlight the awards and the gossip and the likes."
You recently revealed that you'll be debuting Dear Khadija, an autobiographical documentary about your life and career that's titled after your mother. Can you give us a preview into what viewers can expect to see?
It shows the whole immigrant process – coming from another country, not being able to speak English, not being able to get a regular job, being alienated and just going through that struggle. It's about being molded around the things that people who are born here are able to take advantage of.
There's the whole culture shock, along with the whole process of losing people. It's real. I don't call it a documentary, I call it a real movie. This is a self-made story. We don't highlight the awards and the gossip and the likes. No, this is the award of life. No, this is what you get when you, when you put everything into your hustle. It's about really respecting the time it took for you to get there. It's more than an immigrant story. Although being an immigrant may mean that you have to struggle a little harder, I'm sure that everybody will relate to it cause everybody had to struggle once in their life.
Drake is also onboard the film as an executive producer. How did that collaboration come about?
I think we both had the same come up and both our mothers really played a strong role in it. I had documentary already done and and we watched it and there was a match made it heaven.
Once he saw it, he said he's gotta be part of it. It's a real special piece. It's probably the best thing I ever did in my career.