For COS x YEBOAH, "Metamorphosis" Is the Message
Reece Yeboah speaks to Hypebeast on his debut collection with COS, his shared upbringing in Ghana and Britain, and what he hopes to accomplish in the future.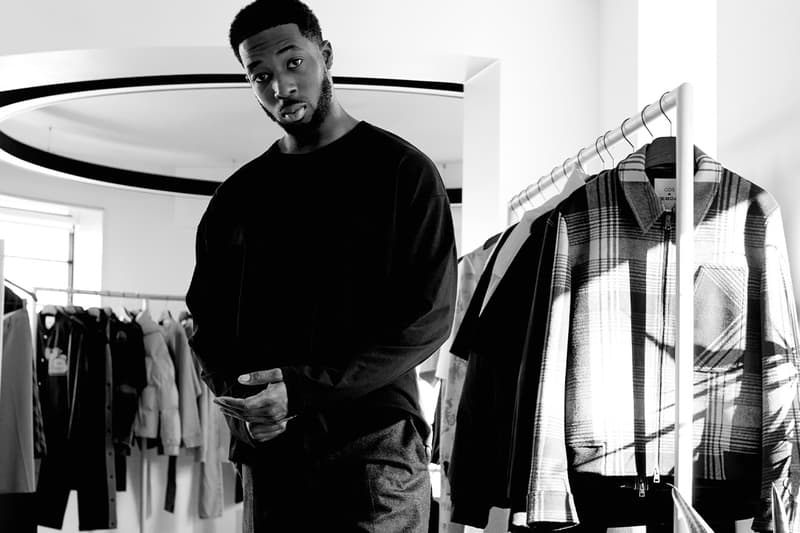 The U.K. is full of exciting talent searching for opportunities across the country. Although dozens of cities hold diverse creatives from across the globe, London is recognized as Britain's innovative focal point, welcoming new artists and designers into its industries birthed from the city's top universities.
Others cross borders for their chance to make it big in London Town, and some have the chance to be nurtured by the city from the get-go. Such can be said for emerging U.K. designer Reece Yeboah, who was born in Britain and lived in Ghana throughout his adolescence, recently returning to the capital with a wealth of knowledge, which he is channeling into his namesake label YEBOAH.
For his debut, Reece is uniting with multi-faceted retailer COS for the release of his first collection. The collaboration sees the duo in an innovative light, showcasing the former's visionary language bred from his past life experiences and everyday inspirations. Before launching YEBOAH, the designer put his energy into "Saint," a sporty variation of his new label that graced the backs of Future and Lewis Hamilton. However, he has put it on pause to debut YEBOAH, working with COS to build a celebratory space that champions imagination in inclusive forms.
Titled "Metamorphosis," the collection sees luxury streetwear and impeccable tailoring collide to reflect the designer's past, present, and future encounters. The unisex collection leans toward the masculine side and promotes versatile casual garments with hidden details for swift wearability. Wool outerwear is fashioned with vibrant yellow plaid, while the same hue continues on college-inspired varsity jackets and gradient puffer jackets that swaddle the body for the perfect fit. Reversible body warmers don dissimilar designs inside and out, standing alongside printed suiting that promotes the butterfly effect theory — "small details that significantly impact the final design."
Speaking exclusively to Hypebeast, emerging designer Reece Yeboah touches on his first encounters with COS, the presence of British culture in his designs, and where he hopes to take YEBOAH next.
In a few sentences, how would you describe your namesake label?
Reece Yeboah: YEBOAH is a street-luxe brand. I wanted to go down the luxury route more with this, as I previously did streetwear for 10 years. I wanted to take myself out of this box of designing T-shirts, hoodies, jumpers, and caps – I wanted to exceed that, and through this work, my new vision can be felt everywhere.
Why did you choose to collaborate with COS, and what do you hope to deliver alongside the brand?
RY: I feel like the collaboration wasn't planned; it was manifested – it was heaven-sent, and I see it as a gift. It's something that works amazingly because I was already on COS' radar, and through making connections, we made this come to life. It's been an amazing marriage of the two brands – it explains and identifies what I want to do moving forward with my career while bringing our communities together in the same space. This collection is inclusive – people can style themselves in what feels right to them, and my drive is to continue to show the next generation what is possible in this area, engage with them and bring them into the fashion conversation.
Tell us about your childhood and how this shaped you into the designer you are today.
RY: My childhood was like a rollercoaster – lots of bumps, pitstops, you name it. It shaped me into the man I am now, and I'm thankful for my friends, family, and the areas I grew up in – Reading, Ghana, Kilburn, and Notting hill. It's been a very fierce journey, but I love and am grateful for my community – that has been one of the things that have helped me through times of need and helped to build me back up to where I stand today.
Your collaborative collection with COS reflects on your life journey thus far. How is British culture communicated in your designs?
RY: This communicates very well through the checkered print; I think that is very British. It's something that instantly reminds me of the U.K. and keeping warm in the fierce wintertime there. Black and yellow throughout this collaboration represent both countries, yellow representing Ghana, and black representing some of the grey, cold, and darkness experienced in the U.K. at times. As a designer, I feel like everything I do has a message behind it and a concept that means something to me – this is an example of that.
How would you describe your design language, and how is that presented in the collection?
RY: As a designer, I feel like it's very important to tell a story. Personally, I make sure that every design that I've made or concept that I research is true to me – whether it's a life lesson, a blessing, or something that inspired me during my childhood. It doesn't necessarily need to be old or new; it could be a situation in my life – if I'm inspired by it, I'll transform it into something positive, and if it's negative, maybe something informative for others. My thought process feels unique, how fast I'm able to look back to events and take inspiration to make a collection or create a design that is dear to my heart or interests. That is something that I've done via the sketches for this yellow collection – most of the collections that I have will be in yellow, black, green, and red, which are colors from the Ghanaian flag.
How did you go about designing the collection? What was the process behind it?
RY: The process for designing this collection was thinking about life lessons and what inspired me while I was in Ghana. The concept of the collection is based on my mother sending me to Ghana to break generational curses – so that I don't repeat reoccurring issues within the family and to break a cycle – to be my own man and make something of myself in society. It unplugged me from the matrix. I became a new person, and I gained a new understanding of life. It's made me the man I am today; I've embraced so many lessons, and I wanted to incorporate that into the collection through color, textures, silhouettes, and overall design.
What can we expect from YEBOAH in the near future?
RY: In the future, you can expect the unexpected. I feel like the brand will always keep people on their toes, it's going to grow in popularity and scale, but the main goal is to have organic and steady growth moving forward. Nothing happens before it's time. I would like to ease my way into maturity as a designer as well as a brand.
Elsewhere in fashion, Dhruv Kapoor FW23 steps into the wild with Godzilla collaboration on the runway.