Best New Tracks: De La Soul, PARTYNEXTDOOR, Jacquees x Future and More
Dive into the weekend with these music projects.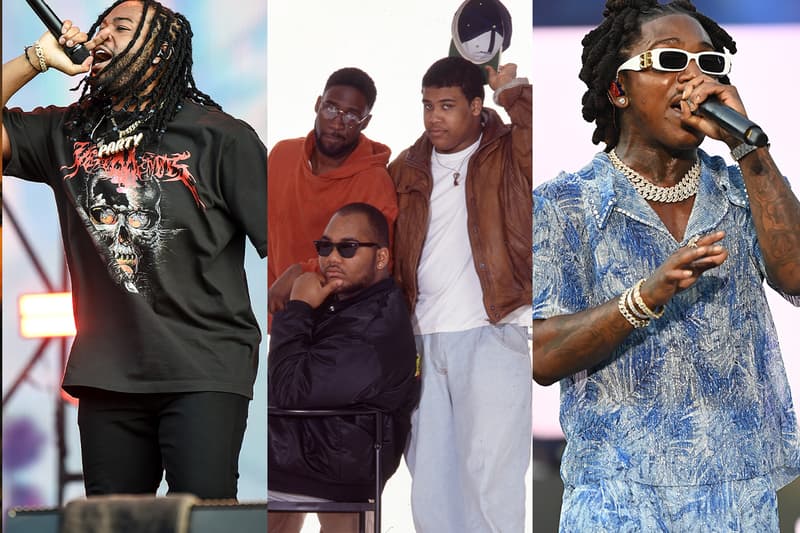 As the week in music comes to a close, HYPEBEAST has rounded up the best projects for the latest installment of Best New Tracks.
This week's lineup is led by De La Soul who released the 1989 cut "The Magic Number" on streaming for the first time, PARTYNEXTDOOR who released "Her Old Friends" and Jacquees and Future who share a music video for "When You Bad Like That." Also joining this week's selection are offerings from Paramore and Miley Cyrus, along with collaborations from Armani White with Denzel Curry, Benny Sings with Kenny Beats, Fly Anakin with Foisey and SG Lewis with Charlotte Day Wilson and Channel Tres.
PARTYNEXTDOOR – "Her Old Friends"
PARTYNEXTDOOR follows up his December 2022 single "Sex in the Porsche," which featured Diddy, with "Her Old Friends." The track features production from OG Parker, G Ry, CANDYCHYLD and Nuki Beats and marks PND's first release of the year.
Listen: Spotify | Apple Music
De La Soul – "The Magic Number"
For the first time in history, De La Soul's "The Magic Number" — which was initially released as part of their 1989 debut album 3 Feet High and Rising — is officially available on streaming services. The group's back catalog is set to hit streaming on March 3.
Listen: Spotify | Apple Music
Jacquees x Future – "When You Bad Like That"
Jacquees drops an accompanying music to his Future-assisted track "When You Bad Like That," co-directed by BPACE and the artist himself. The cut appears on Jacquees' Sincerely For You, which released in December.
Watch: YouTube
Paramore – "C'est Comme Ça"
Paramore readies their next album This Is Why with the release of its third single, "C'est Comme Ça." Translated to "it's like that" in English, frontwoman Hayley Williams shares, "I'm trying to get un-addicted to a survival narrative. The idea of imminent doom is less catastrophic to me than not knowing anything about the future or my part in it. The guys and I are all in much more stable places in our lives than ever before. And somehow that is harder for me to adjust to."
Listen: Spotify | Apple Music
SG Lewis x Charlotte Day Wilson x Channel Tres – "Fever Dreamer"
SG Lewis enlists Charlotte Day Wilson and Channel Tres for "Fever Dreamer," the final single before the release of his new album AudioLust & HigherLove. Describing it as " song about all-consuming admiration for someone," Lewis adds, "I've been a fan of Charlotte's music for ages now, and have wanted to work on something forever. We met up at my studio in LA, and 'Fever Dreamer' was the first idea we started work on. Channel and I work out of the same studios in LA a lot, and he was working in the room above around the time of the Charlotte session. One day he popped his head into the studio, heard the demo of 'Fever Dreamer,' and immediately started working on the missing second verse."
Listen: Spotify | Apple Music
Fly Anakin x Foisey – "Blicky Bop"
Fly Anakin announces his upcoming EP Skinemaxxx (Side A), which drops on April 5, with the release of the single Foisey-assisted cut "Blicky Bop" and its visual directed by Jay Green.
Listen: Spotify | Apple Music
Benny Sings x Kenny Beats – "Young Hearts"
Benny Sings announces his Kenny Beats-produced album Young Hearts, as well as releases the title track. "'Young Hearts' is one of my favorite songs on the album," the artist said in a statement. "Kenny started producing and added Remi Wolf in the chorus. This song is one of the rare occasions where I'm singing in third person, which I really love. It's about two young people getting addicted to crack – not autobiographical."
Listen: Spotify | Apple Music
Miley Cyrus – "Flowers"
Miley Cyrus preps her upcoming album Endless Summer Vacation, which drops March 10, with the single "Flowers." The cut arrives with a music video created by the artist herself and helmed by Jacob Bixenman, while the album is described by Cyrus as her lover letter to L.A..
Listen: Spotify | Apple Music
Armani White x Denzel Curry – "GOATED."
Armani White joins forces with Denzel Curry for "GOATED.," which leads his upcoming EP. The single features a music video directed by Mikey D'Amico and Davey Robinson, which sees White training in the gym with none other than Floyd Mayweather, Jr.
Listen: Spotify | Apple Music