1952 Mickey Mantle Baseball Card Shatters Records With $12.6 Million USD Sale
Overthrowing Diego Maradona's $9.3 million USD "Hand of God" jersey.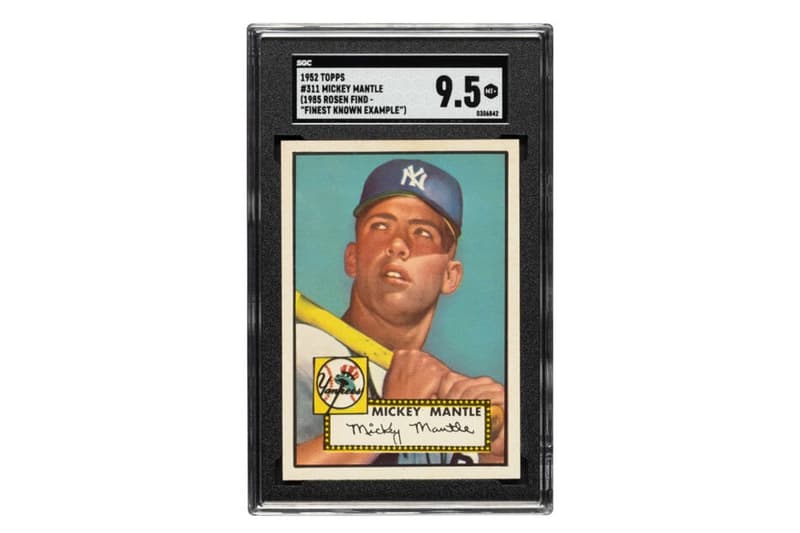 The final sale price for the "Rosen Find" 1952 SGC graded Mint+ 9.5 Mickey Mantle baseball card has been revealed. Sold by Heritage Auctions, the rare grail card was estimated to reach up to $10 million USD during its initial listing but has now broken all records with a final sale price of $12.6 million USD.
This now surpasses the previous most-expensive baseball card sale at $6.6 million USD for the Honus Wagner and is now the most expensive bit of sports memorabilia sold — overthrowing Diego Maradona's $9.3 million USD "Hand of God" jersey.
Chris Ivy of Heritage Auctions comments, "We always knew this card would shatter records and expectations. But that doesn't make it any less of a thrill to be part of an auction during which a single item breaks the eight-figure threshold for the first time. It's an extraordinary accomplishment for our wonderful team of sports experts at Heritage Auctions. And, of course, we could not have done it without our consignor, Anthony Giordano, who put his trust in Heritage to bring this amazing card to market."
In other collectible news, Muhammad Ali's Rumble in the Jungle WBC belt sold for $6.18 million USD.