Milan Fashion Week SS23 Embraces the Return of Tailoring, Marking a Potential End to Hoodies and Sweatpants
Slouchy suiting and relaxed, tailored trousers steal the show.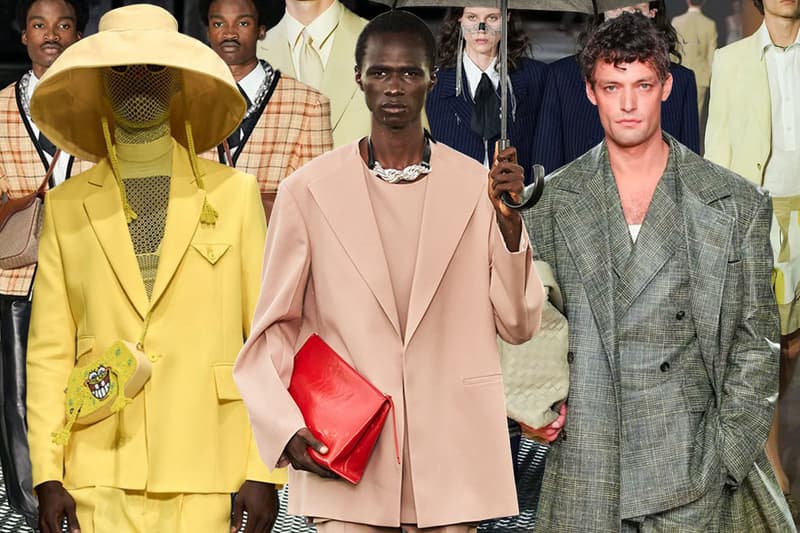 Milan Fashion Week Spring/Summer 2023 might have just sounded the bell on the return of the classic, Italian tailoring. When it comes to suiting and looking dapper, no one does it quite like the Italians and it is only right that Milan be the city to mark the return of pristine tailoring.
This season, staple luxury Italian brands have transformed the suit, given the once "stuffy" look, a much needed modern-day refresh. Current trends have indicated and seen young people take an element of a classic suit and incorporate them into their everyday looks. Where in the past suits were considered formalwear and for business, it has now been intertwined with the academia aesthetic. The blazer has now become a necessity and strong outerwear alternative, while trousers are becoming a casual substitute for jeans.
In the past decade, the trend has shifted from fitted pieces to a more comfort-centric aesthetic. As the '80s and '90s fashion trends continue to be an inspiration, the idea of oversized jackets and wide-leg pants is a nod to the rejection of the traditional, flashy trends made popular once upon a time. Gucci, Bottega Veneta, Bally, Jil Sander and GCDS are amongst some of Italian heritage brands shown at fashion week, that have truly embraced the contemporary everyday suiting and tailoring trend.
Under Alessandro Michele, Gucci has continued to flourish, spotlighting Italian tailoring for the house. Michele has created a new standard for Gucci tailoring, seen with his signature double-breasted jacket and eccentric patterns that revive the retro masculine aesthetic. Old-school tailoring, focusing on elegance, marches into a modern era, where Michele adds his own joie de vivre to dramatize and give the "geek chic" look an exaggerated flair. Following in his footsteps this season, GCDS has taken a playful approach to take suiting to the pineapple under the sea. In SpongeBob yellow, the label confronts the contemporary vision of tailoring, reminding fashion enthusiasts that suiting can be fun, despite its formal history.
Rhuigi Villaseñor's first foray as BALLY's new creative director, looked toward the sleek and playful 1970s look, that sees loung-style button-downs paired with straight-leg trousers. Defining casual luxe, the designer stay true to the Italian house's traditional tailoring, focusing on monochromatic suiting in standout colors like teal, cerulean and black velvet. Villaseñor also stays true to his Californian roots, bringing the tailoring to pleated trouser shorts, highlighted in eccentric patterns.
Bottega Veneta and Jil Sander have opted for the casual-luxe look, reminding everyone that suiting does not always have to mean fitted. Oversized tailoring receives an upscale revival, elevated by the premium material and tasteful patterns that separate the suits from the regular day-to-day metropolitan aesthetic. Loose fitting and comfort-focused continue to be at top of mind when it comes to these trends.
When it comes to suiting, it seems that tailoring is here to stay. As Paris Fashion Week kicks off, fashion trend spotters will have to wait and see how the trend progresses and evolves over time.
In other fashion reports for Milan Fashion Week, here are the biggest street style footwear trends.