Paul Smith and Stan Smith Share More Than Just a Surname
In a joint interview, the two legends discuss football, fashion, and their new collaboration.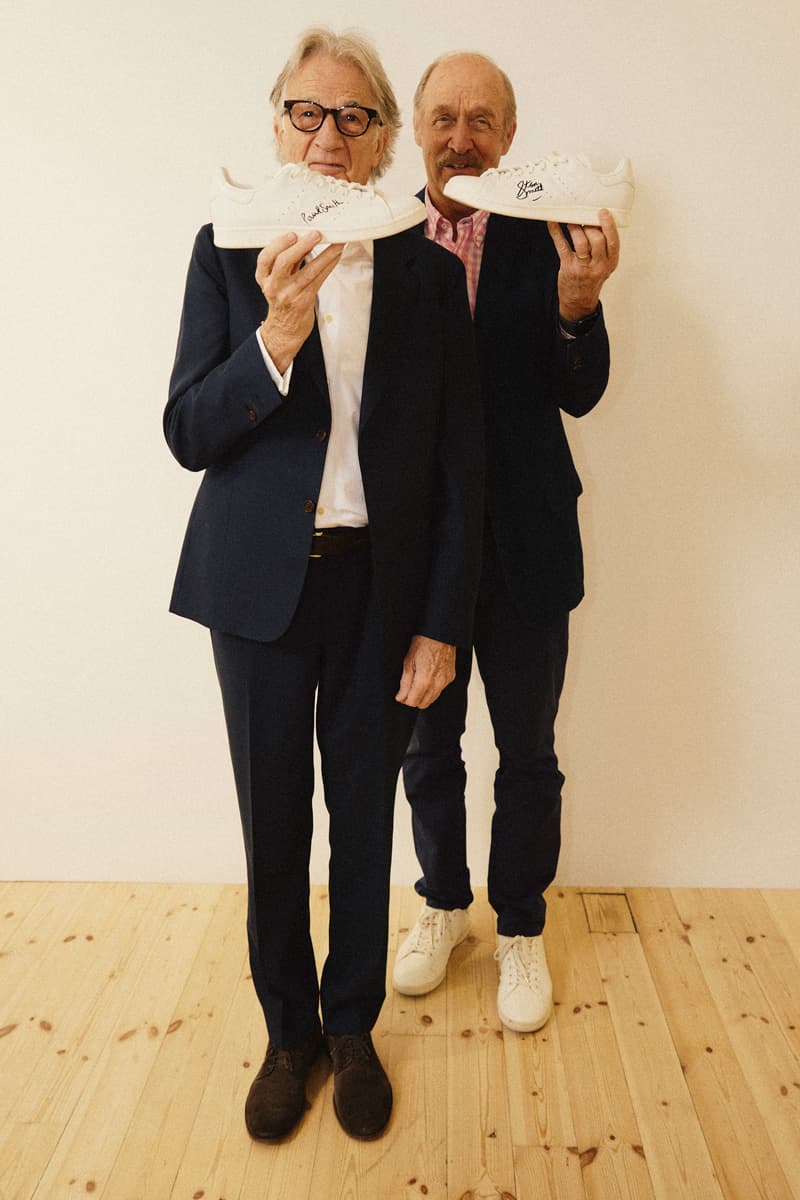 Paul Smith and Stan Smith Share More Than Just a Surname
In a joint interview, the two legends discuss football, fashion, and their new collaboration.
Apart from their shared surname, Paul Smith and Stan Smith have had very different lives. The former was born in Nottingham and launched one of the most successful – and influential – British brands of all time, while the latter grew up in California, became a Grand Slam-winning tennis player, and helped launch one of the best-known sneakers ever.
The pair are now working together for the first time, alongside adidas and Manchester United, and have found more in common than they may have expected. They were both born in 1946, and have also discovered similar traits in one another. "What's been interesting has been meeting and just immediately hitting it off," Paul Smith tells Hypebeast. "We both just love life and we get on with stuff. It's not complicated."
Another shared interest has been football and, particularly, Manchester United. Neither Smith would choose football as the preferred first sport – for Stan that is, obviously, tennis while Paul is an avid cycling fan – but they have both come to appreciate it over time. "I was playing here in 1966 when England won the World Cup," Stan Smith explains. "I didn't know anything about football but it was on 24/7, so every time I wasn't playing tennis I couldn't avoid watching it. I got to really appreciate what was happening."
"We both just love life and we get on with stuff. It's not complicated"
For Paul, a friendship struck up fifty years ago helped deepen his interest in football and change his allegiance. "I've always been interested in football, and coming from Nottingham my team was always Forest," he explains. "In the 1970s, I was a very good friend of George Best, he used to stay with me in my flat in Putney, so I switched over to Manchester United. We got on really well together. Because I didn't know a lot about football, I just used to talk about anything. I think he found that quite fascinating."
Paul Smith's relationship with Manchester United became more formal 15 years ago when his namesake label began dressing the club's players off the pitch. "The hardest thing was that there were so many people that wanted to go on the trip every time we were doing fittings, everyone was so excited to work with them," he recalls. "I remember going to do the fittings for the suits for the very first time and meeting Fergie [Sir Alex Ferguson]. I was nervous because everyone had said he can be quite tough. He wasn't at all. He was absolutely lovely and we had a good old chat."
The 15-year collaboration is important to Paul Smith, especially considering his friendship with George Best in the 1970s and the stature of the club. "It's something you're very proud of doing," he says. "Wherever you go in the world, people know about Manchester United." Over the course of that decade and a half, Paul Smith's work for Manchester United has changed. The latest shift reflects wider trends and, in particular, the move to a more casual wardrobe. "We've all changed the way we dress since Covid, a lot of people were working from home, and so dressing more casually," Paul explains. "So we decided with the Manchester United team to soften up the clothes we were doing for them. It's a bit more like a T-shirt and zip jacket, a softer look."
Included within that new, softer approach is a limited-edition take on the Stan Smith silhouette. The collaboration is the reason that Paul and Stan first met earlier this year, and features portraits of the two men. "Quite embarrassingly – or wonderfully, I'm not sure which – there's a picture of my face on one of the tongues and one of Stan's on the other," Paul says. "It's really humbling and fantastic, he's such a legend and the shoe is such an iconic piece of footwear. It's quite amazing really."
Working on this limited-edition release, both Stan and Paul were aware of the significance of the shoe. "So many people have worn it," Stan says. "And not because they were being paid to, but because they like it." This also informed Paul's design choices and meant he decided to stick to a winning formula. "The thing was, don't rock the boat," he explains. "The actual shoe is fantastic, it's really stood the test of time. So the idea was really just to keep it simple."
As well as the shared portraits, the collaborative shoe celebrates another link between Messrs Smith. Only 1946 pairs will be released, marking the year in which they both were born ("our year," as Paul calls it). "Paul's much older than me," Stan says, pointing to Paul's July birthday versus his in December. "So we should make half a pair for him, just one shoe."
On the day that the two Smiths first met, Paul took Stan up to his office and showed him a pair of Stan Smiths he'd bought in the 1970s. "They're very very used," Paul says, "and I love them like that." Within the first two years of that decade, Paul had founded the label that bears his name and Stan had started working with adidas on the shoe that bears his. "My story with adidas is about collaboration, really," Stan says, looking back on 50 years of the partnership. "We've collaborated with all sorts of different people, different organizations and different designers. It's exciting for me to be involved with Paul. It's a great honor."
The collaborative Paul Smith, adidas Originals and Manchester United Stan Smith is limited to 1,946 pairs and is set to drop soon. Find out more information on the Paul Smith website.