Jake Paul to Face UFC Legend Anderson Silva in Next Boxing Match
Taking place October 29 in Phoenix, Arizona.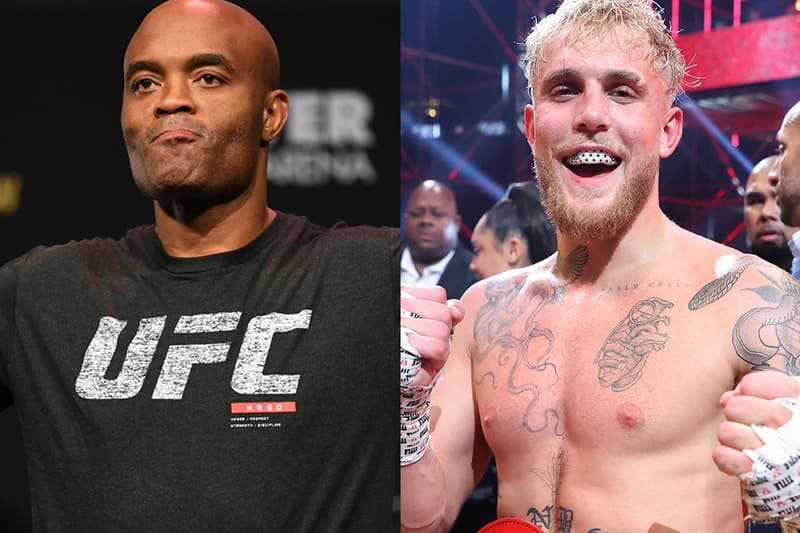 After two of Jake Paul's scheduled opponents, including Tyson Fury's brother Tommy Fury and 12-1 heavyweight Hasim Rahman Jr., both pulled out of their scheduled boxing bouts for varying reasons, the younger Paul brother now locks in his next dance partner, UFC great, Anderson "The Spider" Silva. Silva is a future UFC Hall-of-Famer whose impact on mixed martial arts is rivaled by few in the sport. The Brazilian fighter holds the standing UFC record for longest title reign, most consecutive UFC victories, and the most UFC title fights.
Known for his creative striking, Silva (34-11 and 1 NC) transitioned from MMA back to boxing in 2021 — securing victories over former middleweight boxing champion Julio Cesar Chavez Jr. and fellow UFC legend Tito Ortiz. At 47 years old, Silva will now face the young prospect Jake Paul who comes off stunning knockout victories over two other former UFC fighters, Tyron Woodley and Ben Askren. Paul is currently undefeated in the boxing ring and Silva's only loss was in his 1998 boxing debut.
"Anderson 'The Spider' Silva is the most versatile fighter the world has ever seen," said Paul. "Just a year ago he outclassed boxing champion Julio Cesar Chavez Jr., and showed the world why he is often referred to as the greatest fighter of all time. Every expert, from MMA to boxing, has said Jake Paul won't fight Anderson Silva. They said Jake Paul is afraid of Anderson Silva, and Jake Paul would lose to Anderson Silva. Well, to all the non-believers – Jake Paul is fighting Anderson Silva. It's an honor to have the opportunity to share the ring with the greatest UFC striker of all time. On Saturday, October 29, I will walk humbly into the ring, touch gloves with a living legend, and do my best to exterminate 'The Spider.'"
"I know that in life everything has its purpose," Silva comments. "Nothing comes just by chance. So, I thank God for my health, my family, and my team for providing me with this opportunity to continue doing the thing that I love the most. I believe this will be the biggest combat event of the year and will truly make history in the sport forever. See you on October 29."
The two fighters will face off for the first time in back-to-back press events September 12 in Los Angeles and September 13 in Phoenix.  The event is co-produced by SHOWTIME PPV and Jake Paul's Most Valuable Promotions (MVP). Holden Boxing will serve as the promoter for the bout.
In other news, Nate Diaz is set to launch his own combat sports promotion, "Real Fight Inc."