Ferrero Rocher Turns Its Iconic Chocolates Into Premium Chocolate Bars
Three years of development and over 300 recipes later.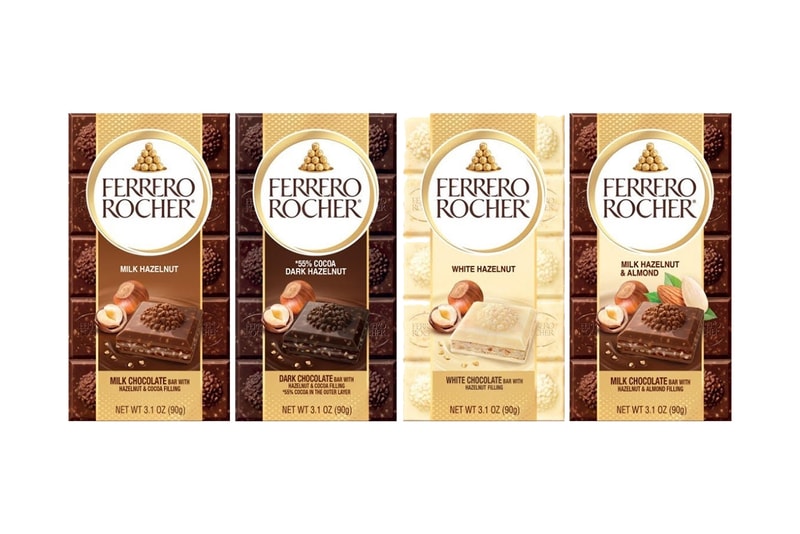 Ferrero Rocher has just released a new product to its mix that celebrates its iconic chocolate. Incorporating elements of its signature round sweets created in Alba, Italy, Ferrero Rocher has created a premium chocolate bar version in four flavors — Original Milk Hazelnut, 55% Dark Hazelnut, White Hazelnut, and Hazelnut & Almond.
"For the Ferrero Rocher bar, we focused on carefully selected ingredients like delicious, crunchy hazelnuts and fine chocolate with a premium design aesthetic to create a product that tastes as good as it looks," said Mark Wakefield, SVP Premium Chocolate, North America at Ferrero. "The packaging design resonates with our consumer and everything they're looking for in a premium chocolate offering. The craftmanship is truly unmatched. The reception has been fantastic all around the world and we're looking forward to offering it in the US."
The formula for the Ferrero Rocher chocolate bar took over three years of development where over 50 people worked on over 300 recipes to find the desired balance of taste and texture. The bar is a combination of crunchy hazelnut pieces, refined chocolate, and exquisite creamy fillings, combined in distinctive layers of textures and characterized by a playful dome shape that references the original Ferrero Rocher. 
Priced at $3 USD, the 3.1 oz chocolate bars are set to hit stores in the States in the coming weeks.
In other dessert news, here are this year's most luxurious mooncakes for Mid-Autumn Festival.