Sole Mates: Ste Wing and His Birkenstocks
The multi-hyphenate explains why he doesn't compromise on footwear comfort and style.
In a cultural melting pot like Manchester, new styles and trends are often introduced by newcomers to the city and rapidly adopted by locals. As one of the city's most influential style mavericks, creative and entrepreneur Ste Wing is admittedly the first to sport new looks, constantly experimenting with clothing and footwear that catches his eye. But when it comes to Birkenstocks, the classics never falter in his wardrobe.
Before the bold socks and sandal trend swept the UK, Wing was rocking Birkenstocks as a casual throw-on shoe. Kicking about Manchester in his Bostons, he often paired the sandal with noughties streetwear labels including Iceberg and Moschino. Now, the tastemaker is taking Birkenstocks into his tattoo studio, providing him with much needed comfort and an unlikely artistic canvas in his latest business venture, North Block Tattoo.
For this issue of Sole Mates, Hypebeast caught up with Ste Wing in the heart of his hometown to discuss his love for Birkenstocks and how – after all these years – the plush on-the-go sandal is still a source of inspiration.
1 of 3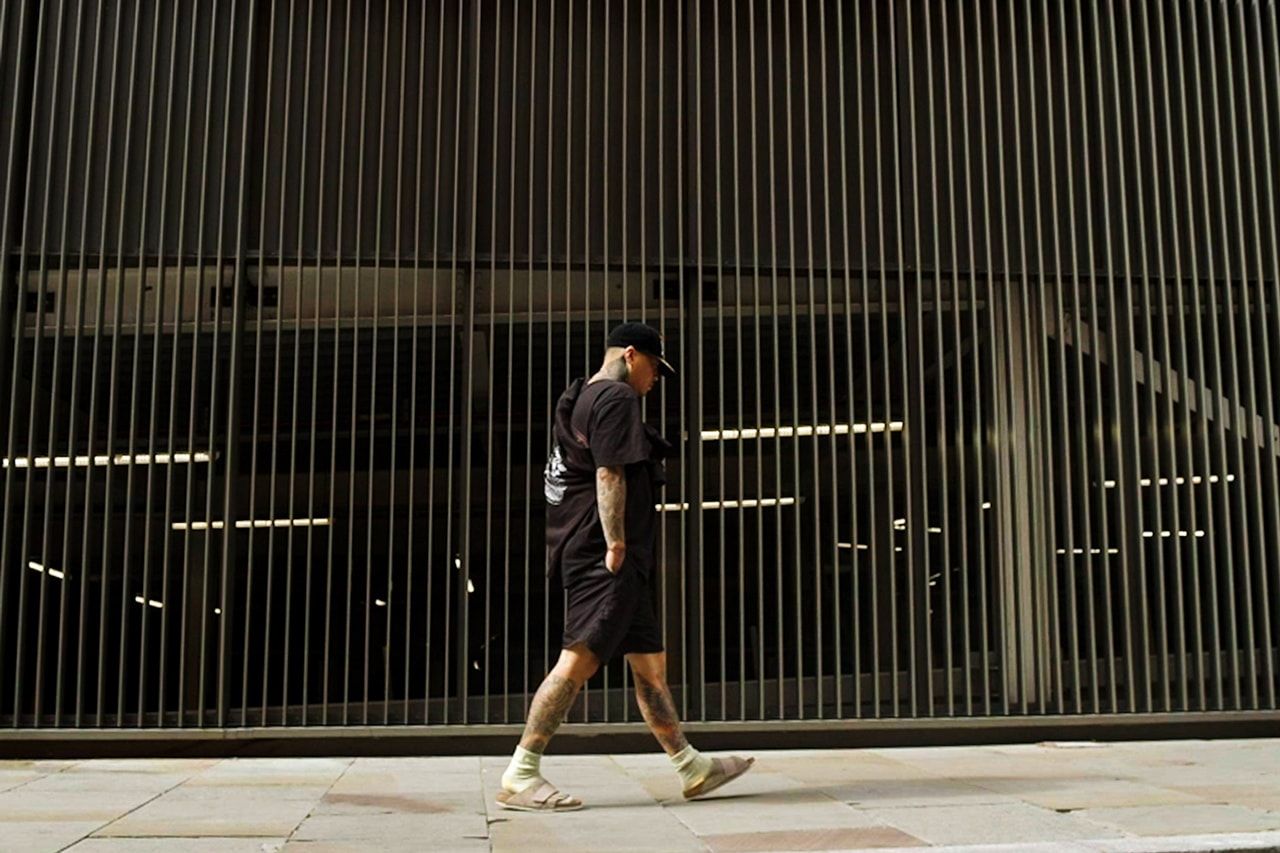 2 of 3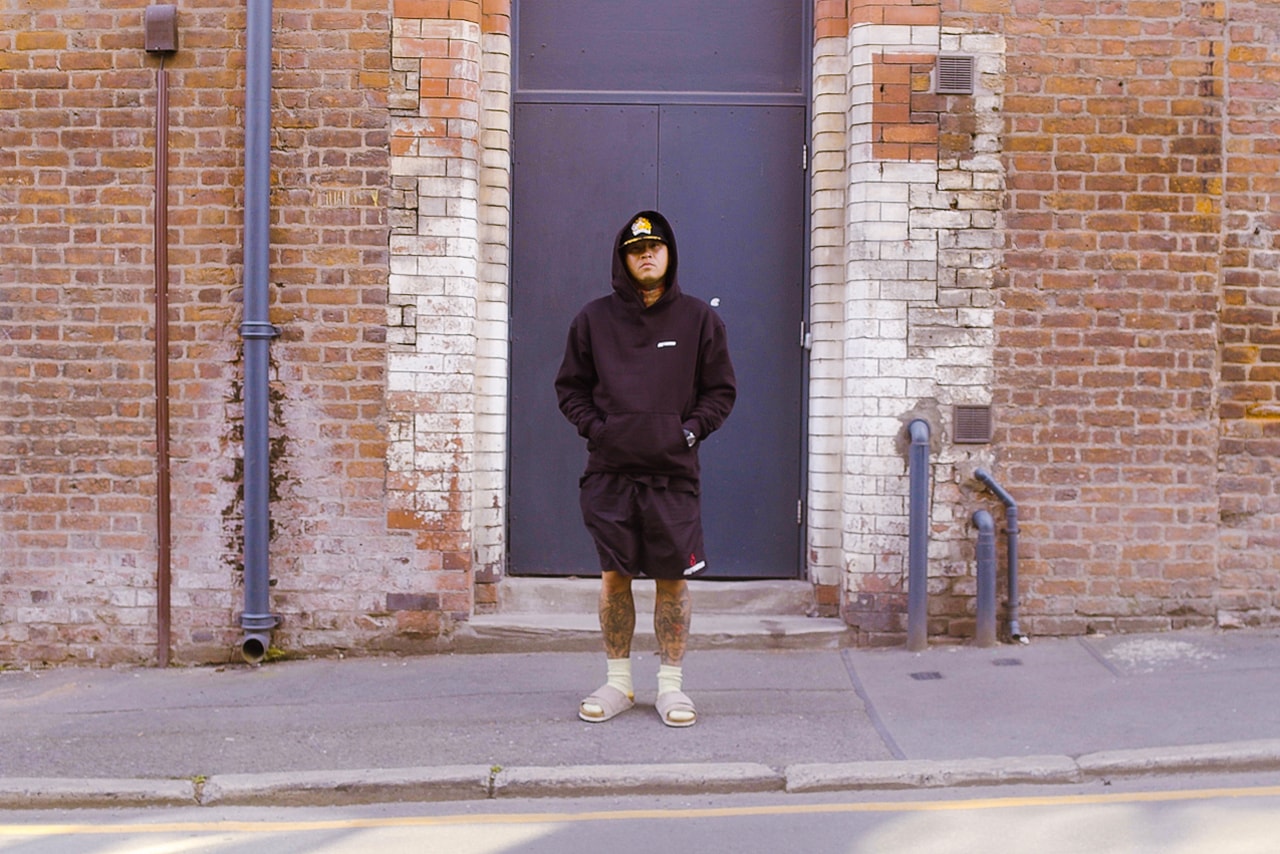 3 of 3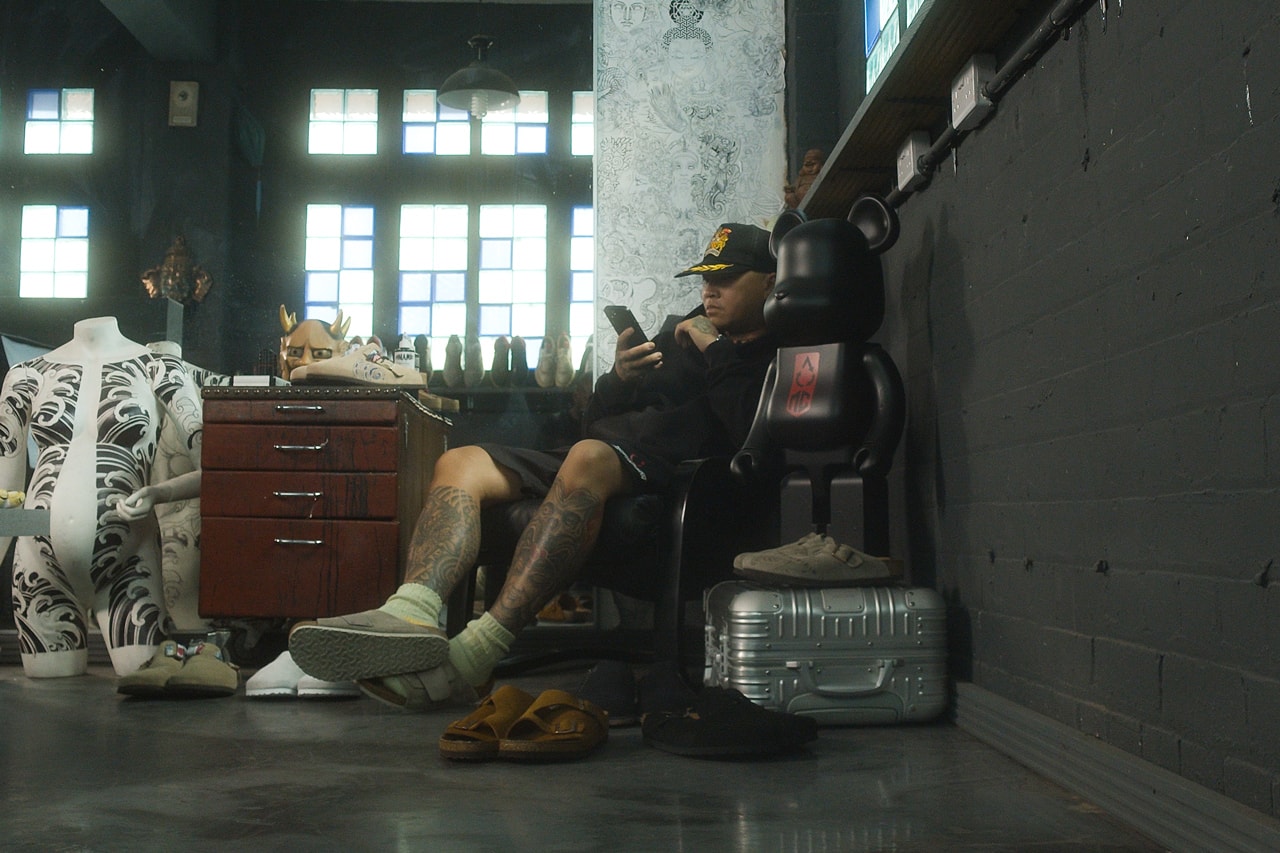 Hypebeast: What got you into footwear?
Ste Wing: Since I can remember, I have always had this appreciation for footwear. My mom says I've always been selective with the shoes I've worn. Growing up in the '90s in Manchester, style was embedded into us. What we wore said a lot about who we were and where we're from. When I went to neighboring cities, you better believe they knew I was from Manchester.
Can you explain how your style has evolved over the years?
I've always been known for my ability to mix streetwear with high fashion. Back in the day, it was a pair of Nike TN's (known locally as the 110 because of its price) with some Moschino denims (usually distressed) or some ACG bottoms with a Versace or Iceberg oversized shirt.
If you take a look at my Instagram, you can notice the influence is still there. Instagram gave me the platform to show my personal style, but also the ability to connect with people from all over the world and share my passion. A big part of my style change and experimentation came from all the traveling I've done over the years. I saw how different styles were worn and how the key to style is to wear what you feel confident in, whatever that may be. I'm able to build and run multiple businesses that span fashion, lifestyle and the arts. This means every day is different. For me, what I wear plays a big part of the service and product I offer.
With our recent change in lifestyle came a new outlook towards our choice of footwear, and Birkenstock was a big part of this shift. When did you start to connect with Birkenstock's identity?
Having a pair of Birkenstocks was essential. Whether that was a pair to chill in the house with, or a pair to beat around in while helping my mom with her garden. I'll always remember seeing the Boston in cities like Berlin, Amsterdam, Stockholm and Japan. All worn outdoors and mostly paired with a chunky knit sock. This fit just looked effortless and mega cozy in my eyes. It wasn't long before I took this inspiration and I was rocking them here in Manchester.
You also run your own tattoo studio. Are Birkenstocks a part of your aesthetic outside of working hours, or does the brand's roots in functionality play into your daily life?
North Block Tattoo is my newest venture and located in the industrial part of the city. The Boston is bang at home here. It's aesthetically pleasing as well as comfortable, it's the perfect shoe to chill in the studio with. We can have a client here doing a seven hour session, and for both artist and client, it's all about comfort. You can imagine, a few of our artists have now got pairs.
1 of 4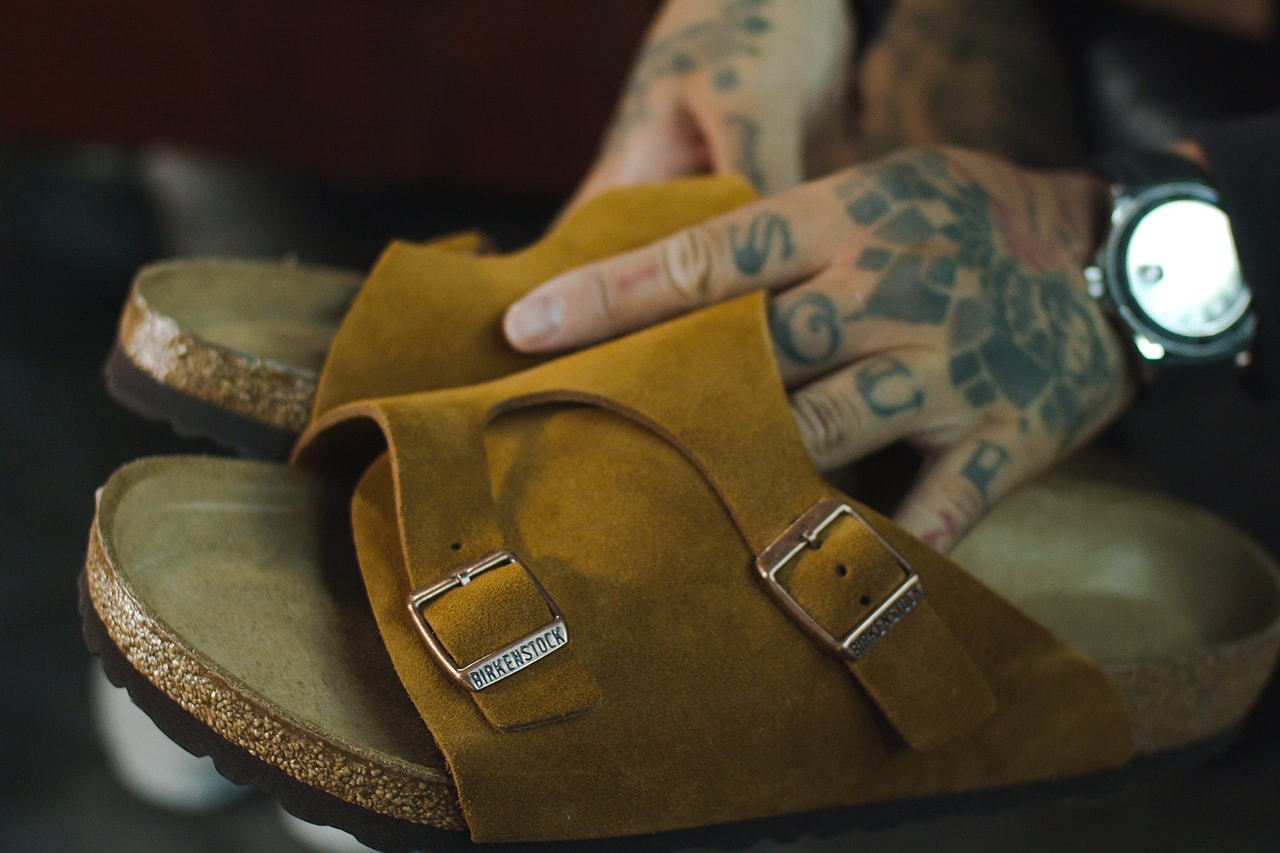 2 of 4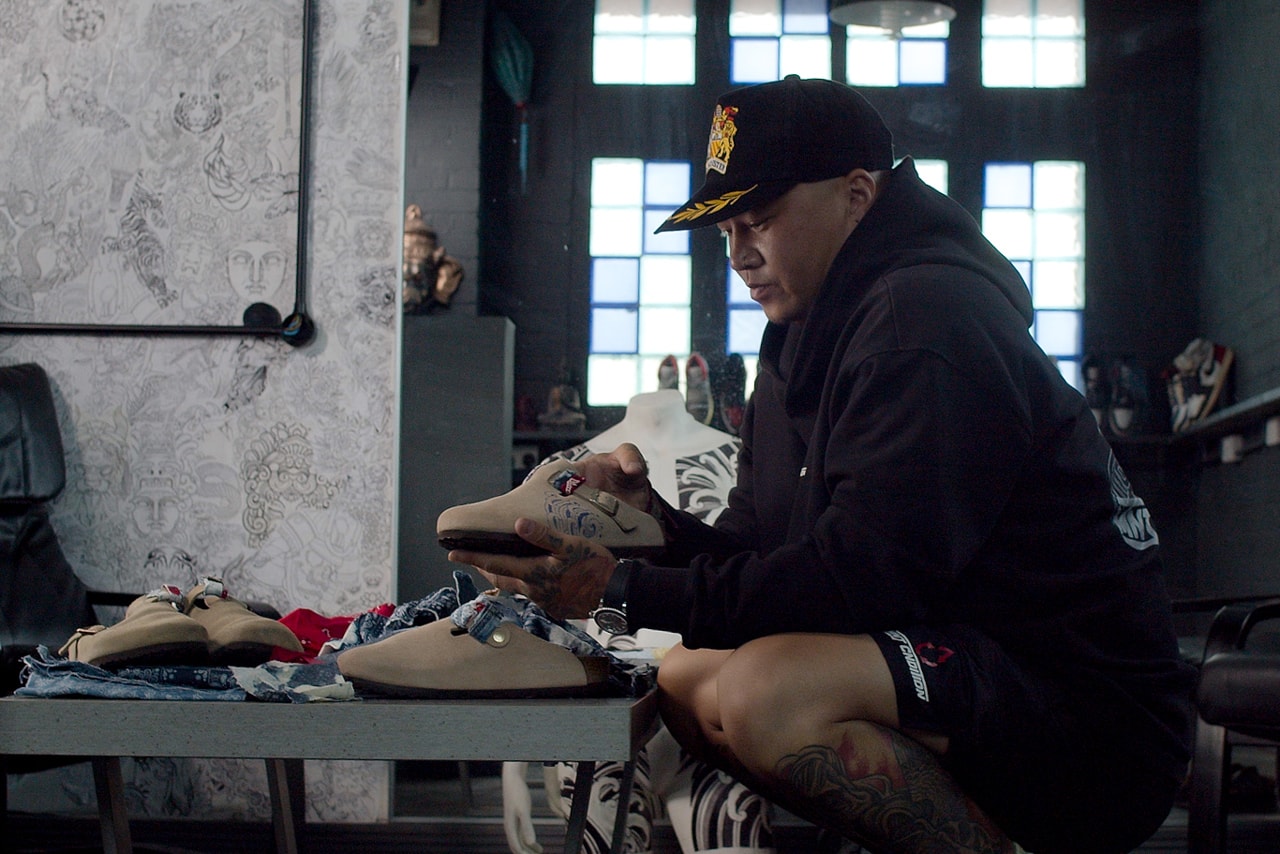 3 of 4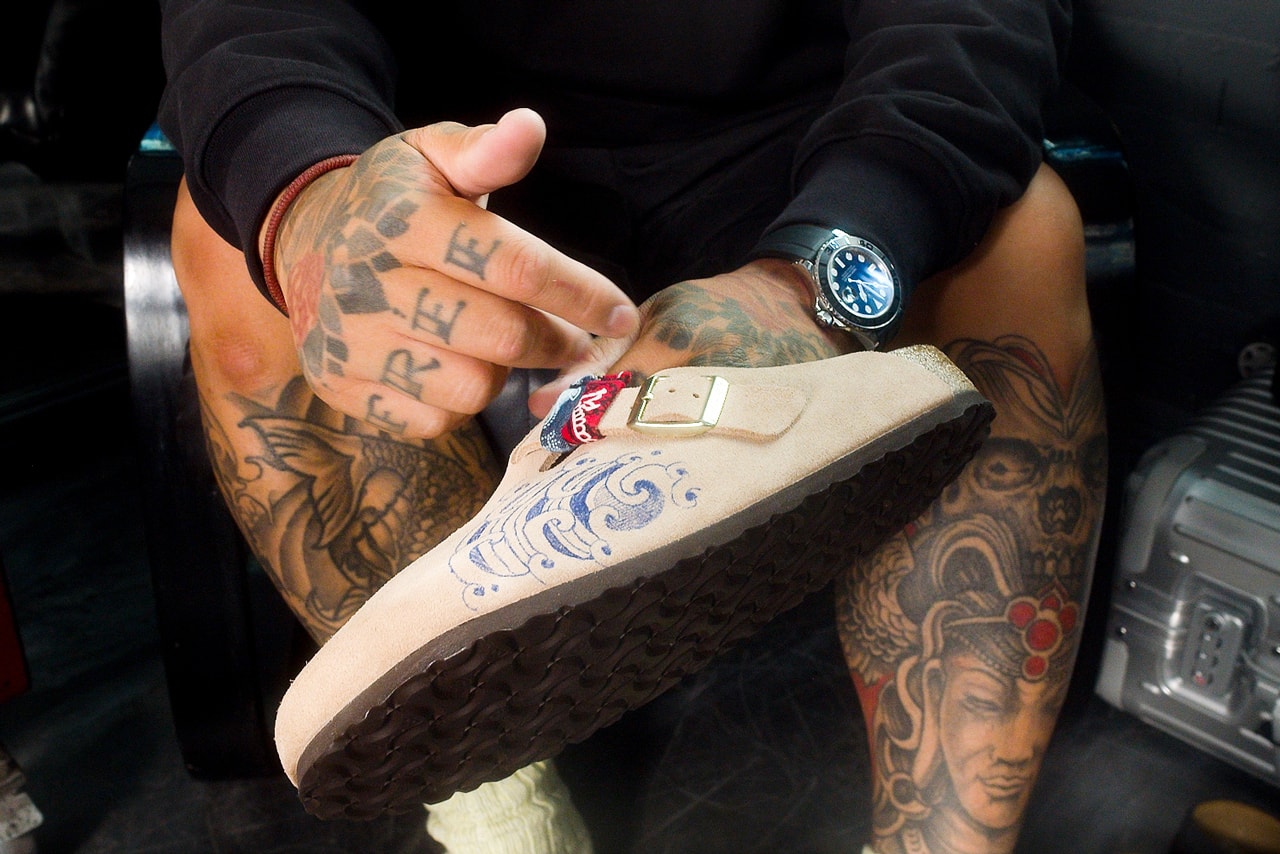 4 of 4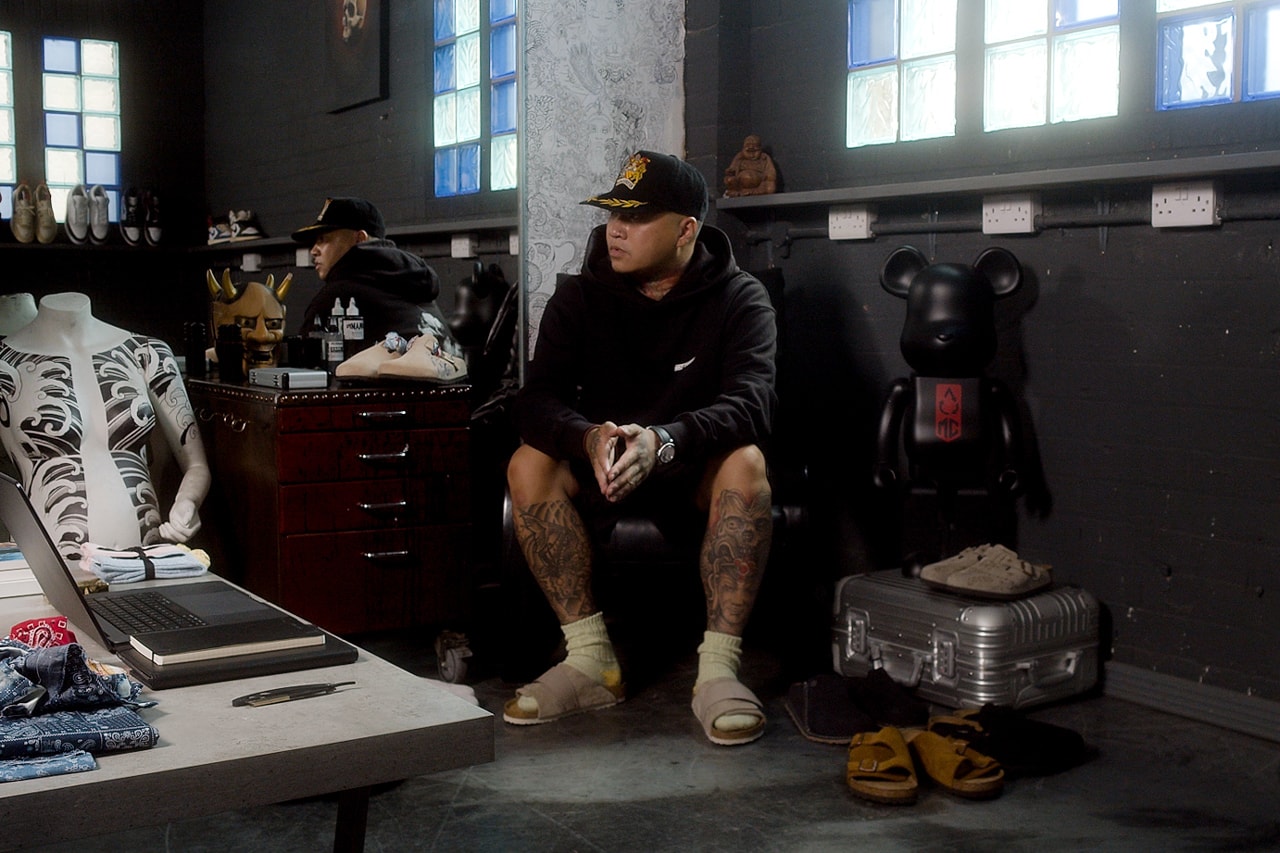 You're evidently a fan of collaborations and customs, from Stüssy to bandana-accented pairs altered by yourself. What is it about Birkenstocks that enlightens your creativity?
I've worn Birkenstocks for many years now and I love the suede leather of the Bostons so I had a go at etching some tattoo-inspired art onto a few pairs. They have always turned out amazing and has resulted in me getting orders from friends and people across the world. As they have become more popular, I try to switch them up now and again with a subtle custom detail. The Birkenstock silhouettes are clean and gives a creative like myself free reign to try something and when it doesn't quite work, it kinda does too. You can see that I've got a pair done by my business partner and tattooist Jamma and another pair done by my mate, tattooist Thomas Cardiff.
Birkenstock is rooted in traditions. Pairs such as the Boston, Zürich and Kyoto are three silhouettes that have taken the world by storm – why do you think they've received such success?
There will always be success for a brand like Birkenstock. They've been around since way before any of us. I'm talking the 18th century, so they are here to stay. Styles like the iconic Boston, Zürich and Japanese-inspired Kyoto will always have people who prefer a certain style over the other, but ultimately comfort is there in any Birkenstock product.
What do you hope to see in Birkenstock's future, and more widely, the community of footwear obsessives it represents?
I think they are doing everything right so far. Birkenstock's collabs with high fashion and streetwear brands like Dior, Rick Owens and Stüssy work so well because it is fit for collabs. The shape and style of the shoes are so iconic, yet simple, it leaves brands with space to do a number of things to create a collab piece. It's helped Birkenstock reach a different demographic of consumers, especially in the streetwear and high fashion scene. I'm sure it won't stop there, maybe they will see this feature and like my custom pieces, I definitely wouldn't say no to a collab with them.
Shop the new Birkenstock models mentioned in the article online, in Birkenstock stores and select retailers now.