Eminem Reveals What Ended His Feud With Snoop Dogg
Admitting it was because of Dr. Dre's health scare back in 2021.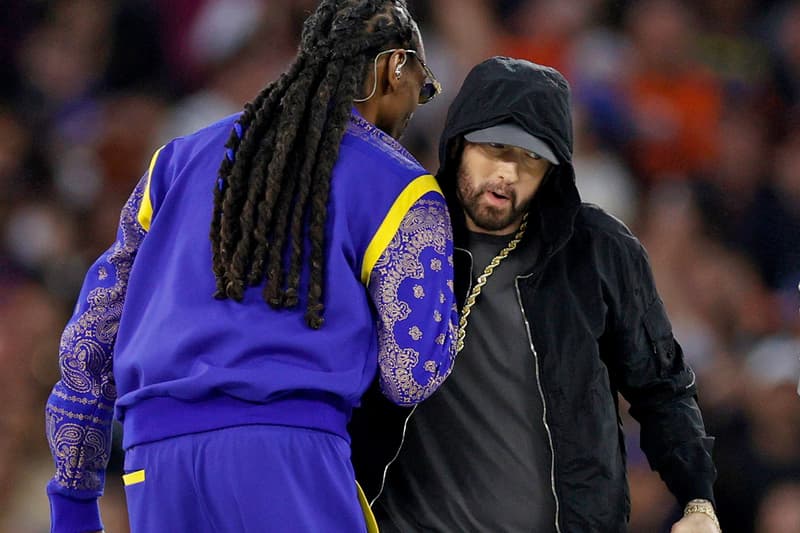 In a recent interview with Paul Rosenberg on SiriusXM's podcast series Paul Pod: Curtain Call 2, Detroit rapper Eminem revealed the real reason why him and Snoop Dogg stopped their beef.
In the second part of his two-episode interview, Eminem cleared the air on the rumors and said that the feud had ended after himself and Snoop found out about Dr. Dre's brain aneurysm back in 2021. In the conversation, Eminem admitted to Rosenberg, "Me and Snoop [Dogg] had our little issue." He recalled hearing about Dre's health care and said that it was a large part as to why the two reconciled, "When that thing happened with Dre, the brain aneurysm thing, we were like, 'Bro, this is stupid. This is stupid as hell to be feuding right now.' I don't remember if I called him or he called me; I can't remember. But we talked it out. I think there was a miscommunication at the time, in regards to him being on my album, The Marshall Mathers LP – B*tch Please II, and I think he had wanted to do something with me."
Back in 2021, Dre was admitted to Cedars-Sinai Medical Center's ICU in Los Angeles. It was widely believed at the time by doctors treating him that he might die. Fast forward, Dr. Dre survived the brain aneurysm and went on to perform at the Super Bowl LVI show with Eminem and Snoop Dogg along his side. Listen to Eminem talk about it below.
In other music news, NAV has teamed up with Future and Don Toliver in new visuals for "One Time."