Emerging Designers We're Excited to See at London Fashion Week SS23
From HARRI's buoyant bottoms to Chet Lo's soft peaks and Edward Crutchley's kinks.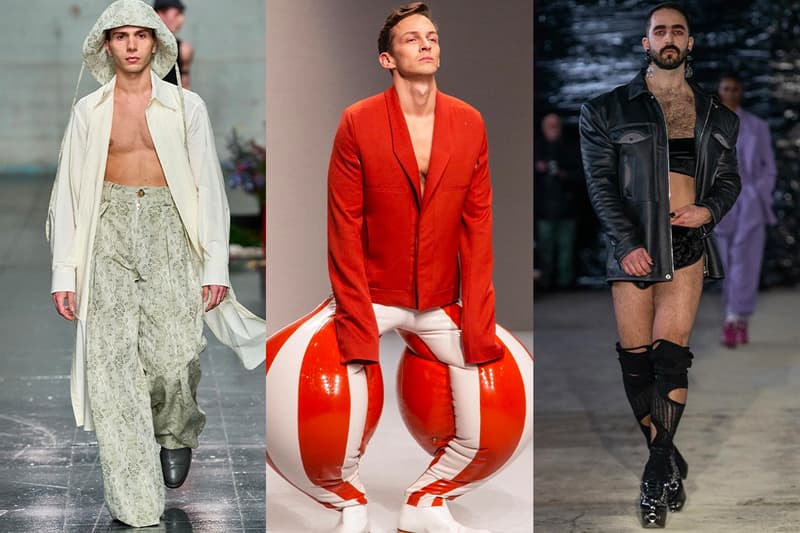 Fashion month has arrived. Streets are swamped with dapper devotees, and photographers are snapping away as guests dress to the nines in their finest ensembles. For Hypebeast, we're eager to see what's in store from designers hitting the runway this season – especially the emerging names on our checklist.
Designers, established or not, each have their own thrilling design language to offer. This is especially true when it comes to the UK's melting pot of talent. Previous decades built British fashion icons including Alexander Mcqueen, Christopher Kane and Vivienne Westwood — all were once emerging designers, but over time, they evolved into some of the greatest talents of our generation.
From top university graduates to creatives with a global eye, the city is known for its innovative development of mindful talent and shows no signs of slowing down. As we head into London Fashion Week's Spring/Summer 2023 season, which has seen cancellations from Burberry and Raf Simons, as well as unfortunate pull-outs from Saul Nash, following the passing of Her Majesty Queen Elizabeth II, here are five emerging UK designers on the schedule that we're not just keeping an eye on, but are keen to see thrive.
Edward Crutchley
Marking his origins on Lulu Kennedy's Fashion East roster, Edward Crutchley launched his namesake label in 2015 on the basis of artisanal craftsmanship and luxurious motifs. Crutchley graduated from London's Central Saint Martins — which has been attended by the likes of Stella McCartney, Riccardo Tisci and John Galliano – and has since been mentored by Kim Jones, Kanye West, and Richard Nicoll. In the years that followed, Crutchley earned various awards that would denote his successful design language. In 2019, he was awarded two Woolmark Prizes (and became the first to do so), while also standing as a finalist for the BFC Fashion Fund.
Last season saw the up-and-coming designer dress his models in half-eaten maxi dresses, velvet boiler suits and puffy gowns clad in vibrant purple mothwing prints. The collection was a homage to Gothicism and kinks in queer culture, exemplified by nipple-clamp earrings, floor-length knitted cardigans and restless leather motorcycle jackets. Submerged in premium constructions and detailed storytelling, the fast-approaching SS23 season is set to deliver a new world of Crutchley-infused madness.
S.S. DALEY
Steven Stokey Daley is a ground-breaking storyteller. His shows are theatrical performances that deliver a detailed narrative behind the collection. His two previous seasonal showcases sealed his fate as one to watch, both evoking the human tale of unruly school relationships.
Daley's collections tend to challenge the British class system, evoking a sense of urgency by casting actors rather than models to present his offerings, paying tribute to his teen years in theater practice. He explores the modern British uniform, blurring the lines between class cultures through a fantastical lens that takes a deep dive into Britain's societal divide.
The designer does not rely on clothing theatrics alone, as his garments frequently come emblazoned with a historic breeze. His Fall 2022 menswear collection saw the designer question the dissolution of stately homes, appointing London dance school students for a performance packed with influences derived from motion and theater.
Titled "Vita," S.S. DALEY's Spring/Summer 2023 showcase is set to take place this coming Saturday at London's St. Pancreas Renaissance Hotel and should deliver a blissful escape into the designer's life.
FEBEN
FEBEN is known to put community above all, crafting collections for women by women. Feben Vemmenby's sleek designs are sophisticated and eye-catching, having been worn by the likes of Beyoncé, Janelle Monáe, and Michaela Coel. The CSM graduate often protects her creations in a shield of political delivery, working to shine a light on the beauty of Black femme bodies. Her craft reflects her past experiences and life events, evoking the substantial growth she has surpassed along the way.
FEBEN's latest collection – presented in February – saw the designer in a new light, stimulated by the idea of love and personal growth. Garments came infused with rigorous sex appeal, as her trademark bobble technique — drafted from inviting silk fabrics — informed addictive ruffled textures that decorated dresses and suits in elegant tones of chocolate brown, crimson and other deep autumnal hues.
For her third London Fashion Week runway show, FEBEN will present under the helm of the British Fashion Council's NEWGEN cohort – a creative initiative designed to aid in the development of emerging UK fashion talent. The leadership scheme offers a range of supportive opportunities from individual mentoring to business management training and financial assistance.
Chet Lo
Asian-American designer Chet Lo has fixed himself as a name to watch. Recognized for his fishing wire knitwear technique worn by the likes of Doja Cat and SZA, Lo injects his fascination for Japanese comics and films into his craft, mirroring his home turf. Much like aforementioned designers on our list, Lo attended the prestigious Central Saint Martins arts institution, interning under industry heavyweights, like Proenza Schouler and John Galliano's Maison Margiela.
The designer joined Fashion East last season with his debut collection, "Splash." It delivered a sense of tropical brightness to the gloomy quarantine-filled days that had overwhelmed the past two years. The newcomer took us on a coastal getaway and set sail through an ocean of spiked swimwear and accessories that romanticized the idea of holiday life.
For his second and final Fashion East showcase, he took to the Alps by setting on display an array of skiwear ideal for eccentric après-ski. Now, Chet Lo is set to make his solo debut away from the Fashion East class and is sure to present a slew of marvellous creations infused with his idiosyncratic East-meets-West perspective.
HARRI
London College of Fashion graduate Harikrishnan has catapulted his billowing elastic fashion into the stratosphere, making a name for himself through exaggerated silhouettes that speak volumes. The Kerala-born designer – whose brand is known as HARRI – first introduced his inflated design style in his 2020 graduate collection show. Ever since, he has taken the world by storm through his self-inflatable latex trousers that emit amusement at first glance.
The bottoms are crafted from thirty individual Supatex panels, pumped to give a buoyant feel. Often building on intricate sculptural references and fantastical themes, the designer pairs his cartoonish creations with cropped blazers, handmade beaded tops and bottoms colored with natural beeswax and lacquer dyes.
Following the success produced by his graduate show, Harikrishnan has been named a BFC Newgen recipient, joining the 2022/2023 class alongside the likes of Ahluwalia, Robyn Lynch, Saul Nash and more. On Friday, he will be making his fashion week debut away from university grounds, delivering his novel artform to a fresh set of eyes.