Brioni Debuts Fall/Winter 2022 Collection With Brand Ambassador, Raff Law
Actor Raff Law speaks on his personal style, working with Brioni and his favorite pieces from the collection.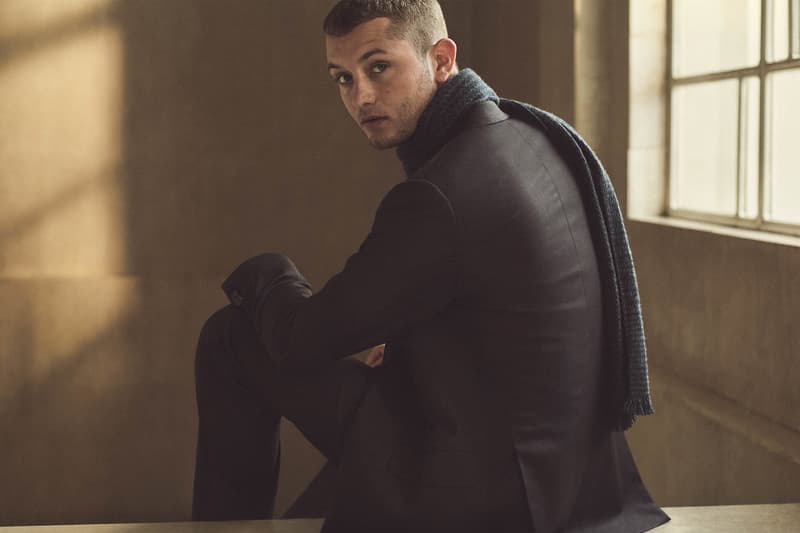 1 of 2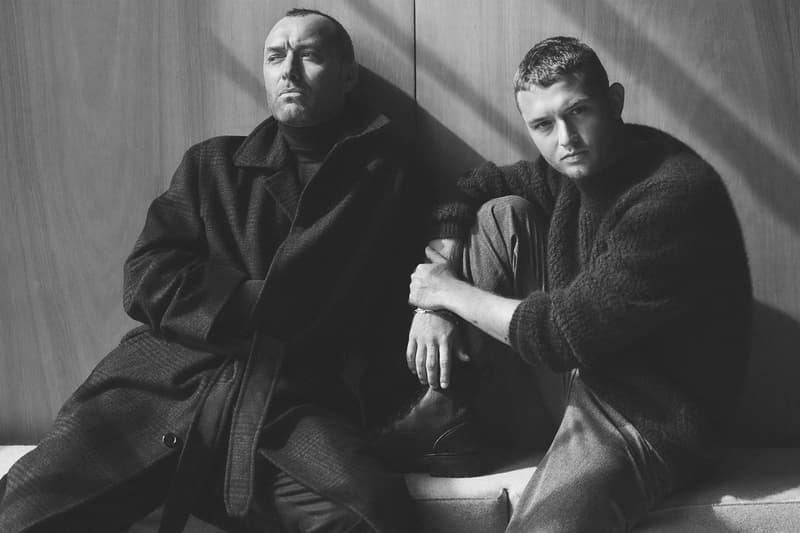 2 of 2
Italian luxury menswear label Brioni has set the bar for what constitutes true craftsmanship with its quality suiting and elaborately tailored pieces. The outfitter is a destination for timeless designs, many of which make up its new FW '22 collection. Informed by ease-of-wear and effortless class, the range includes refined outerwear and knits alongside brand classics, such as the Vagabond overshirt.
These elegant pieces, ideal for both casual and formalwear, are brought forth in a series of portraits featuring the face and ambassador of Brioni, actor and musician Raff Law, together with his father and actor, Jude Law. Shot in London by photographer Annemarieke van Drimmelen, the campaign highlights the 25-year-old talent's authenticity and his personality beyond what is seen on the big screen.
Brioni believes that Law embodies the perfect contemporary gentleman by pursuing all of his endeavors with passion and originality. This sentiment directly mirrors the brand's ethos. Hypebeast sat down with Law to speak about this collaboration as well as his upcoming projects.
Hypebeast: How would you describe your personal style in a few words?
Law: I'd say I like to mix and match, I'm a big fan of an authentic, classical style and then also like to throw in something a bit more out there, dressing for comfort is important to me.
When it comes to your style and pieces you gravitate towards, do you have any inspirations as far as an era or role model who informs you?
L: My whole life I've taken inspiration from things around me, movies I've watched, and people I've looked up to. If I had to pick an era it would have to be the '50s combined with a sprinkle of the late '70s punk movement. That's the beauty of fashion — it's a way of expressing yourself and, in my opinion, there's no wrong or right.
You not only have an interest in the fashion world but you also make music and act. How does fashion play a role in your other projects?
L: For me, fashion and costume play a huge part in getting into a role and really feeling the essence of your character, whether it's taking you to a certain time period or the feeling of the weight of your heavy boots and how that makes you feel. The way I dress creates different emotions and feelings so when I'm performing or acting, little details can go such a long way — down to the buttons on your shirt.
What does it mean to you to be working with Brioni as an ambassador?
L: Becoming an ambassador for Brioni has been a really great step for me. Honestly, I've been blown away by the love and passion they put into their tailoring. I feel like I have a real understanding and connection with the brand which I haven't had before. I feel very grateful to be able to be a part of their special family.
What qualities or values do you believe you share with the brand?
L: The thing about Brioni that struck me straight away was the detail that goes into their work. They stay very true to authentic, classic styles but are also extremely original with their ideas and very forward-thinking. The quality and attention they put into every thread is spectacular.
What are some of your favorite Brioni pieces and how do you incorporate them into your wider wardrobe?
L: I'm pretty good at choosing my favorites but when it comes to everything I've worn from Brioni it's really difficult to choose. There are these wide-leg blue linen trousers which sit, like all of their suits, so perfectly. There's a beautiful brown suit that I wore to the NME awards which I find myself having to refrain from wearing all the time! Their shoes as well are insane. The winter stuff we recently shot is going to be really special and was slightly different from what I'd seen of theirs before.
Whether it be in the realms of fashion, music, or entertainment, do you have any upcoming projects that you are particularly excited about?
L: Right now I'm genuinely just excited and grateful for the path I'm on. I've learned a lot about myself this year and I'm on a journey of self-discovery to really be as true to myself in my everyday life and work also. I'm keen to just keep my head down and work on my craft and learn and grow every day. Masters of the Air will be coming out in the foreseeable future and I've been writing some new music. I'm not sure what I'll do with it but I just enjoy the writing process — it's my easiest form of expressing and working through my personal problems and daily antics. I have a hunger to work hard and try to do my best. For me, now it's crunch time.