A Decade Later, Swedish House Mafia Has Returned for Its Second Act
Following a sold-out show at Madison Square Garden, the EDM trio talks touring its debut LP 'Paradise Again.'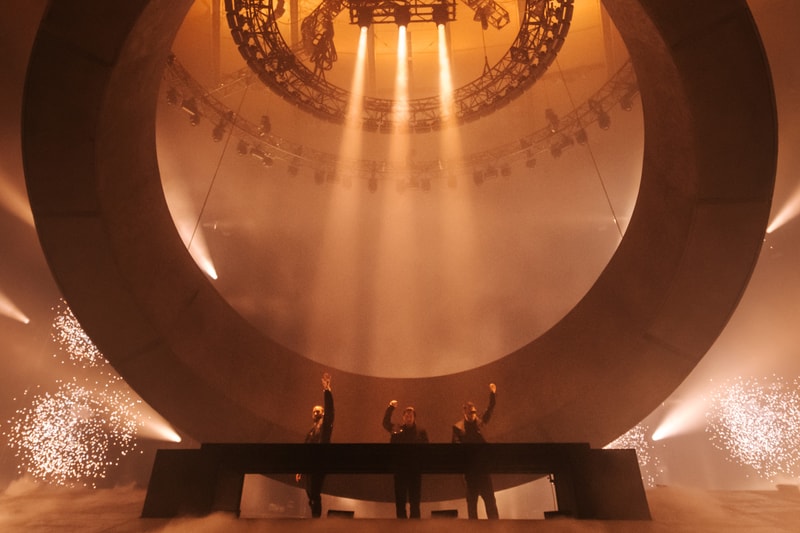 In 2012, Swedish House Mafia announced its imminent breakup. In the five years of making music together, the EDM supergroup – consisting of Axwell, Steve Angello and Sebastian Ingrosso – had churned out hits such as "Save the World" and "Don't You Worry Child" and inspired the sound of the next generation of DJs.
An accompanying global farewell tour slated for the fall of the same year famously sold out in minutes. The aptly titled One Last Tour wrapped up with a final show in March 2013 at Miami's Ultra Music Festival, where fans chanted the tour's mantra "We Came, We Raved, We Loved."
While the DJ juggernauts briefly reunited for performances in 2018 and 2019, Swedish House Mafia has mostly stayed out of the limelight for the past decade. Unbeknownst to the rest of the world, however, the group quietly spent the past few years cooking up a new album, Paradise Again, featuring the likes of The Weeknd, A$AP Rocky and Ty Dolla $ign. The LP dropped in April, followed by an impressive headlining set with The Weeknd at Coachella.
Currently, Swedish House Mafia is trekking throughout the United States on the Paradise Again World Tour, where they've already played a sold-out show at Madison Square Garden. HYPEBEAST caught up with Axwell, Steve and Sebastian to chat about recording the album, touring and finally making their long-awaited comeback.
HYPEBEAST: Almost ten years have passed since your last global tour in 2013. What fans can expect from a Swedish House Mafia live performance this time around?
Axwell: We are doing the tour because of the fans. Obviously, we haven't seen them in a while, so we want to give them as much of ourselves as we can – all of our new music and our old music sort of mixed in a new way. Otherwise, Swedish House Mafia shows are always about extra everything. We bring a rave into the arena.
Sebastian: We bring 20 years of experience of us playing small clubs for a hundred people and playing the main stage at Coachella. All that combined into a little box.
How do you create the aesthetic and energy of a rave within a venue?
Steve: We gave a little teaser of that at Coachella. We're bringing a big structure with art into this arena space. And for us, aesthetically, it's always important for it to challenge us. We gave a glimpse of that at Coachella but now we're, we're bringing that to arenas with more control over the production.
With such a lengthy break between One Last Tour and the Paradise Again tour, how did the hiatus inform your approach to touring this time around?
Axwell: The one last tour was a goodbye tour. We were like up in the middle of everything and we were probably thinking about what we were going to do next individually throughout that whole tour and just running ahead, looking forward.
This time, it was more of a choice to go out and have fun together as brothers and enjoy the music together with our fans.
What drew you to choose Coachella for your comeback performance?
Steve: The last time we did a tour, we started at Coachella. They let us express ourselves artistically as much as we can. We have that freedom. We can do the size of the show we want because it's a big stage. It was also the ten-year anniversary of the last time we did Coachella, so it all just made sense.
In addition to signifying Swedish House Mafia's official return, Paradise Again is also your debut studio album. Walk me through the process of creating the LP.
Steve: We started working on the album about two years prior to the release. We had been away from each other for quite some time, so we had some catching up to do. It was a super natural flow.
Making an album usually gives you more freedom because you can make music that's not supposed to just be a track that's supposed to support you on a Saturday night at a festival.
It was more like us coming together and actually spending two years in the studio, whereas previously in our careers, we've always worked for the moment. We've gone into the studio for a week to make a song and so on. This was more of us having a blast in the studio, sharing experiences throughout the years and just putting it on tape and having fun.
Do any of you have a favorite track on the project?
Sebastian: One of the favorite songs we have on the album is "Moth To Flame" featuring The Weeknd because that was an amazing session together.
"Heaven Takes You Home" was another real moment for us. Some of the songs took a year to make, and some of them took 30 minutes, or a few hours, but like it's hard to pick and choose your favorite song. I mean, it's like your children, you cannot pick a favorite child, you know?