Celebrating 50 Years of Nike Running
How the division has shaped what the brand is today.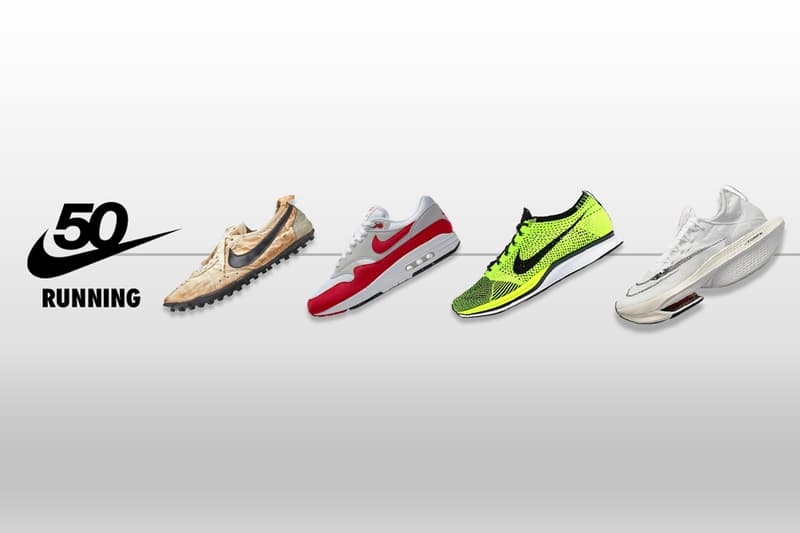 Since its inception, Nike's backbone has been its running division. From putting the "Air" in Air Jordan to pushing the limits of human potential, the Nike Running line has transformed the world of footwear in its five decades of operation.
What became today's international leader in sportswear began with two men's desire to push the envelope in running footwear. In 1964, Bill Bowerman and Phil Knight started Blue Ribbon Sports (BRS) in Eugene, Oregon, home of the University of Oregon. The coach and athlete duo originally began BRS to sell Onitsuka Tiger sneakers but lost its partnership with the brand in 1971. From this, Nike was born.
Transitioning from sales to product development required dedication, ingenuity and experimentation. After conceptualizing ideas to improve the running experience, Bowerman would immediately put them to the test. As a coach, Bowerman asked his athletes to demo his designs. It wouldn't matter if the shoe completely fell apart in use, Bowerman sought feedback and insights to push innovation forward, a mindset that remains critical to the Swoosh's efforts today.
Nike "Moon Shoe," 1972
The product history of Nike Running all started with the iconic waffle design. It originated as a theory Bowerman and his wife Barbara came up with one morning when making breakfast, and proved to be a hit. Nike's waffle-soled sneaker was affectionately known as the Moon Shoe. Created by Bowerman, the nickname references the sole of the shoe leaving footprints on the track, reminding athletes of the footprints left on the Moon. Debuting at the 1972 Olympic Trials Marathon hosted in Eugene, the shoe launched Nike's five decades of product innovation. This "just do it" mindset birthed the first point of innovation and sparked a flame of desire to transform the world of footwear.
Nike Air Tailwind, 1979
Another milestone came with the introduction of Air, one of Nike's most iconic and featured technologies. It's safe to say that "Air" has become a cultural symbol – considering the impact of the Air Jordan line, Air Max line and Air Force 1 amongst others. This game changing development can be traced back to the Air Tailwind, the first shoe to implement Marion Frank Rudy's revolutionary concept of Air. Its debut came alongside a feature in the 1978 Honolulu Marathon and served as a catalyst for much of what Nike offers today.
Nike Pegasus, 1983
Perhaps the best known active Nike Running model to date is the Pegasus, which launched in 1983 as the Swoosh sought to balance versatility and affordability for consumers. To do this, a wedge design for the Air unit was introduced. Designers were able to transform the technology to suit an array of shapes and sizes, and the Pegasus was the first of many silhouettes to utilize this breakthrough.
Nike Air Max 1, 1987
A turning point for Air technology landed on 1987's iconic Air Max 1 as it became the first shoe to feature a visible Air unit. Initially, this decision troubled Nike Running's Head of Marketing. They couldn't see how the brand could sell a shoe with a hole on the side of it. However, the genius of Tinker Hatfield was proven with this success serving as the precursor to decades of accomplished design. While nowadays it's easy to look at the shoe through a collector's lens, noting its original purpose as a running shoe shows the role Nike Running has played in where footwear is today.
Nike Free 5.0 V1, 2004
Heading into the 2000s, Nike designers responded to Stanford athletes opting to run barefoot on a golf course by creating the Nike Free line. In 2004, the Nike Free 5.0 V1 was introduced. Abandoning traditional labeling, Free shoes present a scale that ranges between a score of 0 which represents a barefoot feel, to 10, that of a standard running shoe. Featuring responsive cushioning and a natural shape, the Free 5.0 V1 offered what Nike considered a perfect balance between running barefoot and with a normal running shoe on. Translating an insight into an entire line, the Free is the epitome of Nike's commitment to its athletes.
Nike Flyknit Racer, 2012
A moment that connected runners and sneakerheads was the introduction of the Flyknit Racer in 2012. Designed for marathon running, it introduced the fan favorite Flyknit style of upper which emphasizes a lightweight, form-fitting feel. Beyond simply being a desirable model for sneaker collectors, the impact of the Flyknit Racer has been realized in its 10 years since as Flyknit has spread to basketball, football, lifestyle models and more.
Nike Air Zoom Alphafly NEXT%, 2019
Nike Running's spirit of innovation continued with the Air Zoom Alphafly NEXT%. In 2019, Kenyan runner Eliud Kipchoge recorded a sub two-hour marathon in an unofficial race wearing the Alphafly NEXT%, immediately drawing millions of eyes to the shoes and the capabilities of its technology. Its success in competition led to much debate and resulted in a change in racing rules, enforcing commercial availability of footwear for at least four months prior to a race. A key component to its performance is the shoe's ZoomX foam, which was described as "technological doping." Derived from a material traditionally used in aerospace, ZoomX maximizes speed by delivering greater energy return. This result is the target of any running shoe's design, and Nike was able to transcend what seemed fair with how far it pushed innovation.
From creating handmade custom sneakers for University of Oregon athletes to sponsoring the best-known runners around the world, Nike has repeatedly pushed to service the athlete. This was demonstrated at this year's World Athletics Championships, hosted in Nike's hometown of Eugene, Oregon. In HYPEBEAST's tour of its pop-up Athlete Experience center, it was noted that Nike provided lounge spaces, product customization opportunities, nutrition rooms and many other amenities for its sponsored athletes. A key element that drove the brand's success at the event was Nike's dedication to servicing these athletes, allowing them to compete at the highest level. As a result, 58% of podium athletes participated in Nike footwear at the 2022 World Athletics Championships.
Nike continues to develop and implement new retail ideas and structures, even when it's focusing on casual runners instead of professional athletes. Introduced in 2018, Nike LIVE concept stores allow for a personal shopping experience designed for locals. For the 2022 World Athletics Championships, Nike brought in a squad of its EKIN employees, experts who embody the brand, to support the Nike by Eugene neighborhood store. EKINs worked one-on-one with customers to discover and assess their needs from a running shoe. This included demoing six of Nike Running's key footwear models. Beyond this, daily runs took place for the general public, featuring competing Nike athletes and local running clubs in an effort to further build its running community.
While Nike's focus for the future is diverse, running will always be at the core of the brand. Whether it be introducing a revolutionary new technology or experimenting with unique silhouettes, innovation will always drive Nike forward. For modern day consumers, Nike's running DNA may not be as recognized as it once was, but each step in a Nike shoe is a result of its dedication to running. As the Swoosh keeps its eye on serving athletes of all levels, its mission remains just as important as it was 50 years ago.