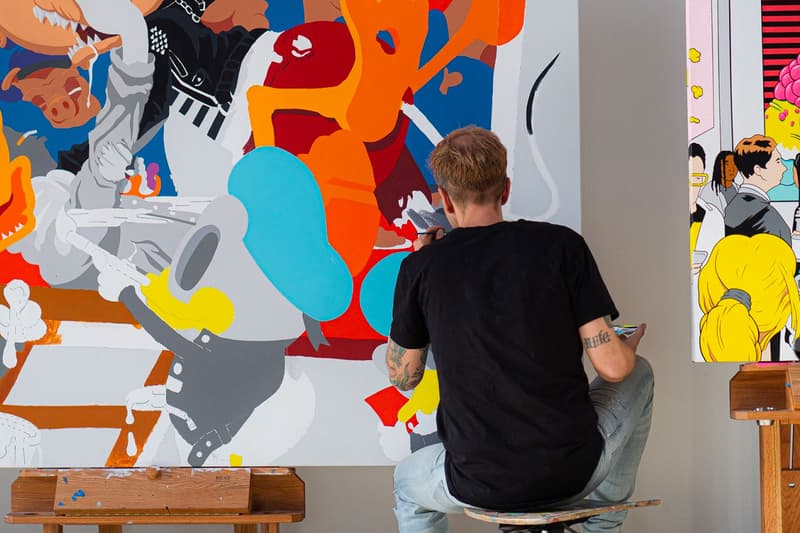 Matt Gondek Latest Artist to Burn His Work Through NFTs
Utilizing NFT technology for a more interactive collectible experience.
---
First announced in early August, Matt Gondek shared the launch of his latest project Fight Club. The collection consists of 280 uniquely designed NFT baseball bats inspired by the artist's love for deconstruction, bright colors, and punk rock themes often found in his work.
Each bat is one of a kind and what makes the experience even more unique is that owners will need to burn their NFT in order to receive the physical work. Alternatively, holders can decide to keep the NFT, in which case they'll receive a physical print — however, the physical representation will then be destroyed.
My new Spiked Baseball Bat Project – Fight Club

Presale Auction Opens Exclusively on @MakersPlace at 6:30pm ET Thursday 8/18

⁠IRL Opening Party at @Taglialatella, NYC at 6pm ET Thursday 8/18.

For more details on both, visit https://t.co/p2PQcdOtyN pic.twitter.com/ieEpyreOy1

— Matt Gondek (@Mattgondek) August 17, 2022
The concept of artists presenting a burn mechanism to their collectors is picking up popularity in the Web3 space. One of the first and most notable to utilize the process was Damien Hirst, whose project The Currency saw nearly 5,000 pieces of physical art burned, in what was almost a 50% split decision by collectors.
Another recent project to build in the burn factor is LCD Lab's latest offering, Radar Rats. The collection is inspired by Banksy's work and should holders of the upcoming NFT decide to burn their token, they will in return receive an authenticated Walled Off Hotel Banksy Box Set work. With LCD's drop, the redemption period is not limited, meaning holders can redeem whenever they choose to, and that the physical Banksy work is unlikely to be destroyed.
In the case of Gondek, however, the final number of physical bats will be determined by how many holders choose to redeem their NFTs or not. As of now, the first 5 bats of the collection have been auctioned off, with sales ranging from $3,400 to $6,600. These presale auction bats were the only opportunity for collectors to maintain both the physical work, print, and NFT.
One of the only bats recorded to be sold for Ethereum, was the "Arcade," sold to NFT collector Monstero for 2.57 ETH (just over $4,000). After the sale, the collector tastefully worked it into his Azuki NFT pfp on Twitter.
Appreciate you https://t.co/o6v6EbTciJ

— Matt Gondek (@Mattgondek) August 20, 2022
@AzukiOfficial x @Mattgondek ??⛩️ pic.twitter.com/Las78IkM0P

— Monstero ? (@Monstrecrypto) August 21, 2022
The artist's exhibition at Taglialatella NYC is open until Saturday, August 26, with presale registration for the NFTs open now on MakersPlace. Fight Club will launch on September 8, and retail at fixed price of $1,500 USD or ETH equivalent.
Thank you to everyone who came at the opening of Fight Club last night at @Taglialatella in NYC

Exhibition is open until August 26th, Monday through Saturday, 10:00am – 6:00pm ET and by appointment

229 Tenth Avenue, New York, New York 10011 pic.twitter.com/dyoFNIqteF

— Matt Gondek (@Mattgondek) August 19, 2022
While his most recent, this is not the artists first foray into NFTs, prior to this collection Gondek has produced works on platforms like VeVe, LGND, MakersPlace and Nifty Gateway — with a number of these works being eligible for Fight Club's allow list access.
In other news, Nike is currently the highest earning NFT brand in the Metaverse.
For more news about blockchain, cryptocurrency, NFTs, and Web3, visit Hypemoon.com.