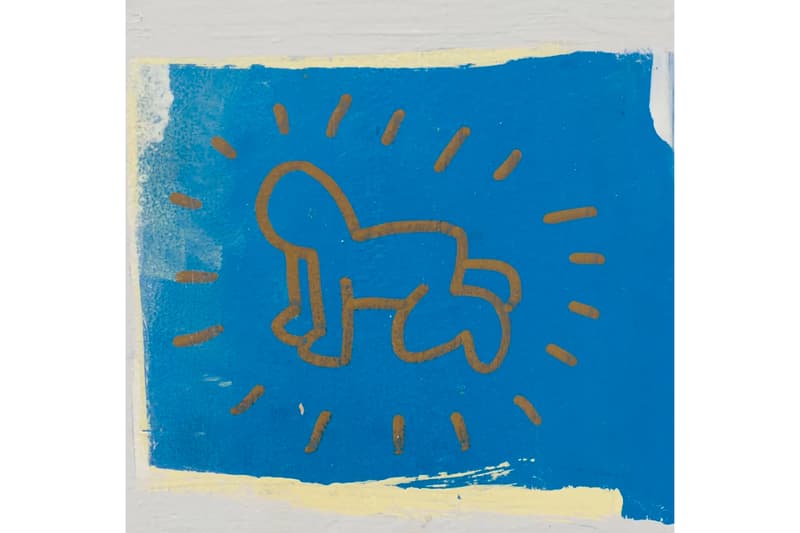 Keith Haring's 'Radiant Baby' Wall Drawing Is Set to Hit Auction
As part of Rago/Wright's "Post War & Contemporary Art" sale.
---
During his short yet prolific career, Keith Haring developed a unique language made of bold and energetic characters that commented on a range of topics — from drug abuse and the AIDS crisis to the threats of nuclear warfare. Amongst his most recognizable works, Radiant Baby, a crawling infant with a halo, was made to represent what the artist believed to be the inherent purity within each individual.
A rare Radiant Baby wall drawing is set to hit auction next month as part of Rago/Wright's "Post War & Contemporary Art" sale. Measuring just about five inches in height, Haring created the drawing in gold marker above a light switch in the bedroom of his childhood home in Kutztown, Pennsylvania. According to Christine Isabelle Oaklander, an art historian who assisted in bringing the work to auction, Haring made the artwork during a visit to his former home in 1990, shortly before his death due to AIDS-related complications.
The "Post War & Contemporary Art" sale will commence on September 14 at the auctioneer's New Jersey outpost and will feature work from a number of legendary figures, including Bridget Riley and Alexander Calder, amongst others.
In case you missed it, Library Street Collective and Louis Buhl & Co. are raising funds for a new skatepark in Detroit.