LEGO's Massive Bowser Set Gets Even Bigger
The 14-feet-tall figure is slated to appear at San Diego Comic-Con.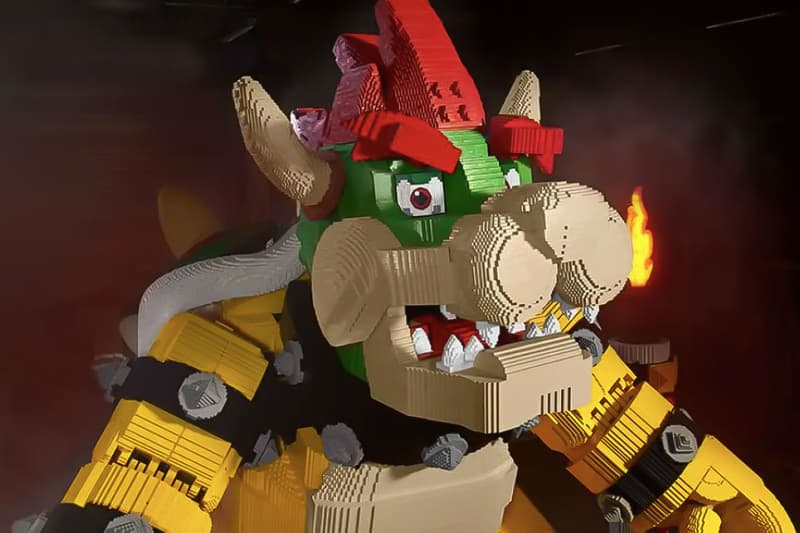 After revealing its Mighty Bowser set earlier this month — LEGO's largest set yet from its Super Mario series — LEGO now unveils a gargantuan 14-feet tall "king-sized" Bowser creation. While the original set is made up of 2,807 bricks, the upcoming display piece will consist of 663,900 lego pieces. Similar to the original set, the LEGO build consists of a special design allowing builders to animate the character's head, eyes, neck, mouth, arms, legs, and tail with a press of a button. The side pillars which replicate his fiery castle and an interactive element in which the figure lets out a roar are also included.
"Bowser is, quite simply, the ultimate boss – and we're delighted to announce that we're introducing this oversized version to the LEGO Super Mario adult line for a little added peril," said LEGO Super Mario's senior designer Carl Merriam regarding the Bowser set. "Since we launched LEGO Super Mario two years ago, we've been on such a journey – gradually expanding with the most iconic and recognizable characters of the LEGO Super Mario universe."
Look for the king-sized Bowser to appear at the San Diego Comic-Con 2022 from July 21 to 24 and the Mighty Bowser sets to go on sale at LEGO's website and retail locations this October 1 for $270 USD.
A king-sized King of the Koopas is touching down at San Diego Comic-Con! This massive 663,900 LEGO brick build of #LEGOSuperMario The Mighty Bowser will be holding court 7/21-7/24. pic.twitter.com/rn58ByBnRl

— Nintendo of America (@NintendoAmerica) July 18, 2022
Elswhere, IRON FACTORY crafts Alphonse Elric helmet from Fullmetal Alchemist.