Kevin Durant Requests Trade From Brooklyn Nets
Half of NBA teams reportedly inquired about a deal.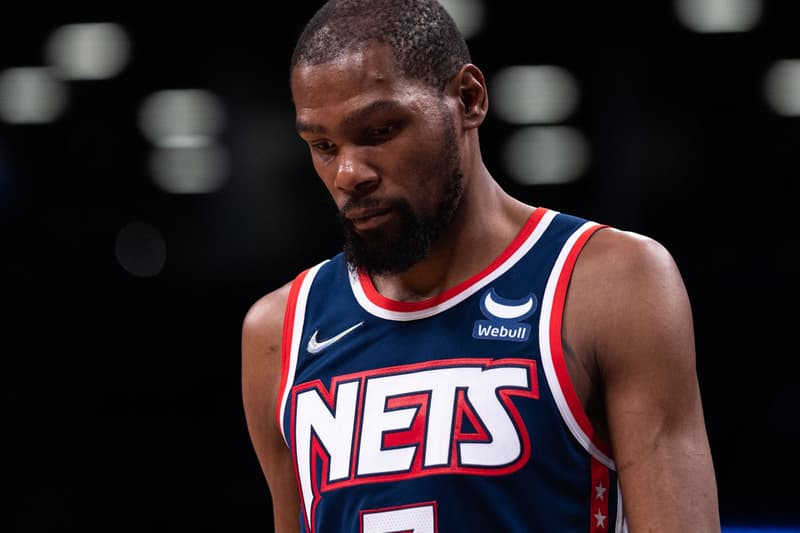 According to multiple reports per business manager Rich Kleiman, Brooklyn Nets superstar Kevin Durant requested a trade from the team on June 30. The news comes a few days after Kyrie Irving chose to exercise his $36.9 Million USD option to remain with the team, though it's important to note that the deal has wiggle room for last-minute changes.
Having averaged 30 points, 7 rebounds, and 6 assists per game for the Nets last season, Durant remains one of the top players in the league, and trusted insider Adrian Wojnarowski reports that half of the league contacted the Nets about a deal within an hour of the news. Reports also indicate that the Phoenix Suns and Miami Heat are currently at the top of Durant's wish list.
"There was certainly a lot of back-channeling going on around the league to suggest that Kevin Durant was planning to ask for a trade at some point, and it happened today," said Wojnarowski. "And now I'm told that already, since the reporting here in the last hour, I'm told that more than half the league has already called Brooklyn about the possibility of acquiring Kevin Durant, who's 34 years old and still at the very top of his game, and I think as importantly as that, with four years on his contract."
Having spent three seasons with the Nets, the star forward signed an extension with the team last offseason, putting him under contract through the 2025-2026 season for approximately $200 million USD. Wojnarowski indicates that there has been no communication between Durant and the Nets since the initial announcement.
Watch the Twitter conversation and reactions unfold below.
Kevin Durant made the trade request directly to Nets owner Joe Tsai today, sources tell ESPN.

— Adrian Wojnarowski (@wojespn) June 30, 2022
Brooklyn Nets GM Sean Marks is working with Kevin Durant and his business manager Rich Kleiman on finding a trade for the franchise star, Kleiman tells ESPN.

— Adrian Wojnarowski (@wojespn) June 30, 2022
Kevin Durant requesting a trade 3 hours before free agency begins pic.twitter.com/pxHwZfNAEG

— Barstool Sports (@barstoolsports) June 30, 2022
Can ? get realer ?

— Trae Young (@TheTraeYoung) June 30, 2022
— Larry Nance Jr (@Larrydn22) June 30, 2022
Time to RECRUIT KD to the Sixers??????

— Joel "Troel" Embiid (@JoelEmbiid) May 31, 2016
— Jusuf Nurkić (@bosnianbeast27) June 25, 2022
Elsewhere in sports, Russell Westbrook reportedly plans to exercise $47 Million USD option to remain with the Los Angeles Lakers.