KAWS Teases Another 'Fortnite' Collaboration
Likely a rework of the classic Peely outfit.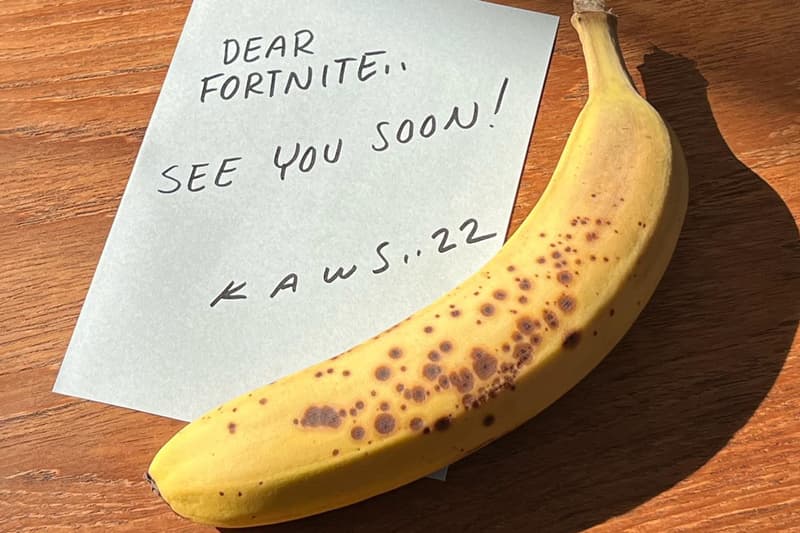 If there's one thing Epic Games has done with 'Fortnite' that no other game can match, it's the continuously evolving roster of collaborations it maintains. Whether it be utilizing beloved franchises such as Star Wars or tapping into the world of luxury fashion with Balenciaga, you never know what the studio will do next. Now, KAWS has taken to Instagram to share that another collaboration with the battle royale game is on the way. This entry follows up on his virtual "NEW FICTION" exhibit and Halloween skin pack.
In KAWS' teaser post, the text "DEAR FORTNITE,, SEE YOU SOON! KAWS..22" is found on a note sitting next to a banana. It's possible KAWS is just sharing his love for bananas, however, it's more likely that this is in reference to Fortnite's iconic Peely outfit. Over the years, the Peely look has been reimagined by Epic Games in many different ways but it's likely that KAWS will be the one to rework it this time around.
While release details remain limited, expect a closer look at what KAWS is bringing to the Fortnite universe in the coming weeks.
View this post on Instagram
In other gaming news, Sony is now offering several new PlayStation 5 console covers.