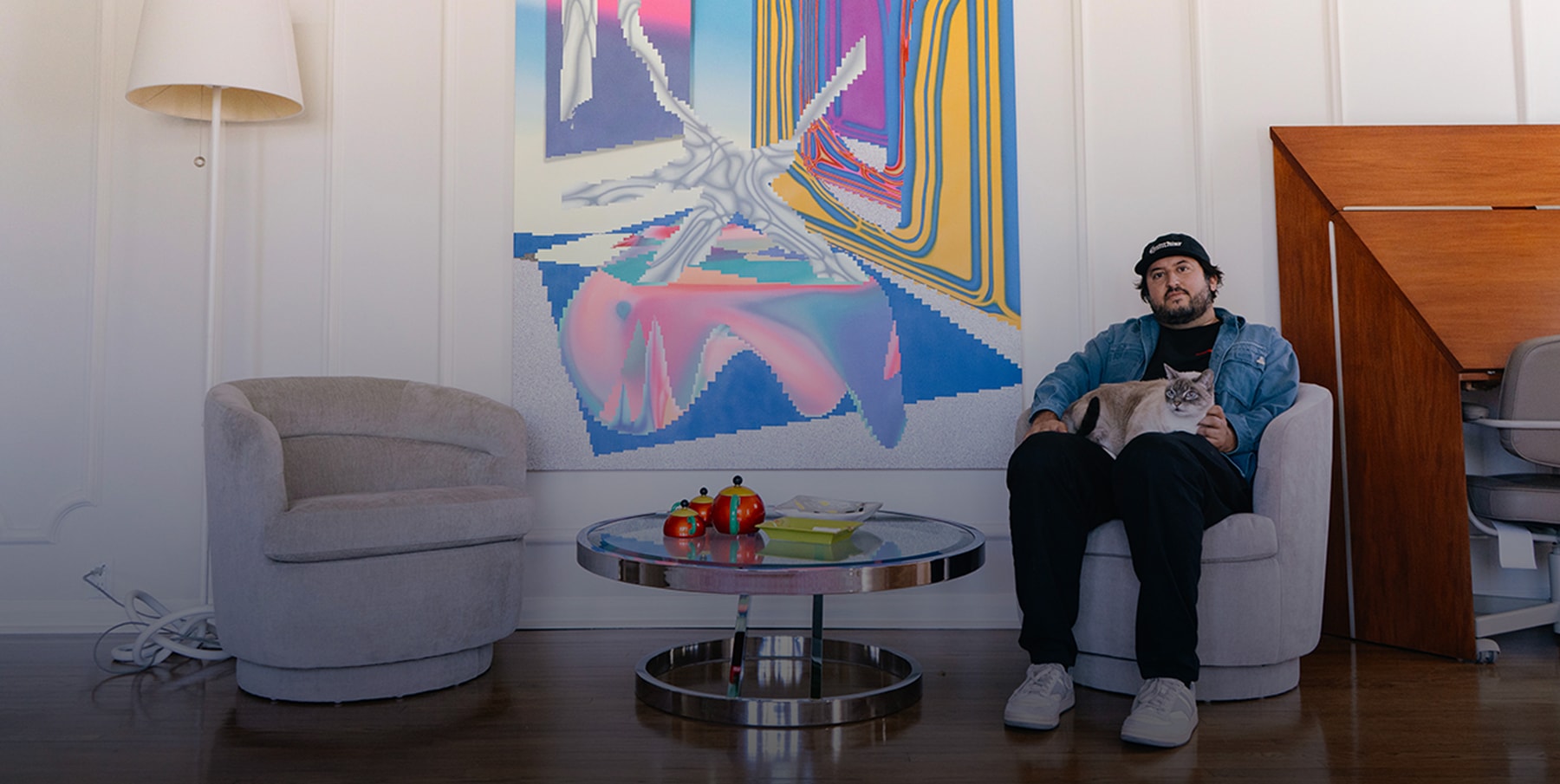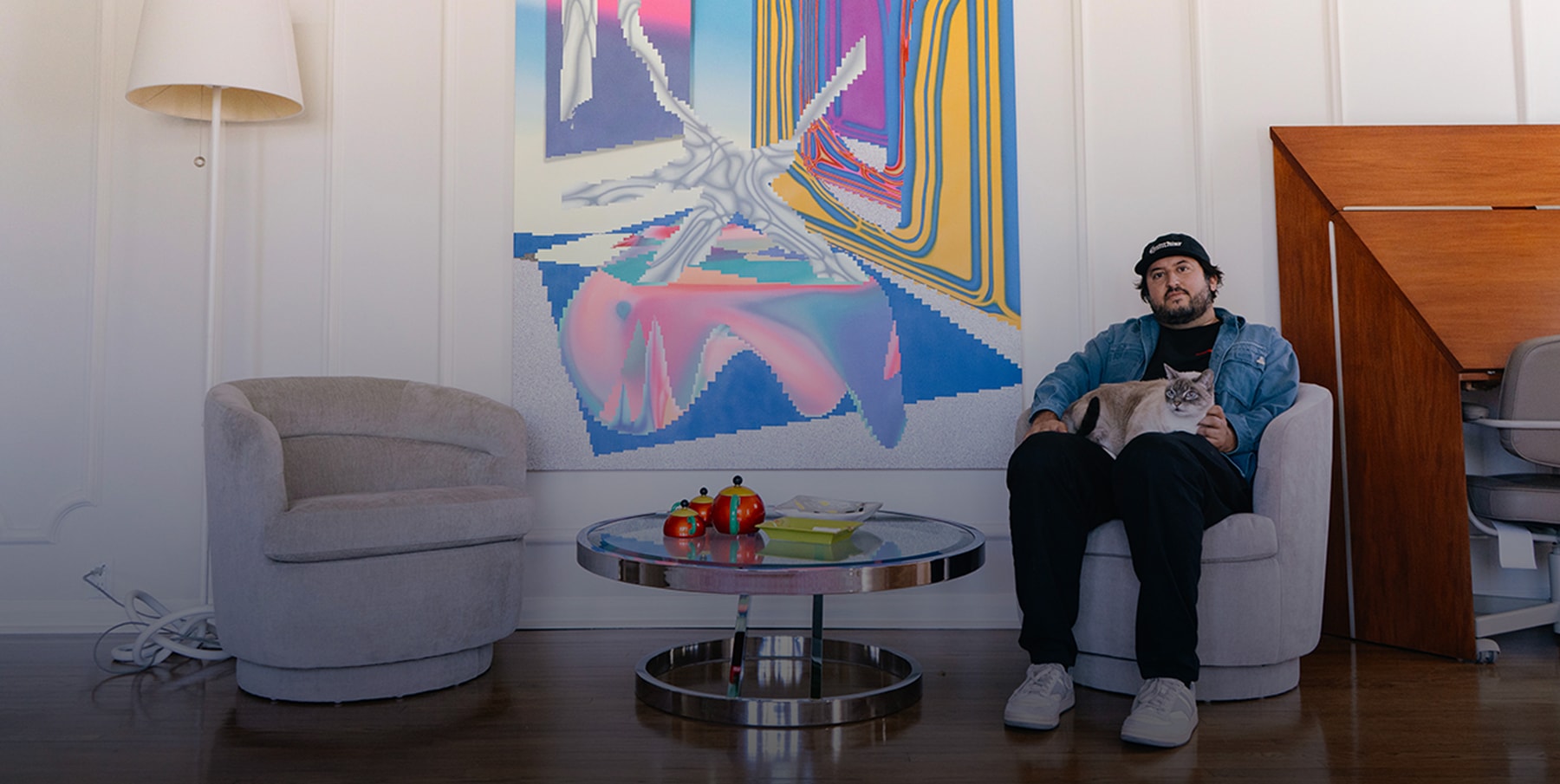 Collectors: Justin Montag of FRANCHISE
'Collectors' journeys into the homes of fledgling and seasoned art buyers from across the globe. The ongoing series offers an intimate spotlight on a range of personal collections from hobbyist ephemera to blue-chip artworks — all the while dissecting an individual's specific taste, at-home curation and purchase trajectory.
When Justin Montag started FRANCHISE, it was with the hopes to one day get to go to a free basketball game. He's done that and much more.
Part publication, clothing brand, record label and now art gallery, FRANCHISE has become a leading platform connecting basketball through the lens of contemporary culture.
Having spotlighted a range of athletes and creatives, including a photoshoot of Giannis and his bros for the cover of issue six, Montag recently worked with the NBA on an NFT project that has been gradually evolving during the 2022 NBA Playoffs.
Like soccer, basketball has always held a global appeal and a range of tasteful collaborations throughout the years. But FRANCHISE is different. When you take the worlds of Dada, Memphis and mix them with the best the game has to offer, it spins the sport in a direction that feels entirely new, with showing respect to what has come before.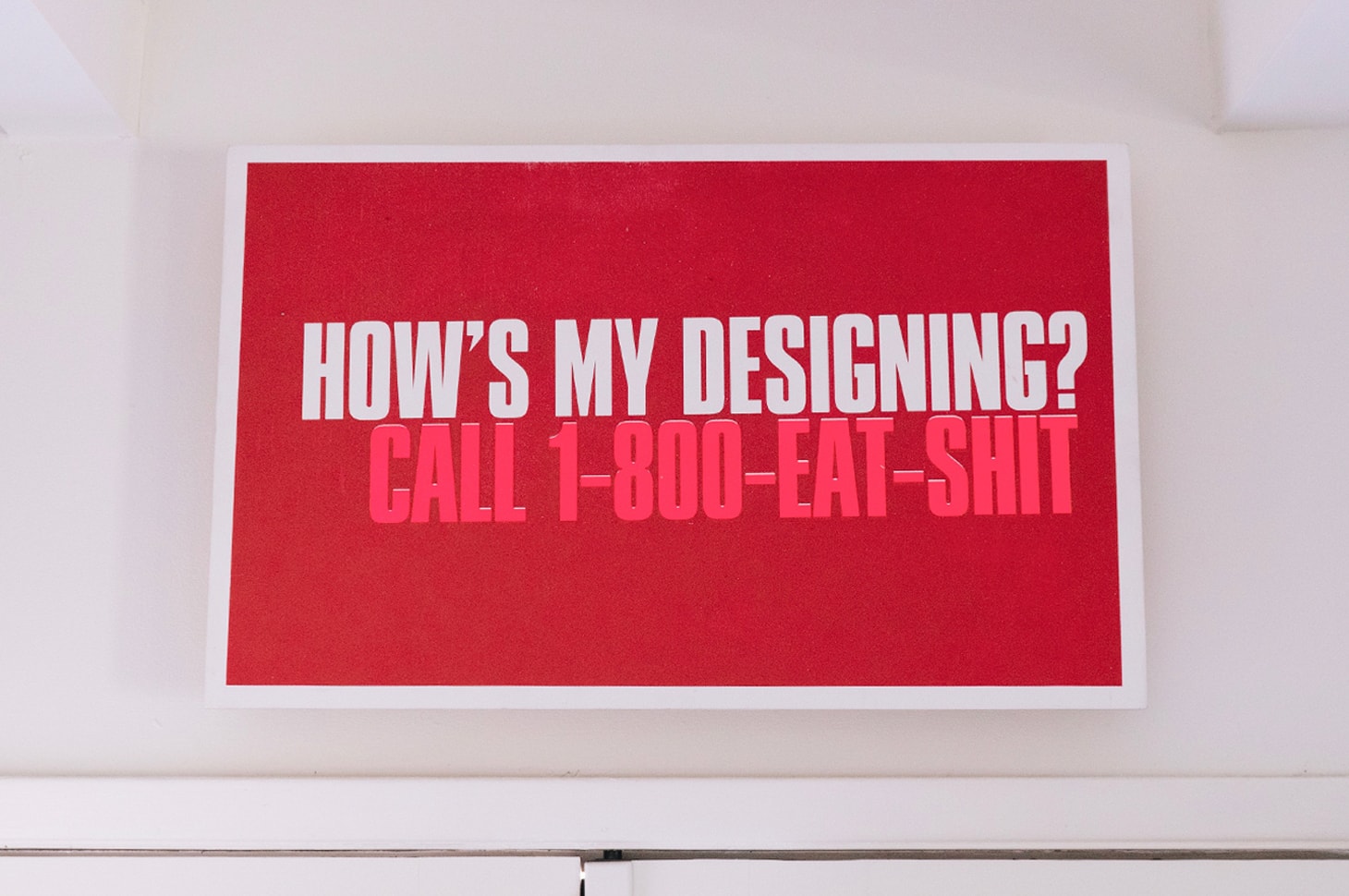 For a new gallery owner in one of the most creatively driven cities in the world, it can be challenging to compete with the likes of large-scale museums and blue chip galleries. Instead of following trends, Montag keeps to showcasing the work that shaped him over the years. Stormtrooper helmets, vintage flyers, record covers — artwork and ephemera that have always spun around the same culture, but are now being presented in the same court.
Observing his Silverlake home gives you a good idea as to why FRANCHISE's success transcends overdone basketball clichés. "My book collection to me is just as important as my record collection or just as important as my magazine collection or as important as the works on the walls," Montag told HYPEBEAST.
In anticipation of his gallery opening on Saturday, June 4, HYPEBEAST caught up with the FRANCHISE founder to speak basketball, genetics and the importance of collecting items that speak to you.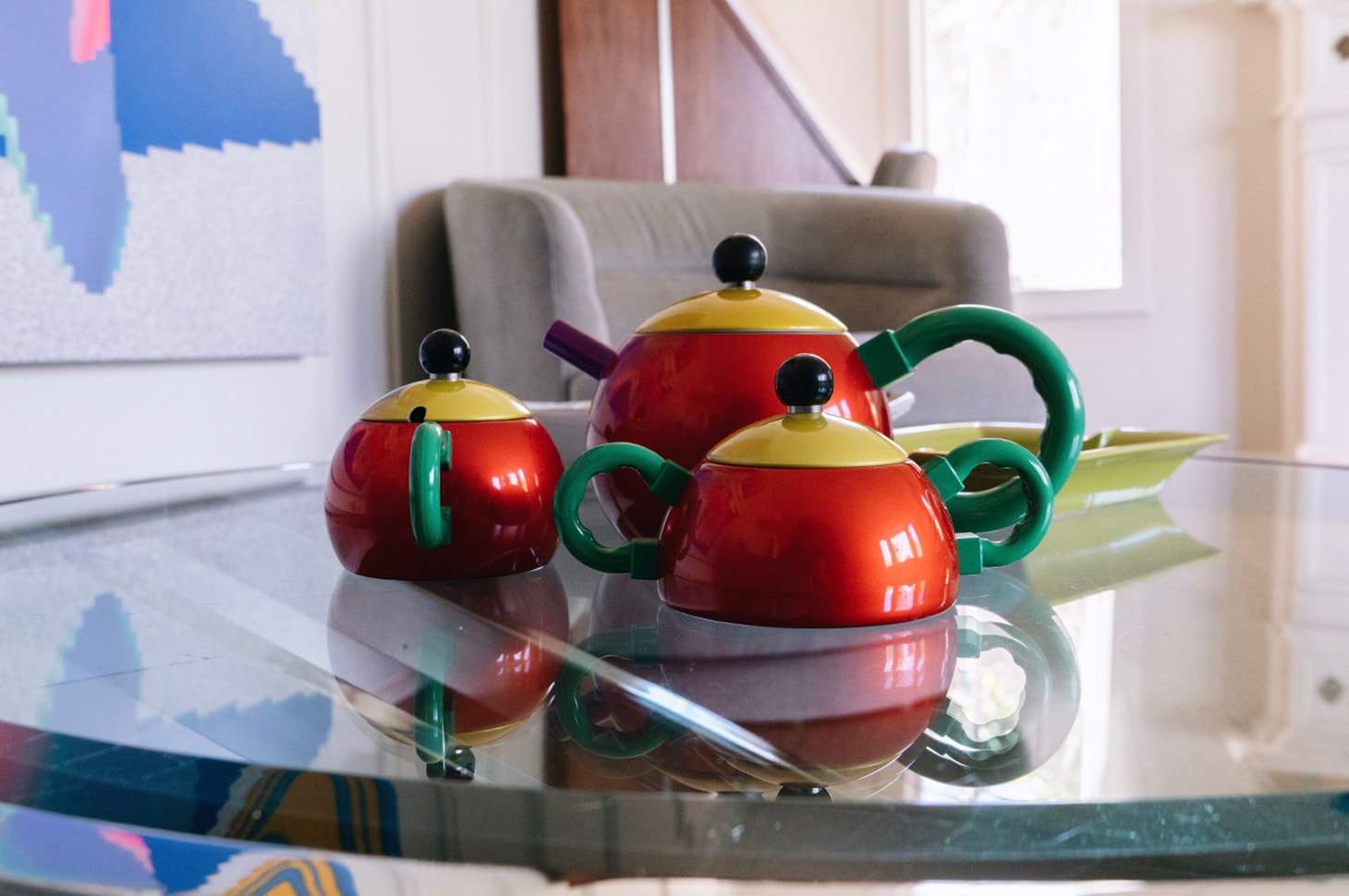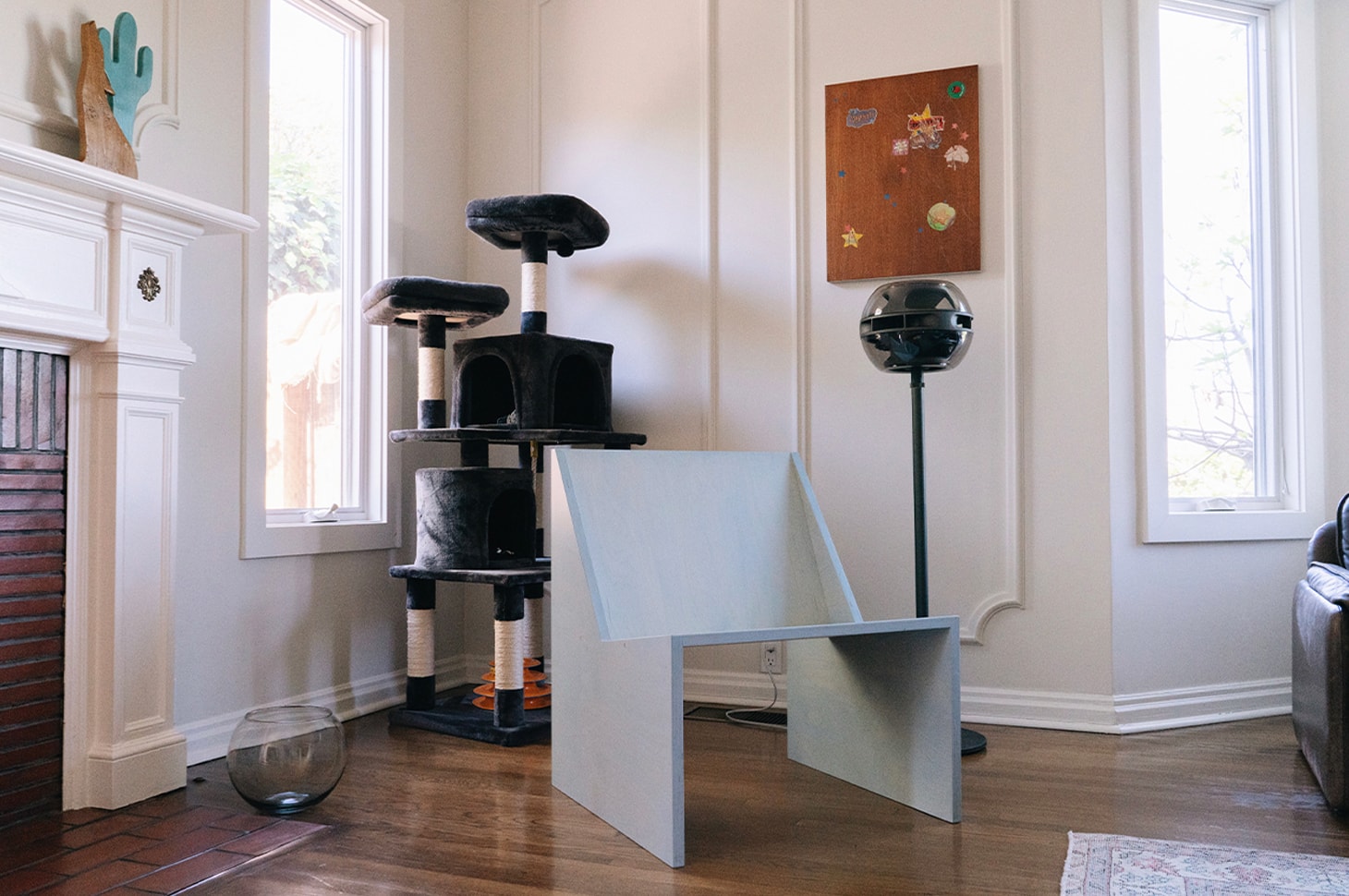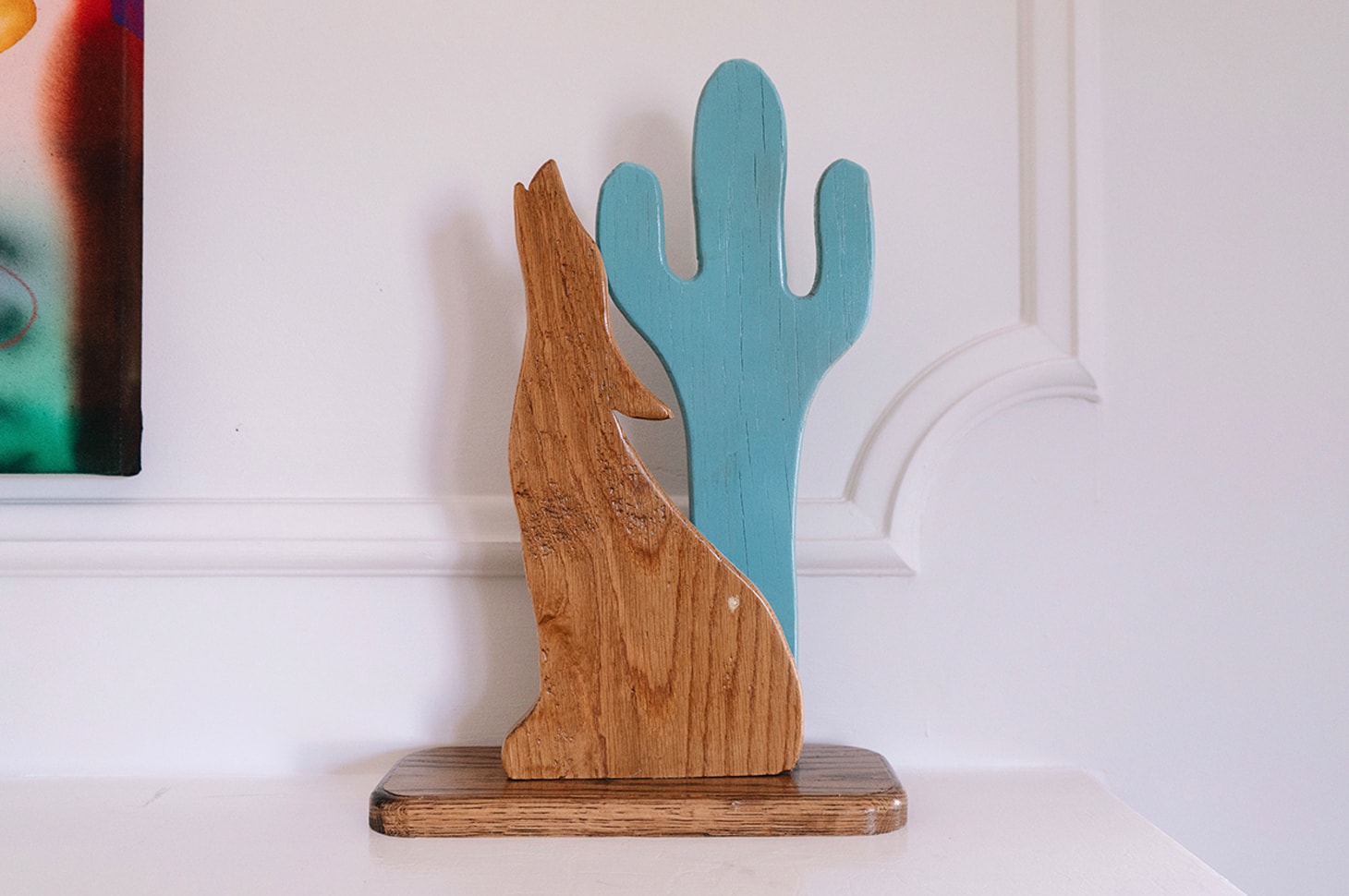 "Music and basketball have always been two really important pieces of my life."
Tell us about your background.
I grew up primarily in Albuquerque, New Mexico. And before that I was born in Iowa. I lived in Arizona for a brief period of time, but New Mexico is kind of home. And from, you know, about third grade to fifth grade, I was fortunate to go to Michael Cooper's basketball camp called "Coop Camp."
Albuquerque was really where I discovered my love for basketball through summer camps. I was fortunate to go Coop's and he would bring guests every summer — Dominique Wilkins, Robert Parrish — larger-than-life superstars to grade school kids who were trying to learn the game.
I recently found a piece of paper laid out and it was my first concert ticket stub and my first basketball game stub, which was an exhibition between the Phoenix Suns and the Los Angeles Lakers in New Mexico. And then I went back and visited with my aunt one summer and saw the Jackson Victory Tour. So music and basketball have always been two really important pieces of my life.
Then you eventually started DJ'ing at Kansas. Walk us through that.
I started falling in love with music at an early age and was always a passion. In high school, I would go to different concerts — Fugazi, Bikini Kill, Beck — but by that time, I was living in Kansas City towards the end of high school. So I went to college at the University of Kansas (KU) planning to do a genetics degree. I was about a year-and-a-half in and just started falling in love with college radio.
Pretty much over the summer, I told my parents that I was going to pursue this life of radio instead of genetics. Fortunately, they encouraged me to follow my passions and chase what I believed in and that led to the first part of my professional career in the music industry.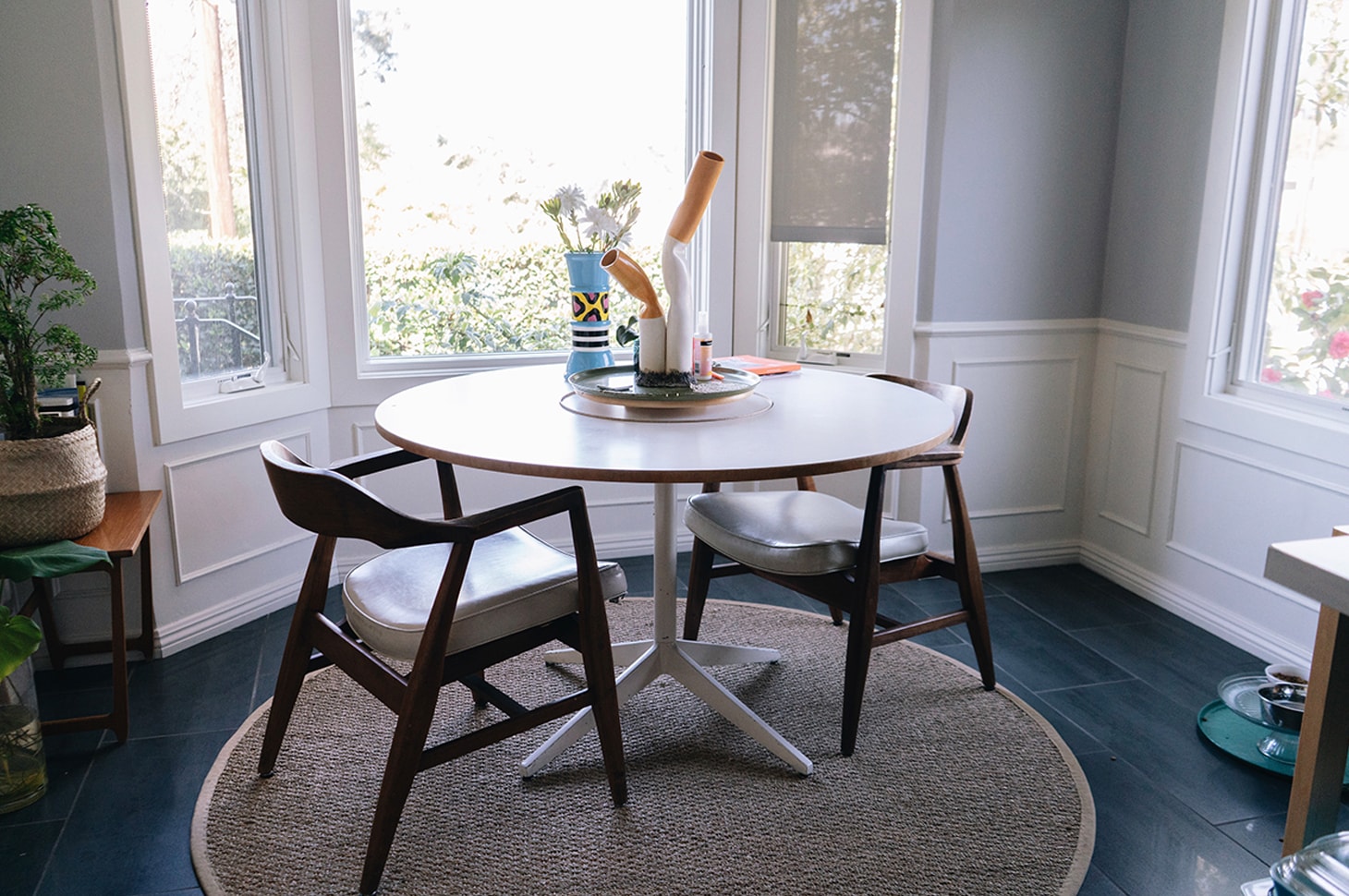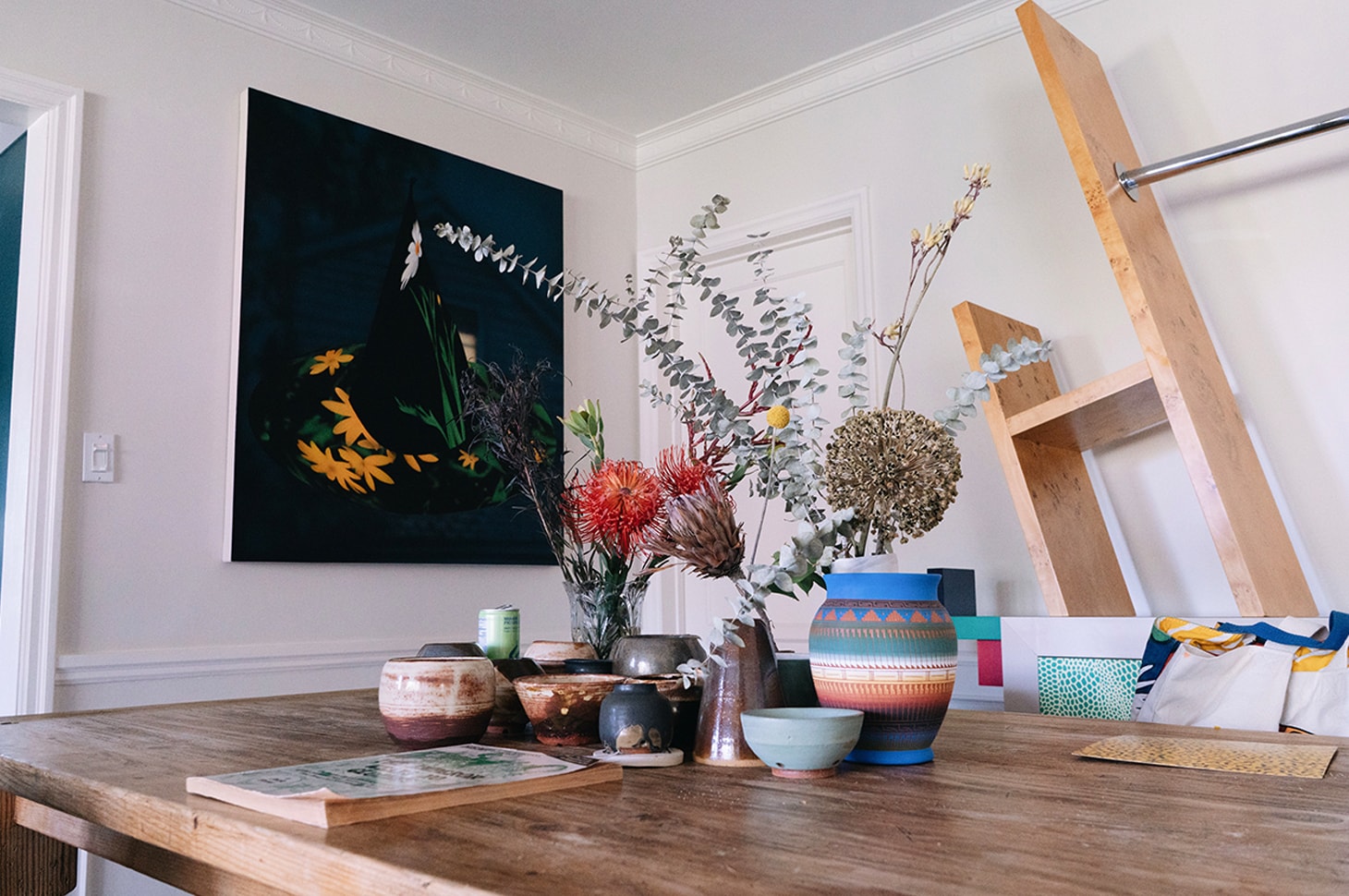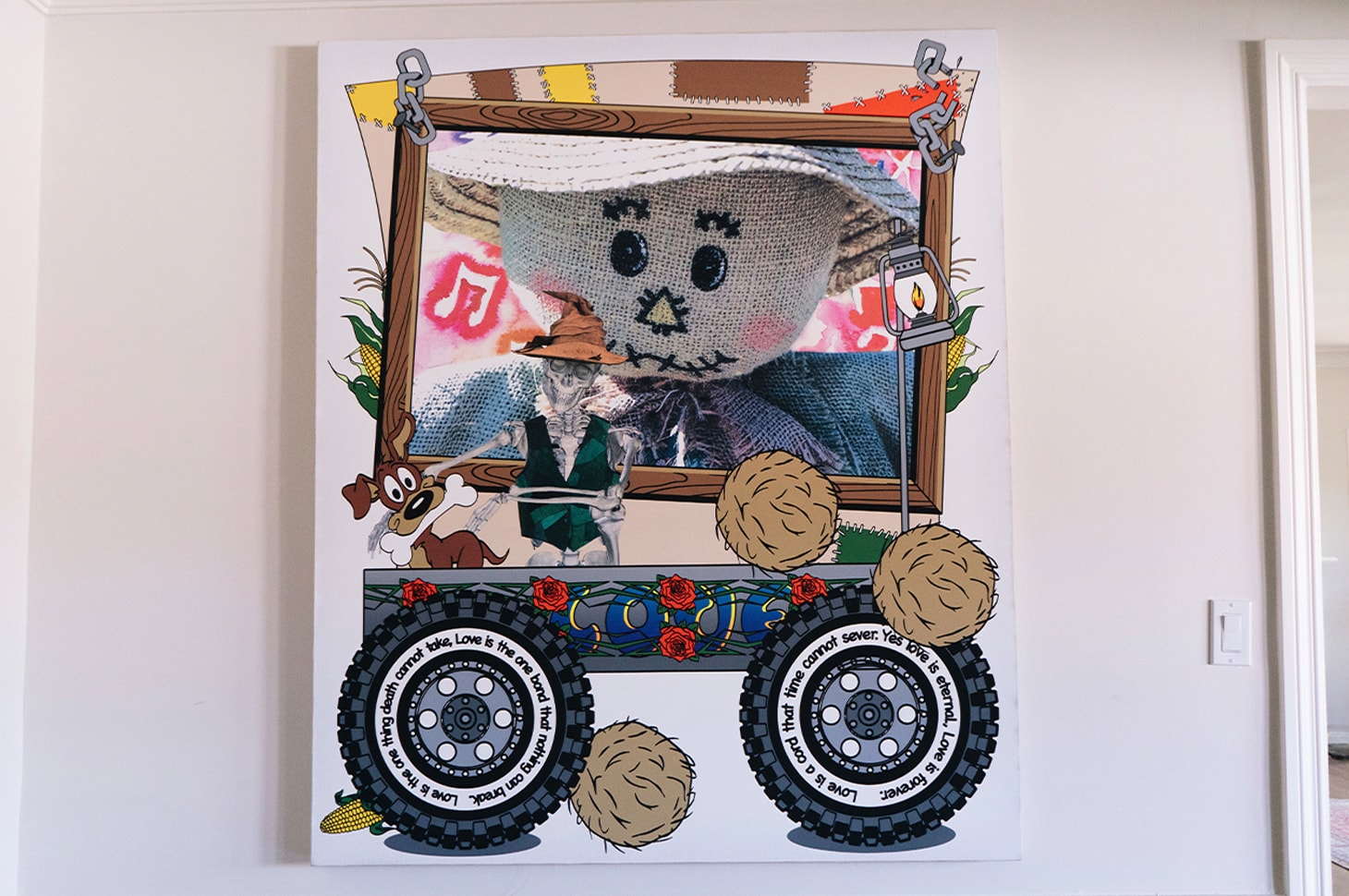 "We started noticing there was something happening — more than just a random occurrence."
Such an interesting 180. Are there any parallels that you are applying to your career now that you first learned studying genetics?
What really got me into genetics was science fiction. Just the thought of a better day and making the world a better place. I guess in similar ways, I always try to just highlight interesting things — this utopian vision kind of overlaps. Although, when speaking on utopian genetics, it can get dark as well, but trying to keep a positive outlook on a better day.
Can you talk on the early development of FRANCHISE magazine?
FRANCHISE really came about as a passion project. My friends and I really love basketball and art. We started noticing there was something happening — more than just a random occurrence — amazing pieces, amazing stories, amazing artists. Then we wanted to create our own narrative.
It became more fulfilling than my full-time role, where I was at Apple at the time. It was about 13 years at Apple, when I decided to jump ship for FRANCHISE and just chase my dreams and see what I could do with it. Not knowing that a year later, we would be in the pandemic.
It was following what I believed in, similar to jumping from this world of genetics into music — jumping from this stability at Apple into this unknown basketball brand.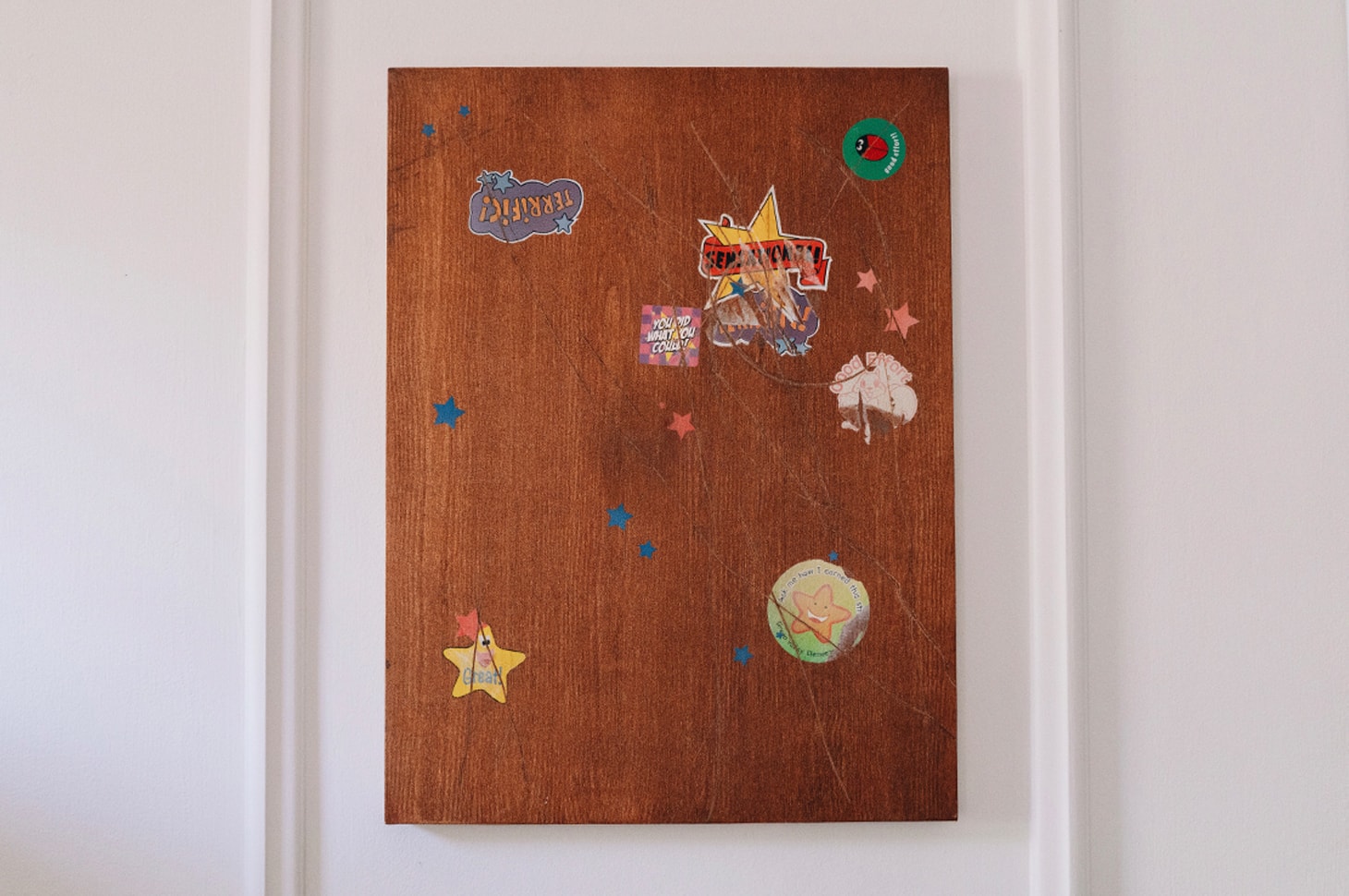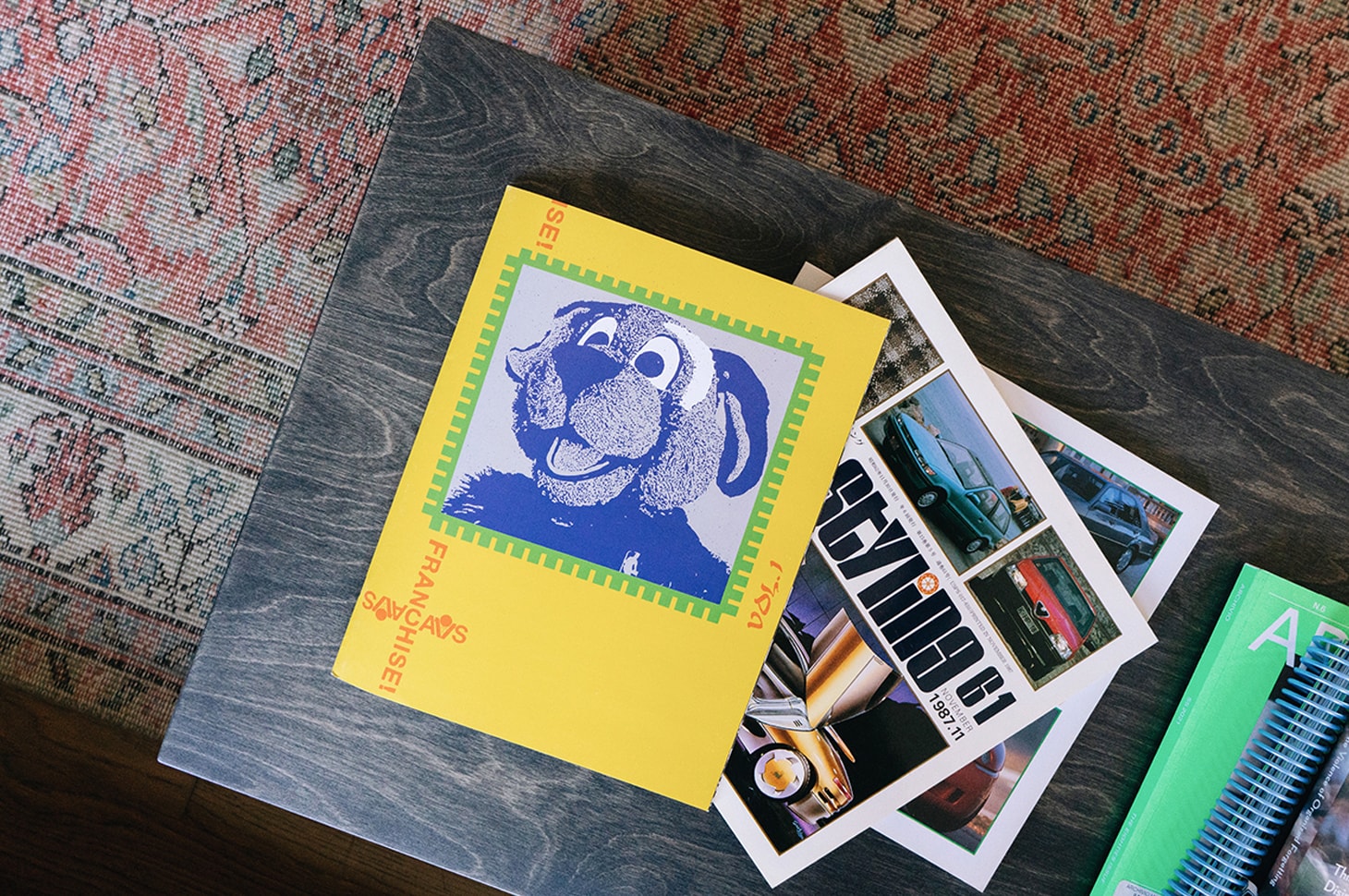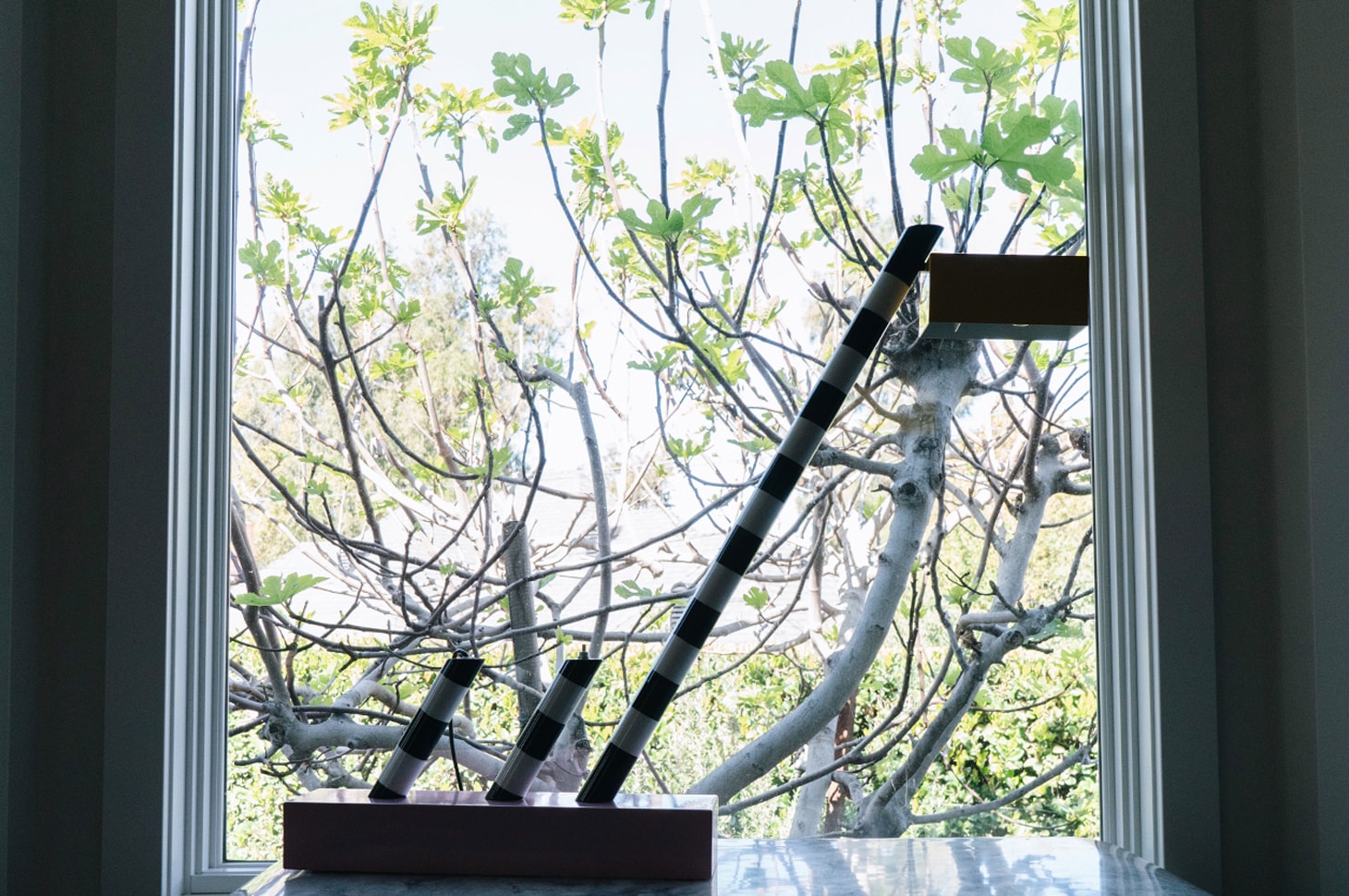 "I couldn't think of another basketball media outlet that's putting out house music or jungle."
Apart from the new gallery space, what are some goals you're cultivating right now with FRANCHISE?
Our goal when we started was, 'maybe we'll be able to go to a free basketball game one day.' That was as high as we were aiming and we were super fortunate to be able to go to one to shoot Diplo and DeAndre Jordan before issue one even came out.
So we did, 'what's next?' It's been an evolving process since. The magazine is coming back this year, which is really exciting. We're opening a gallery in Chinatown, LA. Today, we put out our latest record.
In each vertical, we want to highlight and support artists and creatives that believe in and are making interesting narratives. Whether it's highlighting someone or creating something ourselves through the apparel line, record label or NTS Radio show.
So they're all under the same name?
Yup. At one point, I was playing around with different ideas but decided to just keep it simple. The record label doest really have anything to do with basketball, but it is, by default in a way, because it's music that we believe in.
I couldn't think of another basketball media outlet that's putting out house music or jungle. It's really interesting to highlight that lane. Of course, hip-hop is an integral part of basketball, right? And there's definitely hip-hop releases in the words, but also wanting to expand those horizons and introduce new narratives to the space.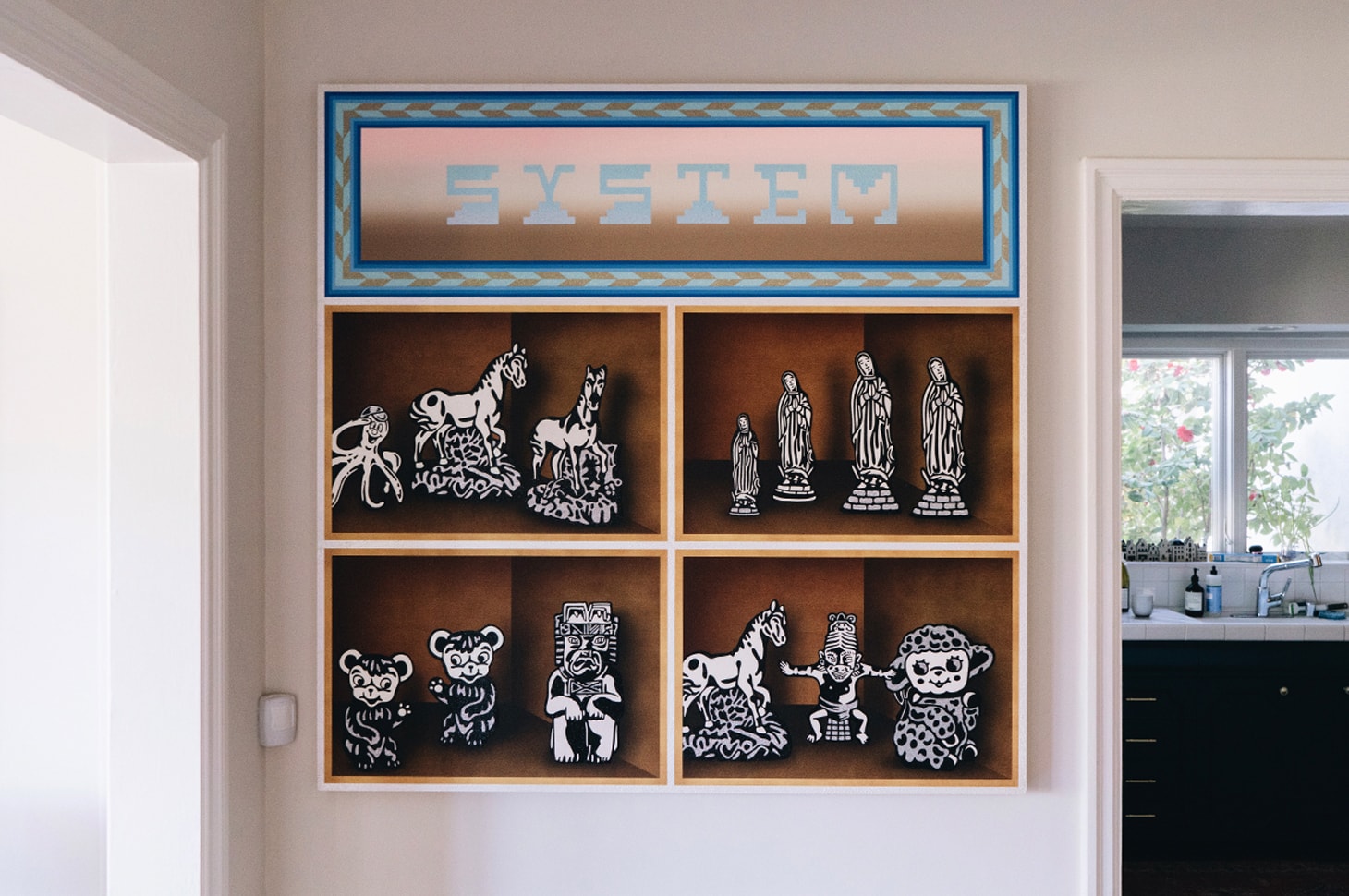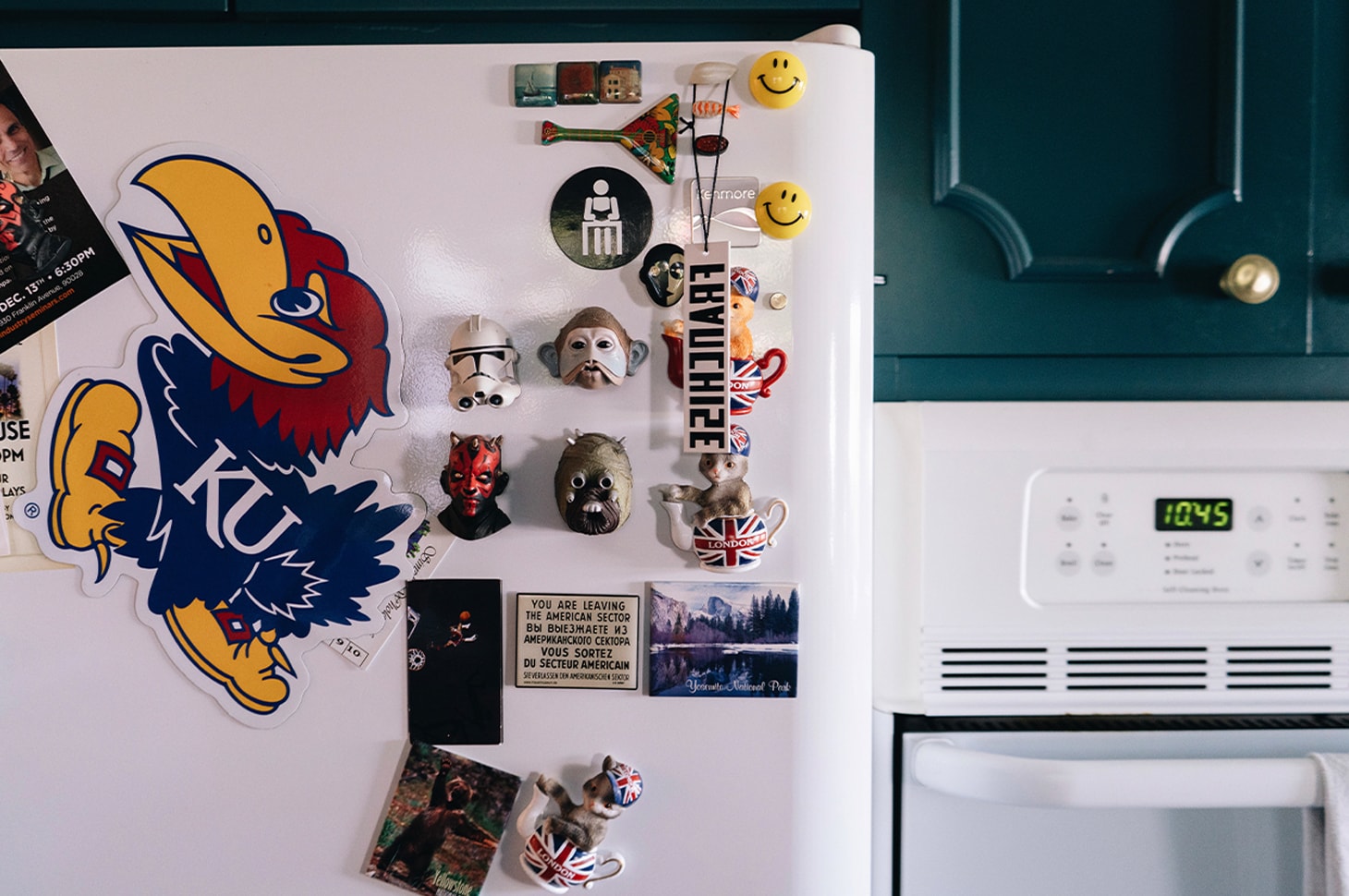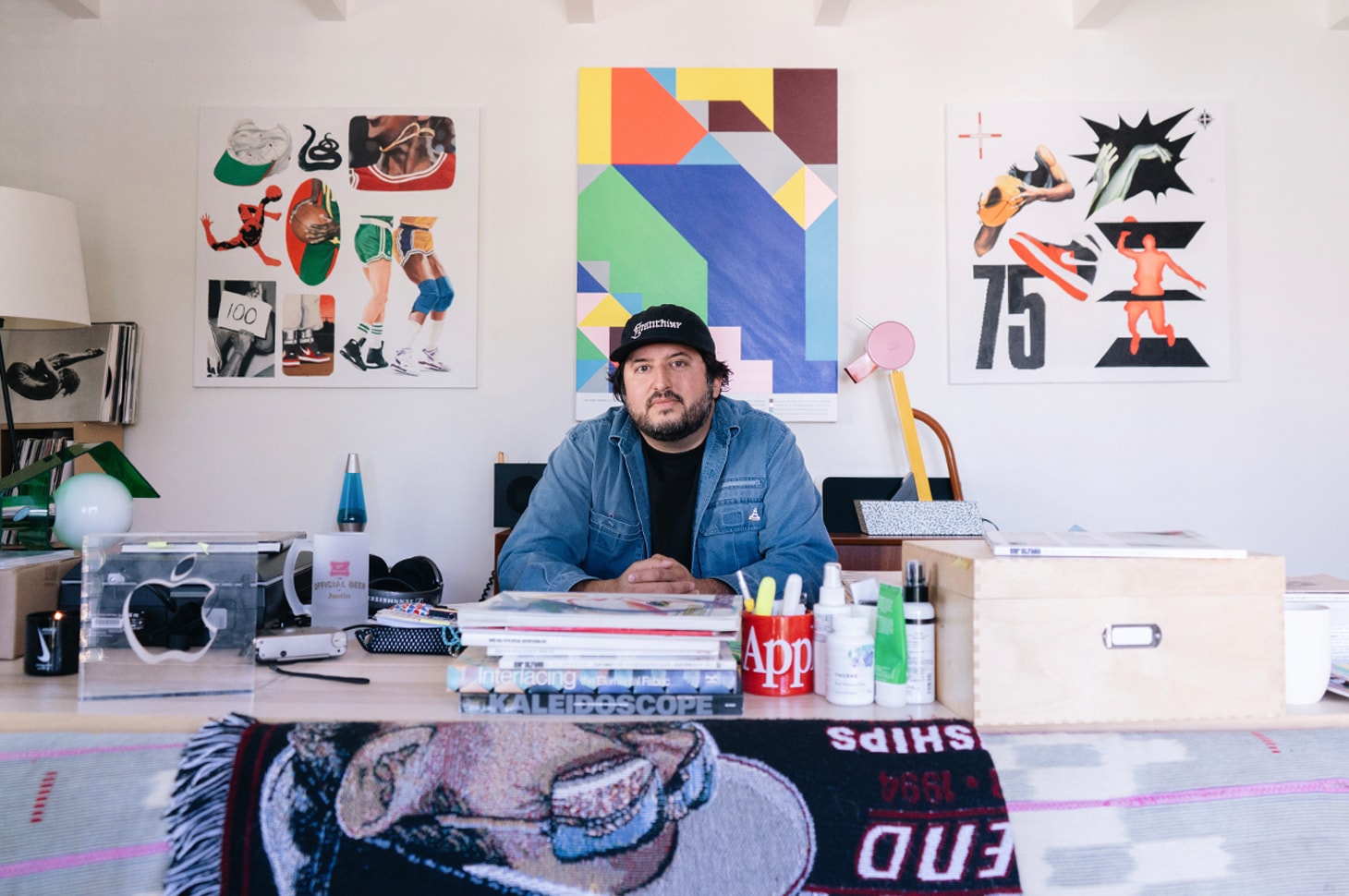 "It always goes in waves."
Transitioning into your own personal art collection. Can you talk about some of the work in your living room?
This is a Michael Childress, which I got at New Image Art Gallery. The woodwork over there of the two coyotes was carved by my dad. I also have a Sayre Gomez piece that is kind of amazing when you look at it, because it looks like actual stickers on there.
Would you say you got your love for art from your dad or friends and family?

I've never thought about that, but when you asked, I immediately thought of my mom. When I was in middle school in Albuquerque, I loved Swatch watches. The faces would always have interesting artwork and knew I loved it so much that she got a job at the local department store working in the Swatch section. So she was the plug.
My mom would feed those interests I'd have and support me. There wasn't a huge gallery or art scene in Albuquerque. There definitely was amazing Southwest art, like my mom loved Georgia O'Keeffe.
I also bought a screen from a collector friend of mine in the Midwest, it's an original from Alessandro Mendini for Studio Alchimia.
The whole Memphis scene has regained a lot of interest in recent years.
I love it and was fortunate back in college. We went to this guy's shop in Kansas City called Retro Inferno. At one point, he was one of the biggest Memphis collectors in the world. He would sell pieces to Bowie and Lagerfeld. Then he moved into a Bruce Goff house, which is an insane story unto itself and it just didn't go with the house, so he started selling some of his works. I got lucky and got that screen and another piece from him.
The Memphis scene is so interesting. It always goes in waves — from the coolest thing, to a gaudy thing, and now people are back on the wave again.
Are the chairs part of the artwork?
The chairs are from John Riesling and I got them in San Jose. I just love the personality that they have, like the faces and funkiness.
They've got a folkloric vibe, similar to work by Maria Prymachenko. How about the piece you just acquired at Frieze LA?
The colors first drew me in. It's got some hues of almost Southwest vibes, like these pinks and turquoise blues. But this powdered coat here is almost Memphis-y as well. It's almost got these digital angles that are almost pixelated. It's got a lot of vibes that I dig — cement patterns, neon colors and pixelation.
Whether it's up close or far away, it's just one of those pieces that feels like from another world.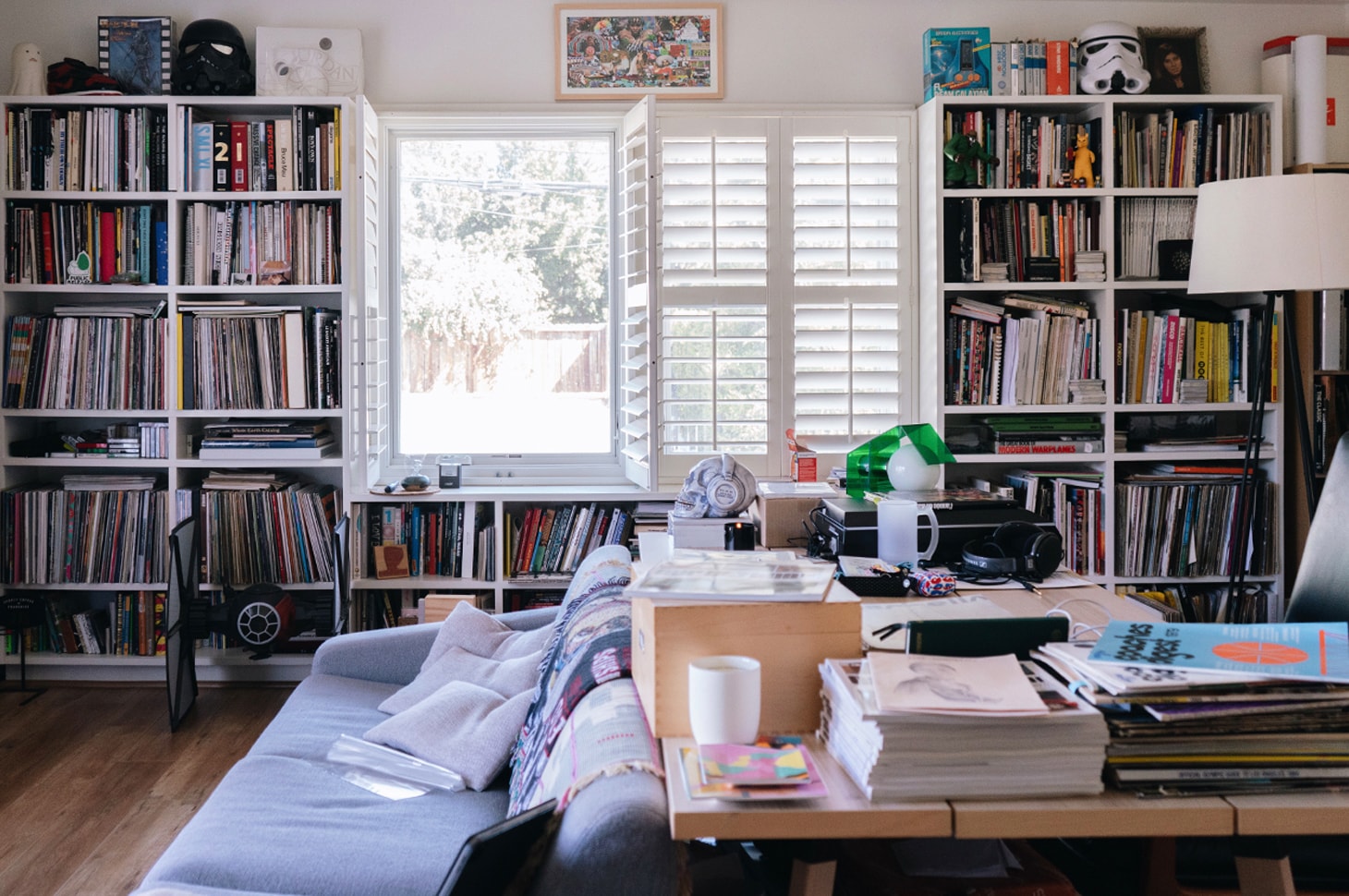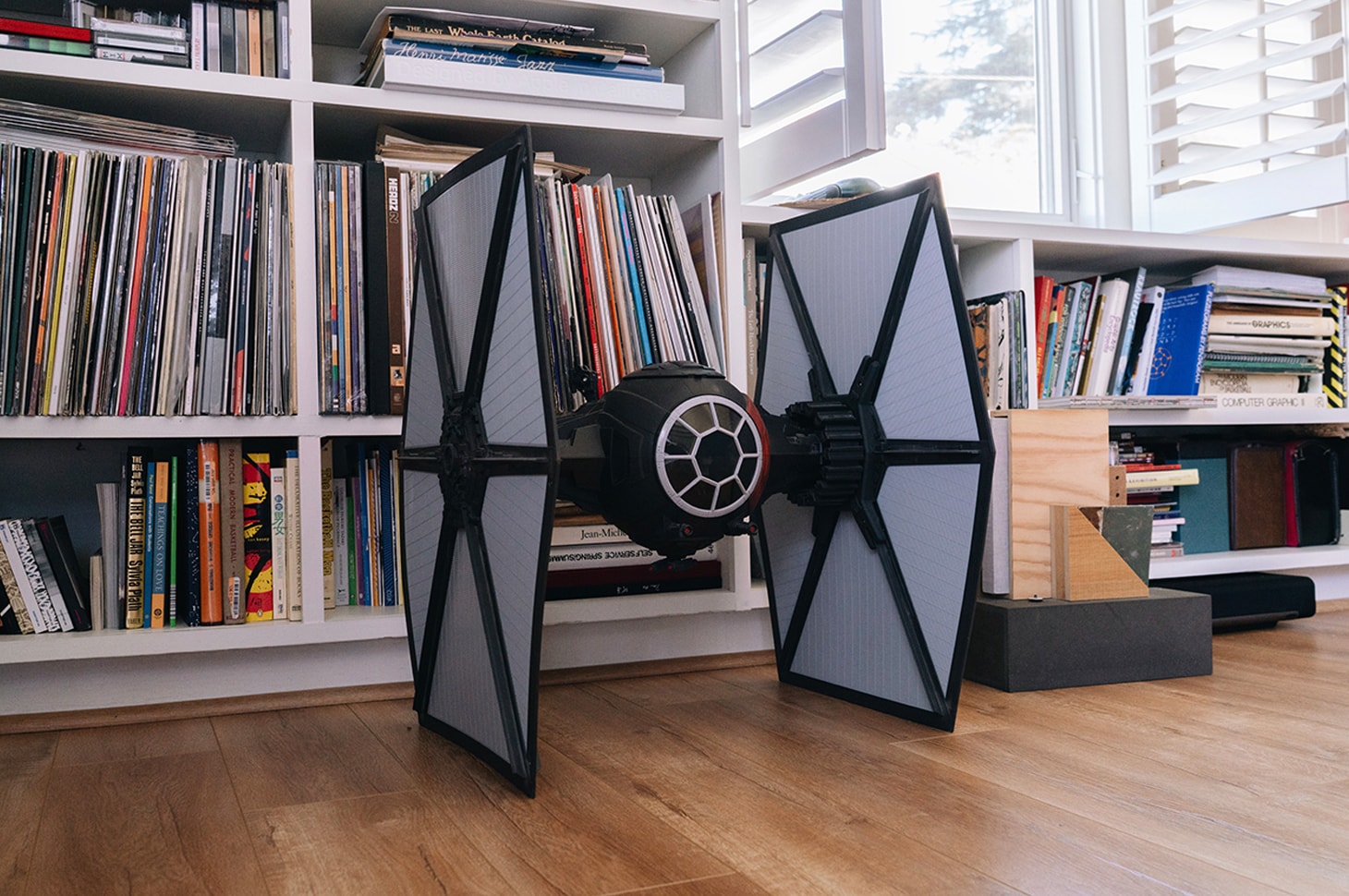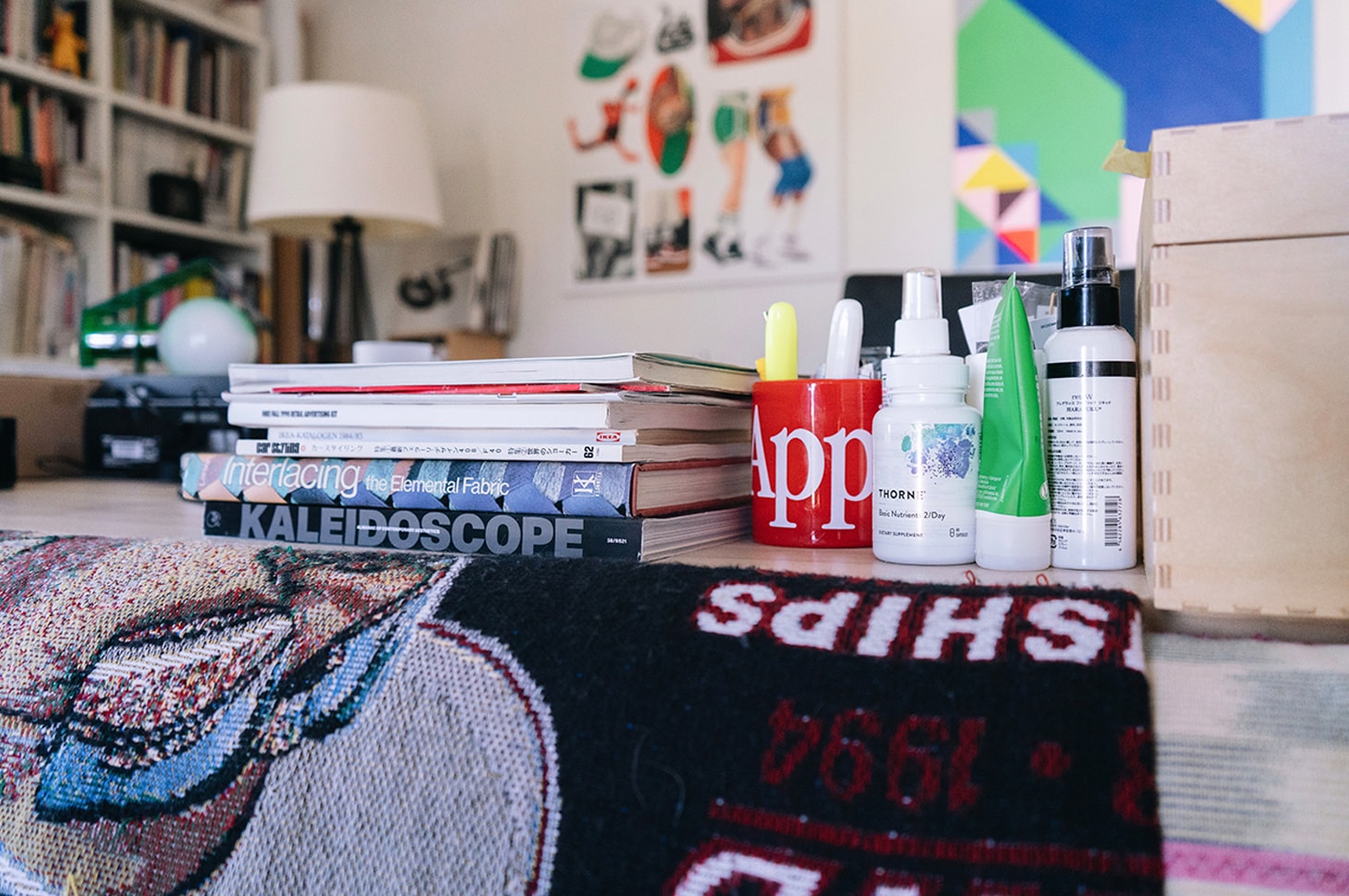 "I want to build a community that is true to the neighborhood, showing both respect and bringing something new."
Is there a constant throughout the house, in terms of the art you like to collect?
It's definitely a bit of a variety. But it just needs to be something that stands out to my wife and I or speak to us for different reasons.
If you look at the earliest art you started collecting to the art you have now, how do you think it has changed?
When I was younger, the art I would collect would be record covers. That was really an affordable means to buying art. Looking at books, looking at record covers was a gateway to acquiring bigger pieces and more art. My book collection to me is just as important as my record collection or just as important as my magazine collection or as important as the works on the walls.
Will the art in your home make it into the gallery space?
I think I'll keep it separate. I did bring some basketball works inside the gallery to decorate the back area and lower level, but for the most part, the works in the gallery will be more in the FRANCHISE lane — leaning into the basketball lane.
The gallery scene in LA is amazing and so mature. Established galleries from all around the world are opening up doors in LA. There's no way I can compete. Who am I in this space as another standard gallery? So I think something that I want to bring is a unique point-of-view, which is definitely the basketball element, publication element, music element and a retail section.
The space will be 85% gallery, 15% retail. We're looking to also have coffee available too. We're really trying to cultivate a clubhouse community vibe, rather than an art gallery. There's a basketball court about a block-and-a-half away from the space and I want to make sure the kids playing know that there is a gallery in the area.
As much as we can, I want to build a community that is true to the neighborhood, showing both respect and bringing something new.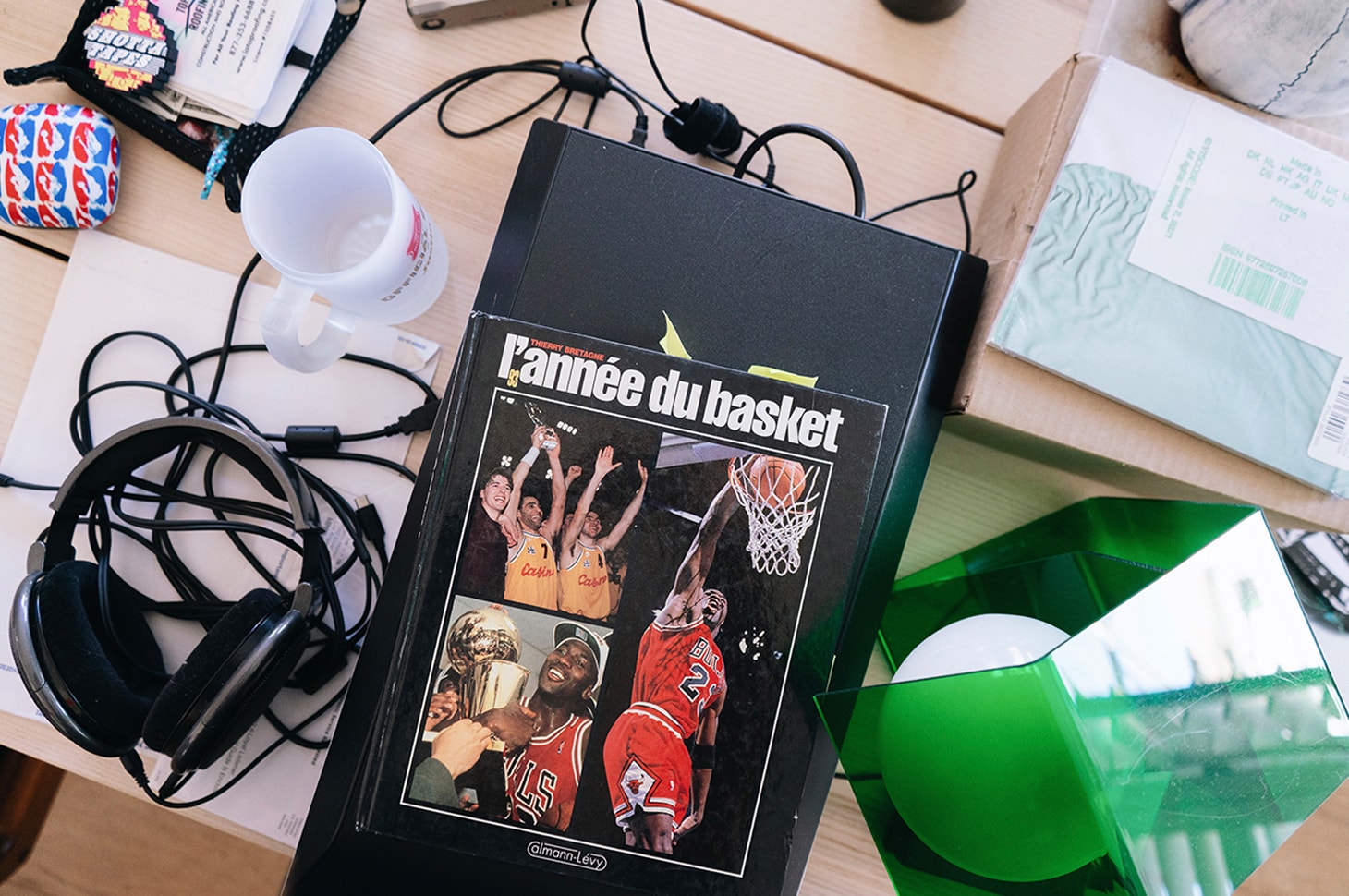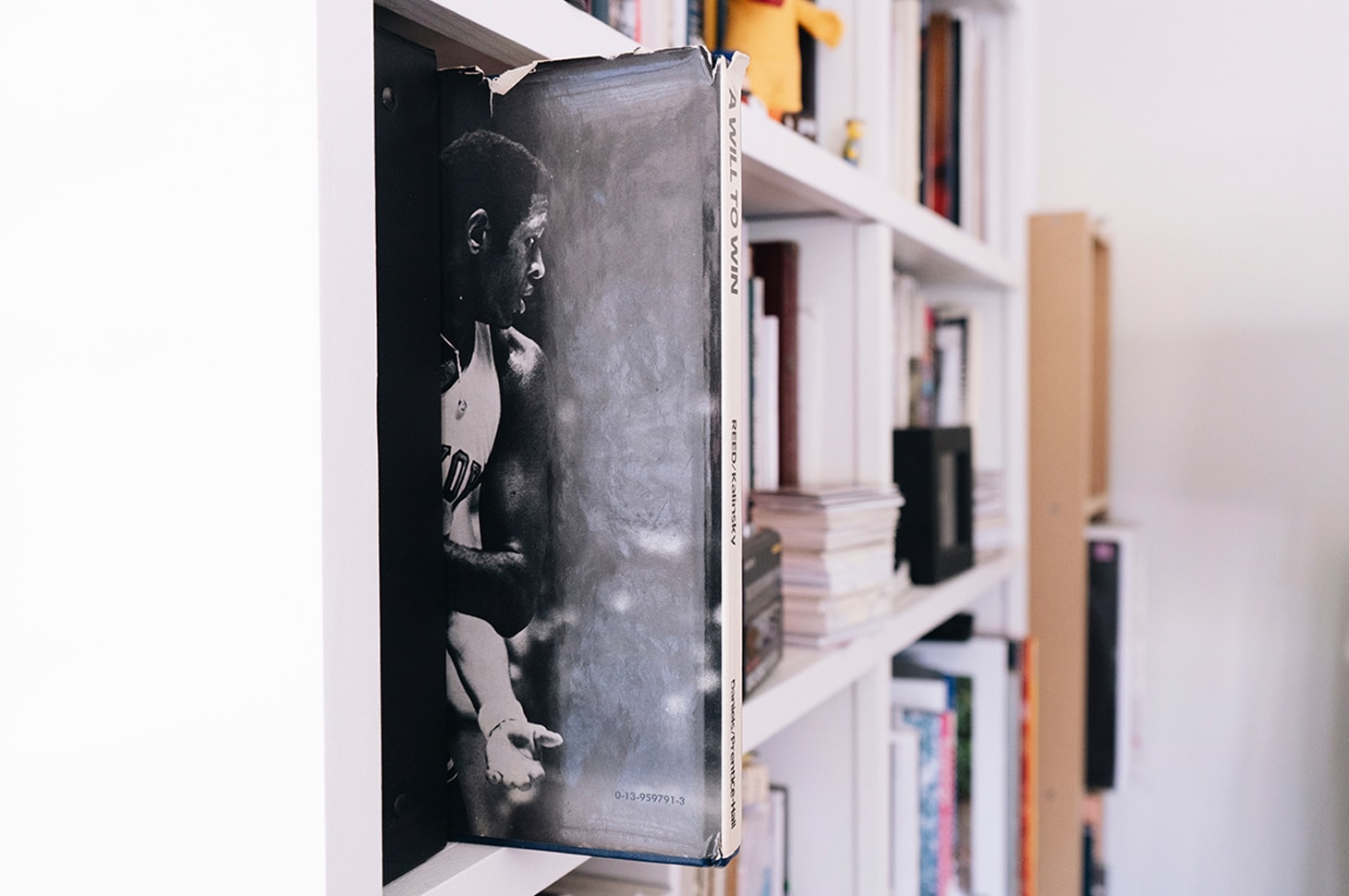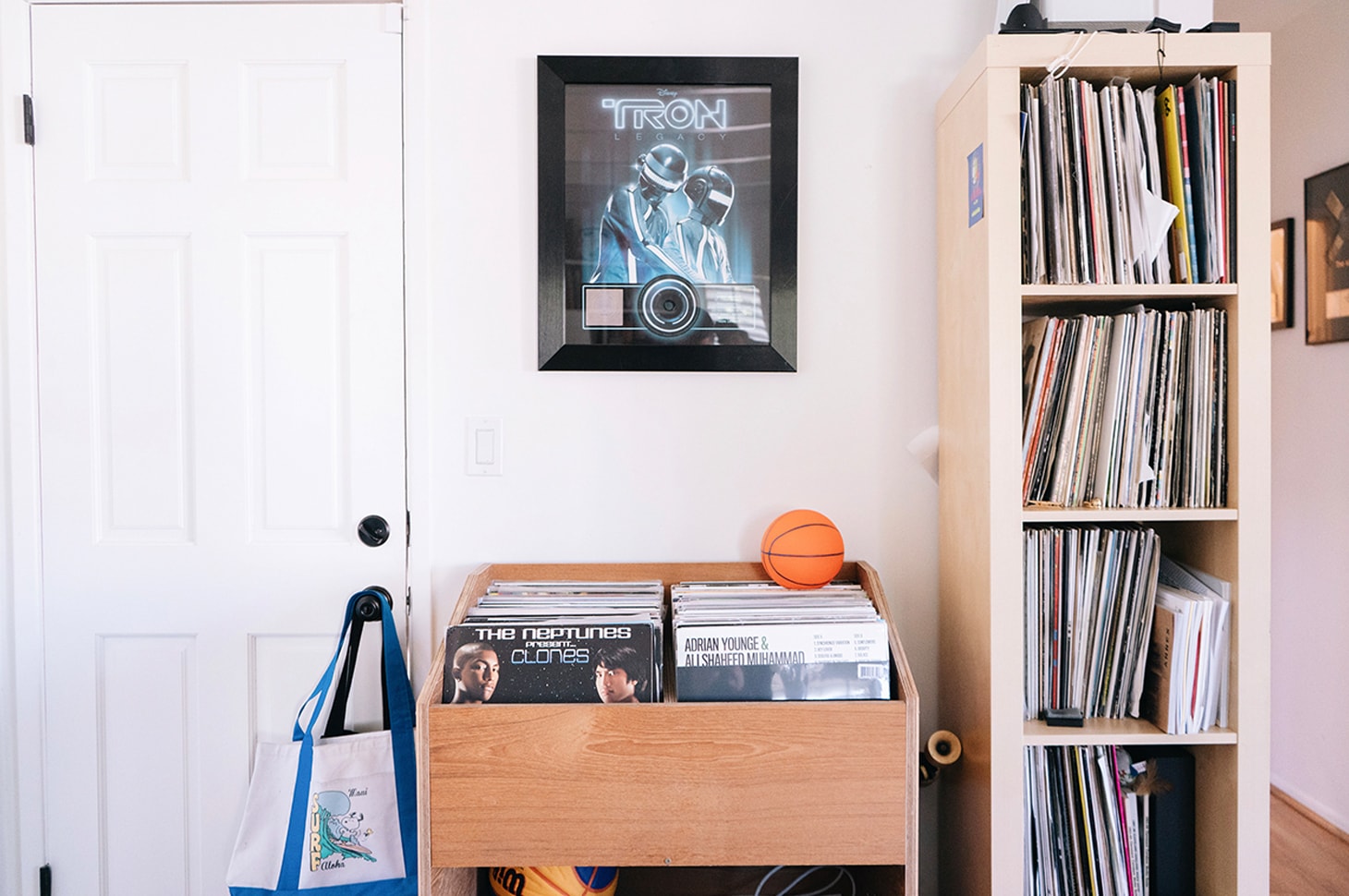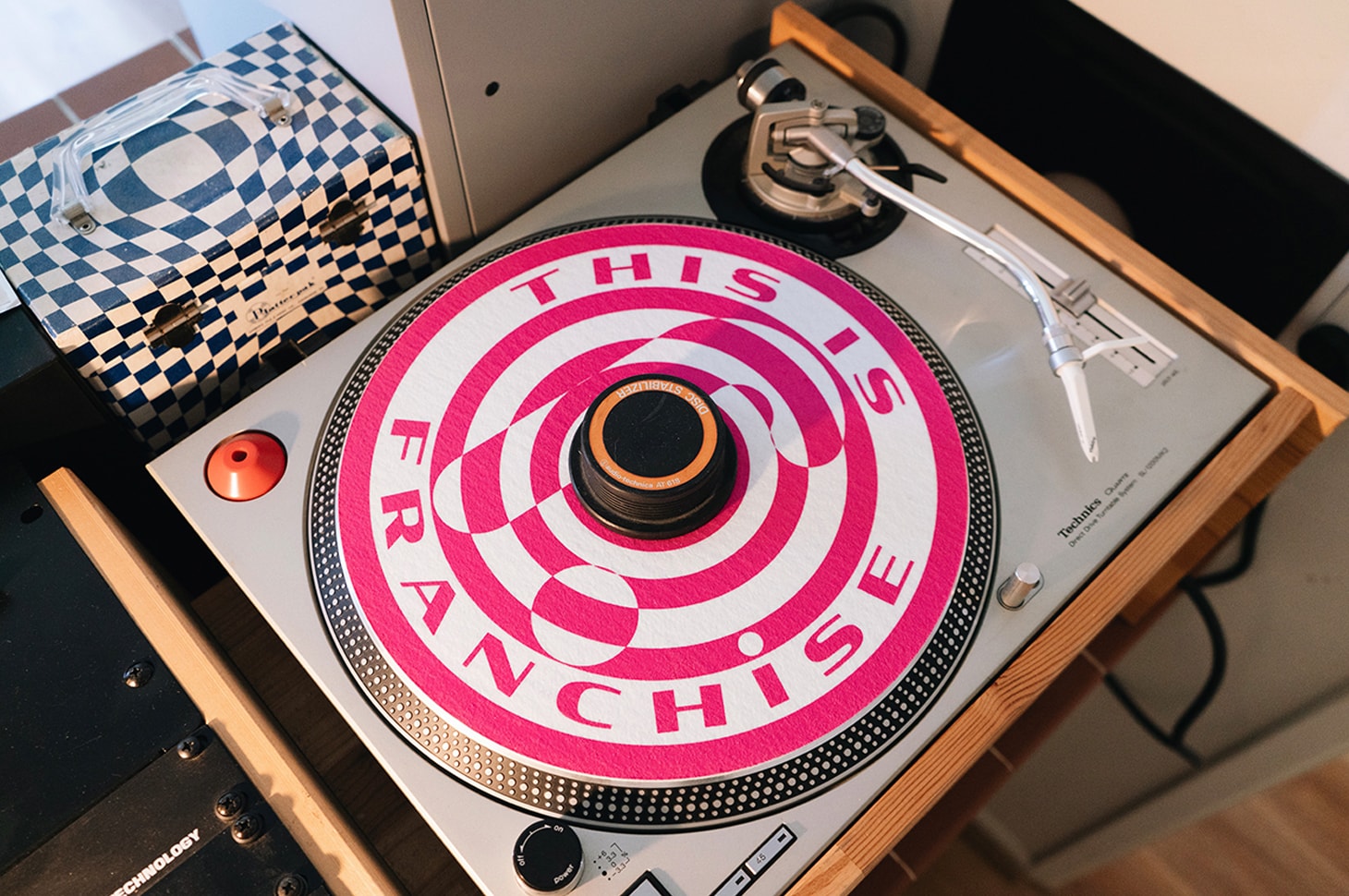 "I think it's really about what's important to you and what speaks to you."
How do you approach your curation?
Instagram has been a huge part of curation and connections. Social media has empowered and enabled people to connect like never before. But as much as you know, there's so many amazing publications out there, like Archivio from Italy, which makes me think, 'maybe I should check out this online archive of things.'
Recently we did a project with the Cleveland Cavaliers and I got on eBay and bought a bunch of vintage Cavs media guides.
So it's online auctions, used bookstores, Instagram and various music and retail stores around the world. When I used to make playlists for Apple, I'd always have my sources to check — these certain DJs and radio stations — what do they play? Record stores in Tokyo and Amsterdam have great selectors, what are they highlighting?
In a similar vein in how you source a playlist, I took that formula and applied it to FRANCHISE.
Your wife is just as much a part of that process of curation. Can you talk on that dynamic?
She is my best and most grounded critic and observer. I trust her taste in opinion more than anyones. She's a busy person, always on calls, but it's always great to get her eyes on things. She comes from an art background — she went to Otis and is an amazing designer. She currently has a passion for pottery and it really was our connection through music and books.
What is your advice for an aspiring art collector?
For a collector of anything, you just have to acquire items that speak to you for one reason or another. If it's you're building out a record collection, if it's you're building artwork, if you're building a shoe collection, or apparel collection, is really pieces that are true to you, and that you feel will last throughout time with you.
I think as you're collecting, it's it's a learning process that you're on, and there's no right answer. I think it's really about what's important to you and what speaks to you.
I feel like the art world is getting so much more interesting and more diverse. There's a lot of amazing retail spots that are showing incredible work.
Who are the first exhibiting artists at the new space?
And then doing a group show as well later this year. It's definitely gonna have traditional art, but then also looking at some interesting ephemera collectors, and trying to lock in things that are, you know, true to the basketball world that you wouldn't expect to see at an art gallery. Have some really fun things in the works.
Photographs by Nick Llanton, ©HypeArt