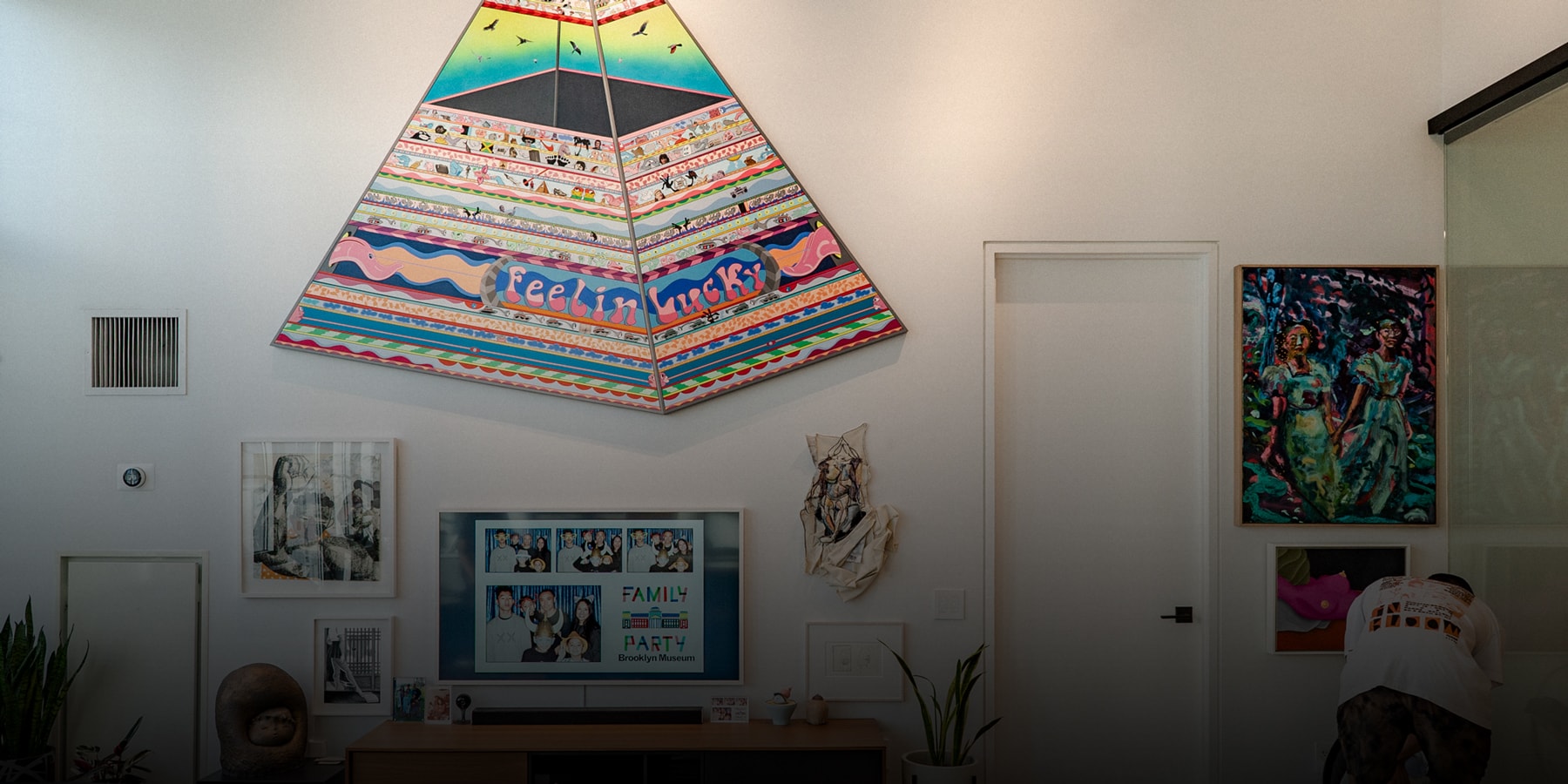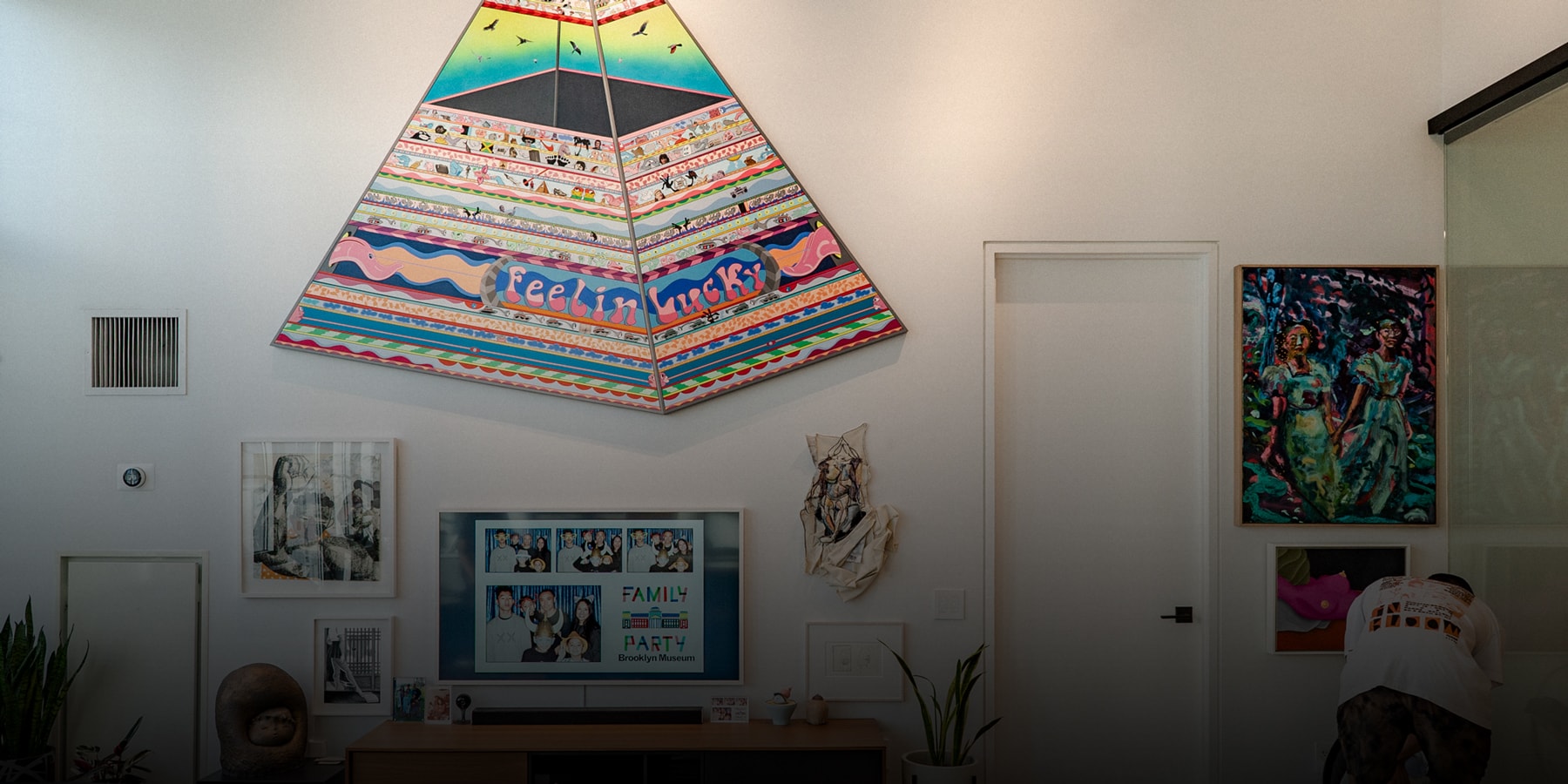 Collectors: Roman Mendoza Finds His Filipino Family Ties in Contemporary Art
'Collectors' journeys into the homes of fledgling and seasoned art buyers from across the globe. The ongoing series offers an intimate spotlight on a range of personal collections from hobbyist ephemera to blue-chip artworks — all the while dissecting an individual's specific taste, at-home curation and purchase trajectory.
Upon entering the Long Island City home of contemporary art collector, Roman Mendoza, we're immediately enthralled by figurative and abstract works in the hallway that leads to the living room. One of the pieces on the wall is a diptych of framed works by the seminal African American artist Leslie Hewitt that commingles sculpture and photography. A historical family photo of an elderly lady is depicted in the composition that Mendoza says reminds him of his own grandmother and the sole reason as to why he purchased the work.
Discovering subjects in artworks that reflect his loved ones is Mendoza's current modus operandi when it comes to collecting. Such examples include a charcoal collage work by Clotilde Jimenez called Family Tradition that is mounted beside Mendoza's television in the living room so that the collector is constantly reminded of his family of five kids whenever he turns on the screen as well as an oil on panel piece called We Walked for Hours by artist Maia Cruz Palileo that features two Filipino women walking in a forest that remind Mendoza of his aunts in the Philippines whenever he passes it to go to his modular bedroom. One of his favorite pieces is a work featuring a woman in a kitchen by the acclaimed French artist Jean Jullien that reminds him of his mother.
As we make our way through the hallway, we bump into a Tom SachsShop Chair that sits in front of a desk located in a nook with artworks mounted on opposing walls. Mendoza says this is the area where he works and finds the chair "surprisingly comfortable to sit on for hours" despite its bold and sharp fabrication. A warm-toned sculptural painting by the artist Josh Sperling acts as the centerpiece for the office nook that is balanced by a collagist work on paper by an emerging Filipino artist named Kyle Reyes.
In Mendoza's home, artworks are placed purposefully next to each other depending on their matching colors and subject matter. Works that are isolated from others are due to their large scale or empowered messaging. For example, a functional neon work by the rising LA-based artist, Patrick Martinez, is hung high on the wall by itself to showcase its dominant text, relaying: "No Struggle, No Progress."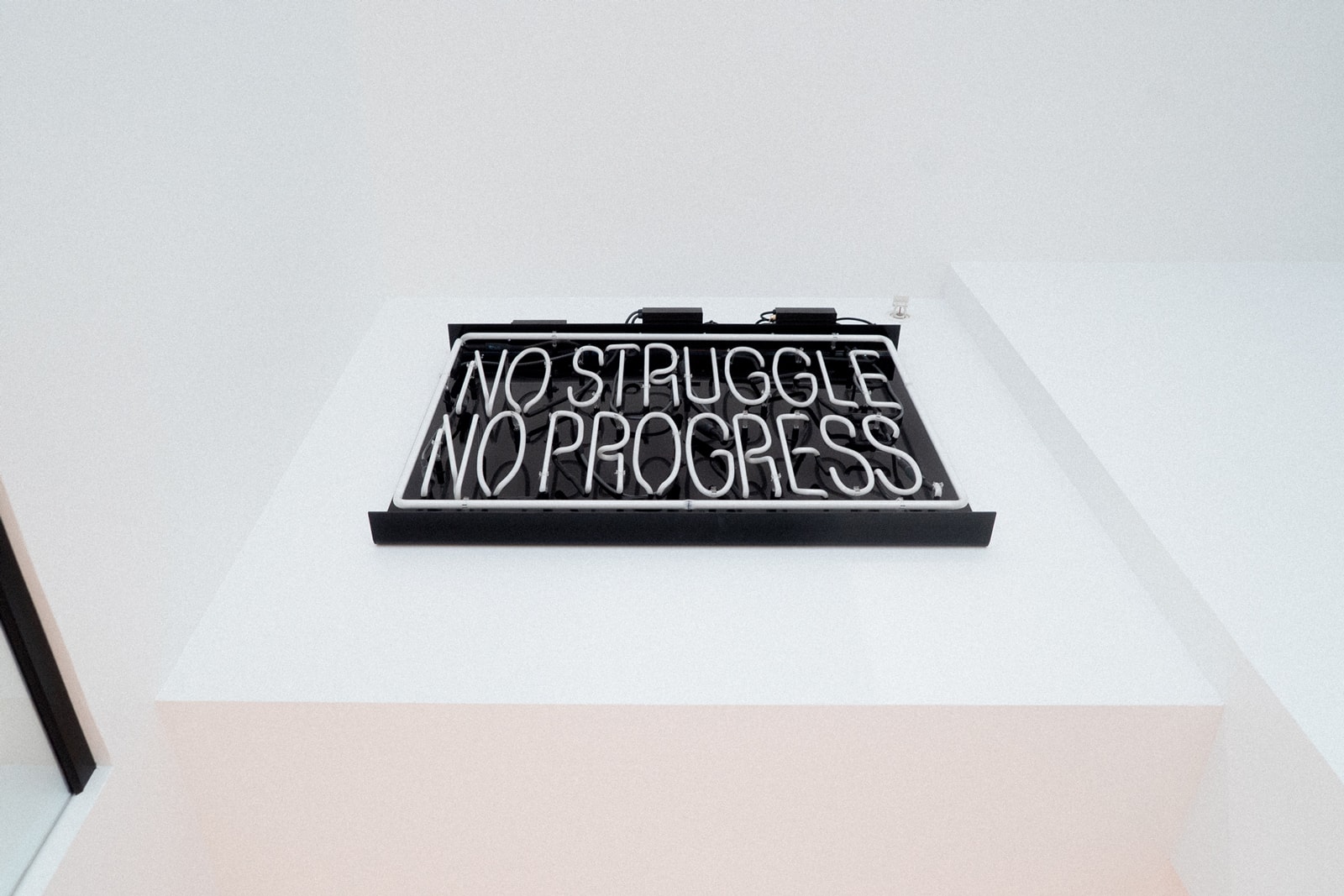 Now in his late 30s, Mendoza has been collecting works of contemporary for over a decade. What made him start collecting in the first place? "One word, four letters…..KAWS," he says. "Hate him or love him, KAWS is our generation's greatest artist and the reason why many of us started collecting art in the first place. My cousin first introduced us to KAWS vinyls, and from that point on we never looked back. From vinyls, we started collecting prints, to unique works, which led us to where we are today." When it boils down to it, the accessibility and affordability of KAWS' early artworks has led Mendoza to collect his works which piqued his interest in the contemporary art world as a whole.
Between working in an investment management firm and raising five kids with his wife Charmaine, Mendoza continues to collect artworks by artists that he's supported over the years while strongly shifting his taste to support burgeoning Filipino artists. He's also part of the Brooklyn Museum committee and is affiliated with a strong network of galleries including Perrotin, Taymour Grahne, Mrs. Gallery, Francois Ghebaly, Charlie James, Monique Meloche, Marianne Ibrahim, PPOW, LSC, CHART and many more.
We sat down with Mendoza to discuss his growing collection, home curation and advice for those who want to get into collecting art for themselves. Read our exclusive interview below.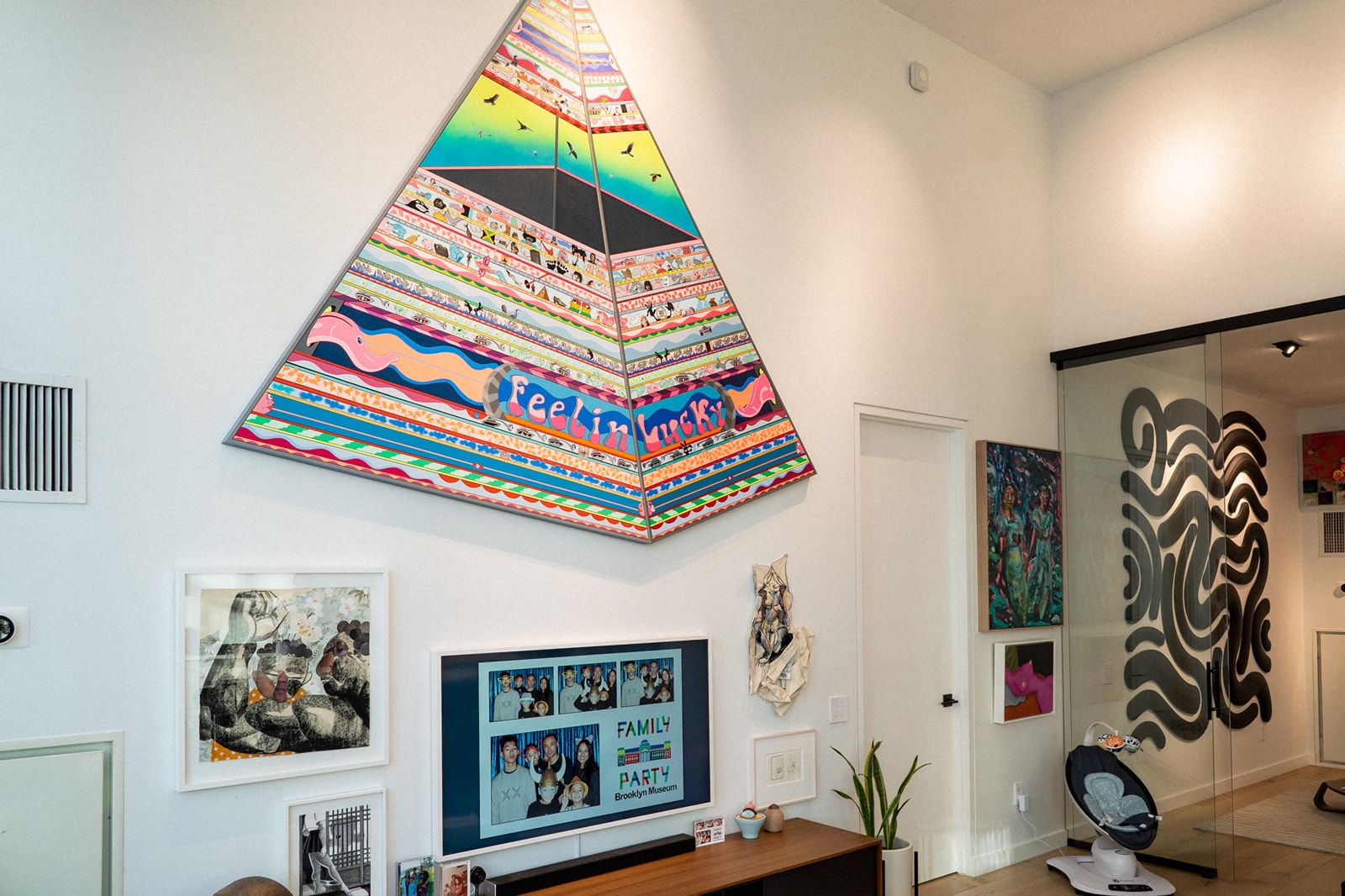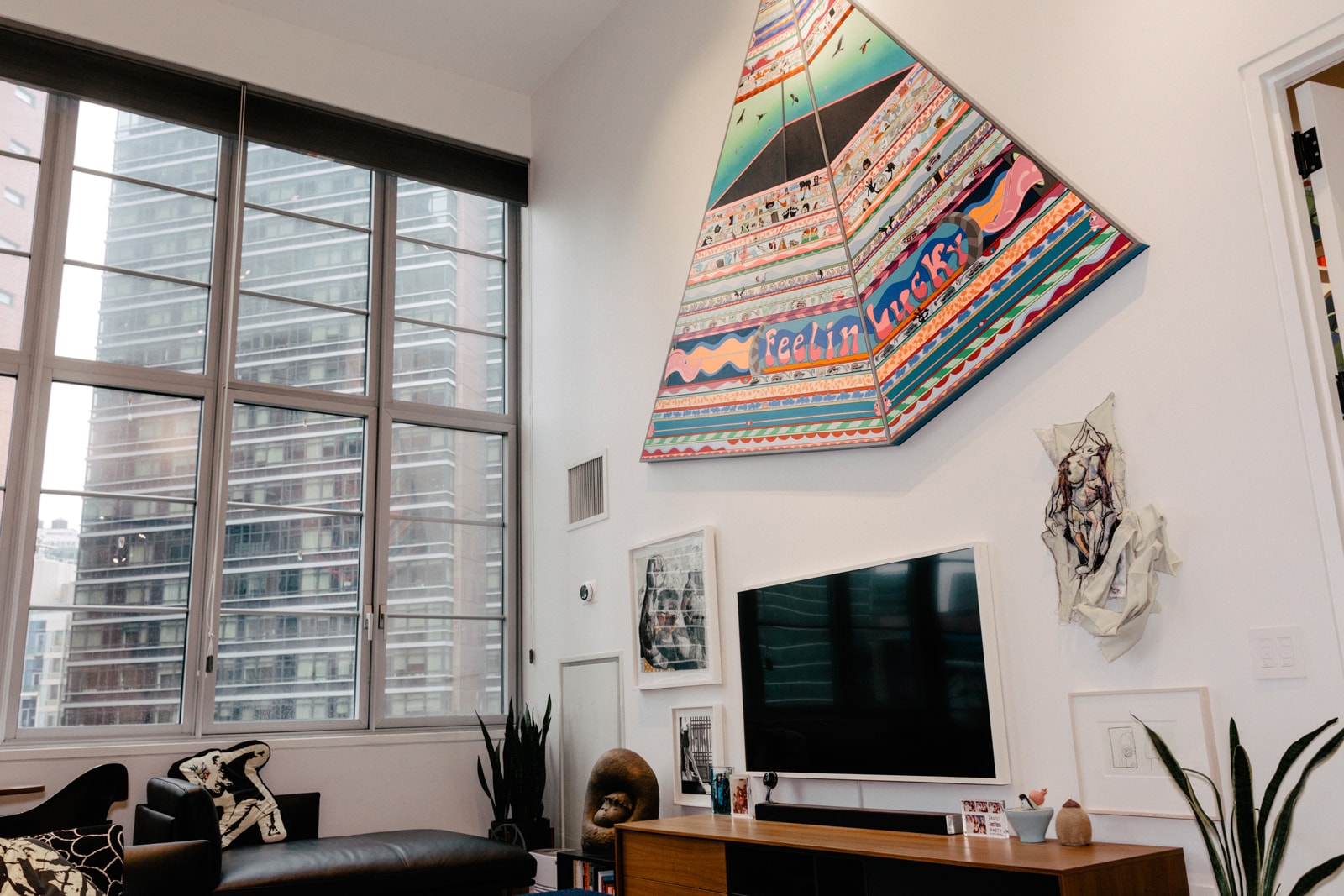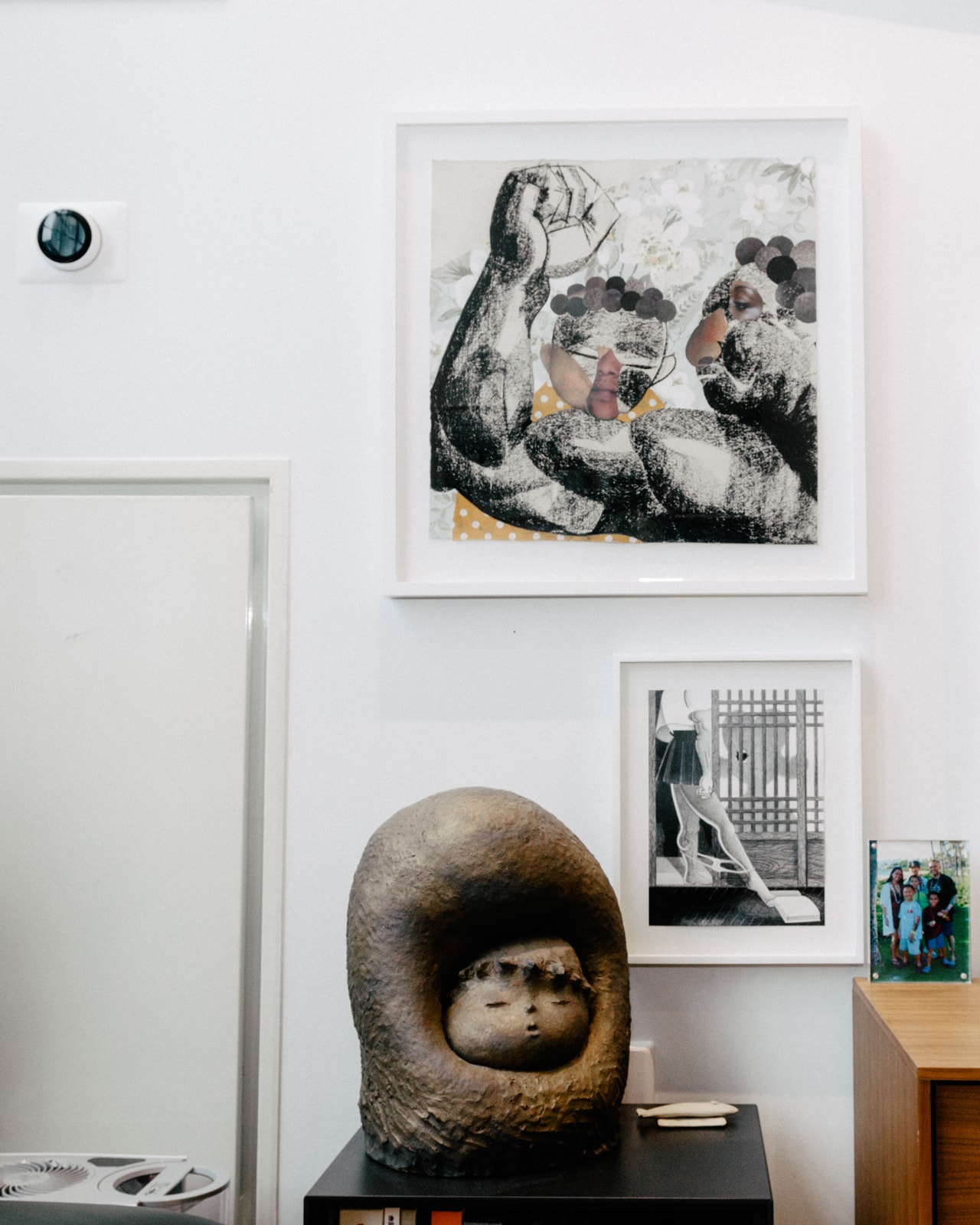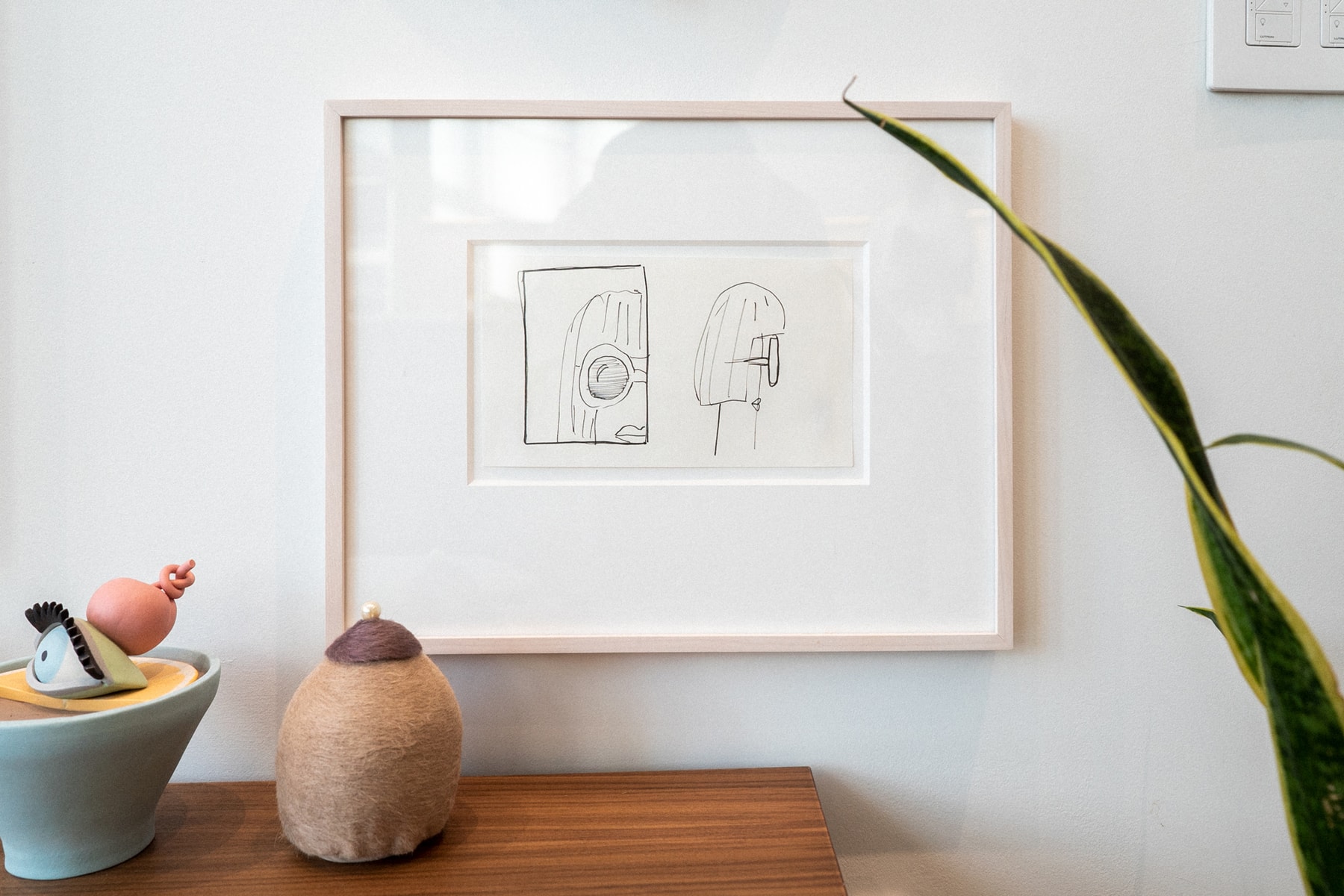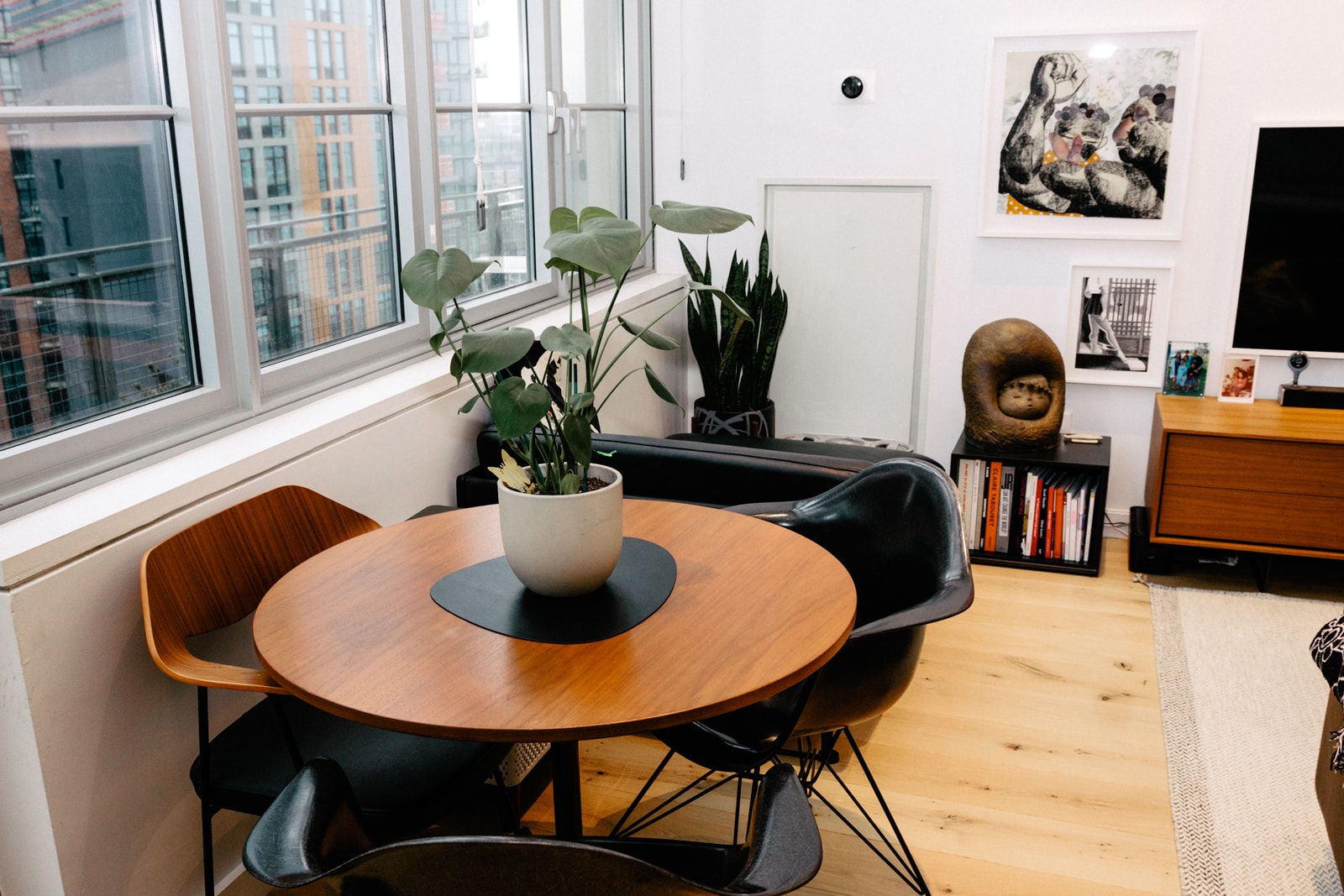 "If I fall in love with a work, I usually just buy it and figure out where to place it later on."
Describe how you place art in your home. Do you usually have a rough outline beforehand or figure it out as you go?
It really depends. If I fall in love with a work, I usually just buy it and figure out where to place it later on. I do try to place works together that complement each other in terms of the scene, or the colors that are involved in the works. For example, that Jean Julien piece has a person in the kitchen, so I figured it would look best next to the kitchen. And then we have other works that are super large, that we only have certain walls that could accommodate it like the Erik Parker painting in the living room and Josh Sperling's sculptural work in our modular bedroom. 
Would you say that your personal connection or family ties dictate the work that you purchase?
Totally, once I saw that Julien painting I immediately thought of my mother. Growing up in a Filipino household, my mom would always wear a duster everyday. And once I saw the female subject in that painting, it looked like my mom and the duster she would always wear. My mom would always be in the kitchen too, so it was a piece that I needed to have. So I reached out to the gallery that was going to cosign the work and luckily, I was able to get her right away. This  piece is definitely one of the most special works in our home just because my mom passed away. And it reminds me so much of her.
Has your taste in art changed since you first started collecting?
It's tough to say because as time goes on your eye evolves. And you'll notice that there's certain works that you wouldn't probably be interested in five years ago that you're super interested in now. So when I do buy works, I like to place them cohesively with works that complement them. So like in our kids' room, you'll find works that we purchased early on. These works, let's say the KAWS tondo prints, may be considered "hype" and negatively associated in that way, but you can't deny how accessible they are in bringing people with no fine art background into the world of collecting.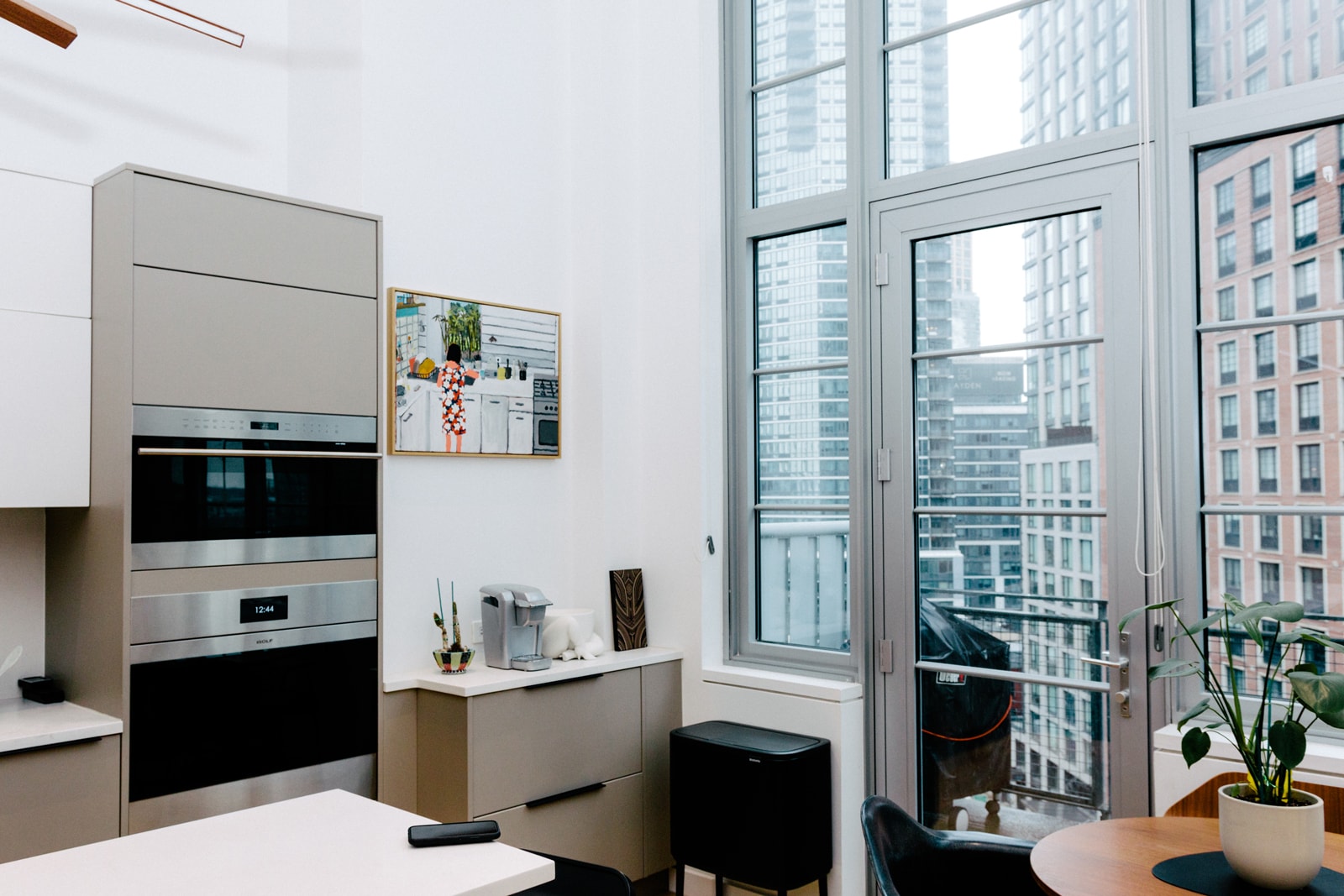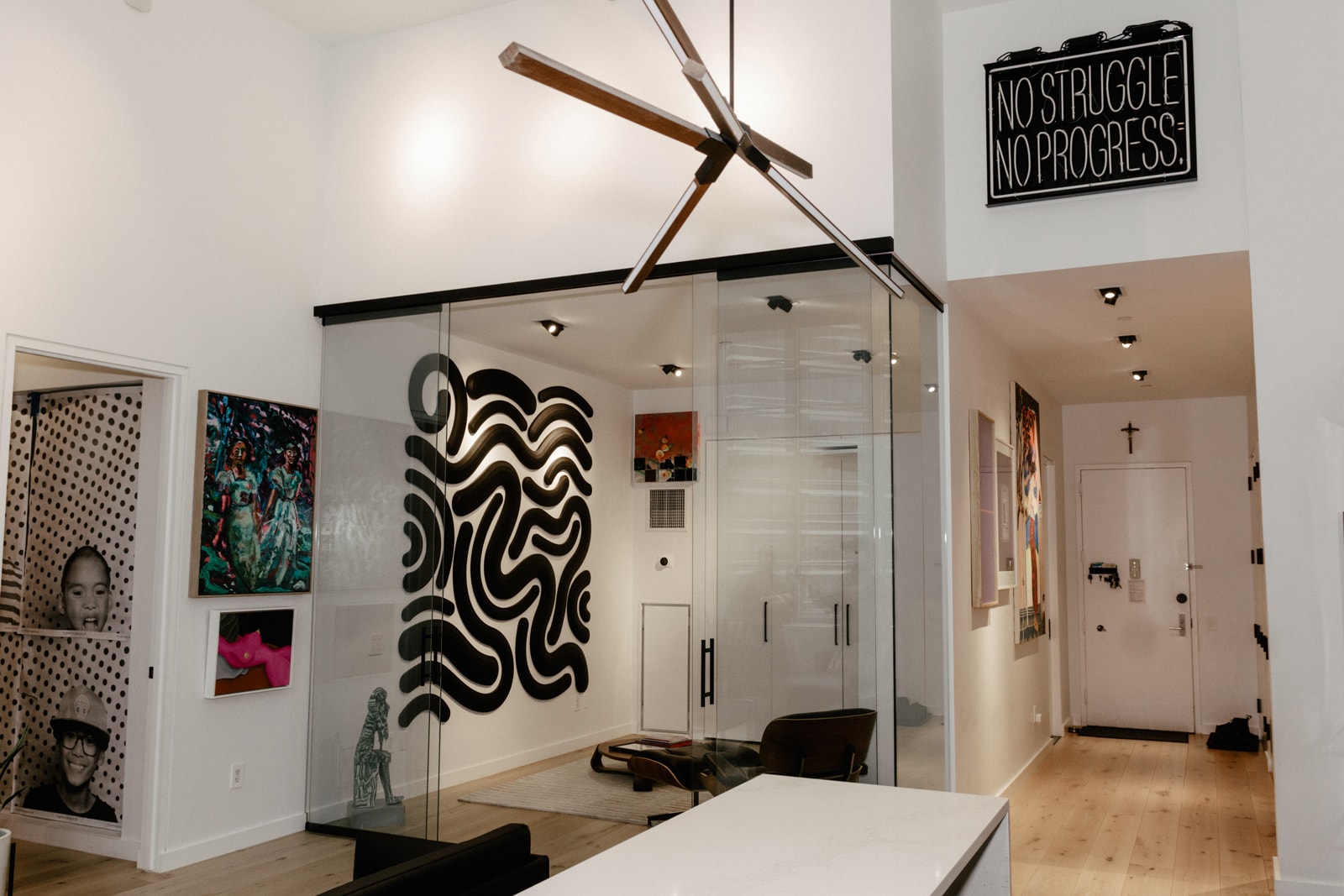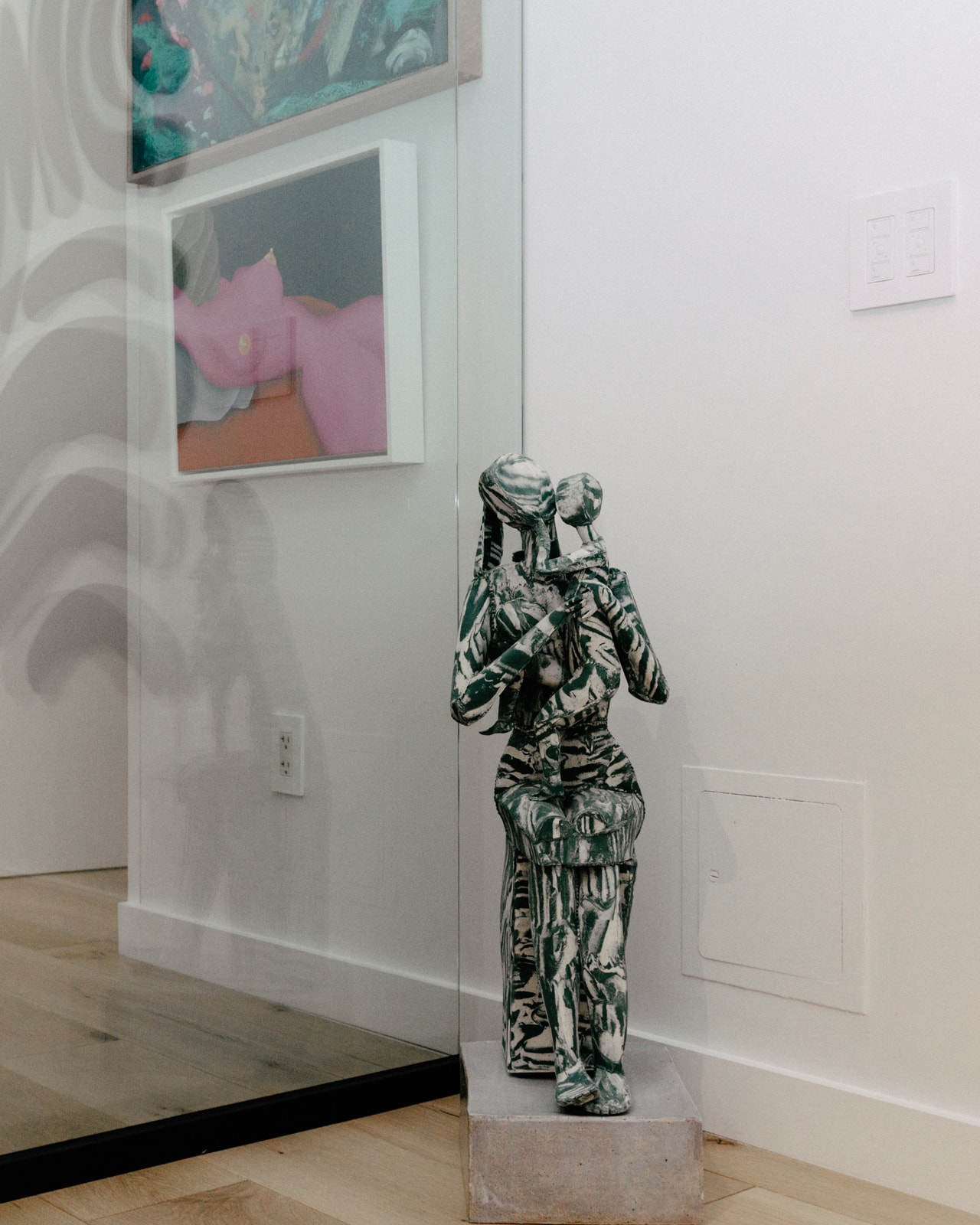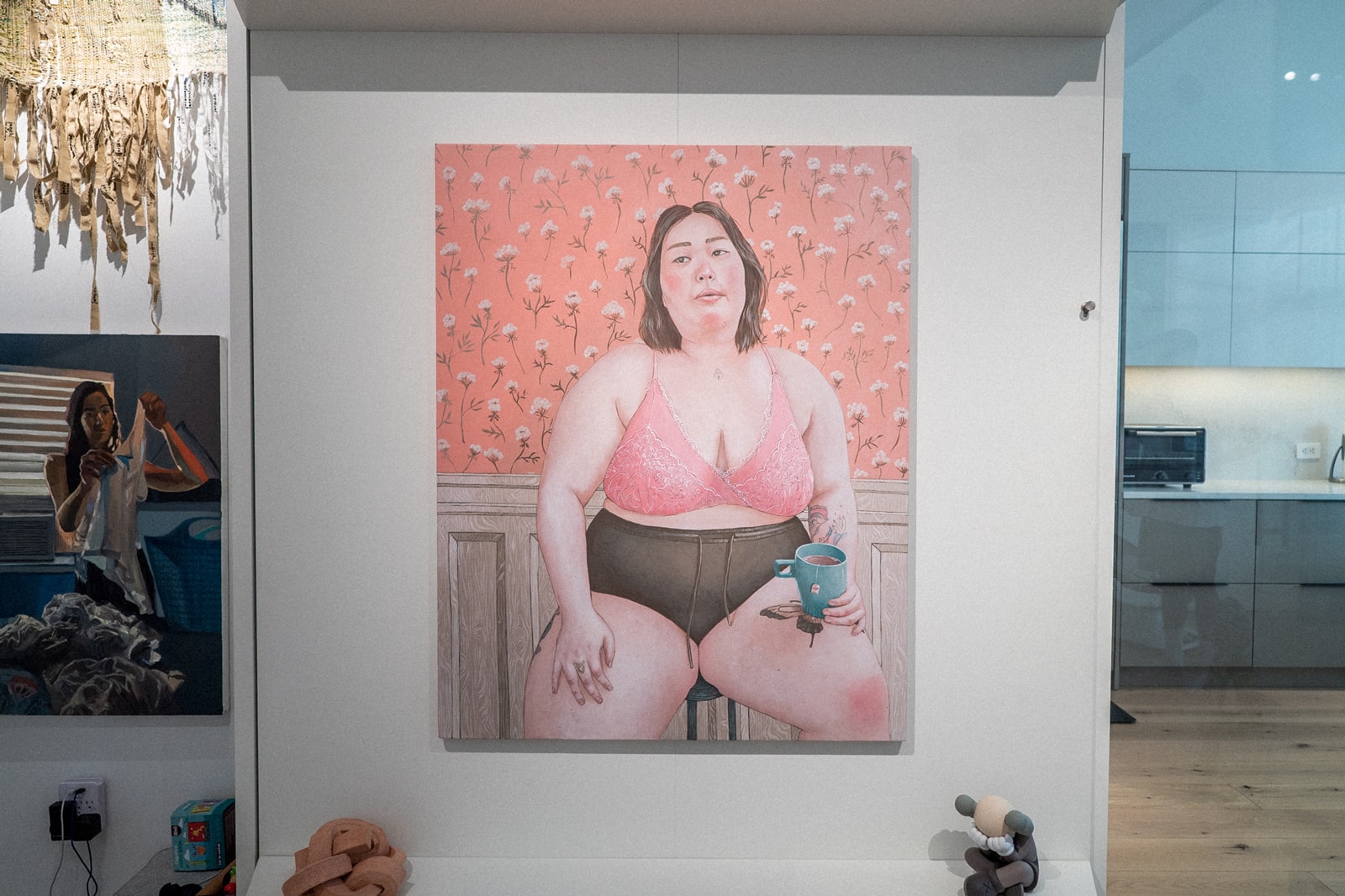 "I personally love collecting works from Filipino artists to support my people and culture."
What kind of works are you more interested in now?
We're looking towards more figurative art. I personally love collecting works from Filipino artists to support my people and culture. Also, their works and subject matter are something that I could relate to. The first works we collected in this sense is by a Brooklyn-based Filipino artist named Maia Cruz Palileo which are found in our living room. Maia paints portraits of Filipinos that she finds in historical photo books, I think in this library in Chicago. So even without knowing the artists, looking at the work right away, you could tell that the two women in the work are Filipino, and they remind me of my relatives. And even though the faces are somewhat abstracted, you could tell by the style of dress, and their hair that they're Filipino. 
We also have a painting by Colorado-based Filipino artist, Mikey Yates, who has shown with the London-based Taymour Grahne Gallery. When I saw the work, it reminded me of my wife and her folding the clothes. So, it's those subtle moments that are very personal. It's something that, you know, we look at on a daily basis, and it just reminds us about the beautiful little moments that go on in our lives. One of the newer Filipino artists that we're interested in is your friend Kyle Reyes. You, actually, introduced me to his mixed-media collages, paintings and videos.
What would you say is your main source of finding artworks that you want to
Instagram is a huge source to find artists and then from there, I take a deeper dive like if they have shows that are within drivable distance, I'll drive out to see the show and see the works in person. But, I definitely have bought works without seeing them and just taking a leap of faith to make sure that it's something that I was expecting.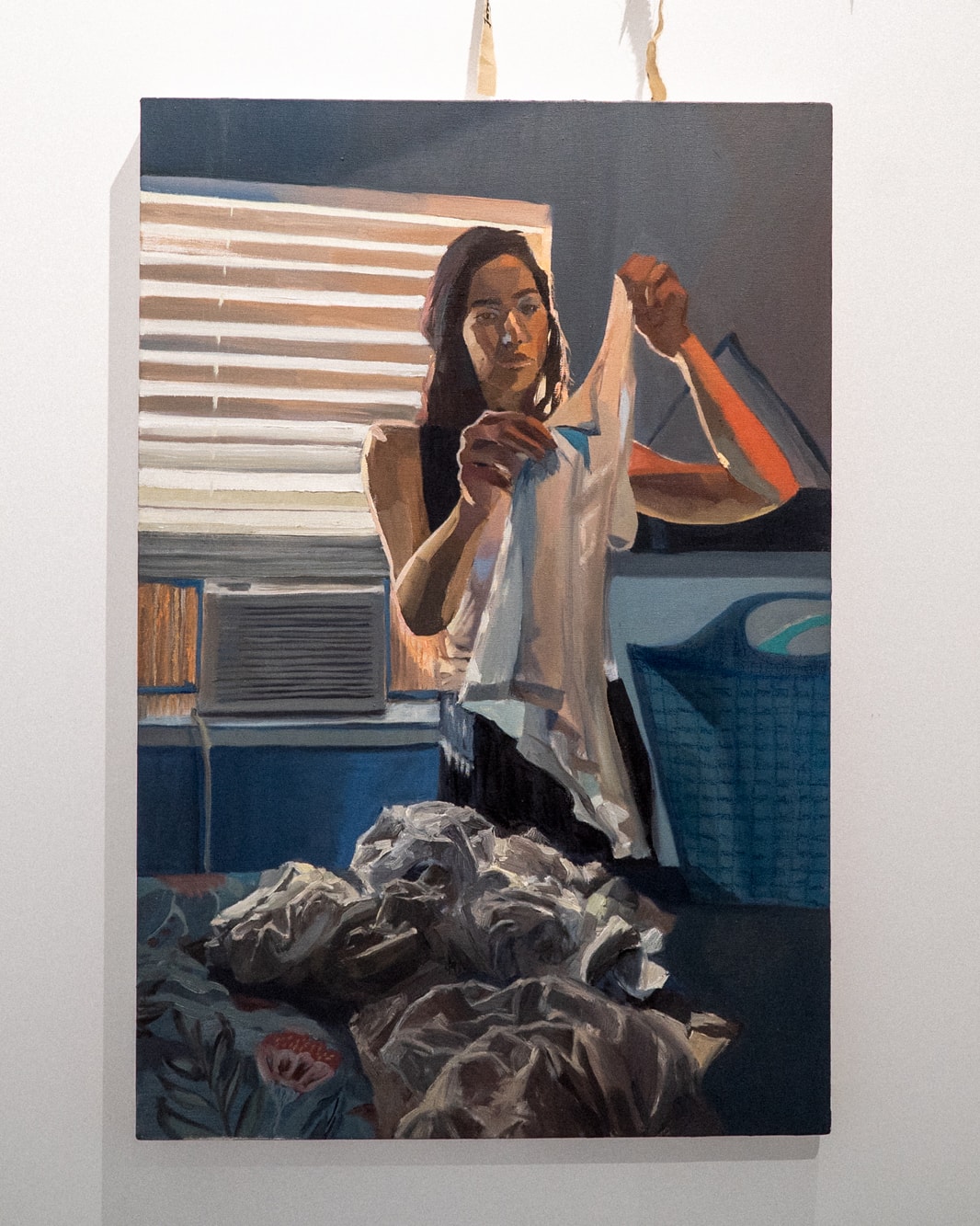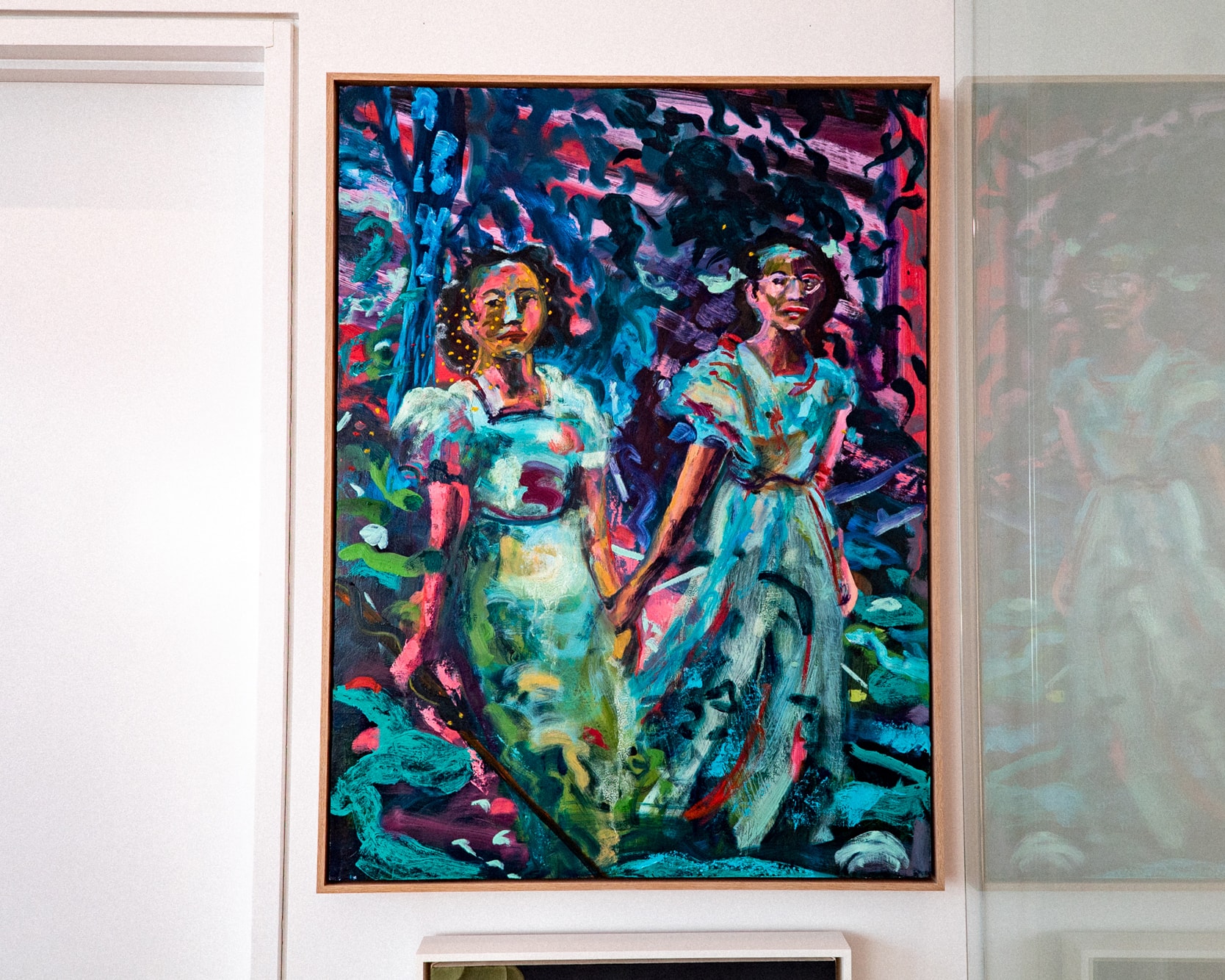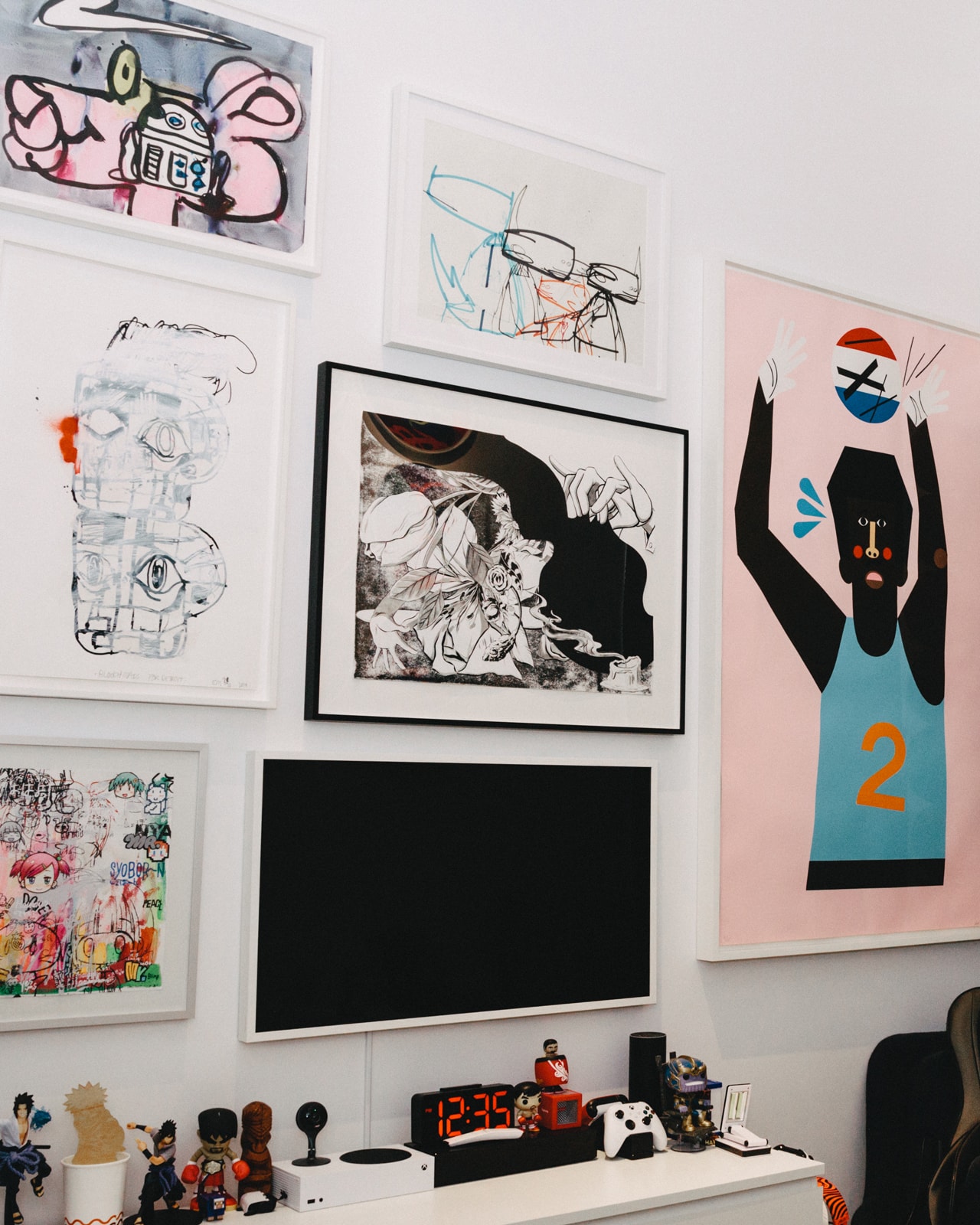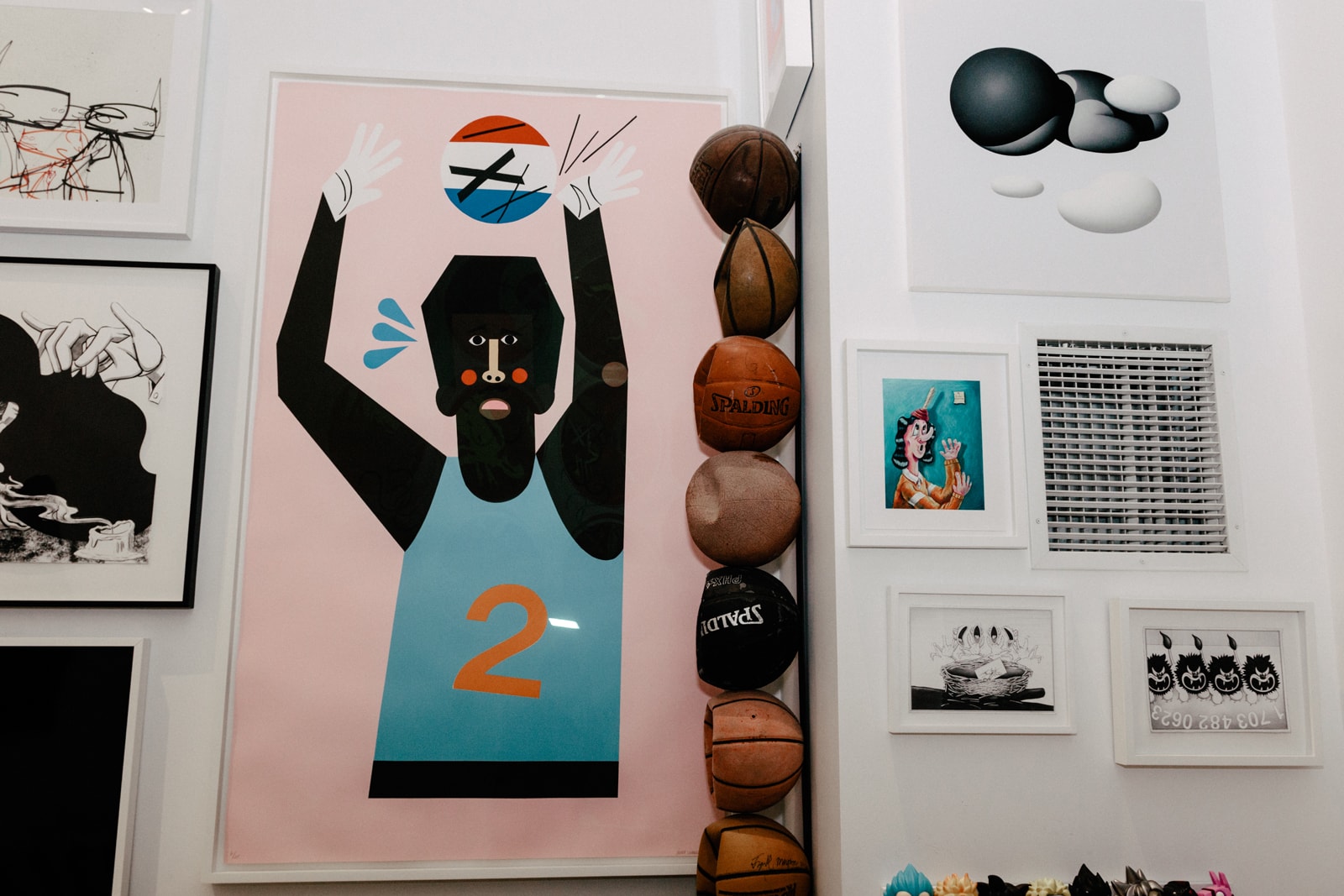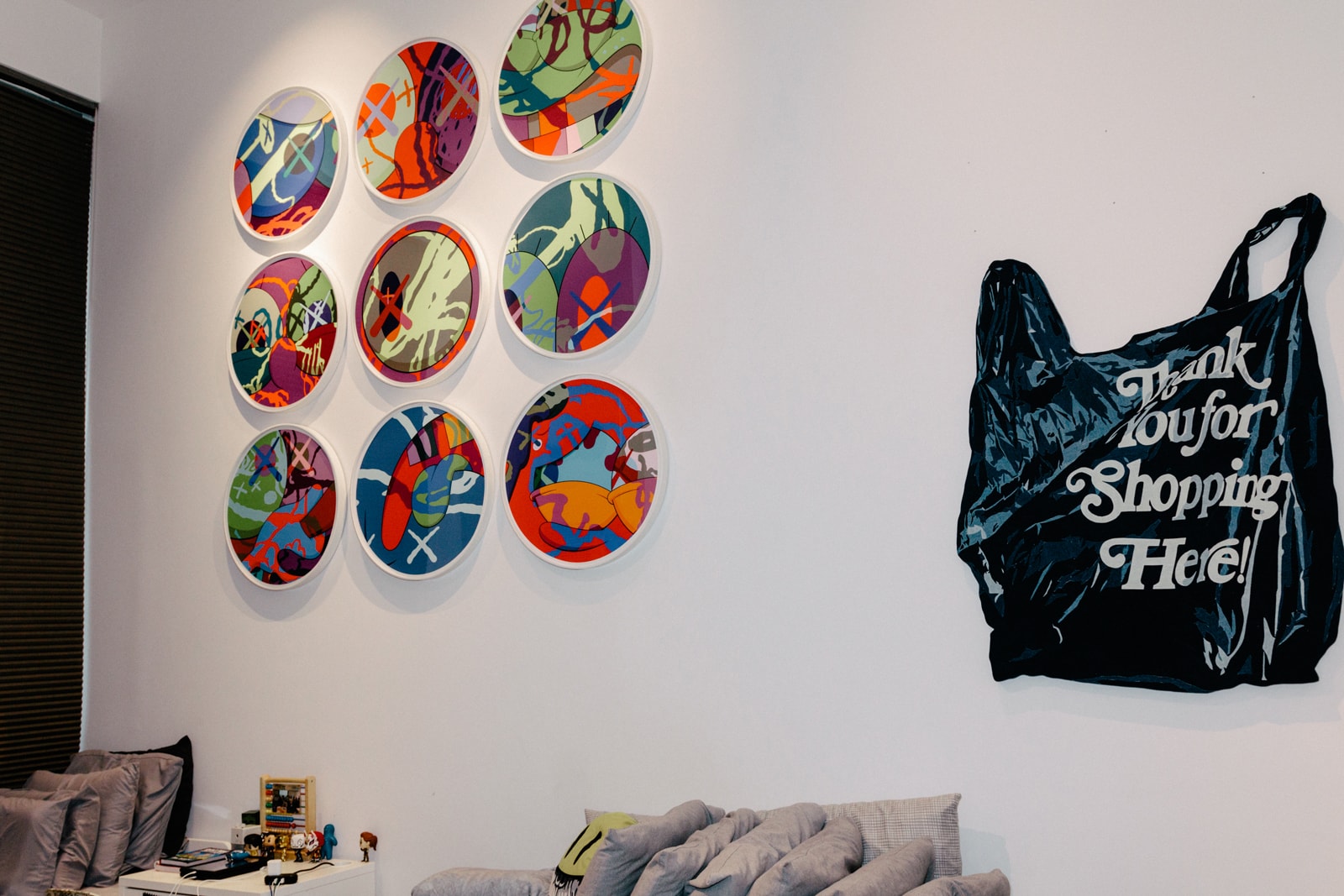 "We definitely have more than 100 works."
How often are you treating your artworks? 
I treat them myself. I dust them every time my wife and I clean the house about once or twice a month.

In terms of curation, how do you envision things working together on let's say a wall or table?
First, I would look at what the work is, and what it's trying to portray, and also the color schematics of the work and see if they complement each other as well as the actual space that they are in. I think, right now, it's probably we have a lot more work up now that I would want. But, it's just a function of us trying to display as much work as we can.
So for this living room wall with Eric Parker, the piece is very loud in color and the works below it are kind of muted. But Parker's work is definitely hard to move around. so I think it's definitely going to stay there. Most of the other works other than Parker's or Sperling's we try to rotate to get a fresh perspective on them.
How many works do you currently have, including the ones here and in your storage?
We definitely have more than 100 works.  We display as much as we can in our home and everything else is in storage. I catalog everything that I purchase using an Excel spreadsheet like the name of the artists and works as well as the year they were made and dimensions.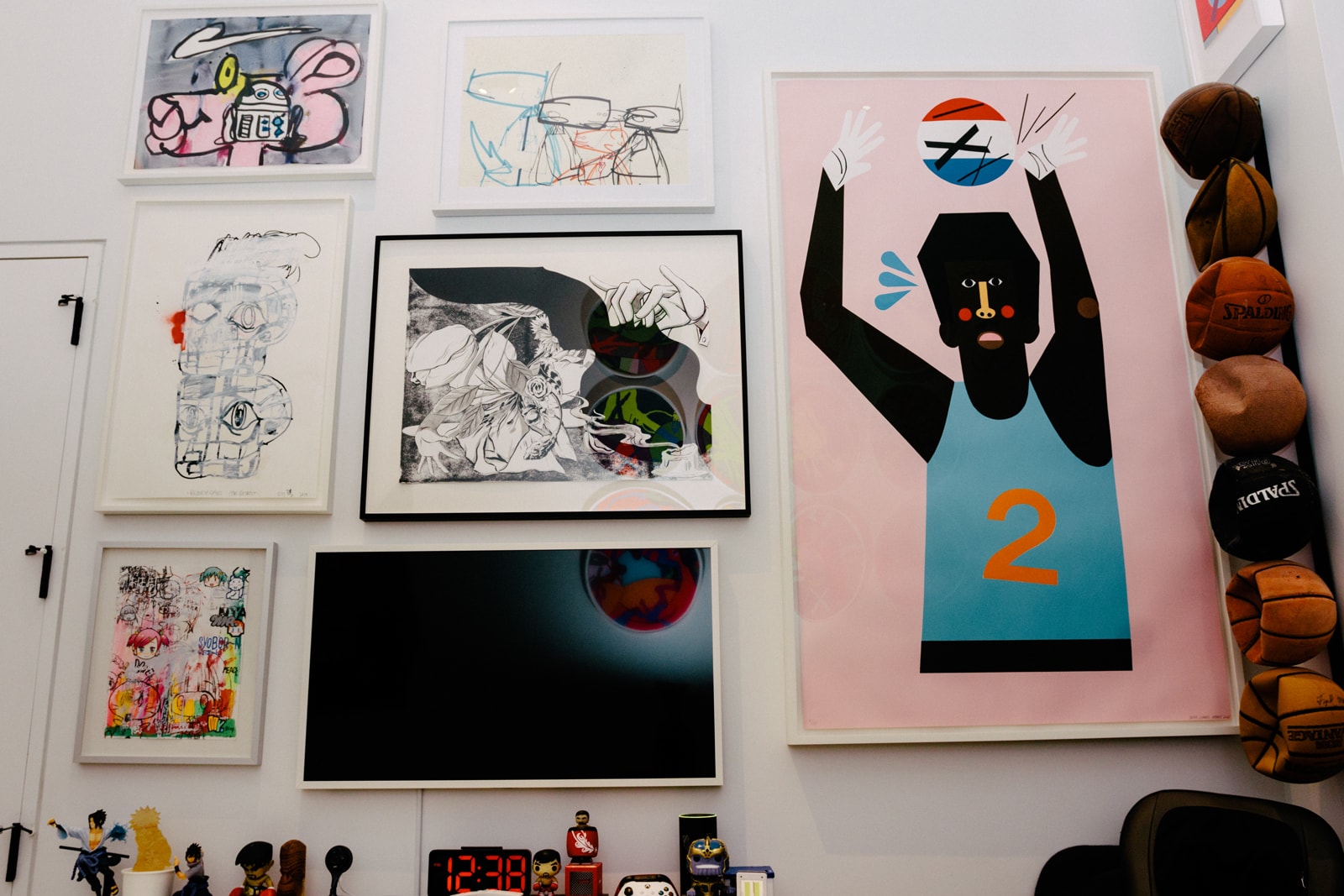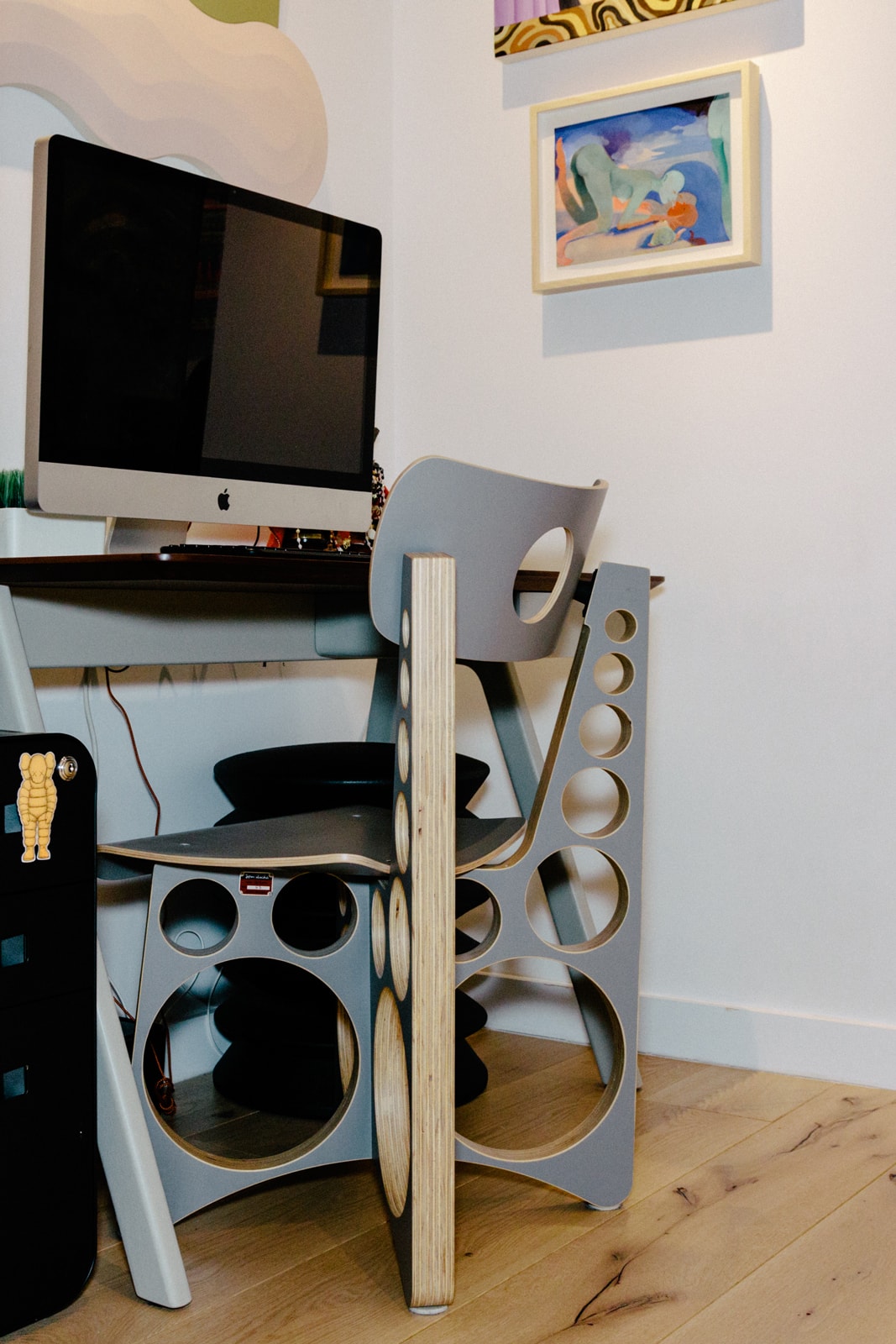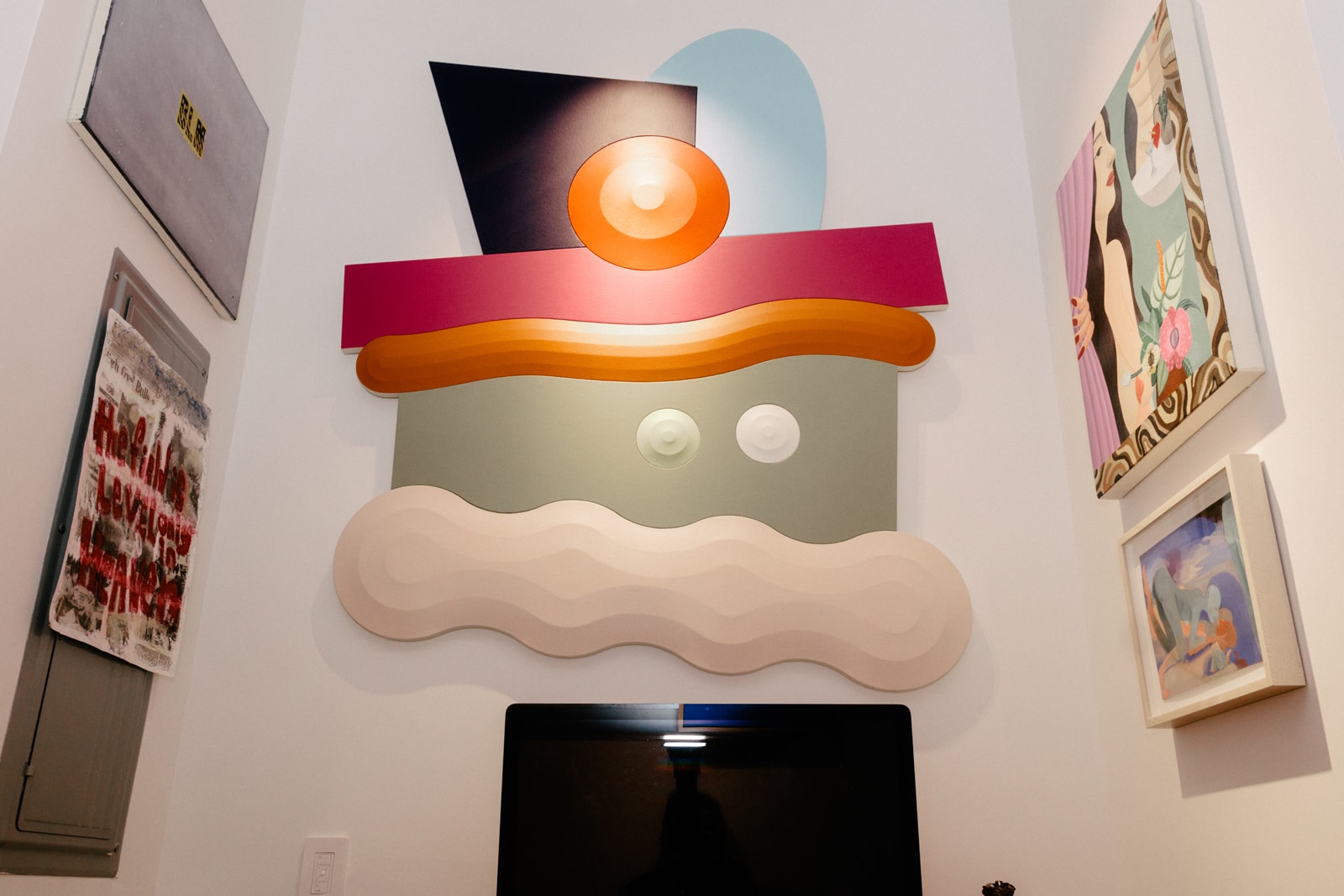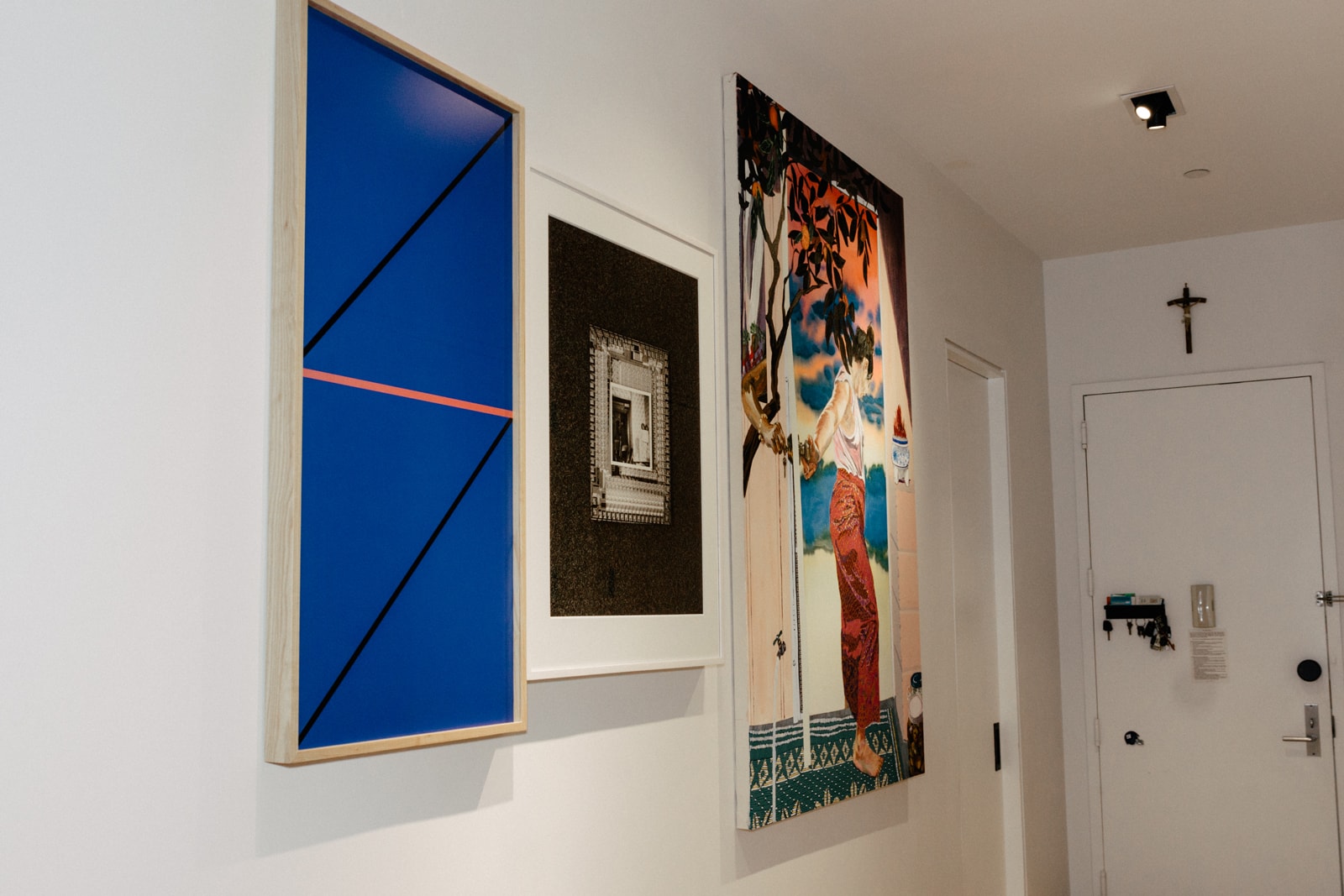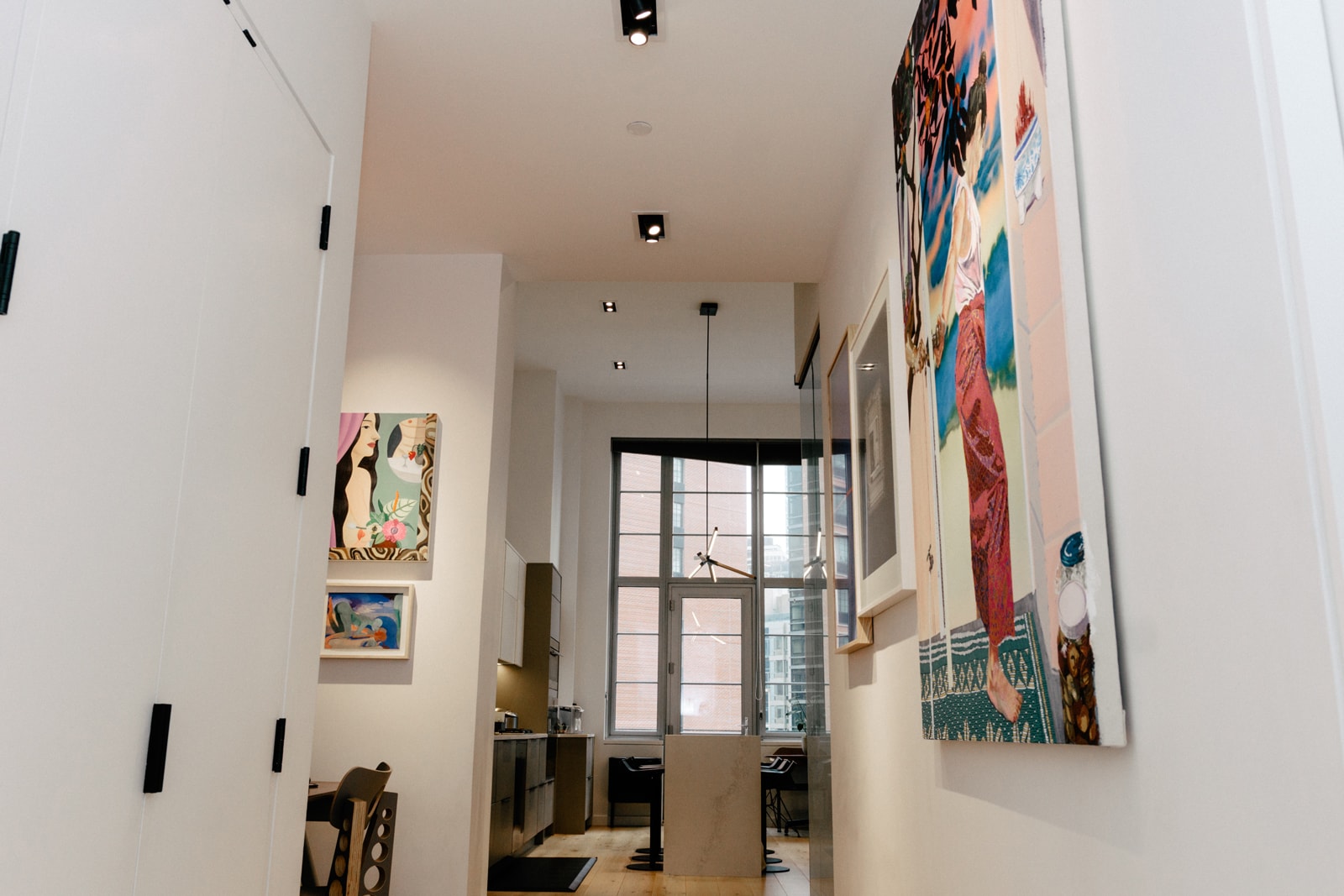 "Everything that we buy is really for our family and our kids."
Do you also loan your works to galleries or institutions?
Yeah! We love loaning our works to different institutions. The reason being is that when we buy work, it's because we love it and we want to share it. There was one particular work of Jr's that we loaned to the Brooklyn Museum, and it's actually in a traveling exhibition at the moment. It's a fairly large work like 10 feet by eight feet. The work is a sprawling photo mounted onto Plexiglas and wood. It's showing in Amsterdam if I'm not mistaken and it will go to four other institutions. We won't get back the work until 2023.

How would you describe the relationship that you and your wife have in terms of finding work and purchasing certain pieces?

At a certain price point, I just buy things at the spur of the moment and I don't even tell her. If the work costs a lot more, I definitely run it by her and get her thoughts. Everything that we buy is really for our family and our kids. One day they're going to own the work. So when something's super expensive, I get our kids to sign off on it as well, just to make sure that they like it. 
Do you ever get worried about placing expensive works at your home with your kids running around?
Definitely haha. But, our kids are pretty good. They know not to touch anything and everything in their room is framed. I am not really worried if they're throwing balls in their room. The art is well protected, but anything in the main living space they know not to touch. What gets me worried is when their friends come, and you know, they start touching everything.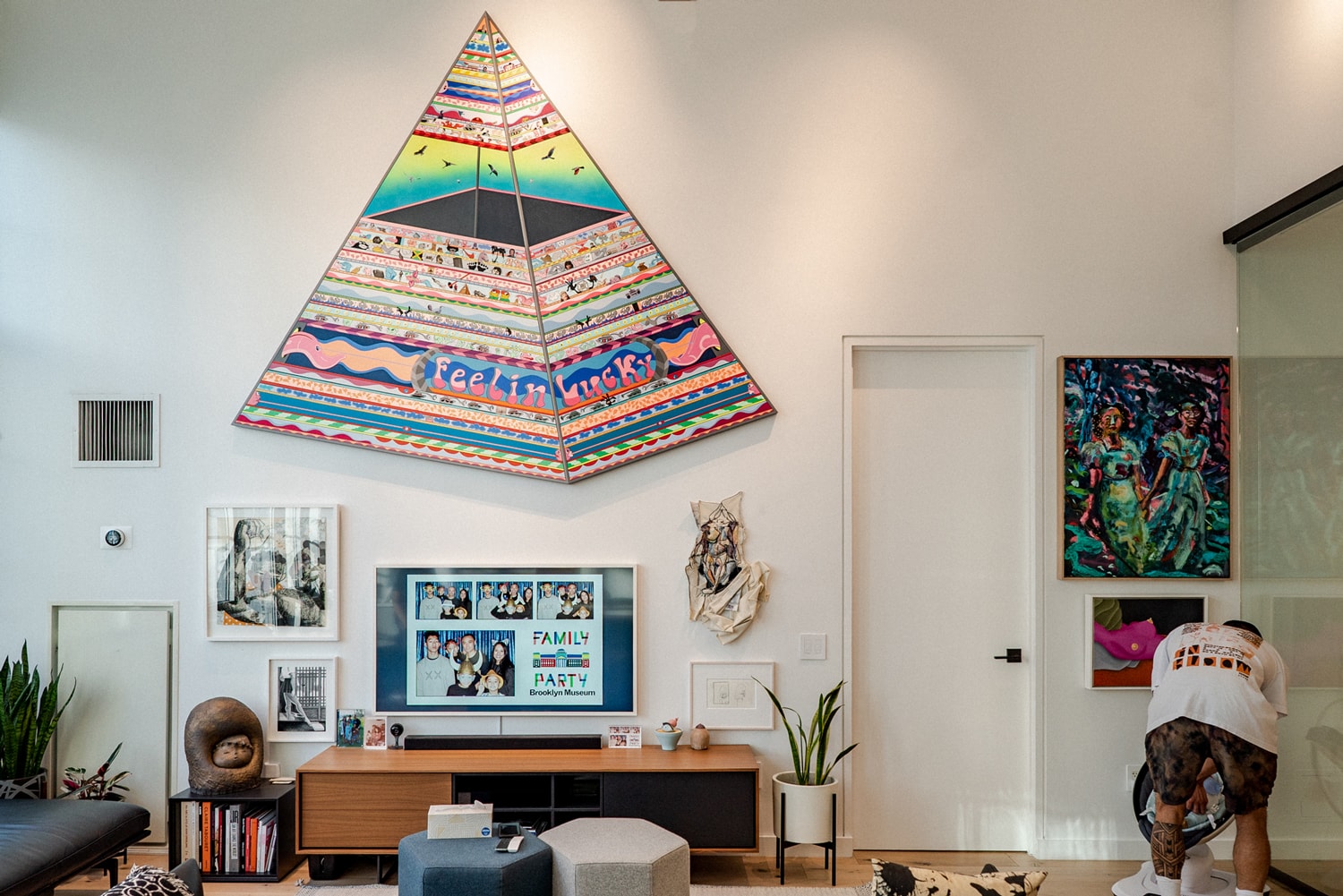 "Sounds so cliché, but only buy what you love."
What advice would you give to a budding art collector?
Collecting art is a straight up addiction, it will consume you, your money and you will find yourself waking up in the middle of the night in a puddle of sweat thinking about it!  With that being said, if you don't have unlimited funds, definitely start slow and think about how you want to cultivate your collection. Go to galleries, museums, art fairs, etc.; seeing art in person is always better then checking out art on IG.
Sounds so cliché, but only buy what you love. I would also strongly suggest joining a committee at a local museum. There are definitely affordable ones that are less than 1k, which is relatively inexpensive compared to how much you spend on art. Your donation will be helping out your museum's program, all while learning so much from curators, board members, other collectors and artists as well, which is invaluable. Lastly, come up with an acquisition list and try to stick to it. It is definitely hard to do, and I admit I never stick to it, but at least gives you some guidance.
Photographs by Keith Estiler and Kyle Reyes, ©HypeArt