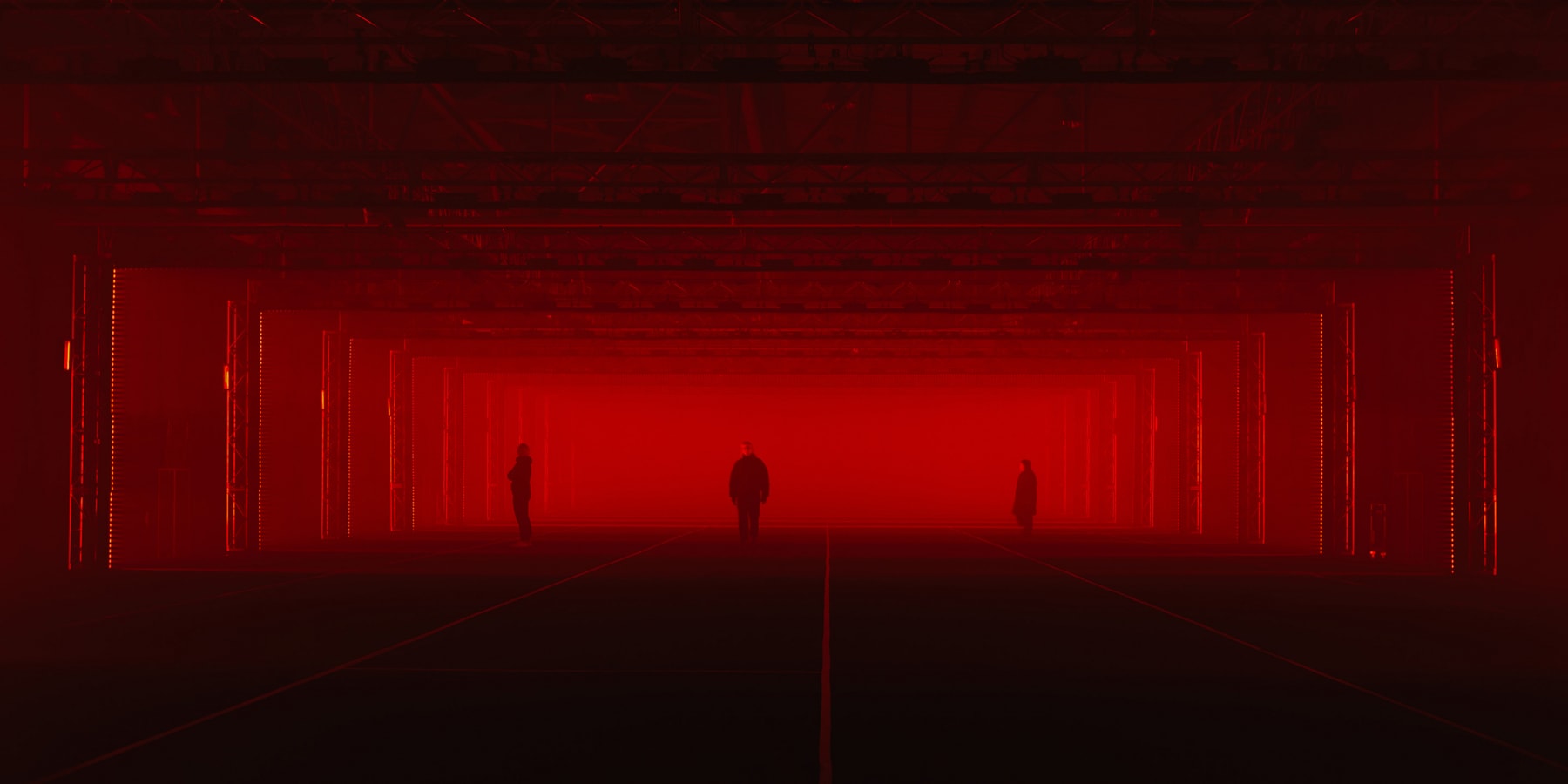 Studio Visits: 404.zero
A live act like you've never seen.
If going to a concert provides a release, witnessing the work of 404.zero is that of a reckoning. Comprised of members Kristina Karpysheva and Alexandr Letsius, the Russian duo push the boundaries of what is capable at the intersection of audio, visuals and architecture. The two achieve this by doing what is perhaps the most difficult task for any artist — removing their egos. By doing so, 404.zero leaves the audience "face-to-face with their own turbulences."
Kris studied at the British Higher School of Art and Design with an emphasis on creating her own theatre performances with dancers. Having studied generative graphics, she was interested in the mental aspects of creating art and engaging with it.
Alex studied programming and was heavily involved in architectural projects. He was interested in the impact of light and sound effects. But like Kris, he too was dissatisfied with the creative processes of the day.
The two met at a digital art gallery through a similar fascination with detaching from the overconsumption of society. They quickly became inseparable and rendered the boundless ideas that manifested in their heads — regardless of budget and a space to showcase the work.
What started as simple renderings turned into globally sought after installations, full-on albums and even a video game. In a world that is filled with "patterns, copies and recreations," 404.zero is constantly searching for something new. Instead of a brush and canvas, they paint through math and code. An immersive aesthetic that usually transforms abandoned warehouses into portals to the unknown.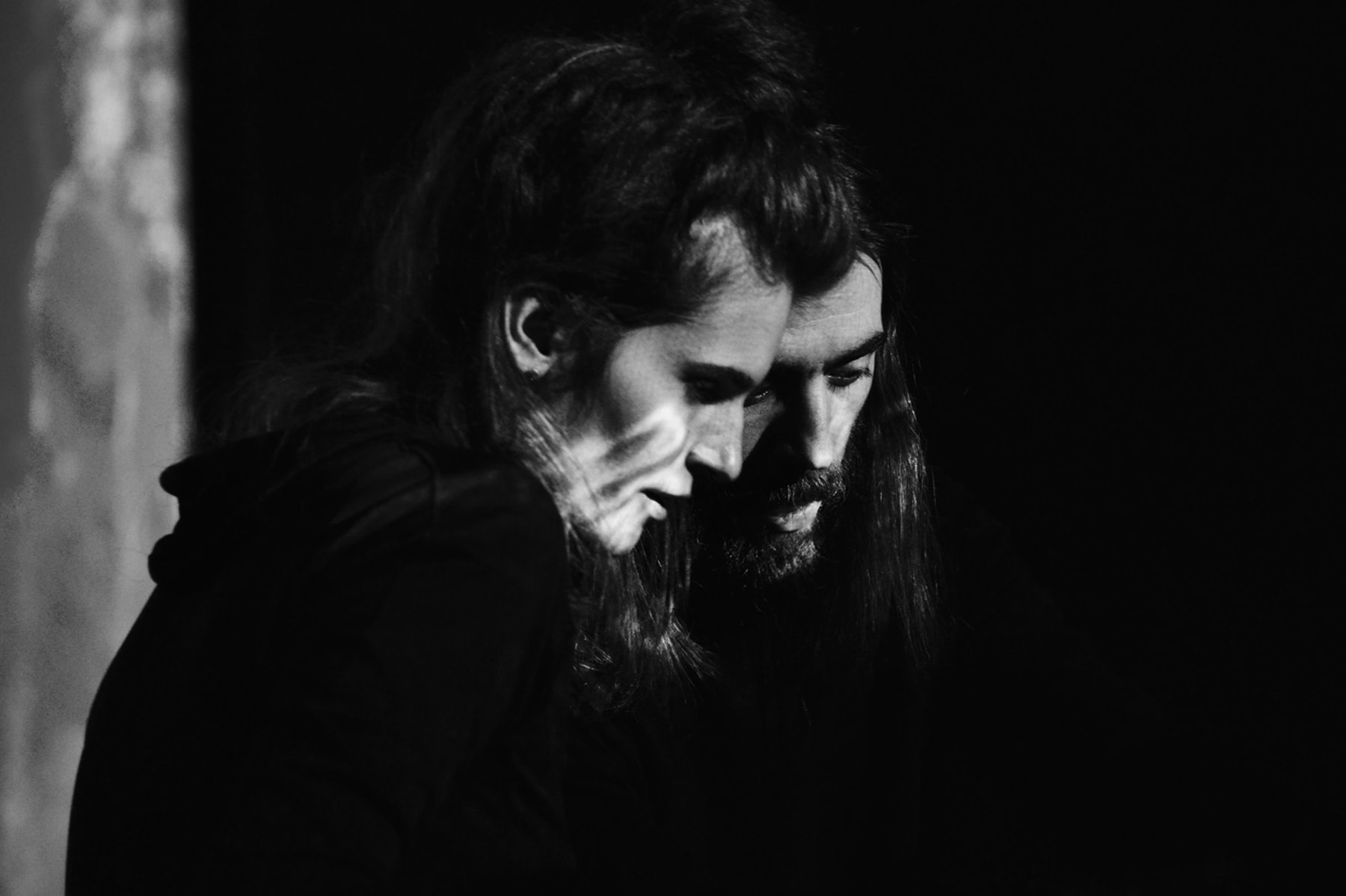 As the world marvels at the current advancement in AI, French philosopher Jean-François Lyotard would remind us that "technology wasn't invented by humans. Rather the other way around." The Russian audiovisual duo would go one step further commenting on the artificial stupidity of the present day and how that's a bitter reflection of the masters in charge. "If we take an honest look at all of it, no matter how advanced the algorithms are that humans create, humans will still destroy this planet earlier, and they have no reason for leaving this world to smarter and fairer minds."
This nihilist approach is the foundation of what makes their practice both chilling and fascinating. Speaking with the two and it at times feels as though you are interacting with a machine who, like Ash from the film, Alien, is wired for an uninterrupted pursuit towards creation.
Dark Mofo, Annihilation and Black Sunday are but three examples that showcase the ethereal voids that Kris and Alex have discreetly created for underground audiences around the world.
HYPEBEAST spoke to the duo to learn more. Read the full interview with 404.zero below.
"Error code with zero threshold. An ultimatum to ourselves – there will be no other attempt."
How and when did 404.zero develop?
Each of us was thinking of something new, while not entirely satisfied with the creative practices and processes, so it was difficult to come up with anything specific. We didn't know where to look and were sometimes (well, often) stuck. No answer seemed to be found. This had a strong impact on our artistic perception.
We are often asked: what would you advise to young artists? What we used to say is: you should work, search etc.
This is indeed true, yet right now I am thinking that you should run ahead of the others, run hard without looking back, run towards yourself. Run away from what is comfortable and familiar, run away from your grudges, run away from your victories. Nothing is yours and no place is home.
That is what we did 5 years ago, without arranging it between us, and we took the same direction.
Does the name refer to the error code?
Yes, error code with zero threshold. An ultimatum to ourselves – there will be no other attempt.
How would you describe your work?
We are searching smt new everytime. We are looking for new sound, new colors, new algorithms. The matter is just smt new. You know this world is full of patterns, full of copies, full of recreations.
"No matter how advanced the algorithms are, humans will still destroy this planet earlier."
What inspires you?
Anything new. Mathematics and the fact that death is always nearby.
Do you often collaborate with other musicians, such as electronic musicians?
Not really often, but have collaborated several times. We think it's a bad idea as it would destroy our integrity. We can do everything by ourselves: we compose music, create lighting, create video art, we invent it and manage it, so why would we need anyone else?
Unlike other traditional art forms, you use algorithms, which you inevitably relinquish control to machine learning. Can you talk on this further?
It's not exactly so. We have created several works where we've described natural intelligence, trying to show our attitude towards AI in its current format. But people have taken it too literally. Yet our text and our work insisted that creation still came from humans, and this was resulting from a million data studied by us, not by the machine.
'What is the AI doing now?' Let's face the truth: it can make cool morphing and primitive video filters. If some of you have seen the smarter creations, please show me those.
If we take an honest look at all of it, no matter how advanced the algorithms are, humans will still destroy this planet earlier, and they have no reason for leaving this world to smarter and fairer minds.
"Noise is the result of randomness and uncertainty."
What are some of your most recent projects?
Talking about installations, our latest one was built in Australia (Tasmania) for the Dark Mofo festival. Unfortunately, we couldn't make it there because of COVID, so we had to do everything remotely. The prototype was assembled in St. Petersburg, in our friends' garage. Our priority was to create new sound for this work and to distribute it in a right way across such a large room. It took us about two weeks to re-write everything.
Then, between our flights, we configured the work remotely through TeamViewer and a webcam with real-time online streaming. In fact, it came as a surprise for us that people believed that we would manage this remote creation, as we had never done anything in Australia and we had no idea on how it would be going. However, Dark Mofo has fascinated us since the very beginning of our existence. Their entire team are amazing people. They don't look like regular curators, rather like some of us.
We also recorded two albums and released one of them on our own, and the other with Bedroom Community label at the Greenhouse Studio, Iceland. We followed a long path before we dared release an album because we had never done it beforehand. Our entire experience consisted in making sound for installations and for our audiovisual performances. We play modular synthesizers such as Buchla, EMS Synthi, SOMA Lab, Make Noise, ENDORPHIN, Moog's, a bunch of Serge, etc.
The whole recording process was live. We couldn't do it otherwise, and the thing is you cannot save anything on analog synths. We are proud of both albums, and now we want our next creation to be at least as good, therefore it is more difficult to create a third album as we now want it to be mind-blowing.
How about the generative work?
Our latest generative project consists of 1024 noise audiovisual works that we released as part of HiddeninNoise project.
Noise for us is more than a visual picture or a video. Noise is a life paradigm and our embodiment as a whole. Is there something hidden in Noise apart from just noise is something you may meditate on for several hours. Noise videos were once displayed on Tokyo LED screens, and it was cool to look at the entire picture, it was something like a mirror in a mirror.
Could you stop for a minute amidst the noise, and would that be a real slowing down?
1024 algorithmically generated audiovisual NFTs. Noise is another form of perception. It's one of the most abstract of the visual and auditory forms. Both simple and complex generators were used to produce the Hidden in Noise collection: gradients, perlin and white noises, and a number of custom-made generators. The outputs of the generators combine in multiple ways in random orders with random math operations. That's the order of Chaos.
Noise is the result of randomness and uncertainty. The use of undefined inputs creates unpredictability and only a few of the results are valuable and usable. The Hidden in Noise collection contains valuable results and each NFT is created by applying a unique human-impacted video and audio algorithm. For the audio, thousands of samples were generated by us with modular synthesizers and a special algorithm was used for syncing sound and visuals. They sold out in 10 minutes.
We are building a smart community as part of this project. This will be DAO 2.0. It is key that those who cannot understand should step out of the project now. Otherwise, they will later get access to projects that involve making a complex and conscious choice. We have no place for flippers.
"If you have no interest in life, then why have you come here?"
Seeing that your work falls into experiential design, how has it been creating during COVID?
During COVID we made a game, well, rather an experience than a game. We provide access to where we ourselves would like to stay for a while. The game contains experience in the sense that it is meant by your question. Koma is a difficult non-gaming audiovisual 25-minute path. We also did some cool stuff for Tokyo streets.
Do you create simply out of an interest to push the boundaries of art, or is there any motive or area of society you are addressing?
Out of interest of course. If you have no interest in life, then why have you come here? If you asked what interest means, you'd come up with both a motive and a reason to stay alive, and the understanding of what real satisfaction and happiness in hide and hair are, without blurring the reasons. Of course, everything is transforming and changing, including ourselves. Every time we get something valuable, we try to reach for more, and we can't get enough.
So …' too old to die young.'
What is your process of creating a set of work?
Our priority is a flawless technical part. We get nervous if something fails to work or works inappropriately. Therefore, we try to eliminate the human factor as much as possible. And we always thoroughly check up all the rest.
Talking about audiovisual performances, both of us play synthesizers simultaneously (each has a case) while controlling the visuals and the lighting. Actually, we had made a simple tool for that, allowing an easy real-time control of the visuals from TouchDesigner, so that nothing distracts us from controlling the sound. So, our performances are always fun and interesting for us. Talking about installations, we usually prepare all the content on the spot. Then we configure the light and record the sound. For instance, if we look at one of our installations that has been exhibited in several countries, in fact every time it was different despite the same concept.
"End of the world as we know it."
Do you primarily work in the artistic space, or do you do commercial work?
80% artistic.
10% commercial.
10% procrastination.
How does the approach differ?
No difference.
What has been your most ambitious work to date?
Hiddeninnoise and 3.2 (at Dark Mofo, Tasmania). Both were utterly uncontrollable. It was about gaining a new experience at every step.
What can we expect to see in the near future?
End of the world as we know it.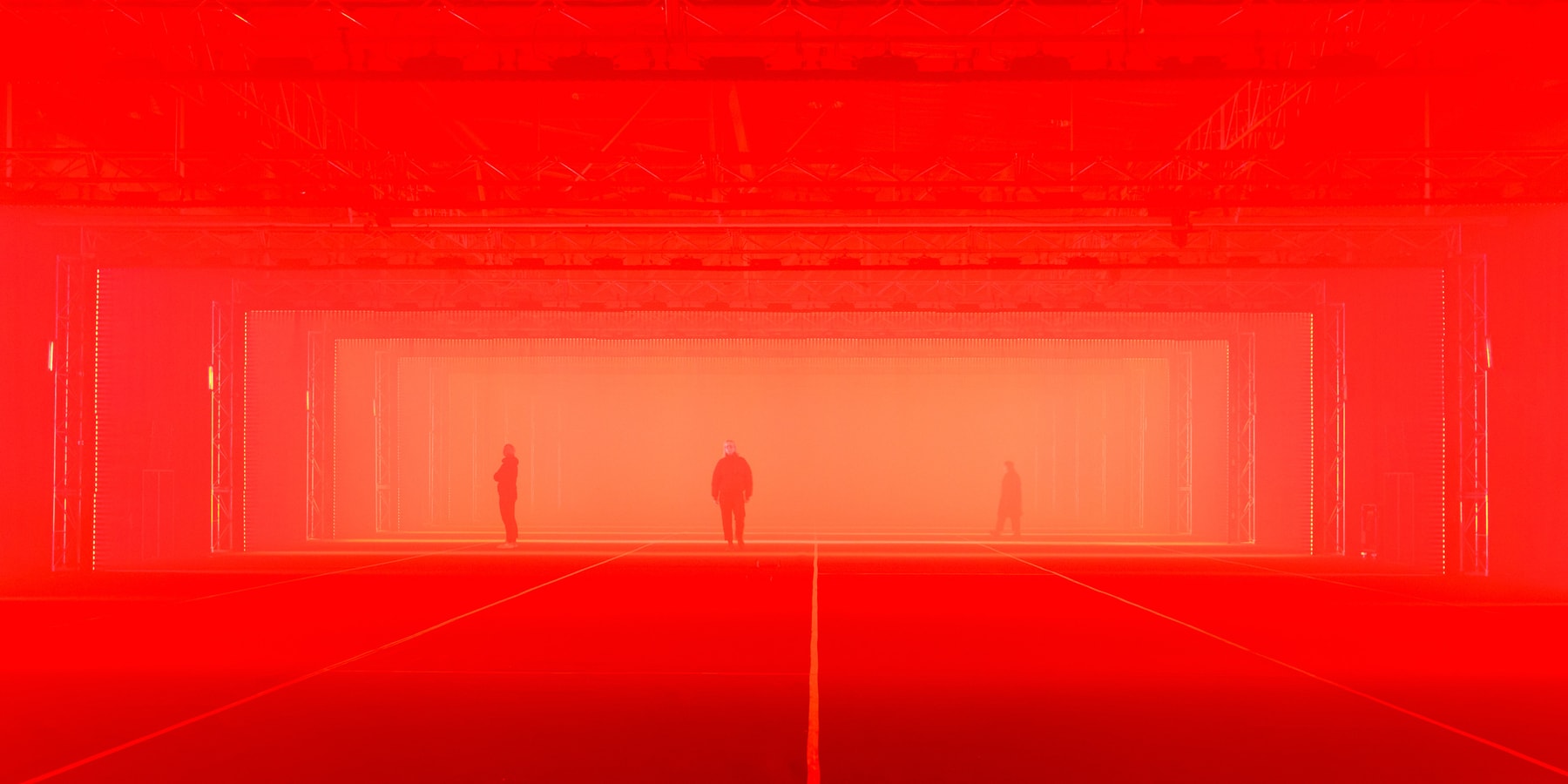 As the world slowly reopens, 404.zero is a live act you don't want to miss. Just when you begin to define their work, it morphs into a new spectacle that pushes the envelope on what a live performance can be. Follow them on Instagram to hear about any news, events or just to witness mind-numbing installations.
---