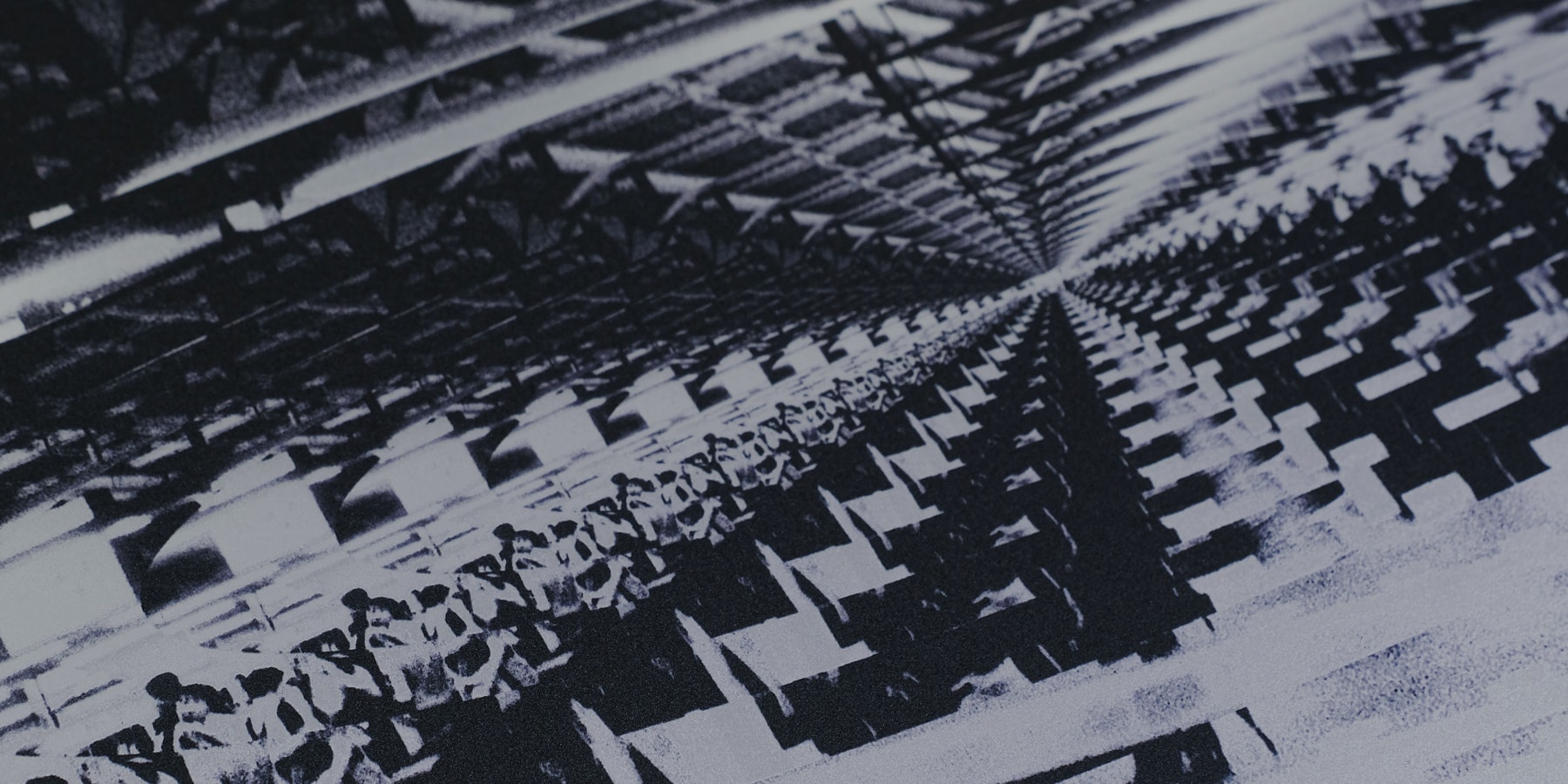 THROUGH THE LENS: YOSHIROTTEN x DAIDO MORIYAMA
Through The Lens spotlights emerging and established photographers from around the world. The ongoing series is dedicated to offering unique insights in varying areas of photographic expertise including portrait, landscape, fine art, fashion, documentary and more.
Daido Moriyama has traversed the streets of his native Japan for over 50 years. Brandishing a compact film camera, Moriyama is best known for his candid snapshots of the everyday mundane that are translated into high contrast and grainy stylization. Straying away from the technical aspects of photography, Moriyama champions a deconstructivist approach to his practice. Shooting in rapid bursts, he captures raw and unfiltered images of various subjects in motion to evoke the stark ambiance of bustling Japanese locales.
The streets of Japan are a grand stage for Moriyama's photography pursuits as it offers plenty of opportune moments and scenarios to memorialize. From comedic to tragic visualizations, Moriyama harnesses an enigmatic approach to photography that continues to spark titillating discussions for onlookers. For his latest endeavor, the legendary photographer teamed up with rising Tokyo-based artist YOSHIROTTEN who retouched his latest series of photographs taken in the dense city of Shinjuku.
From dabbling in spatial design to creating collagist works, YOSHIROTTEN is an interdisciplinary artist known for his retro-futuristic pieces filled with bold typography. In the past few years, he garnered international recognition for both his artistic and commercial practices. He has spearhead projects for luxury brands as well as emerging artists including Boysnoize, ACE Hotel, Aerospace Exploration Agency, AMBUSH®, UNIQLO, among many others.
YOSHIROTTEN injected his signature distorted elements across a handful of Daido's grainy images of Shinjuku which will be released as prints this August 26 on HBX, Life at 9 a.m. EST. The pair are also showing original works from this series at the emerging He Art Museum (HEM) located in Guangdong, China and ZiWu Shanghai through September 26. Designed by world-renowned architect, Tadao Ando, the circular institution boasts 16,000 square meters and features Ando's signature concrete finishes through ripple-like formations.
To celebrate the release of the collaborative prints and upcoming exhibition, we spoke with Daido Moriyama, Yoshirotten, and curator LEH YSL on how the whole project came about. Check out the full Through The Lens discussion below.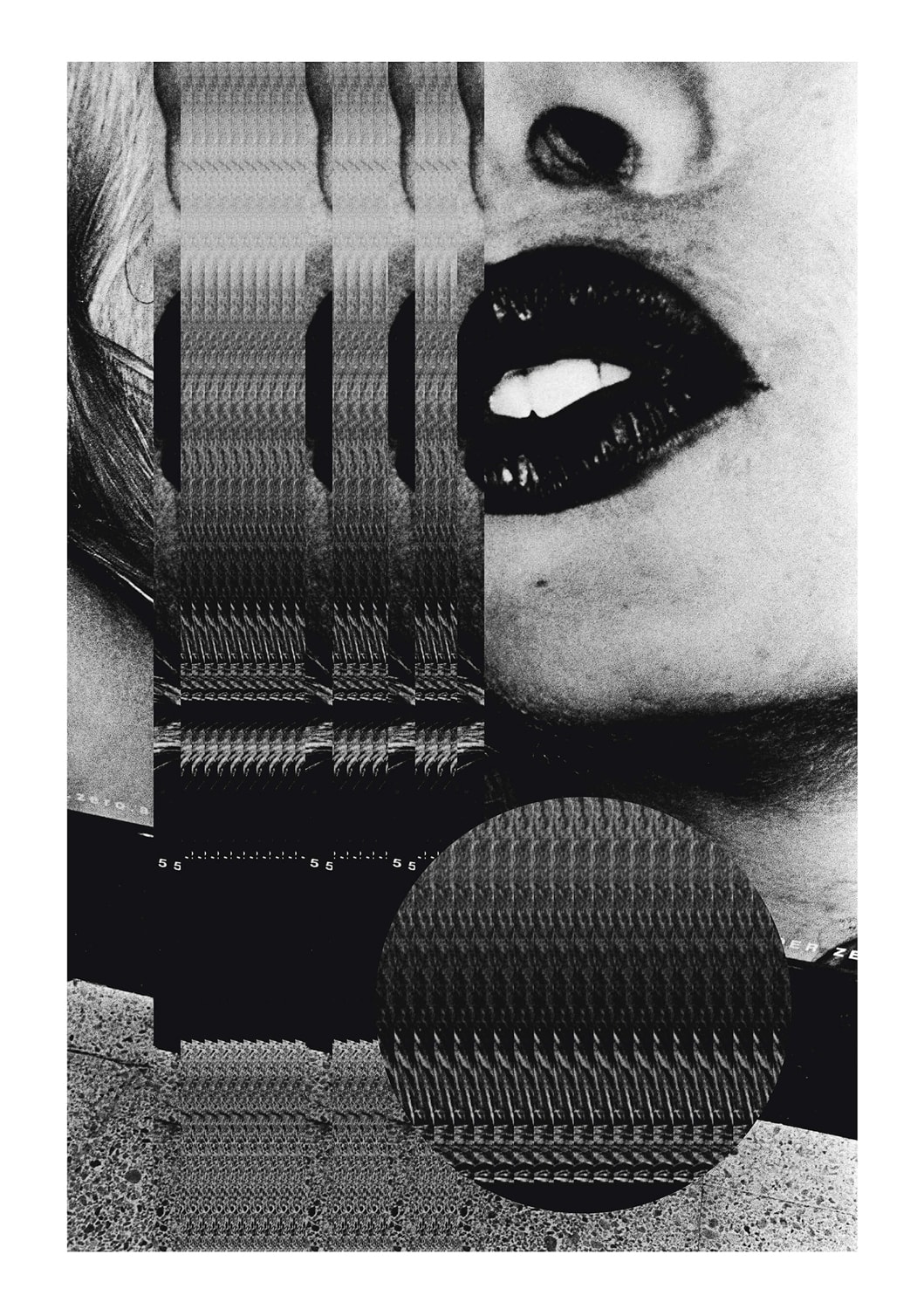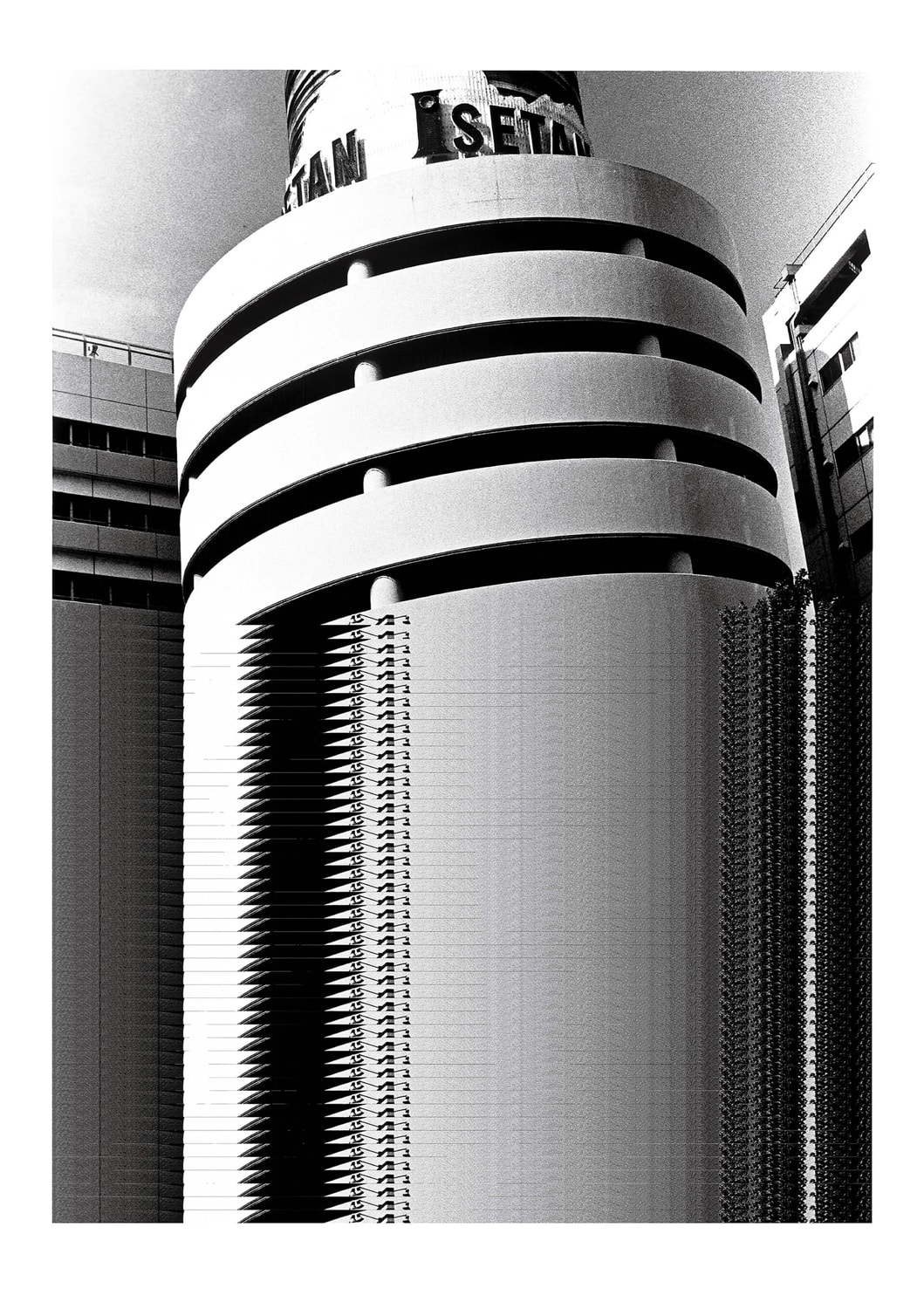 "What do I want the audience to feel?"
How did you select which images by Daido that you wanted to collaborate on? What about these particular visuals motivated you to implement your artwork?
Yoshirotten: From the images that signified Shinjuku. I had to decide on the boundaries I can work with and select which pieces to reconstruct. My curation of the images was mostly based on feelings. 
Looking at Daido's monochrome photos closely at my monitor, I saw the dense particles turned into dots or pixels. That caught my attention, and as a collaborator, I thought that was the approach I can take. That's how these pieces came about. One of the questions I asked myself was: 'What do I want the audience to feel?'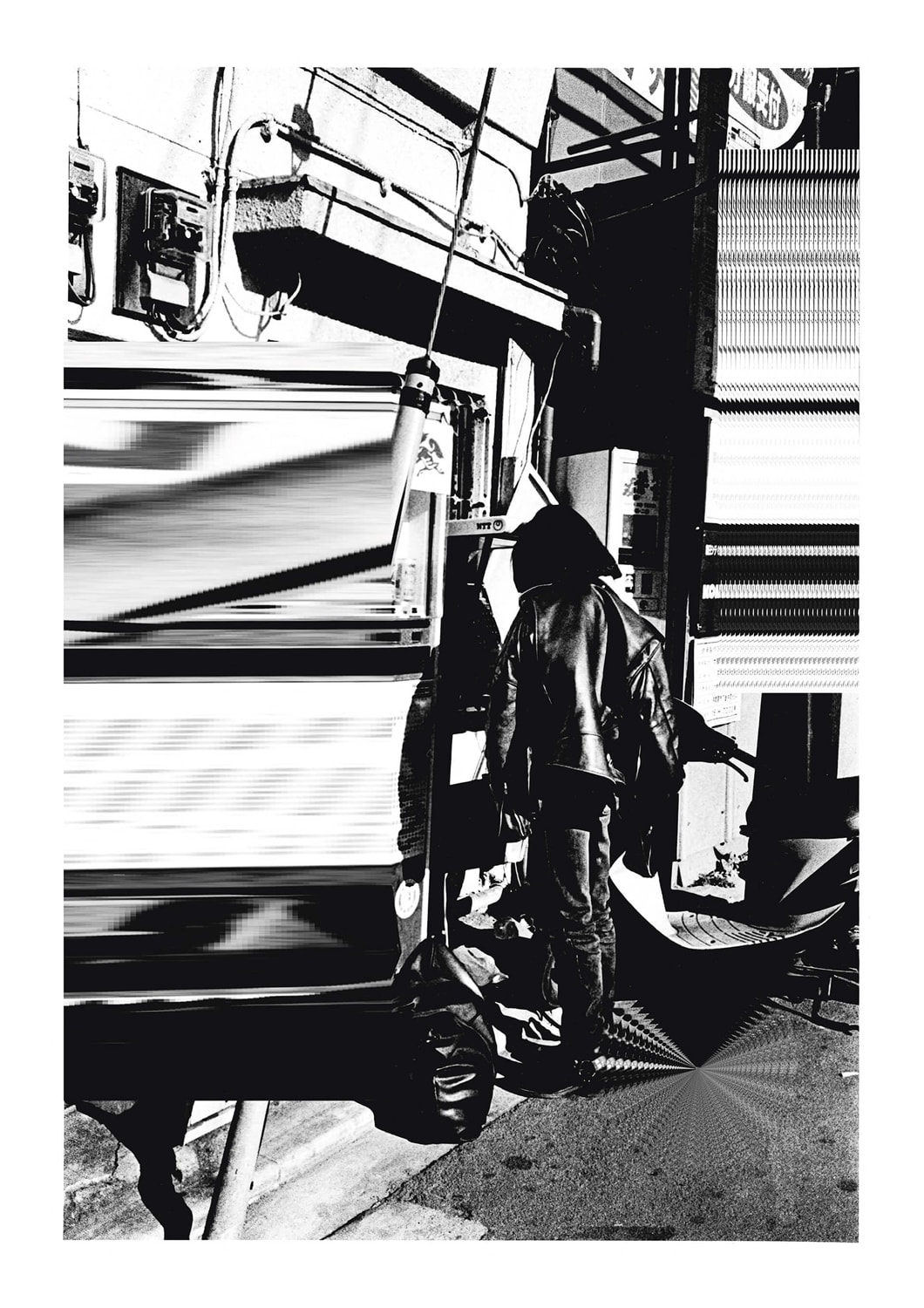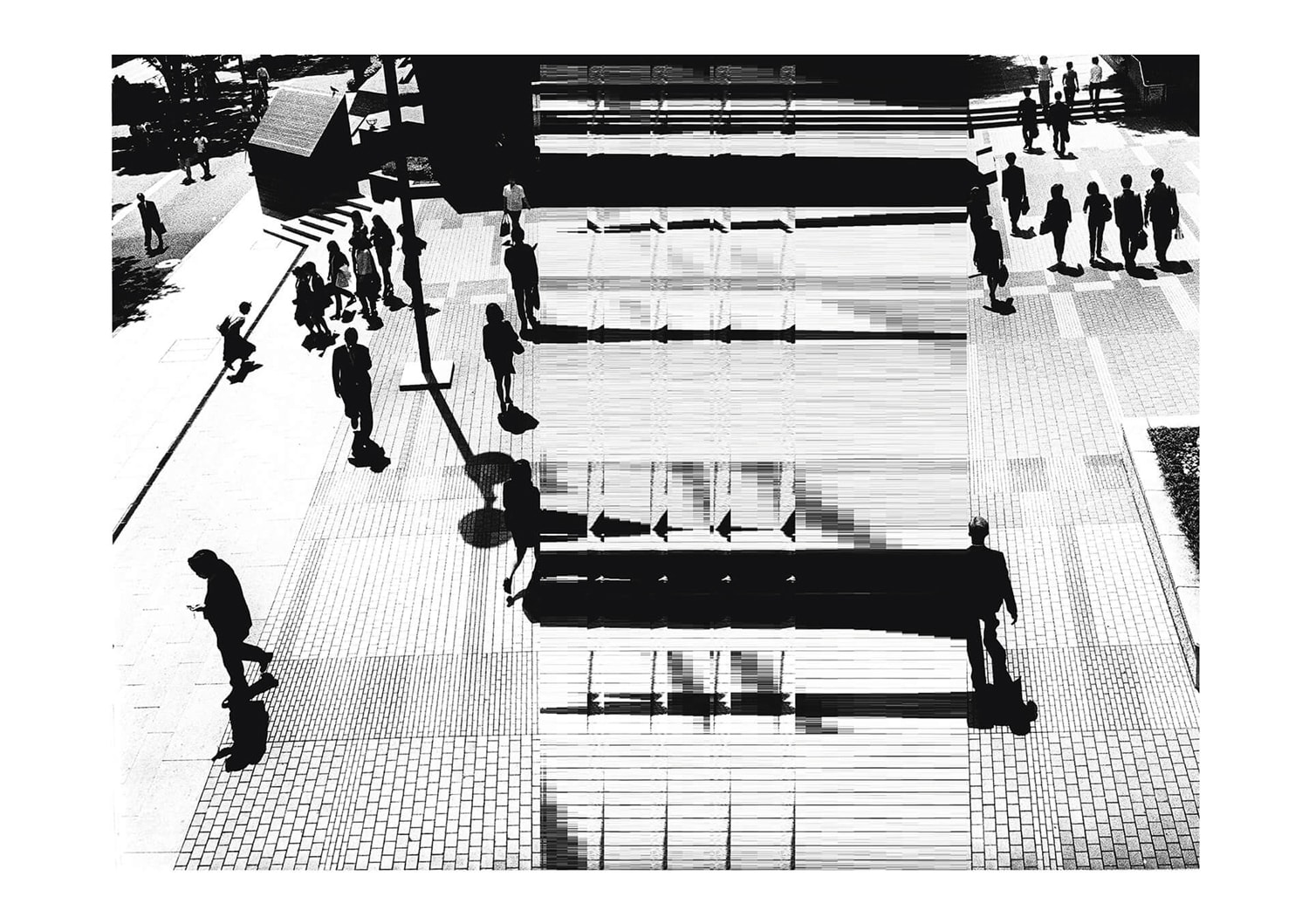 "I created works which allowed me to digitally 'visit' Daido-san's photographic vision of Shinjuku."
How did this print collaboration come about?
Yoshirotten: Shinjuku is a place Moriyama Daido san has been documenting for many years. We wanted to reinterpret this in a contemporary way. We had many discussions on how to do this. A large amount of data was given to me and I was given the freedom to edit them. In the beginning, I thought that the density of the grainy black and white particles of Daido-san's cityscape photographs were so intense and beautiful that there was no way for me to 'enter' the piece. However, upon receiving the photographs in digital format, I opened the files on my desktop computer and found the dense particles turned into square pixels.
The word 'resolution' came to mind and I didn't know if the scenes I was looking at were real or virtual.To give shape to thought, I created works which allowed me to digitally 'visit' Daido-san's photographic vision of Shinjuku. I thought it would be a sort of 'carving out' of moments from the images.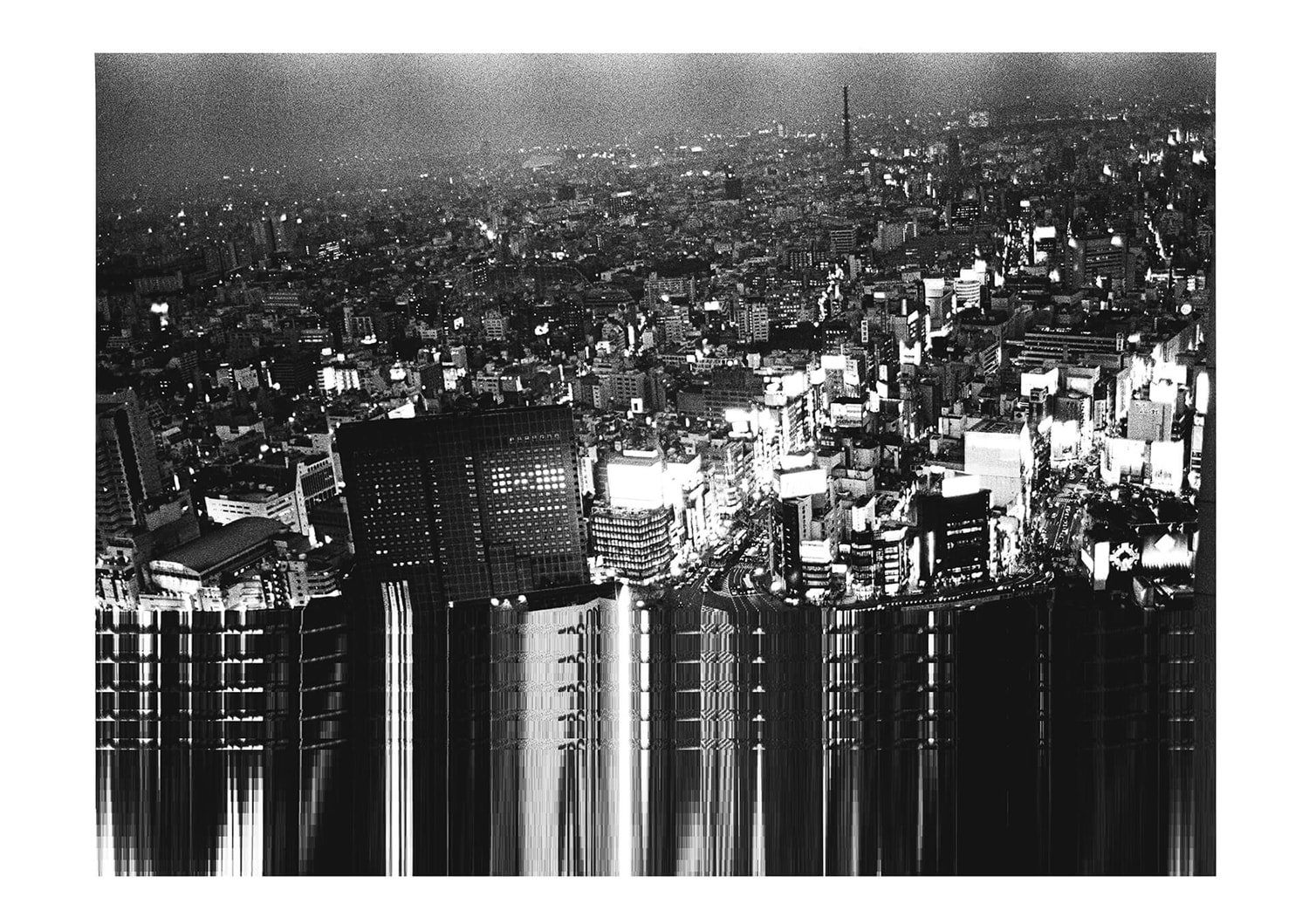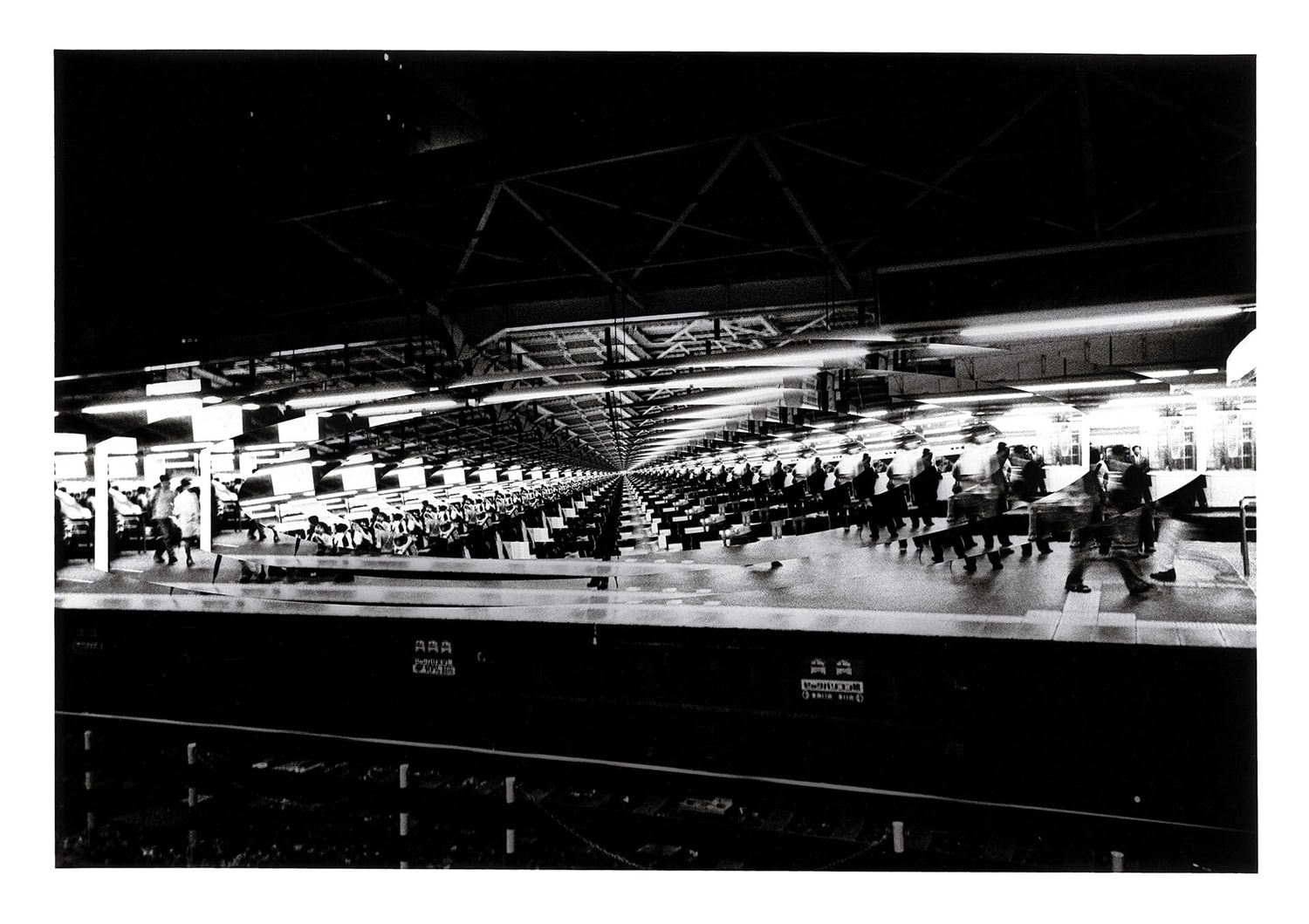 "I see the world we look at everyday as a resolution world."
What do you hope visitors can take away with after seeing your works displayed at your upcoming exhibition at the He Art Museum?
Yoshirotten: Shinjuku city is a theatrical stage. The photos portray backdrops of the city through LED screens, monitors through their smartphones — regardless of space and time. Everything in the present should be connected to that.
I see the world we look at everyday as a resolution world. Some people look at organized archives of artwork on the Internet, while others simply look at the images that circulate on various social media. A city is recorded for various reasons and purposes. Fixed point cameras for crime prevention installed in various places around the city and drive recorders installed in cars are mere input devices. These devices record without real human intention even if their purpose is apparent. The recorded footage is, then, broadcast online as data. Through these works, I hope the audience can seek and confirm reality within themselves.
Moriyama: YOSHIROTTEN's flexible and elegant sensibility were fused with the chaotic city that I photographed. And that created a new 'resolution' for the metropolitan city of Shinjuku. I think that his future-oriented spirit created an air of excitement and anticipation for this project.
"Organic shapes reoccur throughout the design in circular exhibition spaces and tiered construction."
Tell us more about the venue and how it adds to your curation. What kind of works do we expect to see at the show?
LEH YSL: We hope to have this exhibiton become a worldwide tour and will be kicking off at the HEM museum. in the Canton region of China. The show was designed by Japanese architect and Pritzker Prize laureate Tadao Ando who is based in Guangdong Province, China. The museum, itself, is a spiral-shaped pavilion, incorporating Oriental Lingnan elements and Ando's signature design elements.
Can you describe the interiors of the museum? How does it complement the exhibition?
LEH YSL: The glass dome ceiling floods the interiors with daylight. The world's first double-helix staircases is also constructed within the museum — in Ando's signature smooth silvery-grey concrete that offers an 'Inception'-like feel. These architectural elements add to our vision of showing the world futuristic cityscapes.
From the architectural design to the craftsmanship on the details, the museum is formed in a variety of circular forms. Organic shapes reoccur throughout the design in circular exhibition spaces and tiered construction. The building also boasts over 86,000 square feet of exhibition space to house its seasonal exhibitions and its permanent collection of 500-plus pieces spanning calligraphy, painting and sculpture. Highlights include artworks by Pablo Picasso, Alexander Calder, Damien Hirst, Lee U-fan Chang Dai-Chien and many more.
All Prints ©YOSHIROTTEN by courtesy of ©Daido Moriyama Photo Foundation ©CALM & PUNK GALLERY