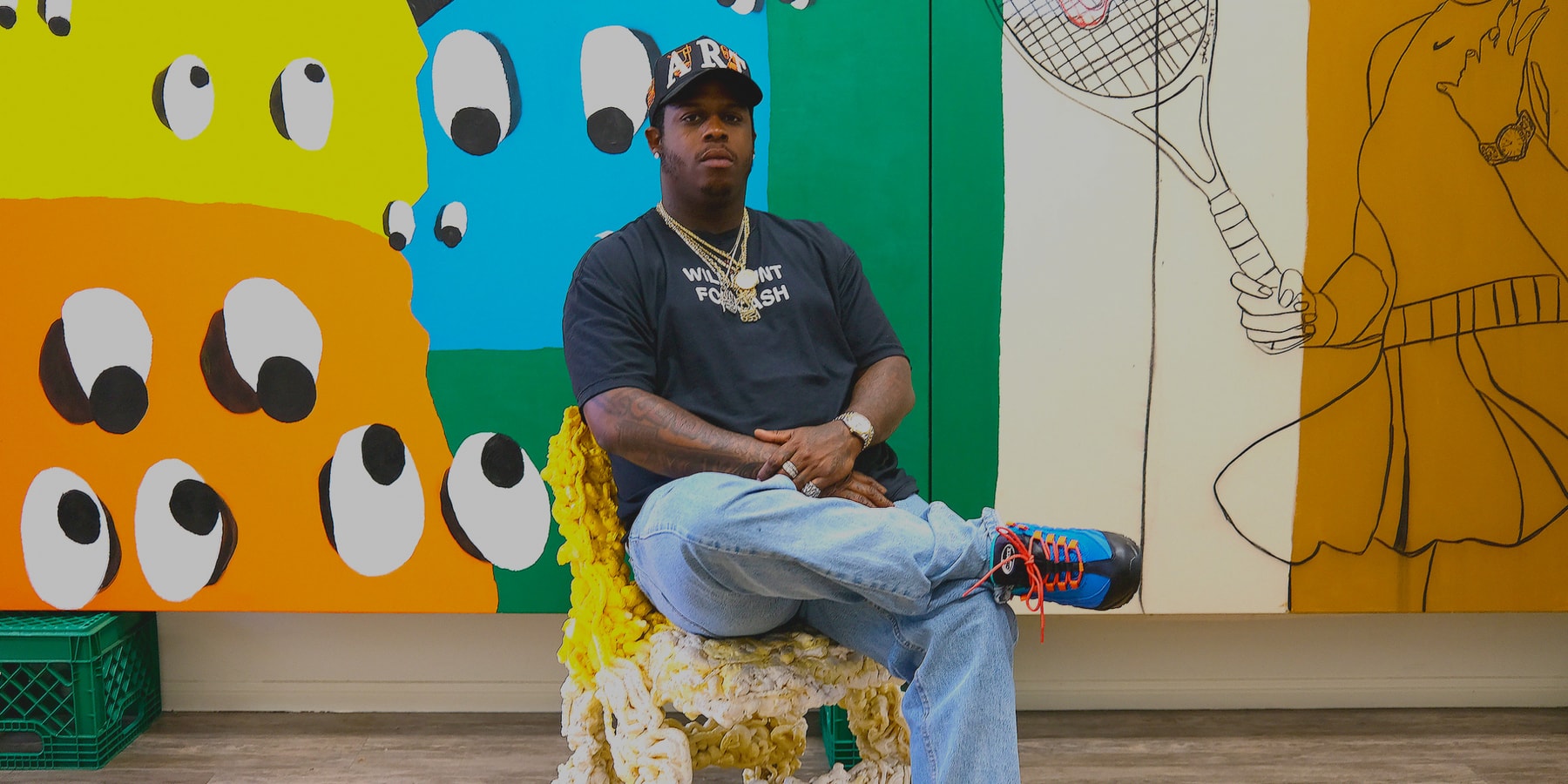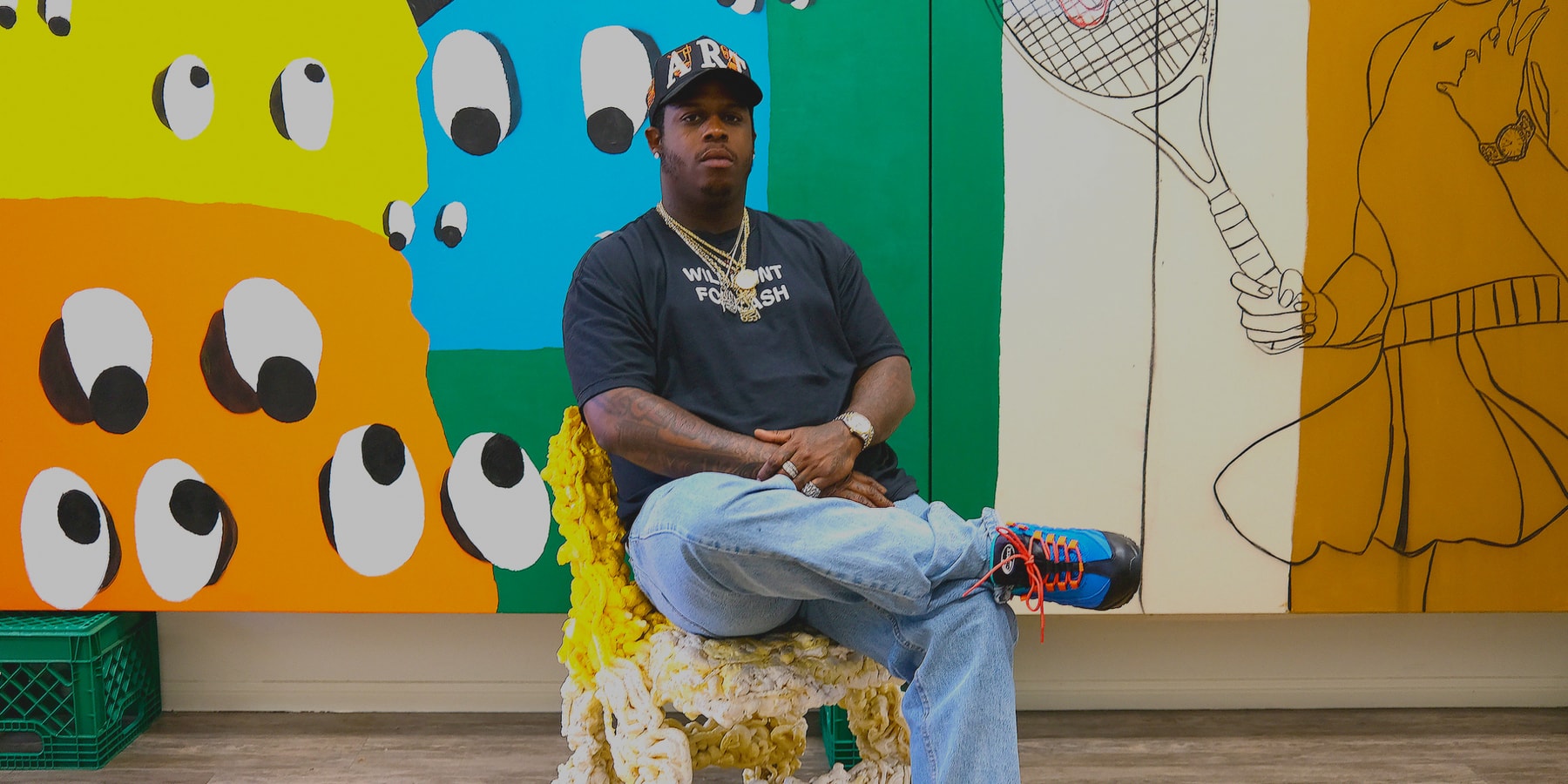 Studio Visits: Jahlil Nzinga
From being a rapper to selling art to rappers, the LA-based artist talks process and creating in the moment.
On a hot summer day, HYPEBEAST paid a visit to rising artist Jahlil Nzinga at his Chinatown studio in Los Angeles. "Watch out for Lil Sweep," the artist says, pointing to the automatic vacuum sweeping from wall-to-wall — a space filled to the brim with canvases of varying sizes, styles and motifs. One immediately gets the impression that Nzinga flows with a free-spirit that isn't defined by categorization. This improvisation makes sense as his roots can be traced to the Bay Area where he was part of Hip-Hop group, The Pack, led by the Based God himself, Lil B.
It's through hip-hop that Nzinga would learn his free-flowing process that relied less on premeditated messages and emphasized the importance of the moment. "I just go off on how I feel, not on what I see," the artist told us. The California-native was introduced to art in the same way as many kids from that time — through skateboarding graphics and the corresponding fashion they'd be applied to. Despite never going to art school, a young Nzinga actually applied the few courses he did take, such as the one-liner drawings instructed by his professor. "I felt it, I Iiked it. I don't call myself a figurative painter, nor a desk painter. I just do what I feel."
From being a rapper to selling to rappers such as A$AP FERG as well as Saudi princes, Nzinga is an artist that is taking notice all across the world. Having recently exhibited in Maddox Gallery's DYSMORPHIA group show, the artist has been literally locking himself in the studio — well before the pandemic — creating work in an endless flow state that comments on everything in a raw, unapologetic, vivid, entertaining and contemplative flow — everything you want in a rapper, everything you want in an artist.
As Lil Sweep bumps his head against the walls, like a droid in the Star Wars Death Star, Nzinga and I hop in his emerald green Mercedes Benz S500 on his way to the warehouse storage room where he locks himself for days at a time. There, we find a number of large scale paintings and prints that reiterates his love for color and the effect they take through different combinations and mediums. Works that differ in styles, but feel in unison. With an upcoming show in New York and a solo exhibition due in 2022, we caught up with Nzinga to talk about his practice, how it developed and what's next. Learn more in the exclusive interview below.
1 of 3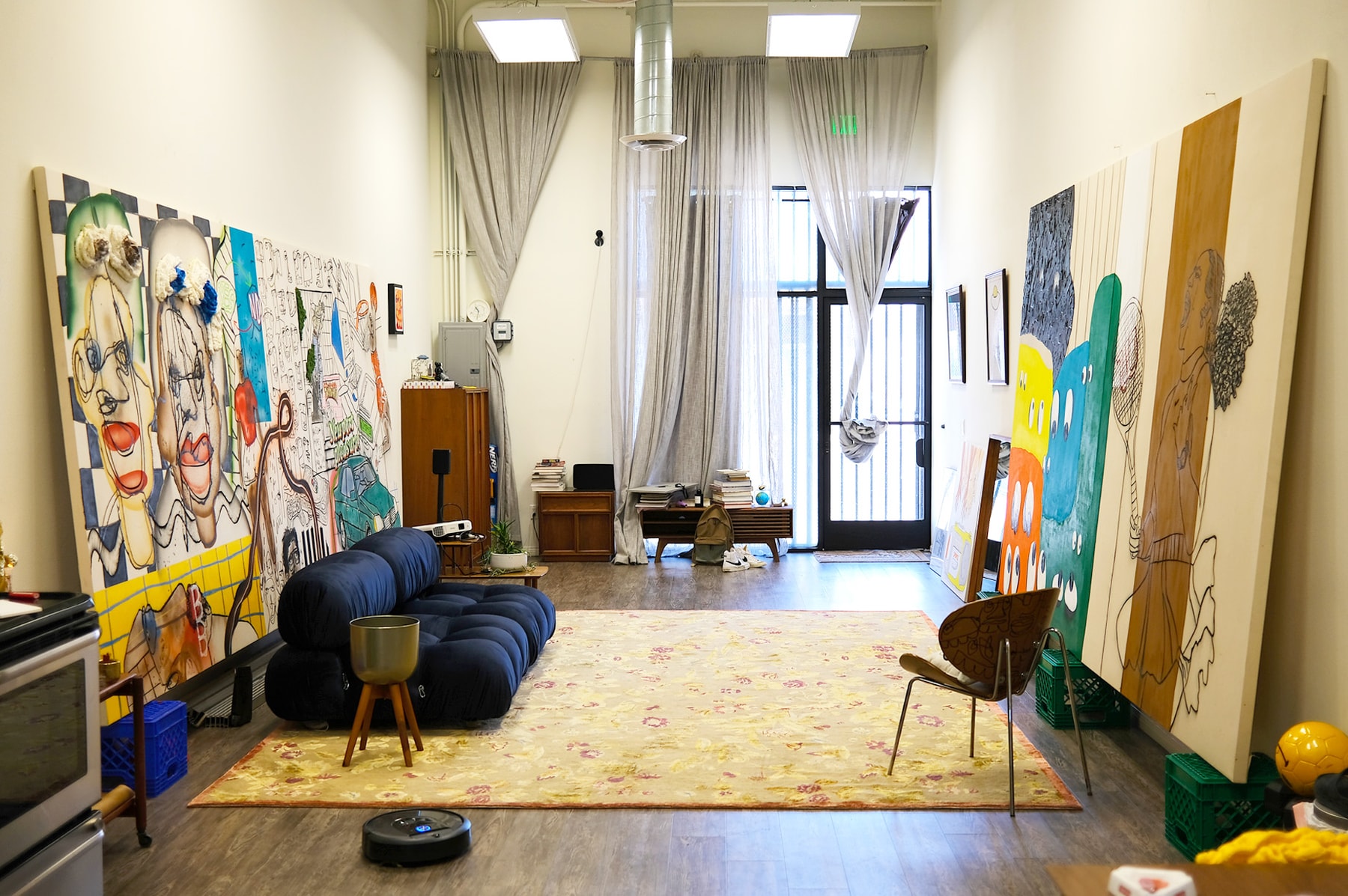 2 of 3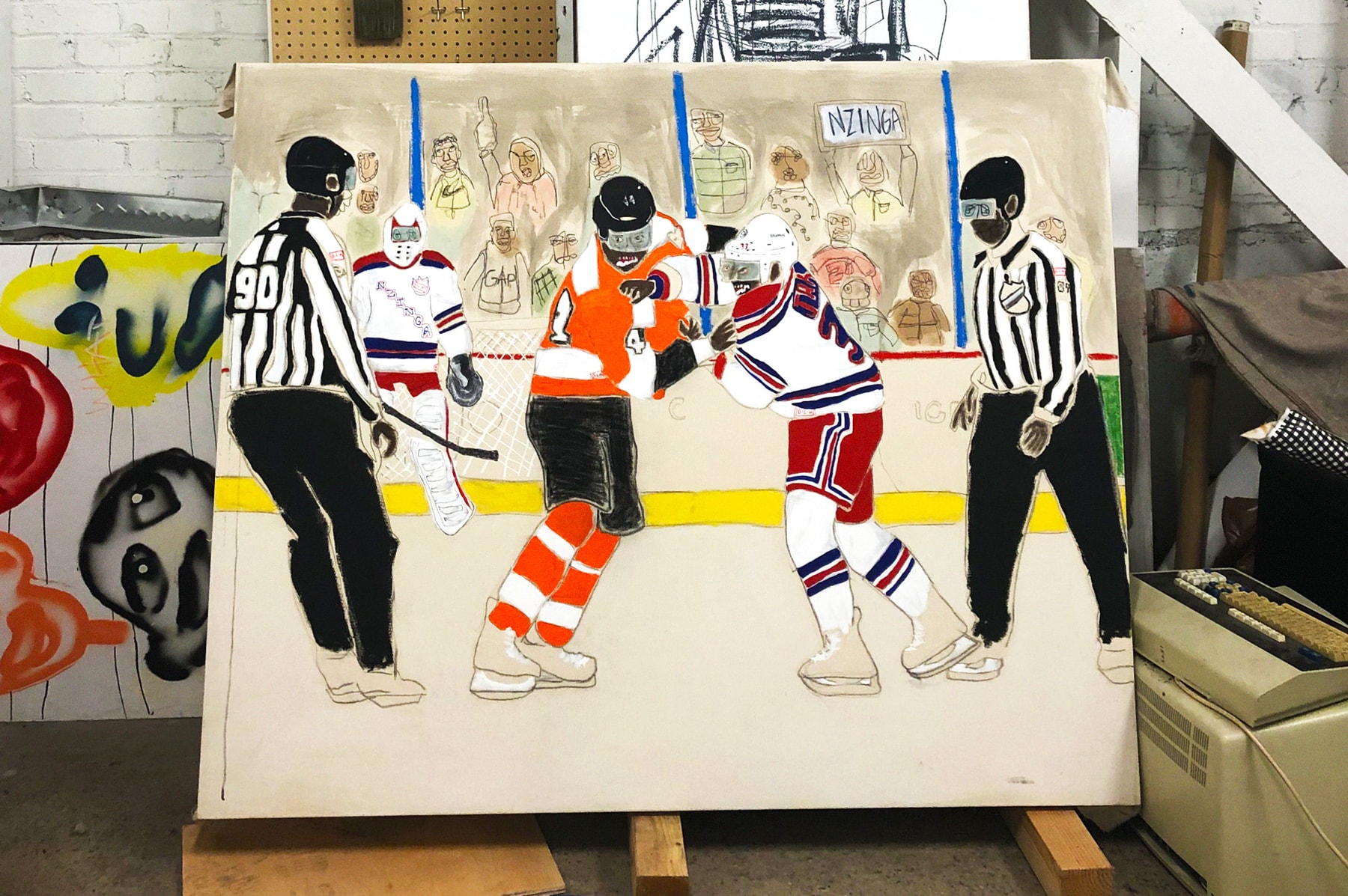 3 of 3
"I like to say I can hear colors."
Can you talk about your earliest entry into art making?
I'm interested in neighborhood shit, to be honest. A lot of Black Panther stuff and African art that you would see at peoples houses. Stuff that represents where you're from. That's my earliest introduction, I assume at three, four, five.
But as far as my interests go? I was really into a lot of skate graphics when I was younger. The Toy Machine's, the Birdhouse's, the Alien Workshop's, you know what I'm sayin'? Circa's, Shorty's, Osiris, Spitfire, all these logos in my head — that's what really got me into art. That's what made me want to purchase things, 'I want this because this graphic is cool.'
I was into Wet Willy's cause of the fire and the water — those characters were crazy. What's crazy now, David Flores is one of my friends, he was doing a lot of that art and around those guys — big collectors.
Walk me through the music days with Lil B and The Pack?
Bay Area legend. I'm not sayin' it — they sayin' it, hah.
It was a great thing, I started really young. Shoutout to Too Short. I got an amazing opportunity to be a big player in the music game. MTV, BET, Rolling Stone — you name it, I did it. I got to see the world through it, an amazing opportunity. Shoutout to those guys — Young L, Lil Uno. Shout out to the Based God haha. They're all still good friends of mine. That plays a lot into my work I feel, but we ain't doin' that no more.
How would you say music influences you as an artist?
Process and appreciation. My process is really different. I like to say I can hear colors. I'm looking at the scope a little differently. My approach is very improvisational just like my music was. I didn't make music like, 'hey this is something I want to make a song about.' I more or less did it, 'hey, I'm going to make this music purely from my heart' — it wasn't premeditated. I didn't sit and think too much beforehand, I just let it go off how it is. I just felt it and that's the process of how I go with my art. I just go off on how I feel, not on what I see.
1 of 3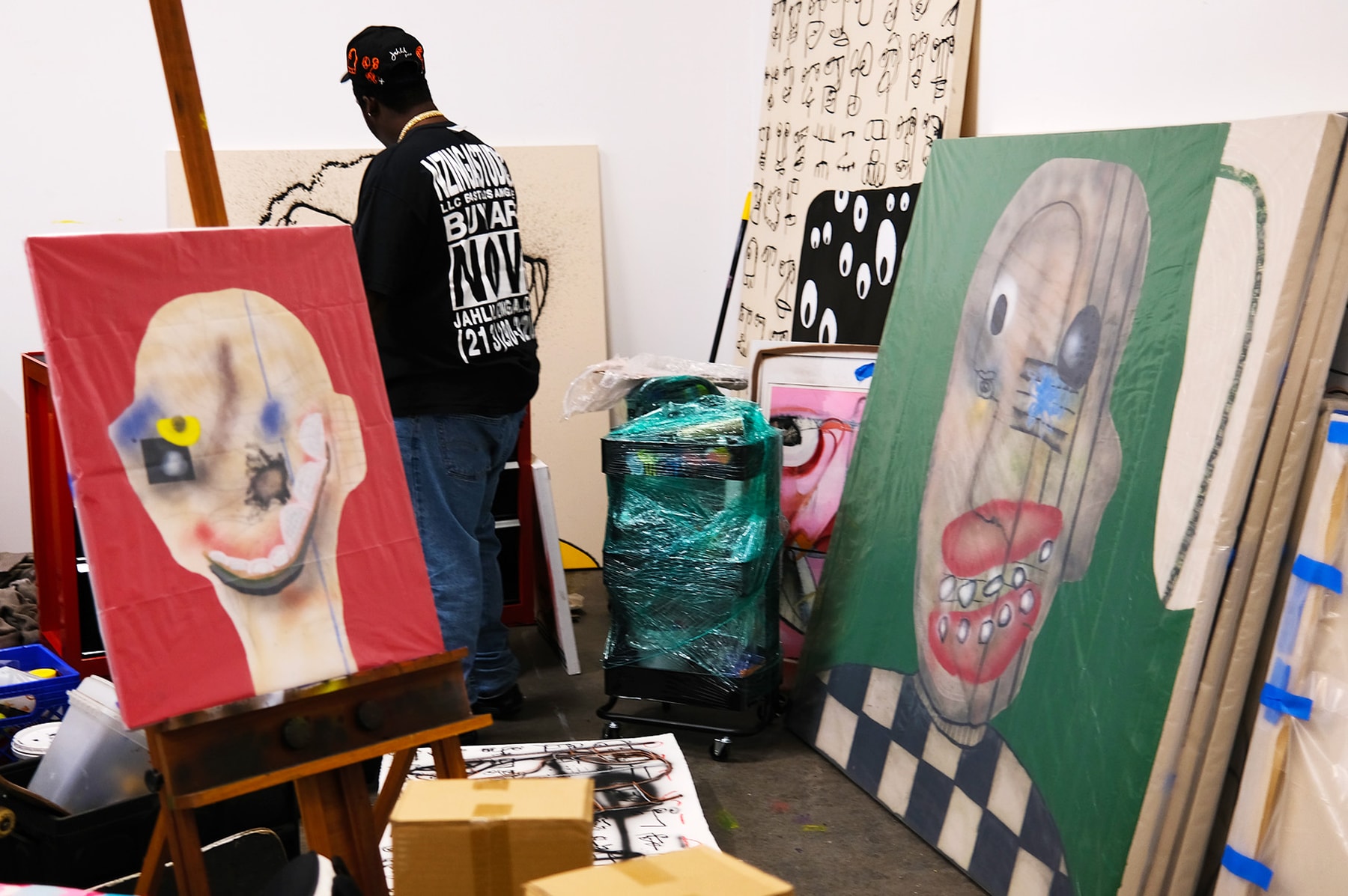 2 of 3
3 of 3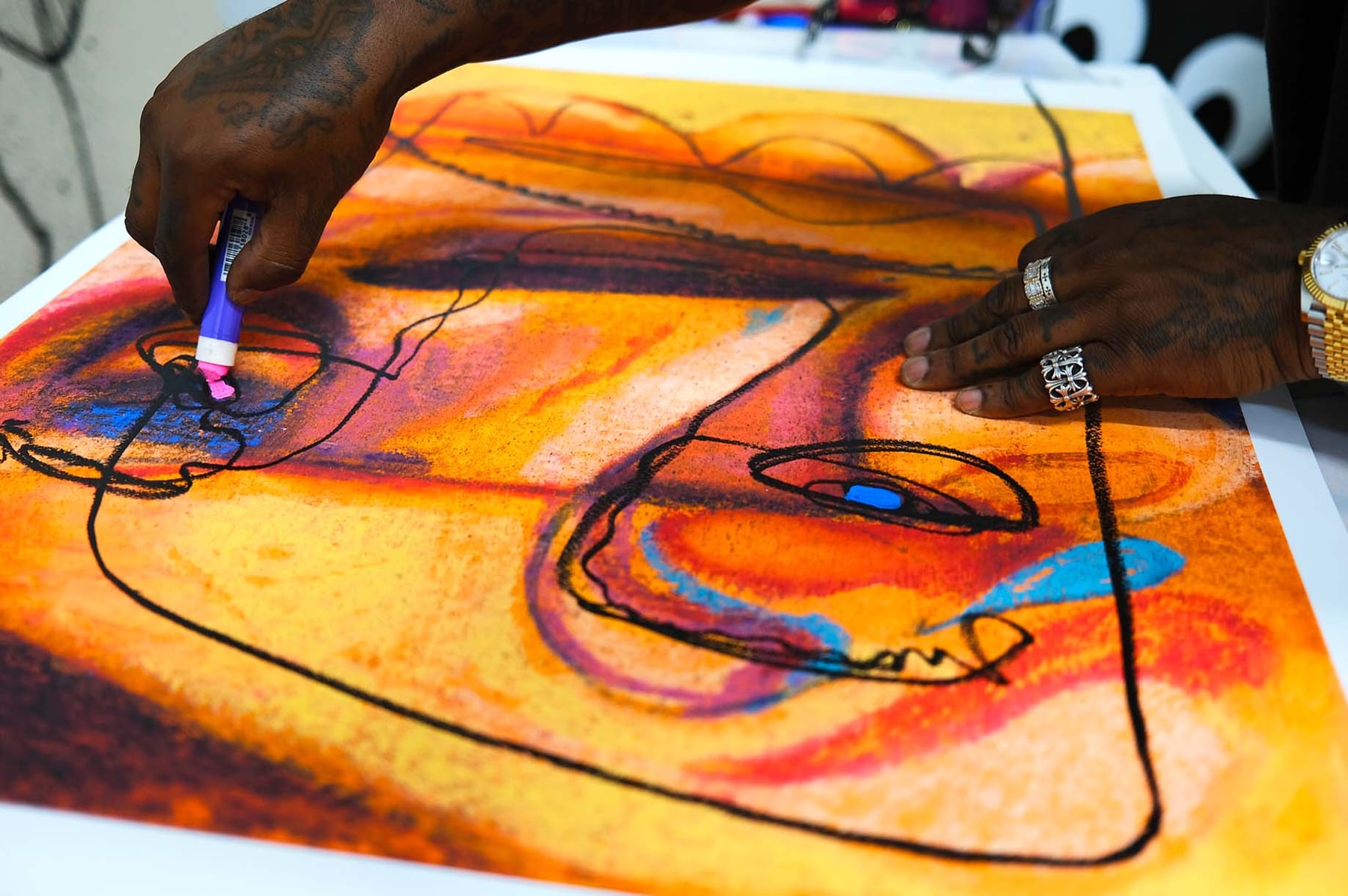 "I think if you don't really live it, then how can you tell someone how to do it?"
Where in the Bay did you grow up and how would you say the art community up there differs from LA and the rest of the country?
Berkeley/Oakland man. Shoutout to SF, that's really close. If you lived how I was living in '05, then you got appreciation for all sides. You can't not talk about Richmond, East Oakland, West Oakland, North Oakland. You can't not talk about Hunters Point. You got to talk about Vallejo. So many spots, but if you are from the Bay Area, you know we see everybody. We got a little bit of everything from around the world.
I've read that you state "the artist cannot be separated from any component of his life-affirming work." Can you elaborate on this idea further?
I ain't write that. That's just something someone who interviewed me wrote about me in the bio. To speak onto that though, because it's about me and I can speak on it — you just got to live it. I think if you don't really live it, then how could you tell someone how to do it?
I would more or less take the advice of a firefighter who might've saved two or three people over a guy on the street saying, 'this is how you pull someone out of a broken house.' No hate on anyone reading something out of a book, but just because you've read something, doesn't mean you can do it — nor do you know how to do that.
And fast forward to the present, what currently inspires you on the daily?
I pay attention to color combos. A lot of fashion, but also I like to paint moods. It's very important to me. I like to look at colors and energy. I have some days where I just feel green or look at that tone or that shade. Situations also inspire me, where I try to paint an emotion. I pull from that a lot, where say I got played somewhere, I ask myself, 'how would that look in a painting style?'
1 of 2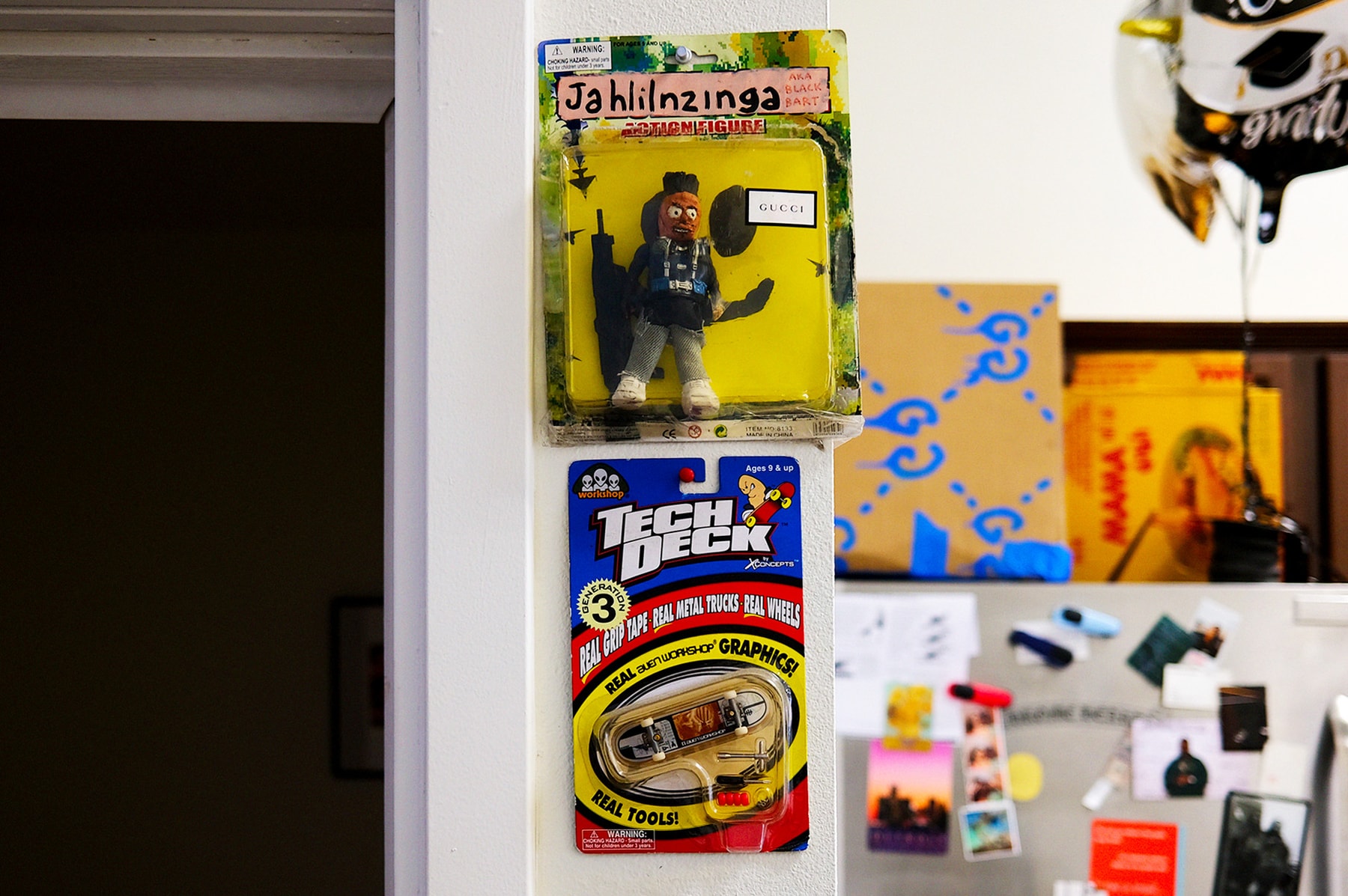 2 of 2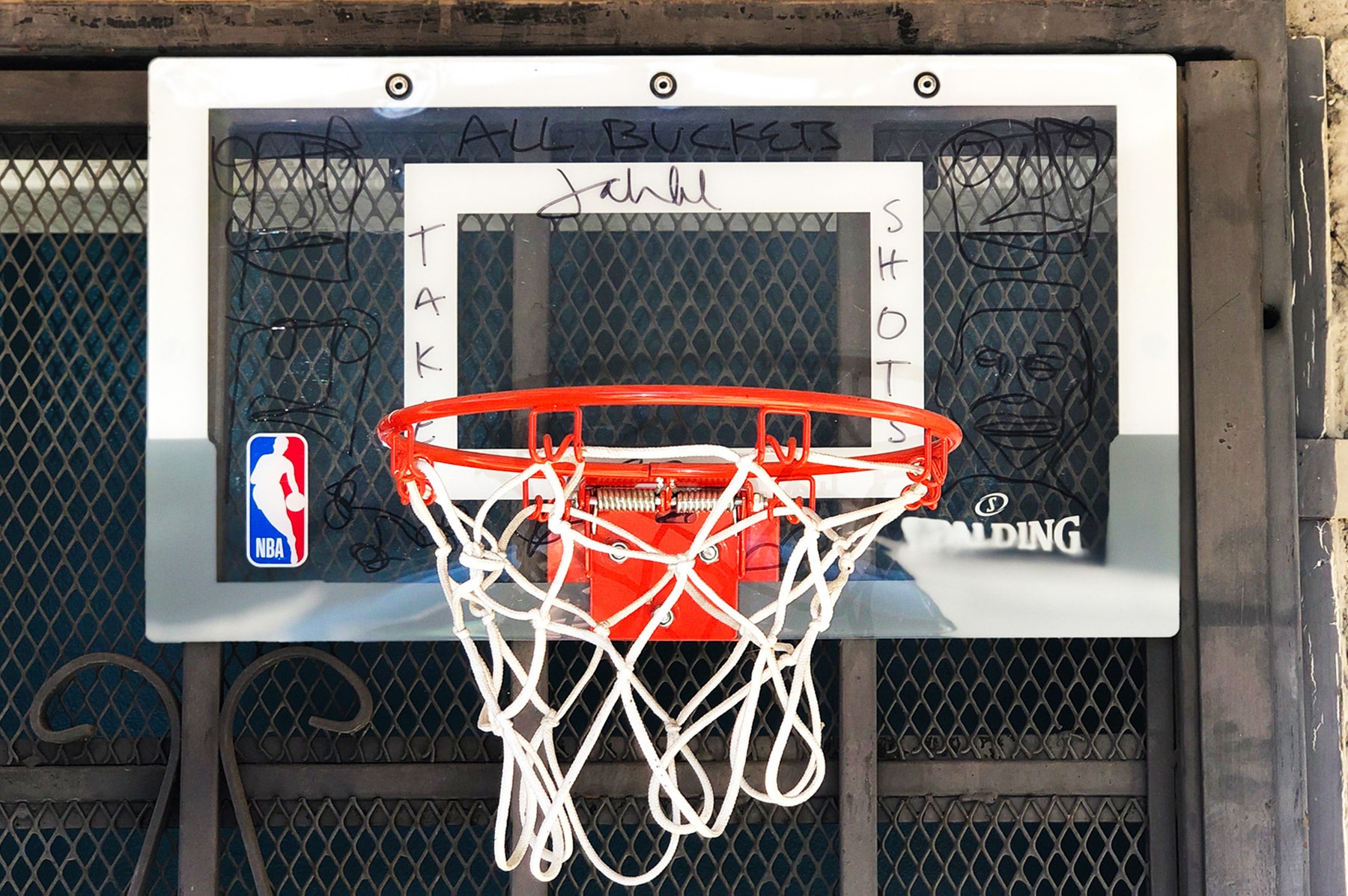 I don't have a favorite of nothing. Nothing is better than everything, forever.
How about this painting? What's your connection to sport as a cultural reference?
Oh you mean Color On Ice? I mean sports, not only do I love it, but there are so many subjects within sports that you can speak on. A big spot to pull from culturally and the images and stories in sports. Sure this is entertainment, but these people, where they came from, how they got here— these are all stories — whether they were successful or not — they're all stories. They need to be told as well, that's why this Serena painting I painted at the spot. Here we have Color On Ice — man Black people invented hockey. I ain't gon' spoil that for you, but look that up.
You like to work across mediums, such as spray paint, oil pastels, acrylic. Is there a particular one you have an affinity for over the others?
I don't have a favorite. Nothing is better than everything, forever. Everything has its moment, everything has its time, so that's how I move through my mediums. One day I might feel, 'this acrylic is hot, let's get that running.' Another day I might jump into the ink or charcoal. Also the medium will dictate what am I looking for, image wise? If I'm looking for something soft or smudgy and unforgiven, then I'll hit the charcoal — it's going to leave a mark. You got to deal with what you gotta deal with, but that's the image I'm going for. But I don't play favoritism.
Can you describe your day-to-day studio practice? Are there any rituals to the way your process works or do you go with the flow?
I think it's a mixture of both. I'm definitely ritualistic. I get up at six, hit the gym. Try to get my mind right. The gym is a meditation of sorts. I like to see my studio practice like nine-to-five. I'm really appreciative of the fact of 'wow, I get to paint all day?' That's crazy to me. I can't believe it — not only did I have success with the music, but now I have success in this. But that's just for my own discipline. You know as well as I know, this never turns off. Hell I'm at the house painting. I can't stop, but I treat this as a real job as much as possible. Just knowing there is someone working harder than you and would trade it all to be in the position that you're in. 10,000 hours was the cheap way. We're talking about lifetimes and legacies, there's no hours to this. You can't just add 10,000 hours and now you're a pro.
1 of 2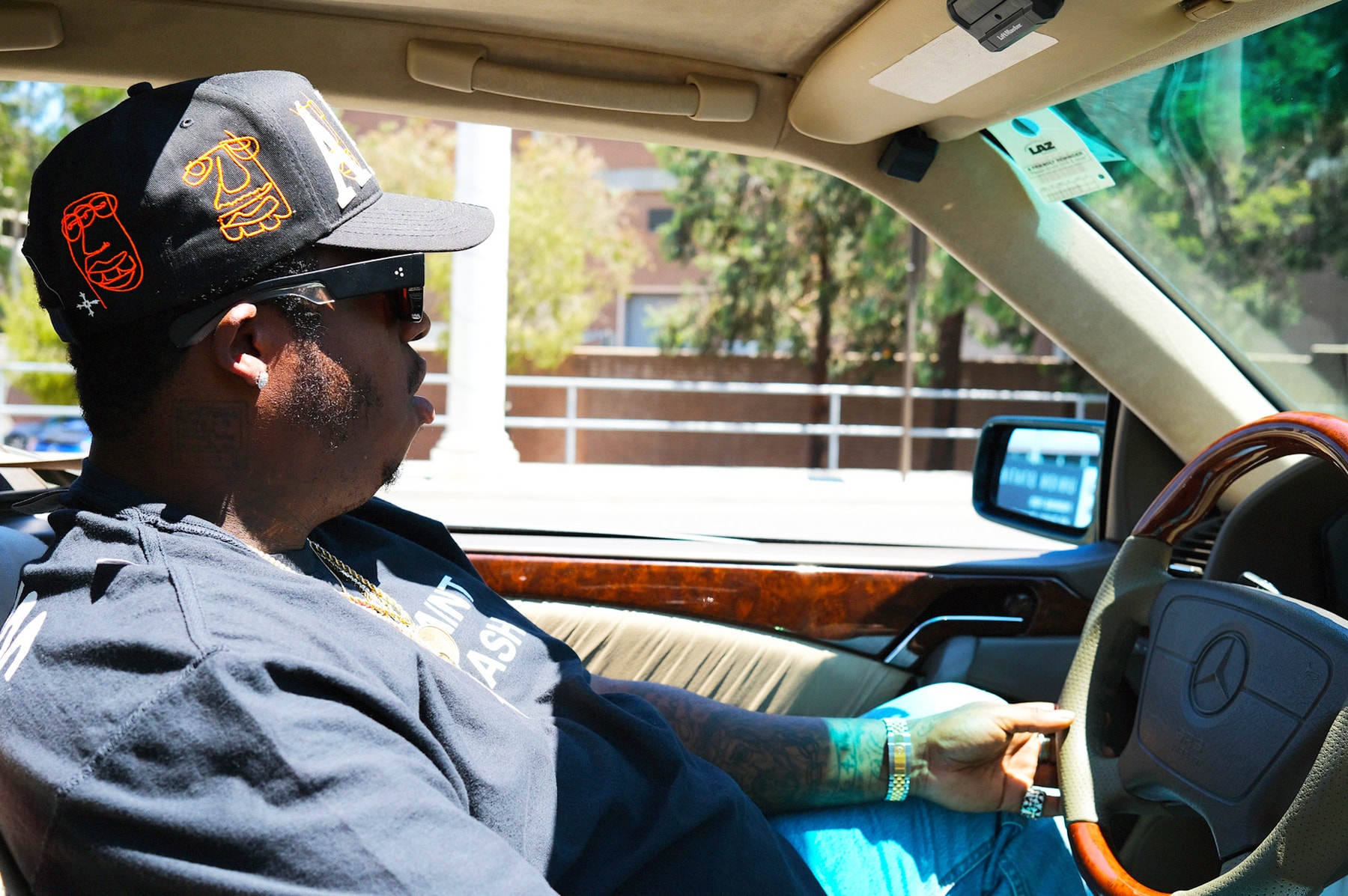 2 of 2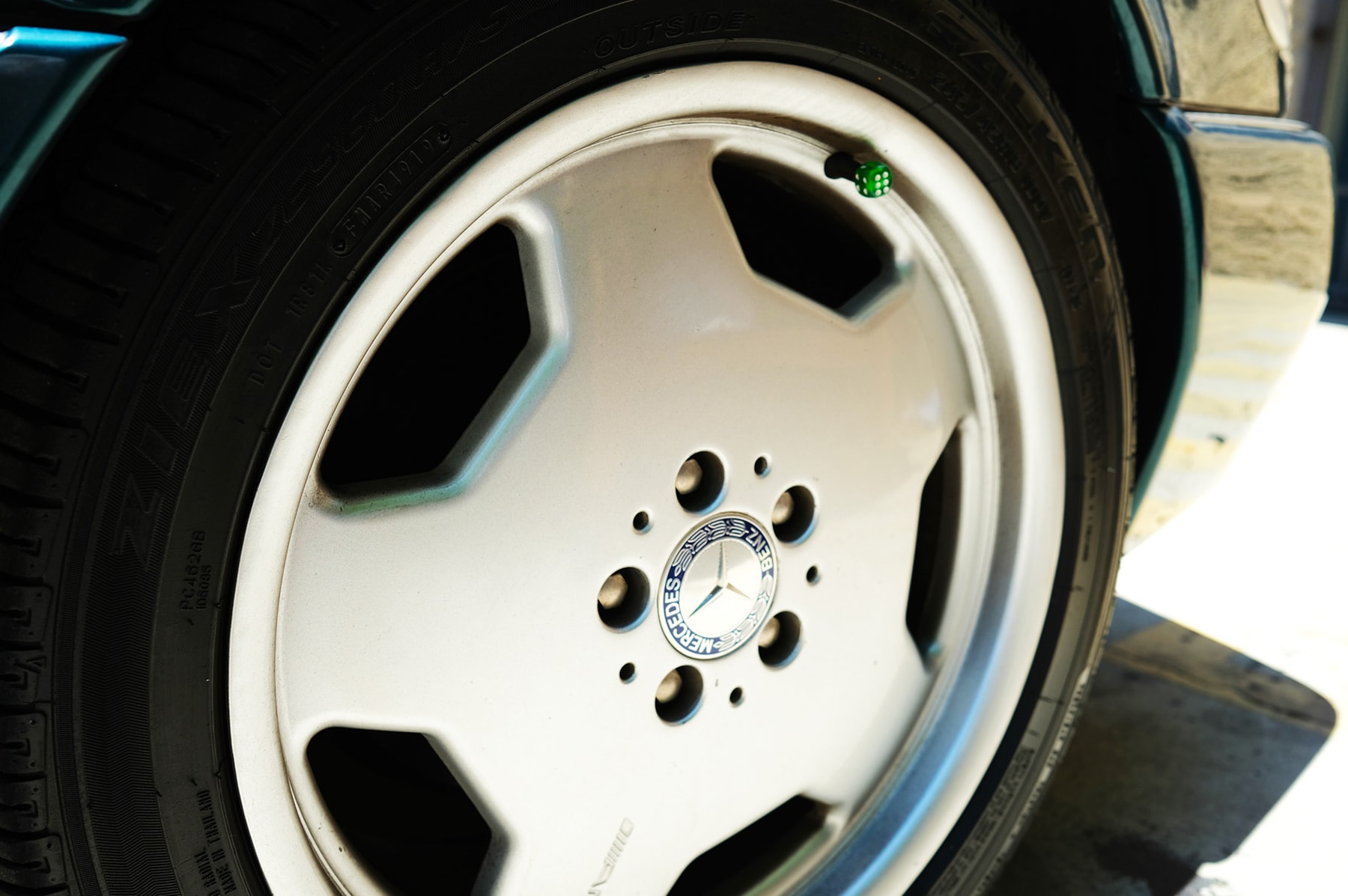 Everything in moderation, except love.
Your work also carries a mark reminiscent of some form of Mayan symbol or hieroglyphic.
The one-liners. I never went to art school, but the few classes I did, they make you put your hand to the paper and don't stop writing. I just keep going with it. I felt it, Iiked it. I don't call myself a figurative painter, nor a desk painter. I just do what I feel — that's that gave me my confidence, doing the one-liners. Giving me my voice. That's what I paint — I put my foot in it and that's what it is and I'm not trying to be ashamed or think too much — I'm just trying to have fun. This here is the evolution of confidence through the one-liners. Going from this to the aerosols to the oils and then the ink application — evolving, evolving, evolving.
You like to talk about your work like a "passion murder." Can you speak further on this and how your work has changed throughout the pandemic?
Exactly. One of my friends who was an art historian taught me about brushstrokes and how to see who is painting with confidence — I've learned that's how I paint. I don't load a bunch of oils, I don't do the whole dance beforehand. There's no crazy research, I just paint in a space that's mine. I think the pandemic was a great thing for me, to be completely honest, which sucks because it was such a bad thing for everyone. For me it was a great thing, because I was already in that stride — I was already inside, painting my ass off — hell, I was sleeping in the studio! I was having to pull myself out of here to get right for a few days. Oh now, I don't have to feel bad to live like this haha. I saw that a lot of people were finding their voices during the pandemic. I don't know myself completely, I'm forever searching, but I did get a good grasp on what I'm already doing. I think a lot of people who have the money to indulge in what art is, they went home and realized the house is atrocious. They have to be in there for so long and the work they do have, they might not be in love with it. So a lot of collectors went into a frenzy of 'let's find some good work, let's get it now.'
Do you have a specific message you aim to elicit through your work?
I try to stay away from these types of questions even back in music, because it's so hard to encompass all you're trying to say within an interview and then be responsible for how these statements are received. It's a set-up for failure for people who do not know how to communicate in the best way. So with that being said, I do want to be responsible for this gift I have, so I'll meet y'all in the middle here. I do have a message: everything in moderation, except for love. Just think about that when you look at my work.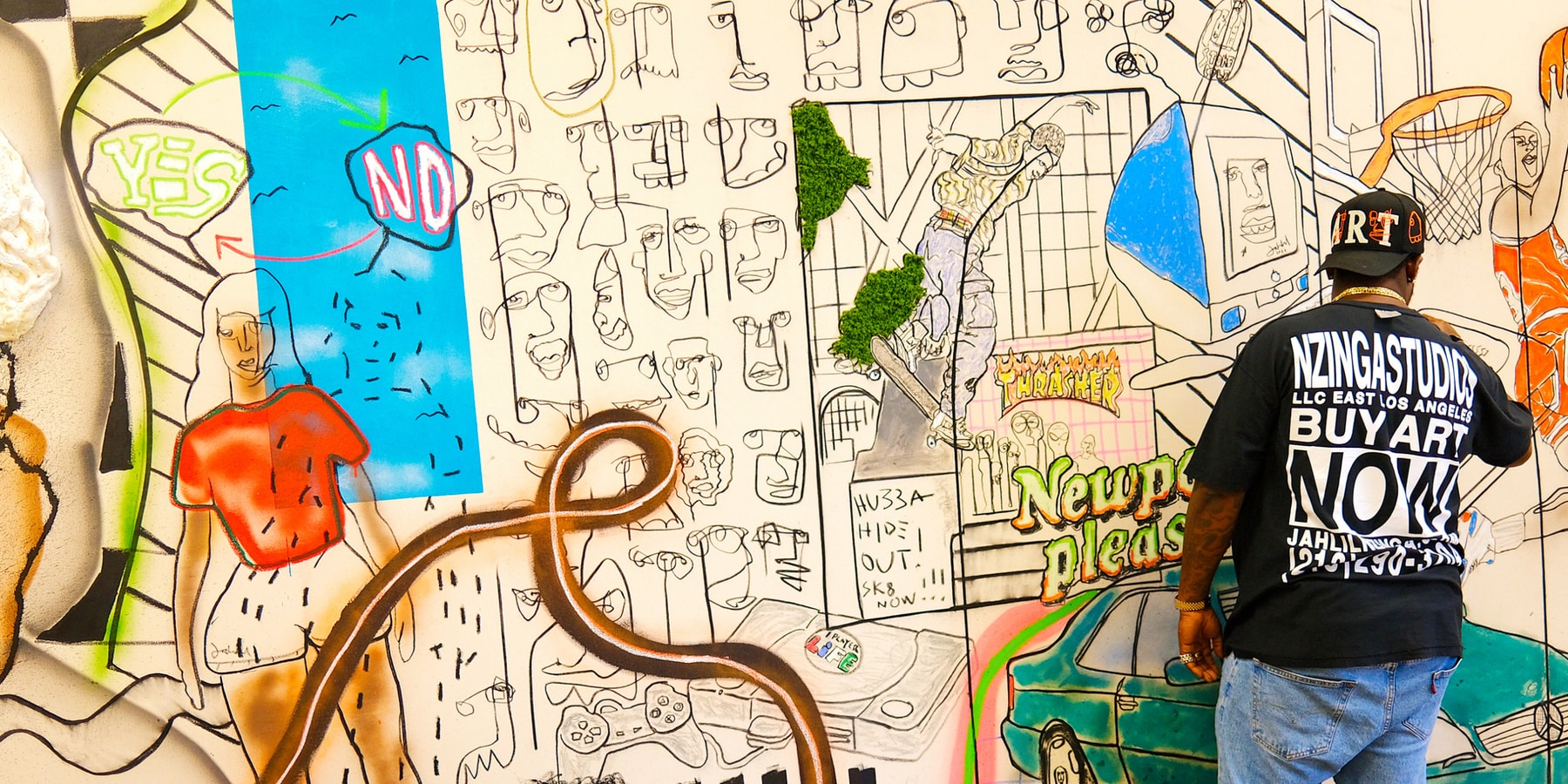 Jahlil Nzinga is currently exhibiting at the DYSMORPHIA group show at Maddox Gallery in Los Angeles. His clientele includes everyone from A$AP FERG and Jesse Edwards to the Saudi Royals. With an upcoming show in New York, a solo exhibition in 2022 — sky's the limit for the rapper-turned-artist.
---