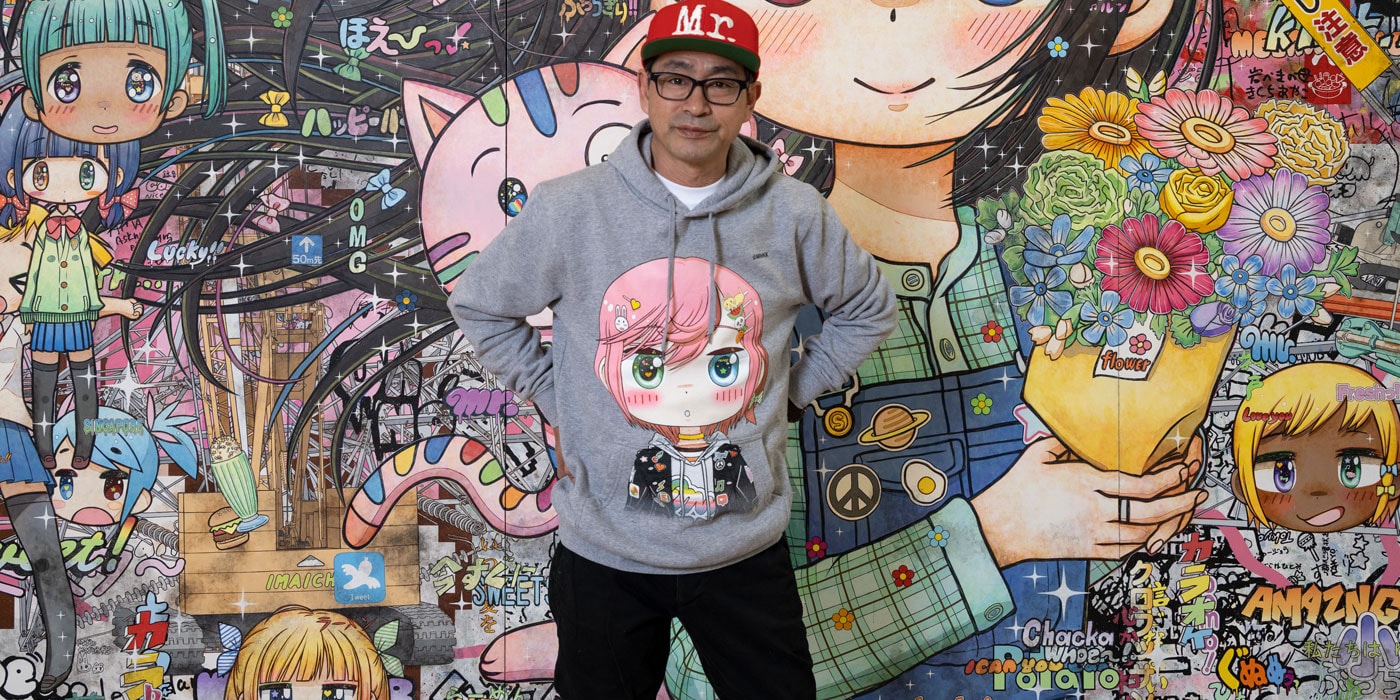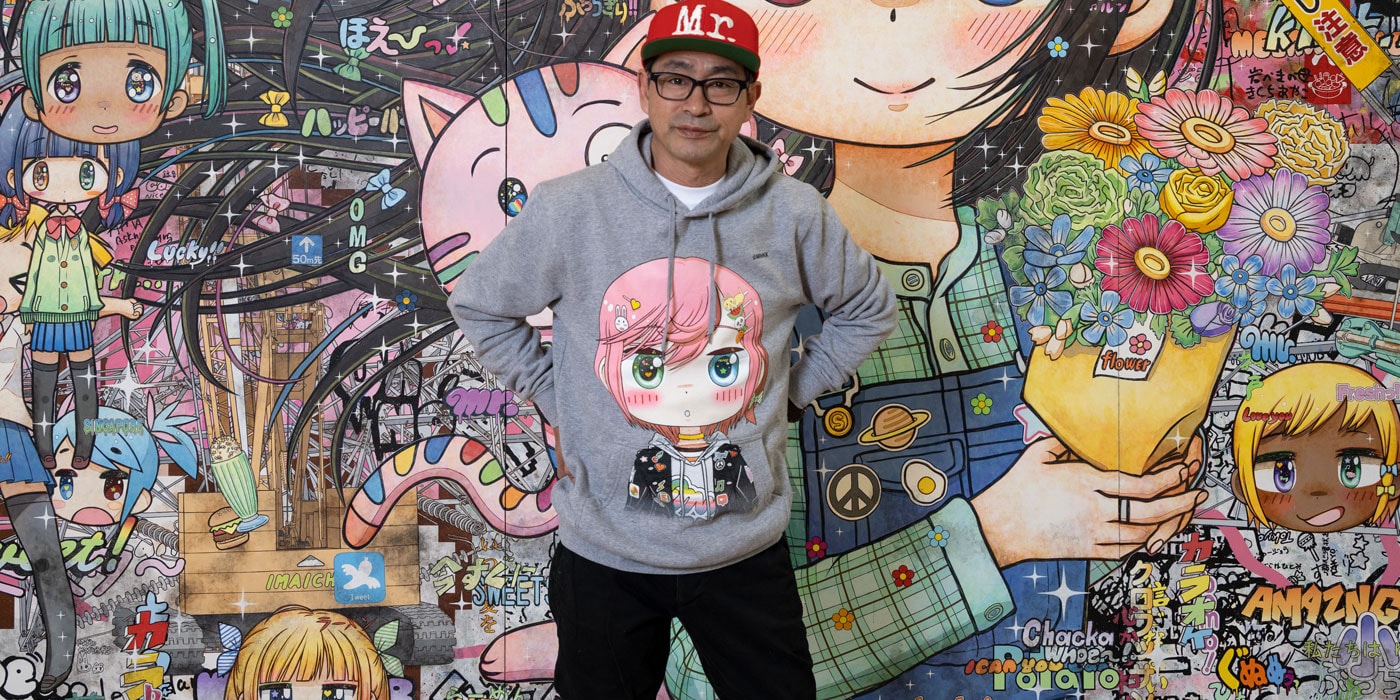 Studio Visits: Mr.
The otaku artist and Takashi Murakami collaborator turning anime into fine art.
Through the roads paved by Takashi Murakami, a new generation of artists linked to the "Superflat" postmodern art movement has emerged. Among them, is Mr., a contemporary Japanese artist known for his neo-pop paintings, sculptures, and installations that continue to popularize the "otaku" subculture, connecting its anime and manga-inspired aesthetics across the realms of pop culture and the international art world.
Mr. gained popularity in the early 2000s for his drawings of colorful, bright-eyed manga-inspired characters, a style that was traditionally associated with a niche population of young shut-in comic enthusiasts. Throughout the years, the genre became more popular, and Mr. now compares himself to a translator, positioning otaku culture and art he identifies with, into the realm of fine art for a global audience.
Mr.'s latest exhibition titled Beyond the Alley, There… is currently being held at Lehmann Maupin, New York. Reflecting his ongoing commitment to examining how both images and desire circulate around the world on the internet, the show features new large-scale paintings, shaped head and body paintings, and works on paper. The featured art pieces present Mr.'s saturated fantasy world filled with imaginative everyday interactions such as emojis, fast-food logos, graffiti, slang, social media notifications, and other motifs that swirl around his young characters. The heavily layered urban settings are reflected in the eyes of figures such as Sakura—The End of Summer, Toward Autumn— (2021) who displays an immersive world within her gaze, filled with bubble text and cartoon icons.
Ahead of his Lehmann Maupin exhibition, HYPEBEAST was invited into Mr.'s workspace for a Studio Visit in which the artist shared his creative process, favorite collaborations, advice for young artists, and more.
1 of 3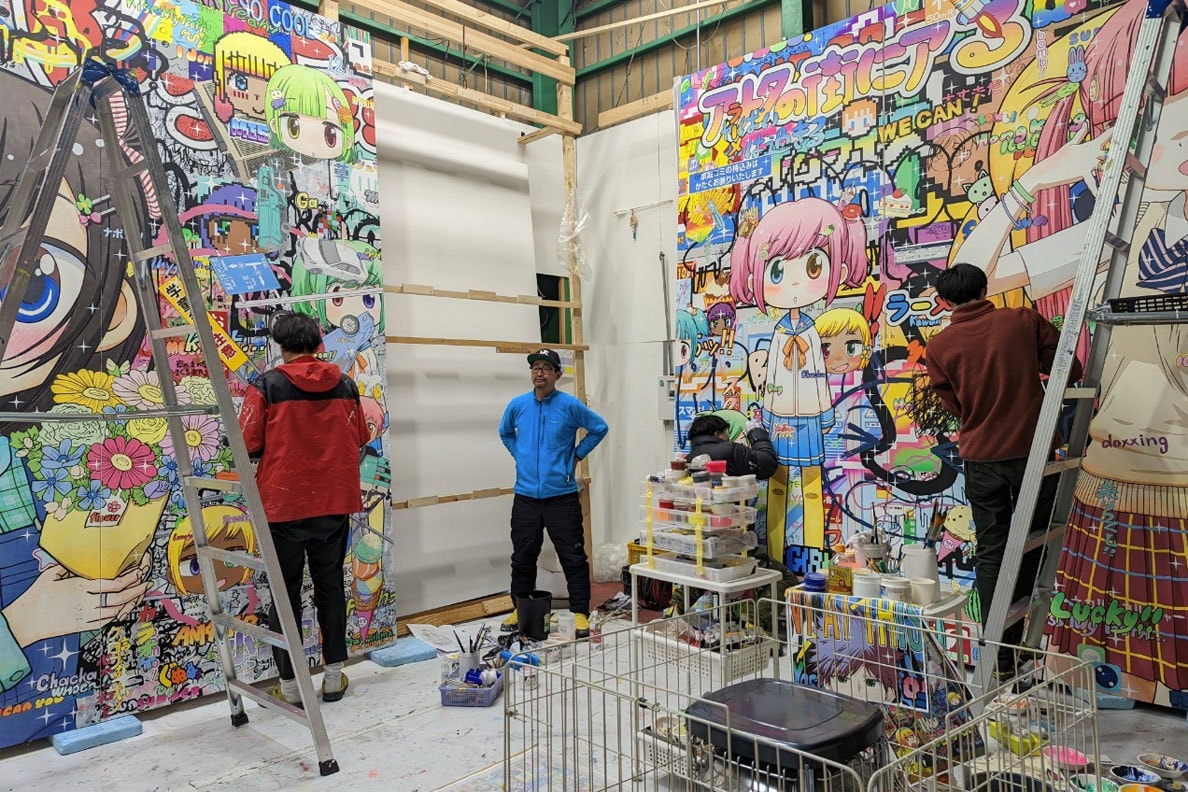 2 of 3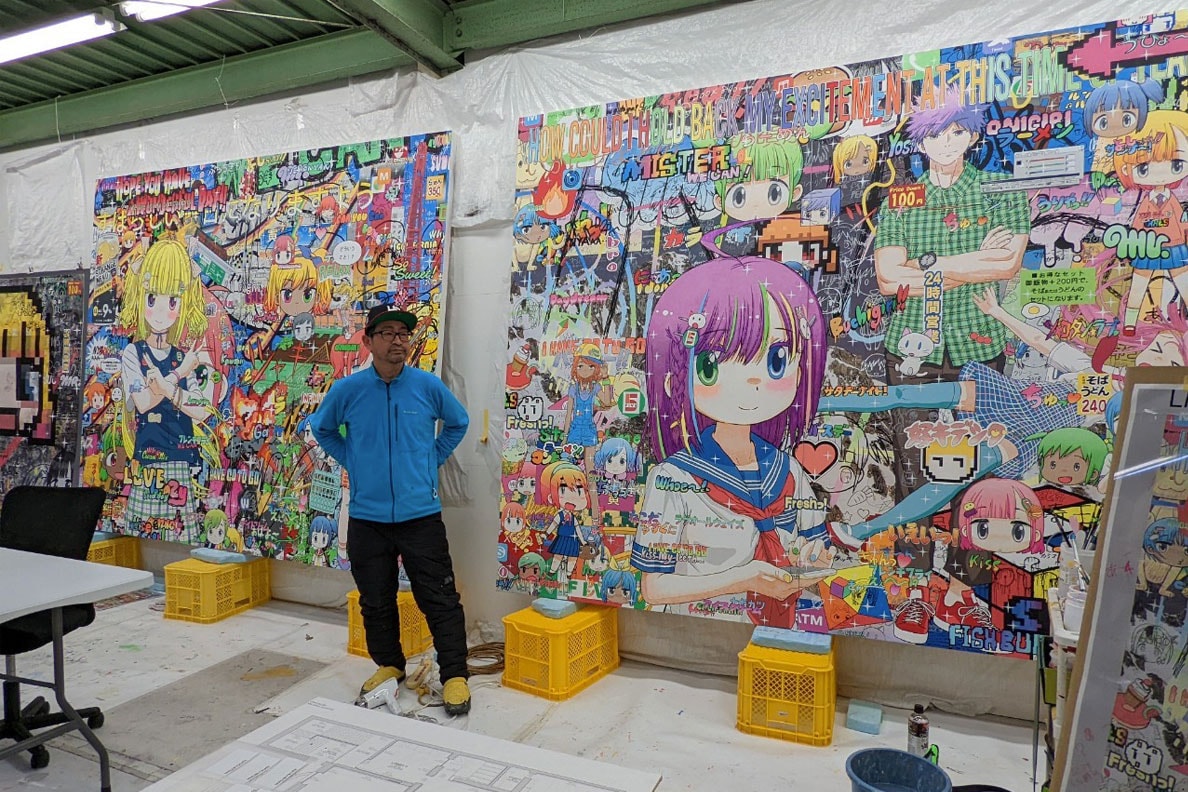 3 of 3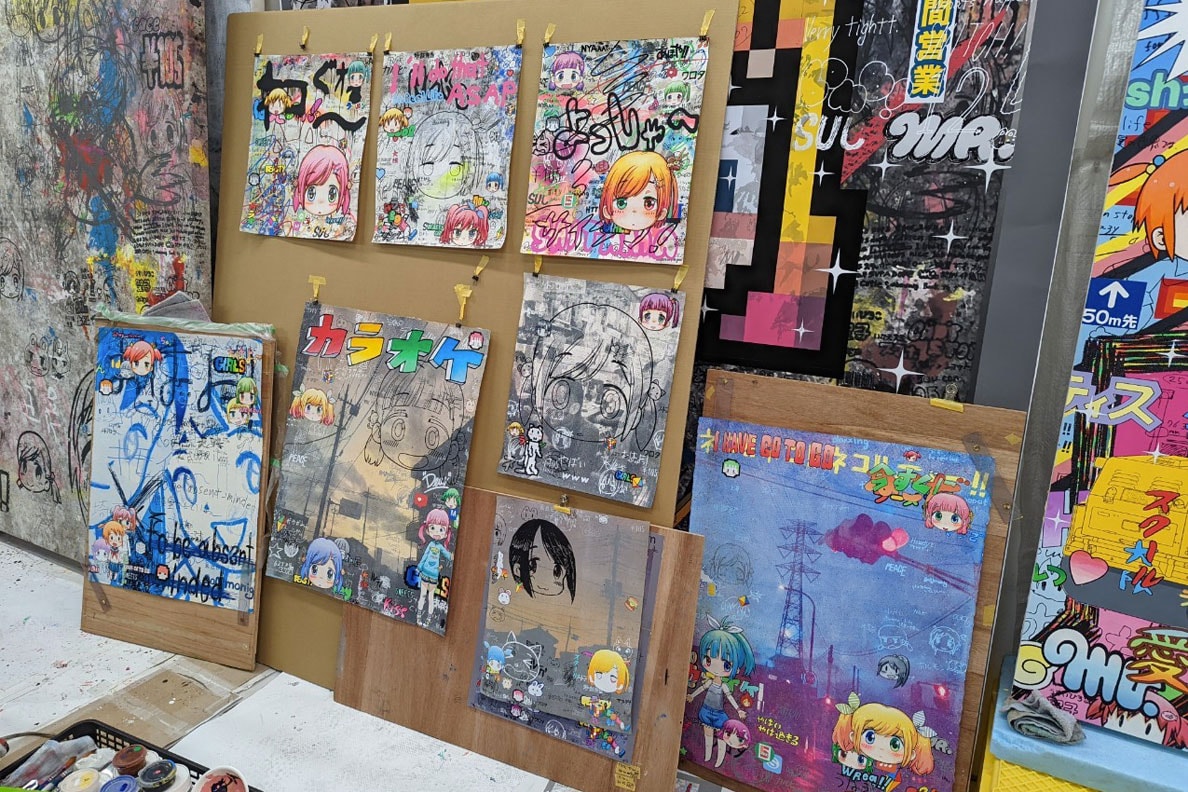 Where are you currently based, and could you describe a typical day in the studio leading up to a show?
I have always been making artwork in a prefecture next to Tokyo called Saitama. I have rarely been going out or meeting people due to Covid-19 these days. So although I had the solo exhibition at Lehmann Maupin to prepare for, I was in the studio day after day, morning till late night, for the past six months.
Could you take us through your creative process?
I use a computer, a tool anyone can use, to compose my work that is more than 90% completed through a screen. Once that's done, I move to physical production. Being able to create on a computer means that multiple staff members can share the data file and proceed to draw and reproduce the composition exactly according to the file. I also use techniques such as silk screening to faithfully reproduce the data, which is quite effective. Recently, as I upgrade the level of details in my artwork, I'm struggling with various challenges including managing the schedule of the physical production operation.
1 of 3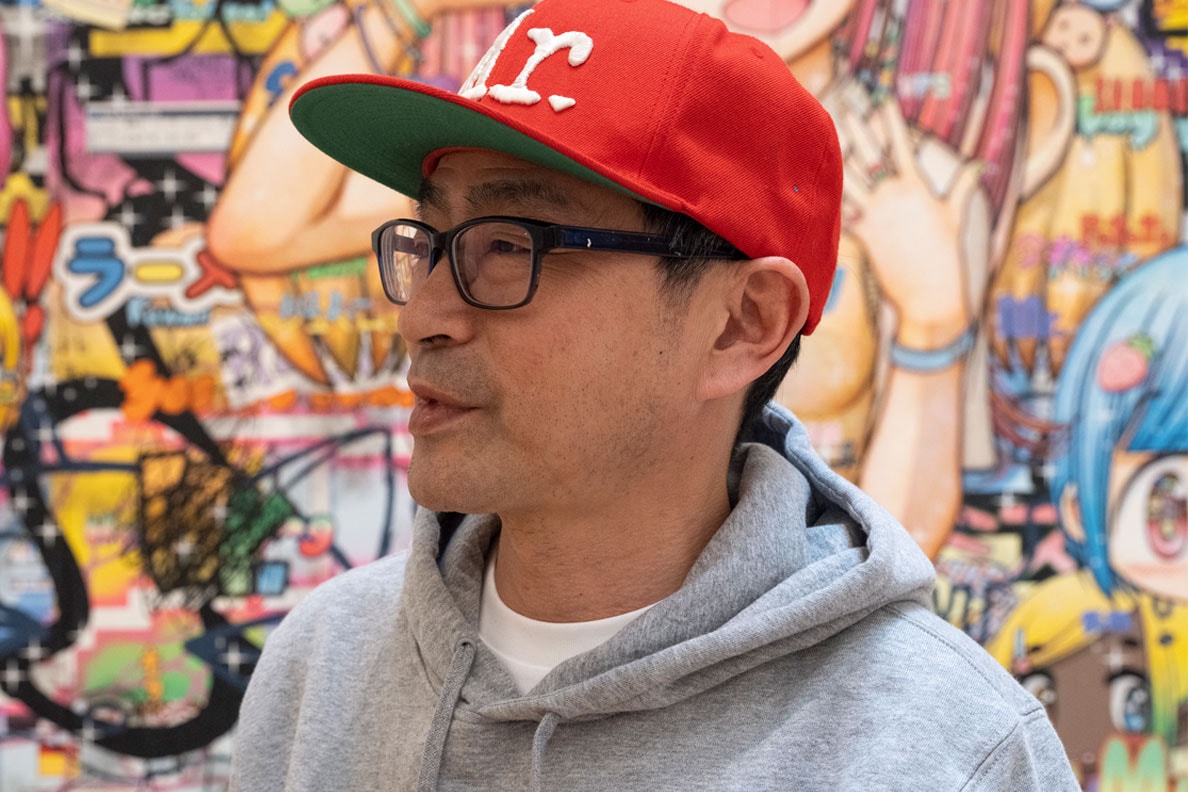 2 of 3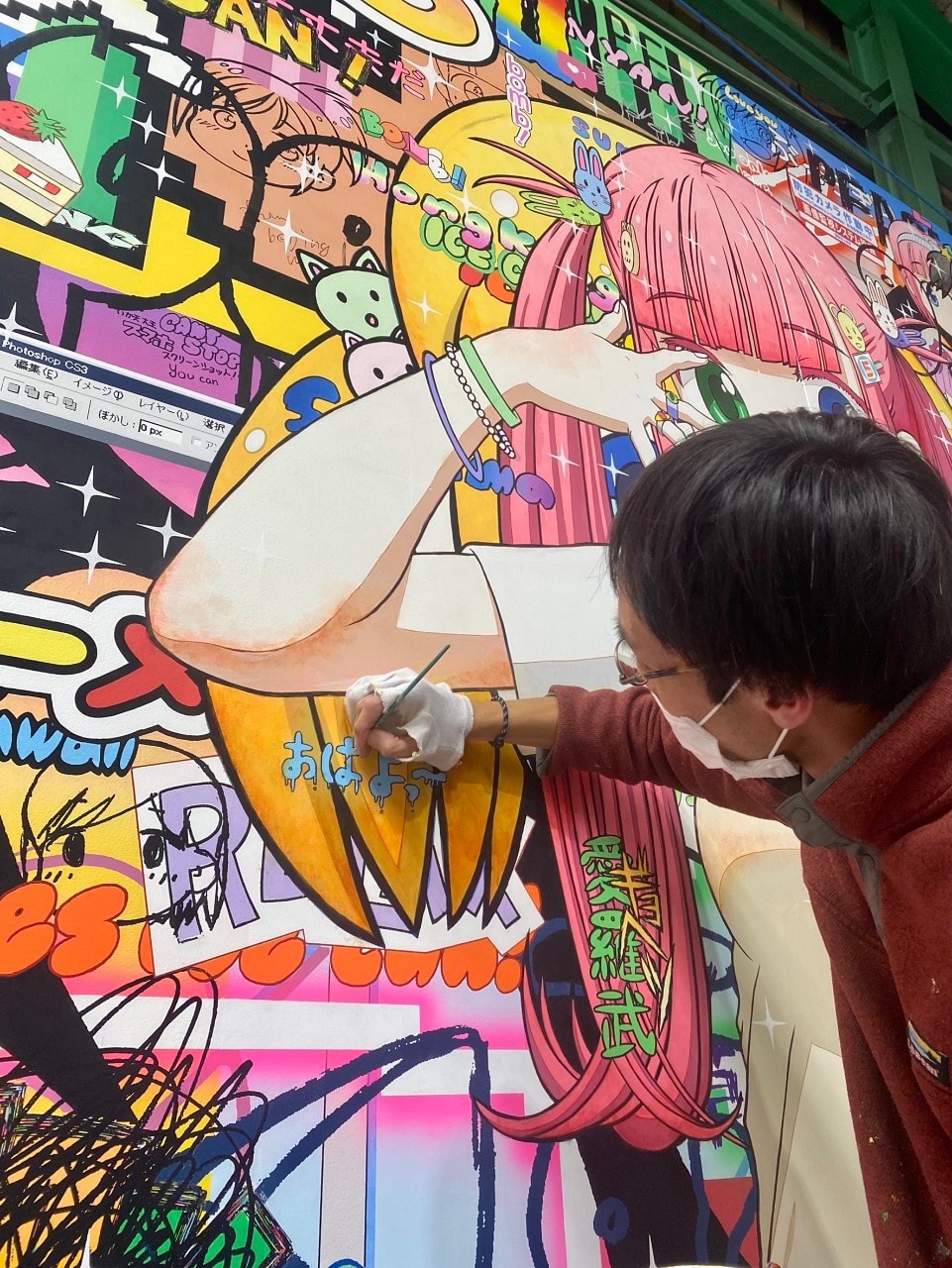 3 of 3
What have been the main sources of inspiration for your work lately?
I have always been directly influenced by Japanese anime, and now I get inspiration from mountain climbing and mountain worship, though I'm still not sure if they are of any particular use for something…
What do you wish visitors to your latest exhibition can feel or take away?
In art, I think what gets valued artistically in the West and Asia has started to diverge a lot. There may be an increasing number of artists who use characters in the U.S. and Europe, but I believe my style is still rare, especially in New York, so I hope the visitors will enjoy what I have created from my corner of Asia. Aside from just me being an otaku— in Japan, anime, manga, and video games, which used to be a niche, are no longer minority obsessions, they have become quite popularized. I think it would be good if this leads to more possibilities, coexisting and mixing with other cultures globally.
Why do you think otaku culture and art are now becoming more popular among the general public?
I think it's through collectors and through friends. The people who are into it now are much younger than I am. In Europe and Asia, I have heard that they have grown up watching re-runs of Japanese anime from the 1970s to the '90s. Grendizer, Dragon Ball, etc… In the U.S., would it be Pokemon perhaps? They are now reaching the point where they start to feel nostalgic for those works, so I think they are interested in recreating and reconstructing them through art.
1 of 3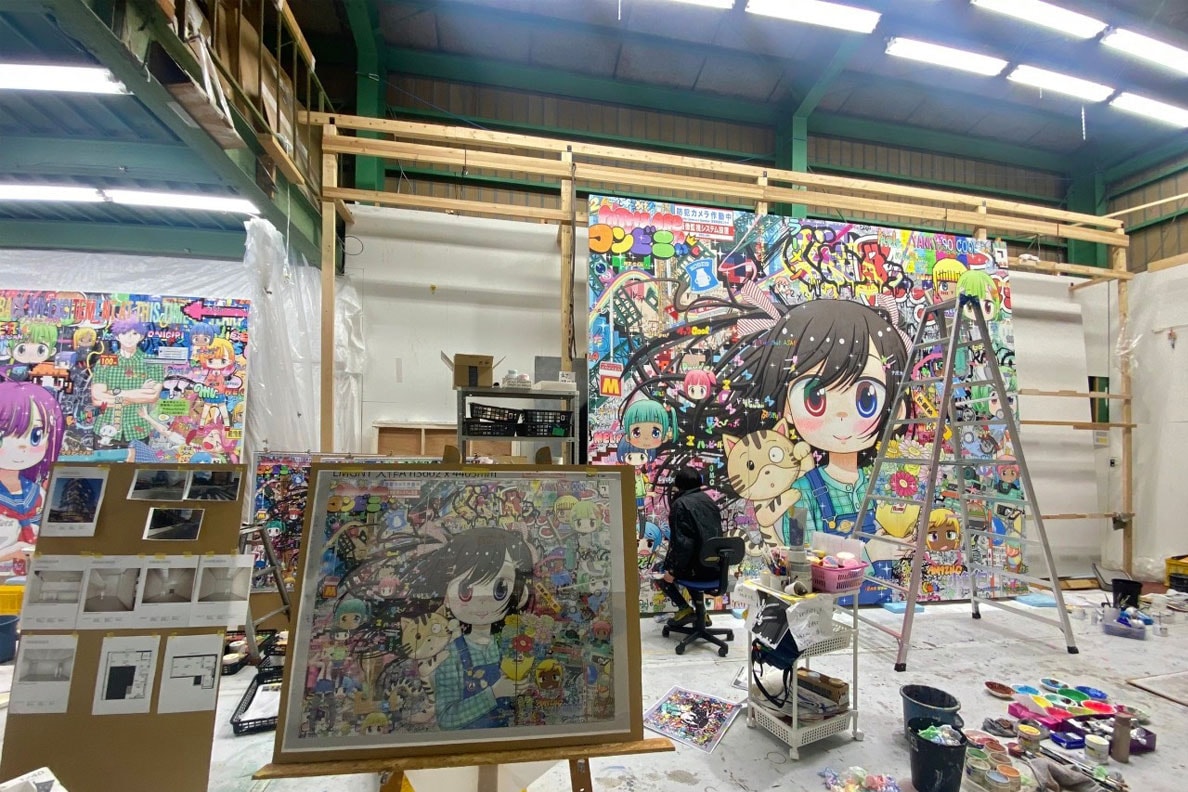 2 of 3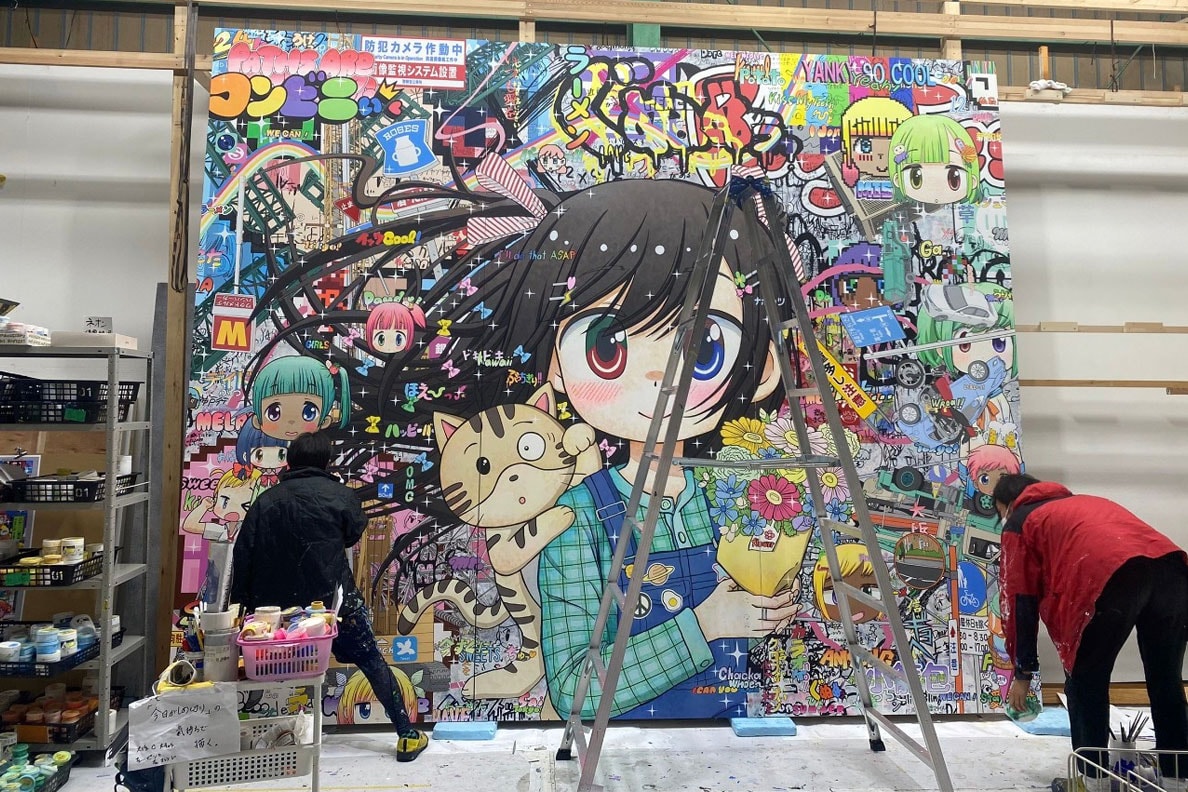 3 of 3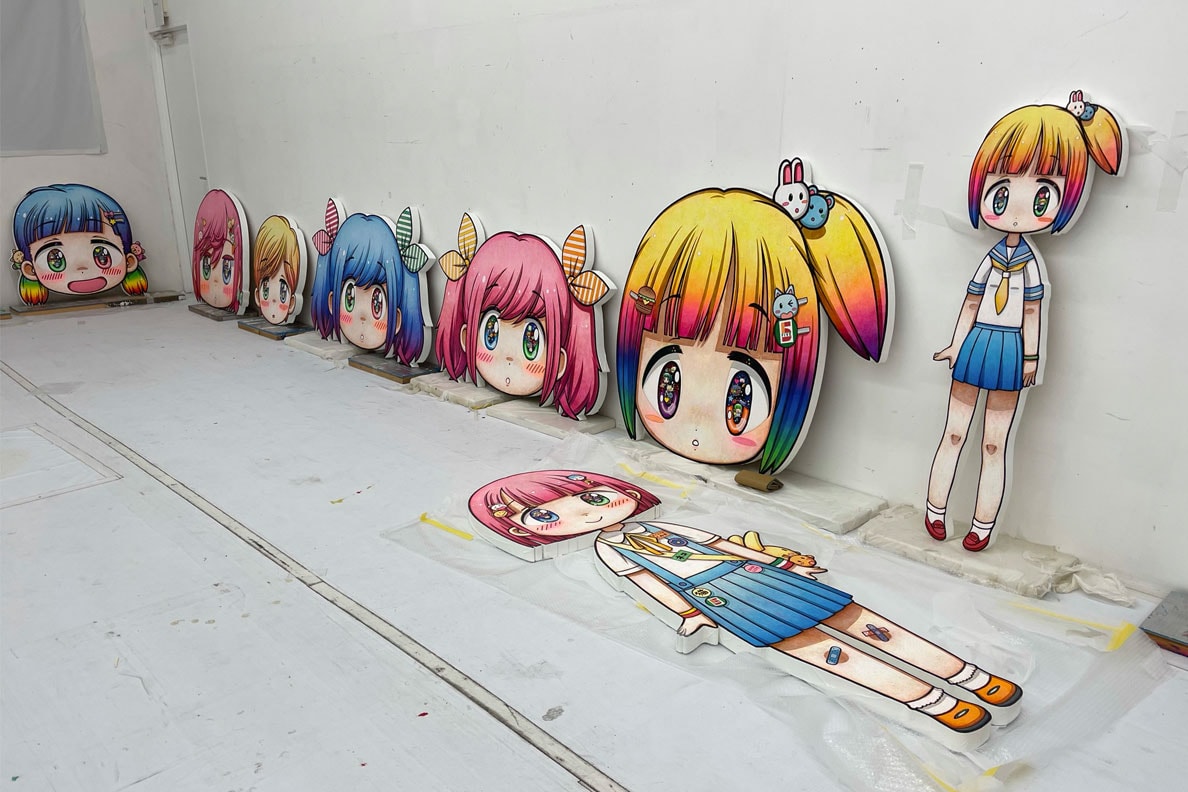 Has the COVID-19 pandemic altered your ability to create or showcase your works?
The situation has been dire— it has been difficult to transport physical work, we haven't been able to go to exhibitions, exhibitions have been canceled, and we couldn't travel between countries. However, thanks to the Internet and social networking services, my work and activities have been seen and collectors have been able to buy my works, so I have been able to keep going, though just barely. The COVID-19 pandemic has made it difficult for me to go outside and there were times when it was hard to travel, so I have been in a state of depression many times. Under such a circumstance, however, it was a miracle that I could hold a solo exhibition at the HOW Museum in Shanghai, China remotely. I experienced it as a new way of doing things going forward.
What advice would you give young artists and designers?
I only know how things are in Japan, and this is advice I still need to remind myself to follow, but a Japanese actor and TV personality named Yujiro Ishihara, who was active from the 1950s to the 1980s, once said: "Never speak ill of others. Immediately forget what you have done for others. Never forget what others have done for you." I'm still not even remotely there, but if you accept things that may seem unreasonable and practice this principle, you'd probably have a high probability of doing well. For example, maybe try laughing when you are in pain, or when you are struggling, try mixing and creating the chemicals in your mind that allow you to feel joy…
Are there any special items you like to keep in the studio?
A 1980s Honda motorcycle, Motocompo. I was able to buy one for cheap in a good condition last year and it moves. I bought a plastic model of this motorcycle to make a drawing of it, but I thought something was off, so I bought the real thing. I like it a lot.
1 of 2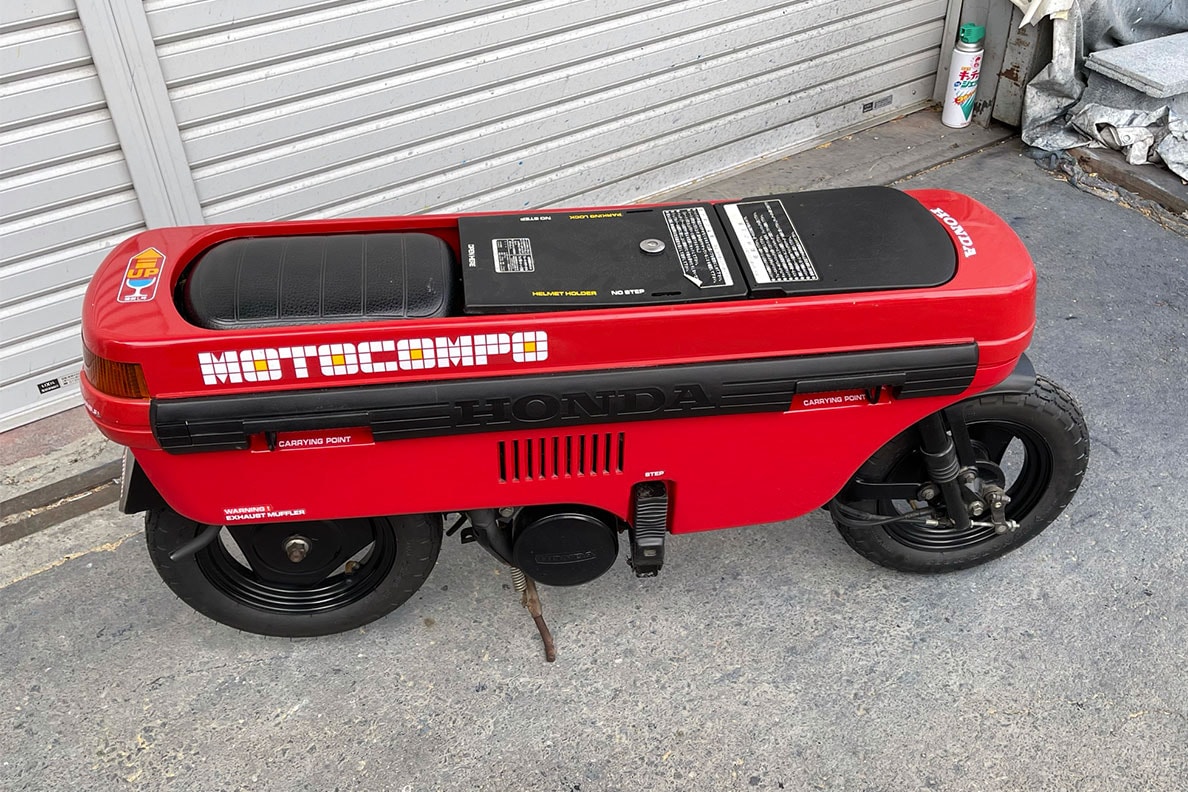 2 of 2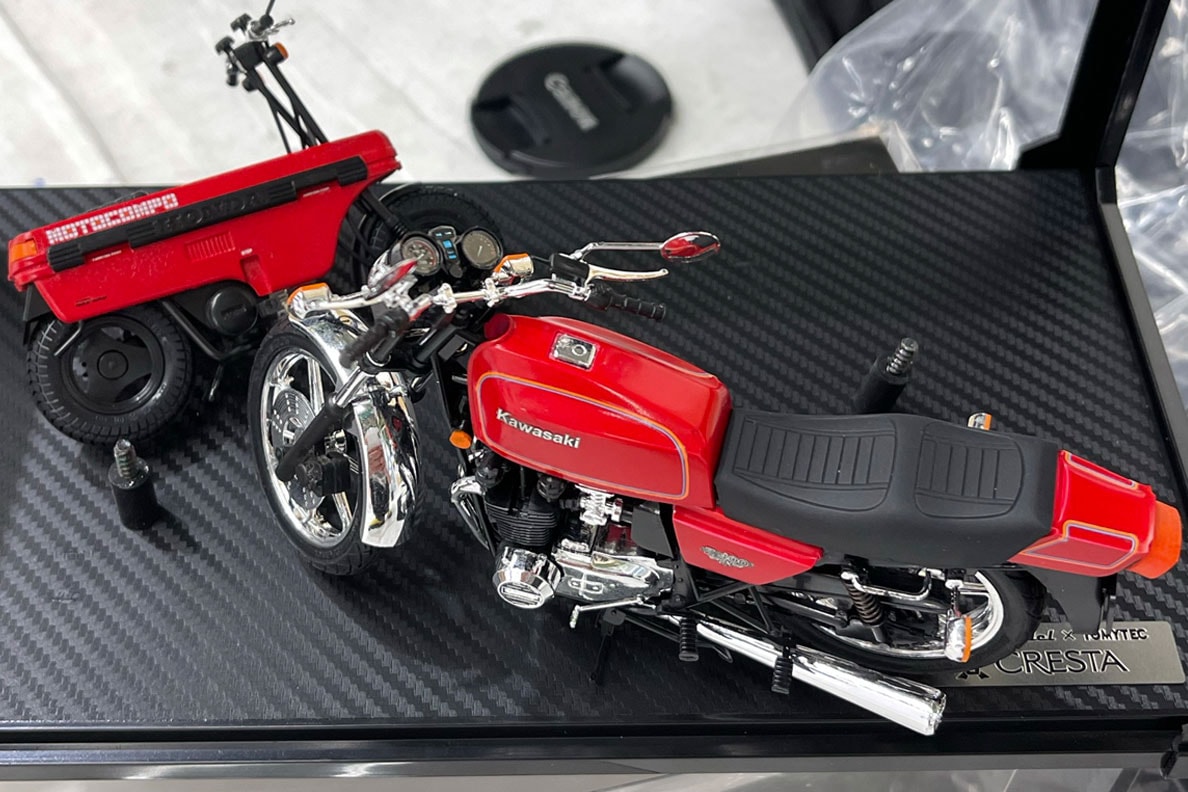 What are some lessons you learned from Murakami as his protégé?
I cannot write it out in words because it is too profound. I guess perhaps it's to look at things from opposing directions. Go through trial and error, create something completely new while maintaining that state, and keep trying that. Though of course, it's still difficult for me to do.
How do you approach collaborations and is there one that stands out for you in particular?
Almost always, it starts with a request from the to-be collaborator. A particularly memorable one, I think, was a collaboration with Pharrell Williams. We did a collaborative exhibition at a museum in Paris. The theme of the show was quite a serious issue in the world, so I really worried about it, but in the end,  the exhibition was realized. It was about children's future, so in my mind, this project is not yet finished.
We also noticed you recently worked with The Weeknd for his anniversary album merchandise?
I had heard from Murakami and MADSAKI that there was this artist who was becoming really popular now, so at first, when I received the request, I was surprised, thinking, "For real?" Since it was the 10th anniversary of his album, I took the format of the jacket from 10 years ago, made the most of Mr.-ness, and got creative to make something new. I also designed new characters and collaborated on many items including the record jacket, 3D figure, and various other merchandise.
What are your thoughts on the new wave of digital art and collectibles?
I think everyone thought it was a passing thing at first, but not only has it lasted surprisingly long, but it also seems to be becoming even more stable. There is a big chance that a profession that exists today will not exist in a few decades, so I think I'd better ride this wave and give it a try.
Are there any other upcoming projects you would like to highlight to our readers?
I will have a solo exhibition at an art museum in the U.S. this year and have plans for another major solo exhibition at a gallery. I also believe that if the metaverse is to be truly realized, I need to think about what I can do there. What I do may not be cool, but I would like to keep expressing myself in continuously newer, and fresher ways.
Lehmann Maupin, NYC
501 W 24th St, New York,
NY 10011, United States
Photo by Daniel Kukla
Artwork © Mr. / Kaikai Kiki Co., Ltd. All Rights Reserved
Courtesy Kaikai Kiki and Lehmann Maupin, New York, Hong Kong, Seoul, and London