WINNIE New York Only Wanted To Fly Under the Radar
Idris Balogun, the designer behind the 2022 LVMH Prize finalist label, talks to HYPEBEAST about his journey into fashion.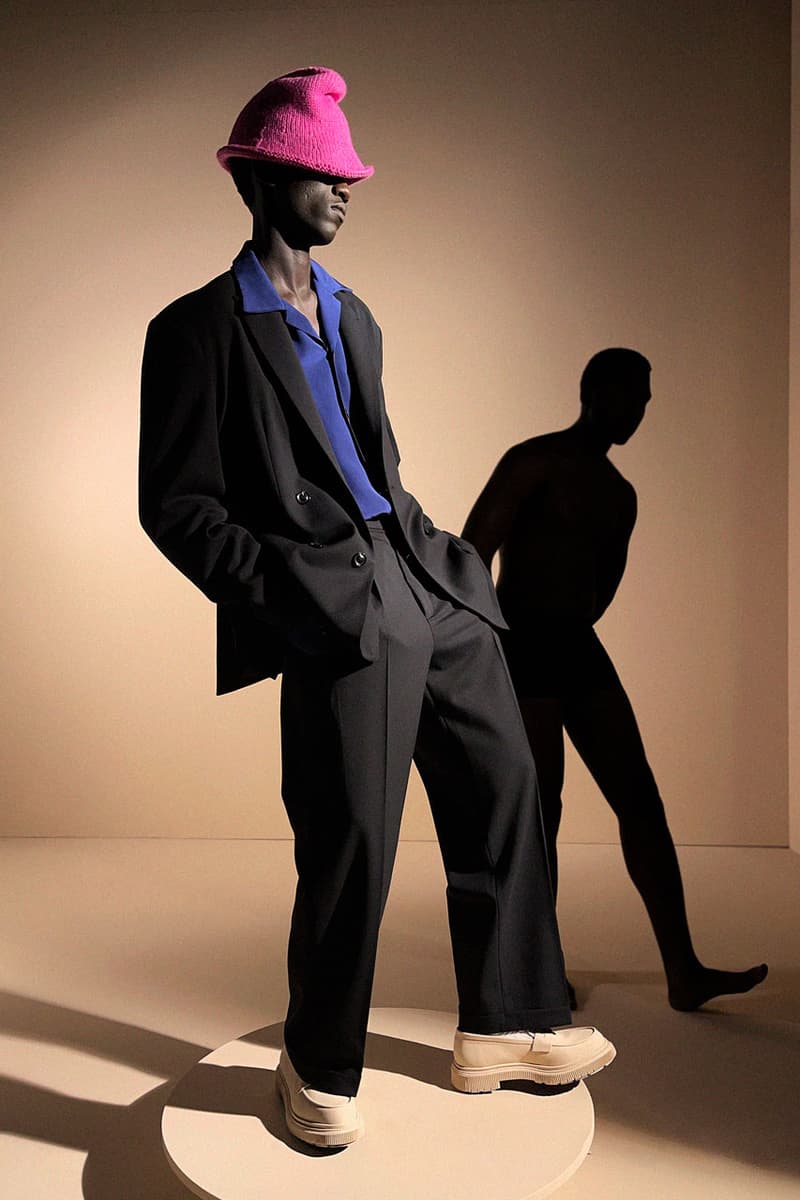 WINNIE New York Only Wanted To Fly Under the Radar
Idris Balogun, the designer behind the 2022 LVMH Prize finalist label, talks to HYPEBEAST about his journey into fashion.
Mum's the word when it comes to menswear label WINNIE New York or so that was founder/creative director Idris Balogun's intention. However, when you've previously worked with the likes of Christopher Bailey and Tom Ford, it is rather challenging to keep your debut clothing label under wraps. Now just three years after the birth of WINNIE New York, Balogun has found his label on the lips of tastemakers worldwide – begging the question: "What is to come from this undeniably skilled designer?"
Adorning a black Chicago Bulls cap, a black blazer and a t-shirt to match, HYPEBEAST sat down with Balogun in that all too familiar meeting place, Zoom. Currently situated in Italy, I was expecting to see a room saturated with stirs of warped muslin fabrics adjacent to completed designs. Instead, I was greeted by taupe walls, a three-prong light panel and Balogun's British accent. Interestingly enough, the Chicago Bulls hat and the fused American and European tongue began to paint an accurate picture of just who the designer is: cosmopolitan. Although Balogun was born in New York City to Nigerian immigrants, he was raised in Tottenham, a town that sits in North London and in Tottenham is where Balogun's journey into design began.
"My first memory of fashion as opposed to clothing because I think they're different, came when I was young enough to fit in a closet," said Balogun with a wide smile. "I went into my dad's closet, and I was sitting there, and I was looking at all his clothes."
What was certain at that time was an inherent interest in clothes, but the vocabulary or expertise to convey this desire had not formed yet. When asked what he wanted to be while in school, he exclaimed that he wanted to be a tailor without hesitation. Around this time, British fashion designer Ozwald Boateng was generating waves of noise, which swept up a young Balogun. Inspired by Boateng's flare for elevated designs, Balogun officially began his design career at Hardy Amies on London's infamous Savile Row.
"I was just so lucky to have stumbled on these moments that eventually led me to Savile Row. When I started there, I still didn't know that design was a thing. When I thought of clothing, I thought of a tailor. I thought of someone who was making the clothes."
Despite landing at a tailor's heaven, the experience was all very technical for Balogun. From cutting patterns to laying fabric, these were just the processes of assembling clothes to him. Even when he'd construct waistcoats for himself from leftover fabric, it never registered that he was not only designing but laying the foundation for his unique approach to storytelling. Without question, Savile Row revealed to Balogun that he had the potential to piece together the puzzle, even if some of the remaining pieces lay elsewhere.
"Savile Row is such a heritage place, and everything is meant to be done a certain way. Even though I was really excited to be there, there's a hunger for new experiences that you crave at that age. So, telling me I have to cut a pair of trousers a certain kind of way didn't really sit well with me back then. I always wanted to hone my craft and become better, change patterns, and cut things in a different way. I wanted to explore different silhouettes, but I didn't know that was designing at the time. So once that door became open, I never closed it."
Beyond Savile Row, it was his time at Burberry and Tom Ford that imparted new pieces to build his puzzle. Holding the title of Senior Menswear Director at Burberry, the British luxury brand and its leader at the time, Christopher Bailey, taught Balogun about romanticizing, storytelling and finding the deeper meaning in aspects that are easily overlooked. Where Burberry was the big picture, Tom Ford was laser-focused. Operating as the label's Menswear Director, Balogun worked with and reported directly to Mr. Ford himself – being tasked with both translating and executing Ford's vision. The feast of high-level experiences that fell under Balogun's belt coupled with his desire to present his vision is what later gave birth to WINNIE New York in 2018.
Named after his grandmother Princess Winifred Dademu, the brand exemplifies Balogun's existence within several cultures. Whereas brands may traditionally draw breath from a singular identity, the power of Balogun's label rests in its illustration of blended harmony.
"One thing that really helped me was the fact that my actual foundation is from a completely different world. I had already formulated my own tastes before I started working with these houses because of my upbringing being so strong in terms of influence. I think me being from all over the place, being born in America to Nigerian immigrants, being raised in London, basically having this mix of cultures, I love it because it gives me a much larger dictionary to pull from."
This attention to multicultural inspiration is seen in the brand's Fall/Winter 2022 collection, which was inspired by South African contemporary visual artist, Dumile Feni. Taking note of Feni's method of creative isolation, the collection presented an expanded take on unconventionality. Balogun dared to dance with proportion, placing pants on top of each other, layering shirts on top of blazers, wrapping the top half of overcoats around the waist and creating triangular shapes that billowed at the bottom. A one-man design team, his execution of fluidity came to life through repurposed wool, leather and cotton fabrics dipped in shades of cocoa bean, butterscotch, eggshell and pewter blue.
But even in Balogun's attention to craftsmanship, creating a specific silhouette is not on his mind. When you think of Balenciaga under Demna Gvasalia, exaggerated shoulders and dystopian dress notes are at play. Substitute Rei Kawakubo's COMME des GARÇONS and your mind ventures to anti-fashion wonders of sculptural shapes that seldom resemble traditionally wearable garments. Think of Hedi Slimane's era at Saint Laurent where the style was synonymous with skinny jeans and rock-chic. The list continues of designers whose work suggests specific design structures. Instead of following this approach, Balogun's efforts envision the purity of making clothes that exist through time.
"For me, I'm not really about this idea of creating a silhouette per se. I'm more about the chase of purity and having people informed. The type of information we put out we should think twice about. I'm more about the pursual of the best possible product and trying to make it so it lasts forever."
Take the brand's Spring/Summer 2022 collection as another shining example. Inspired by the pilgrimage of Black artists to Africa in 1960, Balogun looked to the creative evolution of the African diaspora through artists like Nina Simone and James Baldwin, in addition to African photographers. By blending European and African style notes, the offering illustrated unity over individualism. Tailored jackets and cashmere blended bamboo knits were done up in visceral hues of red clay, carnation pink, French violet and more. Standing out in the collection were beige hand-pleated dresses with silk chiffon alongside silk/wool blend tracksuit jumpers. Mushroom hats dipped in fuchsia, olive green, beige and black topped of collection looks, while further showcasing Balogun's intent of playfulness. There is simply a no-frills approach to his constructions, just consistently organic and versatile pieces.
With the creation of his debut label that forms tasteful, yet timeless garments, Balogun always wanted to remain low-key. But after a while, people begin to take notice despite one's best efforts to stand behind the curtain. Philip Rouse, director of sales agency Not Summer, has aided a number of fashion labels like Telfar Clemens, Grace Wales Bonner and Martine Rose throughout his career and WINNIE New York is just the latest label to catch his eye. "Idris has a unique story to tell from a life and work experience standpoint, and this disruptive mix of craft, class and culture is what excites me the most about his project," said Rouse when asked how the label stands out amongst the lineage of contemporary Black designers. Rouse currently manages wholesale operations for the label, but he is not the only entity that has its sights on WINNIE New York.
Following his first collection, a representative from French luxury goods conglomerate Moët Hennessy Louis Vuitton – commonly known as LVMH – reached out to Balogun about applying for the 2021 LVMH Prize. A highly revered sponsorship in the fashion landscape, the prize's goal is to support young fashion designers by aiding in the development of their houses. Each year, the grand prize winner is awarded a €300,000 EUR grant and personalized assistance from LVMH for a year. From names like Thebe Magugu to Wales Bonner and Marine Serre, the prize has a track record of pushing labels to the next level of global acclaim.
"It is still very early, though I look forward to seeing his vision unfold and evolve over the coming years," said Rouse. "I do feel he is uniquely positioned to propose a brand of menswear that creatively blends the very best of sartorial, fashionable and approachable style – Brioni x Dries Van Noten x Adam Kimmel – something along those lines!"
After applying for the 2021 prize and not being selected as a semi-finalist, Balogun was set on not putting himself through that process yet again. But when the next cycle came around, the call arose once more. An LVMH representative, his public relations agent and close friends all encouraged him to apply again, but the sting from last year's loss still spun around his head. Soon enough, the pressure led him to give the LVMH Prize another shot and to his surprise, WINNIE New York is now one of the eight finalists for this year's award.
"I tried for WINNIE to be very quiet. I tried to make it an if you know, you know, kind of feel just because when I was growing up those were the type of brands I always fell in love with the most," said Balogun with nostalgic warmth. "So, I always try to have that special feeling with WINNIE and just make it under the radar, so to be a finalist is really interesting. I'm very humble and very grateful and it's still crazy."
Against his wishes, Balogun's label is unequivocally positioned to take on the limelight. With the grandeur of Burberry and Tom Ford behind him and the world-opening possibilities of LVMH in front, WINNIE New York has captured the world stage. Regardless if Balogun's label takes home the grand prize this June, what remains true is Balogun's zeal to intertwine quality craftsmanship and wearability with multicultural storytelling. With that mission in mind, the New York-based label is destined to soar aboard the clouds as its journey continues.