M Huncho Is Ready for the World to Listen
The North-West Londoner sits down to talk about his debut album, 'Chasing Euphoria.'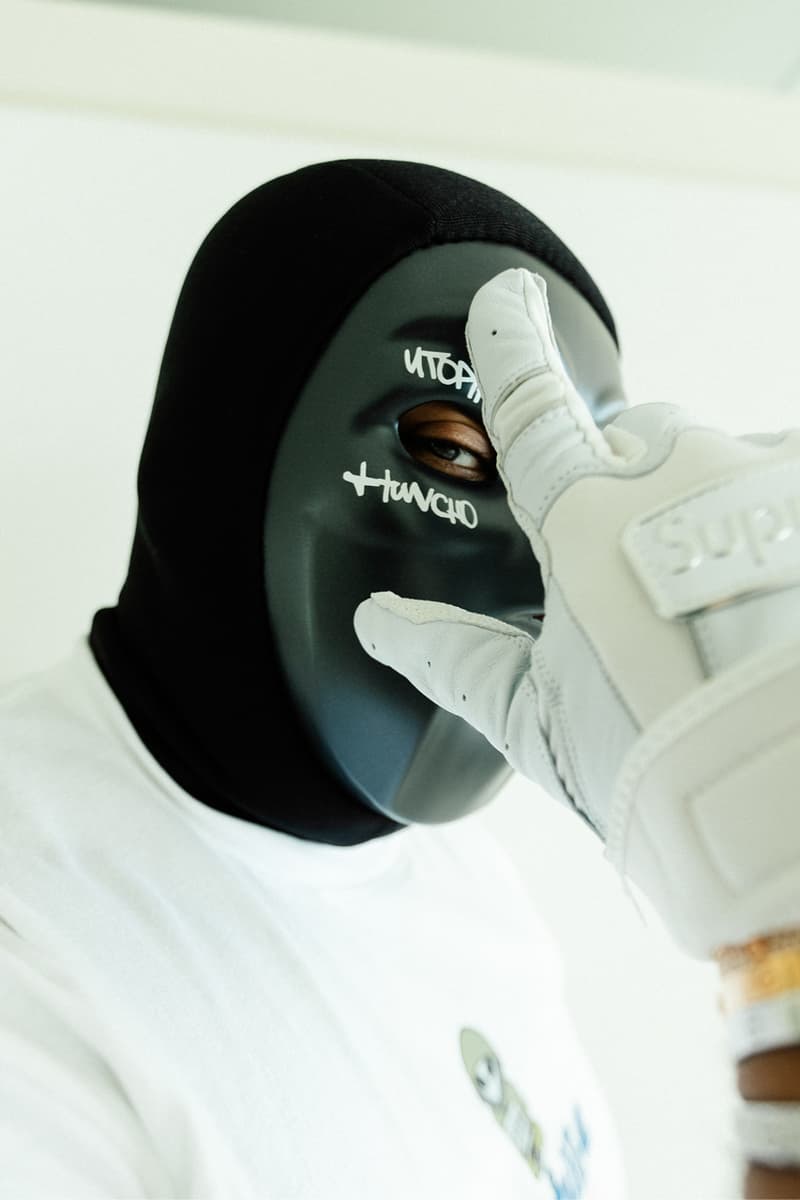 M Huncho Is Ready for the World to Listen
The North-West Londoner sits down to talk about his debut album, 'Chasing Euphoria.'
M Huncho is in a positive place right now.
The North-West Londoner is speaking to HYPEBEAST from a villa in Barcelona as he gears up for his festival, Hunchoz Wrld; a strictly-UK affair that showcases the best talent across everything UK rap and drill. But sitting comfortably in the sun, Huncho reminisces on his five-year career that sprung to life when he was 22. "I only started making music when I was around 22 or 23, I'm now 28 years old. Now, life has changed as I've gotten older, I have had so many more priorities that I've needed to write about," he tells HYPEBEAST.
For those that may have not heard of M Huncho, the artist made his first stamp on UK music following the 2018-released 48 Hours EP: a smooth, melodic trap-rap effort that, you guessed it, took 48 hours to complete from start to finish. But aside from the stories on trials, tribulations, and Huncho's desires to get away from street politics in that project, his three following mixtapes; 2019's Utopia, and 2020's Huncholini The 1st, and his collaborative project with Nafe Smallz in the same year, brought us to a two-year hiatus that ends today with the launch of M Huncho's debut album, aptly dubbed Chasing Euphoria.
The masked artist – who recently upgraded his "face" upon the release of the album – presented his new project to the world today. This new album digs much deeper into the complex psyche of Huncho than his previous work. By talking about his private life behind the mask, we hear tales of loss, success, love, and family matters that stretch across a much more sonically-aware M Huncho. Through admitting his newly-found interest in co-production on the buttons, we also hear a new side of rap that sees straight-talking rhymes that deviate away from the harmonized sounds that fans have become accustomed to. Hear his collaborative efforts with UK rap and grime OGs Wretch 32, Ghetts ("Vivid"), and Giggs ("Lean") to see the evolution of recent times.
With new music, the plans for M Huncho to be heard by the world are in motion more than ever. HYPEBEAST spoke with the man behind the mask over Zoom to talk about all things Chasing Euphoria, as well as his love for fashion, art, skate culture, and much more.
HYEPEBEAST: Firstly, how are you? With the long, two-year process of putting the new album together, I can imagine you're feeling content now it's finally out.
M Huncho: 100%, we spent over a year and a half from now to when the idea for the album first came to life, bearing in mind, I hadn't released anything since Huncholini The 1st. Of course, I had DNA with Nafe Smallz, but that doesn't count. But, when it comes to music, everyone knows that I'm not an artist that goes for the top 10 singles, I make music that I actually want to listen to. So, I'm happy with the way it has worked out and with how the album is sounding now. A lot of people might think that I'm the kind of person that doesn't give too much away – especially with the mask – but with this album, I have spoken about a lot of things that are very personal to me. I feel like I have made a good body of work and a very musical body of work.
Your first project that really made a statement for you was the 48 Hours EP. How much have you matured and evolved between now and then, not just as a musician but as a person, too?
When I first started making music, all of my peers around me had about a five-year head start. I only started making music when I was around 22 or 23, I'm now 28 years old. Now, life has changed as I've gotten older, I have had so many more priorities that I've needed to write about. Since 48 Hours, musical growth is one thing, but growing as a person is another. The things that I was getting up to then don't happen anymore, or it's a rarity. These days, I'm either making music or I'm rolling a spliff, that's the kind of life now – or I'm hopping countries. I have grown up quite a lot and I have always told people growing up that because of the background that I come from that I had to grow up fast. I was basically 30 years old when I was 18! With music, I have had to sit with it and find out what my voice is capable of and really think about how music works.
Talk to us about the debut album, Chasing Euphoria, what has gone into this; Trails, tribulations, love, lust, success?
I'm trying to give people a story of how I feel, what I have been feeling and what I feel euphoric about. You know, sometimes its money, sometimes its women, I talk about the roads. I just want to show people what my own personal take on euphoria is, you know, I just want to represent that. With this project, I have given away a lot more without giving away too much so I try to do that to the best of my ability. It's about growth, love, family, struggles, the communities that we come from, backgrounds, and how I deal with grief.
You worked with Lucien Clarke in the designing of your new mask, someone best known for integrating skate culture with luxury fashion. What are your affiliations with these worlds, and how did you find your original interest in them?
Coming from the ends, skating wasn't really the thing to do because it was seen as something that was just for the white guys. In New York and other places in America, the color of your skin has nothing to do with skating, but in the UK, I feel like people can be so closed-minded that they close things off for other people. But Lucien, he's a light-skinned guy and is someone that comes from the UK and he aligns himself to that world, he's done things with Palace and LV and he just knows how skate culture works. I have always been fascinated by skating. I have never tried because I am a heavy guy but I would love to. I am just a fan of Lucien, I know his designs, and I straight-up called him and said, "look I want you to design my new face," and he told me to send him my ideas. I really like old-school Japanese culture, and we envisioned that and came back with the color that I wanted and he said, "let me put a signature of some sort on your face with a white marker." This mask is me entering my beast mode.
The album artwork was designed in collaboration with Ruben Dangoor. What was the idea behind the artwork?
I wanted to incorporate myself, the hands, the water, and everything that's in there. This means that when life drowns you out, euphoria lies in your own hands. But as well with this artwork, it represents that the ultimate happiness can be found in so many places, but ultimately it needs to be found within yourself.
I want to talk about your sense of fashion. How would you differentiate your style, and who have you taken inspiration from in the past?
I look up to fashion designers and I look at the creative directors but I don't really look at how they dress – I think it comes down to the person and they can decide how they want to dress. I can go into LV and Dior and I can spend thousands of pounds, but that doesn't necessarily mean I have put a sick outfit together. Fashion is not just designer outfits, fashion is far from that. I have people that come up to me in my private life and they tell me that they really like how I dress and that's me just dressing how I normally dress. You know, I'm probably wearing a Supreme T-shirt with a Carhartt jacket with cargos and some Bape shoes, or something like that. I don't need to take inspiration from anyone with how I dress because I feel that in fashion and art, they always have their own looks, but they evolve.
I feel like for the UK right now, this is like the American version of the '90s in hip-hop."
Back to the music now, one track that really stands out on the album is "Doomsday," can you talk about your thought process when writing this record and how you were feeling personally during the time?
Do you know what happened? I was actually supposed to have a session with Headie One that day and he didn't show up! I was literally just sitting there and Quincy started playing this beat and I just started rapping. It's a personal tribute to how I feel right now, under the mask. It's about even how life has changed, it comes down to the fact that we're never going to be left alone by the police. They will see a young man in a foreign whip as another foreigner, it's always going to be the way that life is.
Another standout record is "Vivid" featuring Wretch 32 and Ghetts. Did you feel any pressure in performing with these guys?
Not at all! I came up with the idea for the song, we had the beat and I started rapping on it. Although, it's not more than eight bars, I didn't want to rap for too long because this is what these guys are good at: finding these little pockets. But, you know I can find these pockets when I rap, too. I just wanted to let these guys battle it out, they come from an era where they want to spin everyone! I don't listen to this track and think that they spun me, not at all. I got into my rap bag and I just started speaking some real truth, "we're all equal winners, until we make more money," which is a very well known thing – actually a fact. But this small section of me rapping was refreshing for myself but it'll also be refreshing for the fans.
I told Ghetts, "look, Wretch is on this song," and I told Wretch "Ghetts is on this song," and both of them have been asking me who's got the better verse! [laughs] So I have to lie to both of them and tell them they have the better verse. But, I honestly don't know – they both provided a sick verse. But, Wretch is just so effortless with it, you know. But even with the collab with Giggs, I feel like I needed to get the OG's on this project so before they leave the game I know I have something with them that I can look back on.
Currently, you're in Barcelona hosting your very own festival. From your perspective, how do you see the current state of Black music in the UK?
I think we're heading in a good direction, especially with being independent being the in-thing right now. I'm not a fan of the sample-drill stuff, I'll be honest. But apart from that, I think we're heading in a good direction. A lot of people think that our music is defined by being from the UK, but we have so many different artists; we've got Potter Payper, Digga D, people like myself, Nafe Smallz, Berwyn, there's so many types of music that is coming out. Ella Mai has just dropped an album, Mahalia, Jorja Smith, and a bunch of smaller R&B artists that are coming through. I definitely feel like we're heading in the right direction.
Be sure to listen to M Huncho's debut album Chasing Euphoria below.