Best New Tracks: Quavo x Takeoff, Logic x DJ DRAMA and More
Dive into this weekend with these 10 music projects.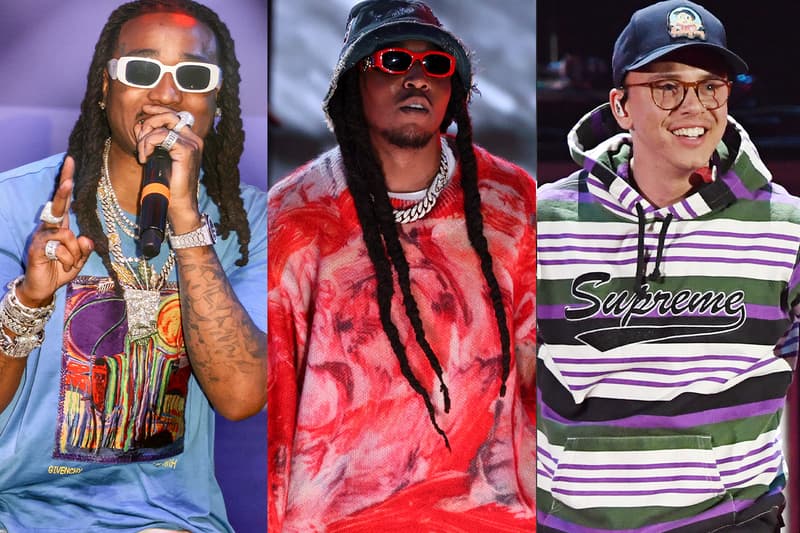 As the week in music comes to a close, HYPEBEAST has rounded up the best projects for the latest installment of Best New Tracks.
This week's list is led by releases from Quavo and Takeoff as Unc and Phew, and Logic and DJ DRAMA, who dropped the singles "HOTEL LOBBY" and "Vinyl Days" respectively. Also joining this week's list are several collaborations from Diana Ross and Tame Impala, FKJ and Toro y Moi, Rick Hyde and Rome Streetz and Boldy James and Real Bad Man, along with offerings from MILLI, Pink Siifu, Charlotte Dos Santos and Maxo Cream.
Quavo x Takeoff – "HOTEL LOBBY"
Quavo and Takeoff debut as Unc and Phew with the release of their first single, "HOTEL LOBBY." Produced by Murda Beatz, Keanu Beats and Fabio Aguilar, the track arrives with an accompanying music video co-directed by Keemotion and Quavo which shows the pair taking a trip to Vegas and enjoying the city's pleasures. The visual pays homage to Terry Gilliam's Fear and Loathing in Las Vegas, which starred Johnny Depp and Benicio Del Toro, and sees Quavo and Takeoff as Raoul Duke and Dr. Gonzo cruising through the desert.
Listen: Spotify | Apple Music
Logic x DJ DRAMA – "Vinyl Days"
Logic and DJ DRAMA team up for the effortless collab "Vinyl Days" — the title track of the rapper's upcoming album. The record will mark Logic's first full-length release since 2020's No Pressure, which was meant to be his final album before his retirement that turned out to be short-lived, and is expected to include the previously-released singles "Breath Control," "Therapy Music," "Tetris" and "Decades."
Listen: Spotify | Apple Music
Diana Ross x Tame Impala – "Turn Up the Sunshine"
The unlikely collaboration between Diana Ross and Tame Impala release "Turn Up the Sunshine," an infectious and groovy tune set to appear on the soundtrack of Minions: The Rise of Gru. Joining the two on the soundtrack are RZA, BROCKHAMPTON, Phoebe Bridgers, St. Vincent, Thundercat, Caroline Polacheck, Brittany Howard, Bleachers, Tierra Whack, Weyes Blood, Kali Uchis, H.E.R. and producer Jack Antonoff. The upcoming film will be set in the '70s, and will hear covers of "Funkytown" by Lipps Inc, "Dance to the music" by Sly and The Family Stone and "Goodbye To Love" by The Carpenters.
Listen: Spotify | Apple Music
Maxo Cream – "JIGGA DAME"
Maxo Kream delivers his first single of the year "JIGGA DAME" with an accompanying music video helmed by DGREEN FILMZ. The fresh track arrives less than a week after the Houston rapper closed out his Big Persona Tour in his home state — an engagement that saw him perform in several festivals such as Coachella and SXSW.
Listen: Spotify | Apple Music
Pink Siifu – "BRAVO'!"
Pink Siifu continues to celebrate GUMBO'! (DELUXE'!!) with an accompanying music video for "BRAVO'!" Co-directed by Ameer Kazmi and Siifu himself, the visual features the Cincinnatti rapper back at home, having fun at a cookout with family and friends.
Watch: YouTube
Rick Hyde x Rome Streetz – "POZA"
Rising BSF star Rick Hyde enlists Rome Streetz and producer The Alchemist for "POZA," the first single of his upcoming EP STIMA, which drops May 27. "Working with Uncle Al (The Alchemist) is a blessing, it's like being a basketball player and getting to train with your favorite legend. Like Jayson Tatum getting trained by Kobe," Hyde shared. "Al's brain is in constant motion and you can tell by the output. It forces you to lock in sonically and put forth your best effort. I wanted to connect with Rome Streetz on this one to further deliver the aesthetic of the Griselda sound. We both are next up in our respected camps and the continuity shows on this track."
Listen: Spotify | Apple Music
MILLI – "Mango Sticky Rice"
Shortly after making history as the first Thai solo artist to ever play at Coachella, MILLI finally delivers her single "Mango Sticky Rice." A moment from 88rising's "Head In The Clouds Forever" set went viral during the festival as MILLI was seen with half a dozen male dancers by her side, spitting the bars while eating spoonfuls of the delicious dessert in between verses. The song hit the headlines and just two days after, the Thai Prime Minister petitioned to UNESCO to make mango sticky rice a national dish for Thailand.
Listen: Spotify | Apple Music
Boldy James x Real Bad Man - Killing Nothing
Real Bad Boldy collaborators Boldy James and Real Bad Man are back with their latest joint, Killing Nothing. The 13-track record features guest appearances from Stove God Cooks, Rome Streetz, Crimeapple and Knowledge The Pirate, and is described by James as "more focused, more concentrated, it's a more conscious effect and a complete thought." He added, "My other albums are NBA games, organized Basketball, and this record is like live at the Rucker. I get to showcase my handles, and my long-range jumper, which I might not get to do all the time in organized ball." Real Bad Man continued, "This one (Killing Nothing) is definitely more menacing and somber than Real Bad Boldy. I wanted it to feel bigger in scope, and more focused as a singular body of work. The beats have more variety to the and the songs are tighter. Killing Nothing is all about Boldy and it feels like a movie;, with Boldy as the main character; and we're with him the whole way. He runs into some other characters, but it's his story, so we are with him until the end."
Listen: Spotify | Apple Music
FKJ x Toro y Moi – "A Moment of Mystery"
FKJ preps his newest album V I N C E N T, which drops June 10, with the release of the Toro y Moi-assisted single "A Moment of Mystery." In a statement, the French-born artist shared, "I met with Chaz and Tony who play keys in Toro Y Moi for the first time at this session. The energy was real smooth and we got in the zone quickly. We couldn't stop playing. Even if sometimes we'd try to take a break to write and structure something we would end up getting distracted by all these toys in the studio and start jamming again for another hour or two. At the end of the session we had all these demos. I took them back home and played with them. The next time I came to San Francisco, Chaz and I met again and chose a couple of them to finish, including "A Moment of Mystery" which made it to this album." Meanwhile, the MAHAL artist added, "vincent, tony and I jammed out this track at different fur in SF when vincent flew in to work on his record. I ended up writing about the moments of desire and the tension we feel when we're away from loved ones. I want the listener to feel as if things are open ended with the person on the other side."
Listen: Spotify | Apple Music
Charlotte Dos Santos – "Hello Hello"
Rising Brazilian-Norwegian songstress Charlotte Dos Santos announces her debut studio album MORFO, out October 14, with the single "Hello Hello." The track follows "Patience" and "Away From You," all of which will appear on MORFO. "MORFO is a sonic tale about transformation, about love and pain. It's a playful journey through my deepest inner thoughts combined with elements of music I admire, such as Soul, R&B, Funk, MBP/Samba and Classical. I am a child of the world, born in two cultures and on this album I am digging deeper into my ancestral roots and into my consciousness," she said in a statement.
Listen: Spotify | Apple Music