HYPETALKS Will Dive Into the "Karafuru x HYPEBEAST x atmos" NFT Project
Taking place on Monday, May 9 at 10 p.m. ET on Twitter Spaces.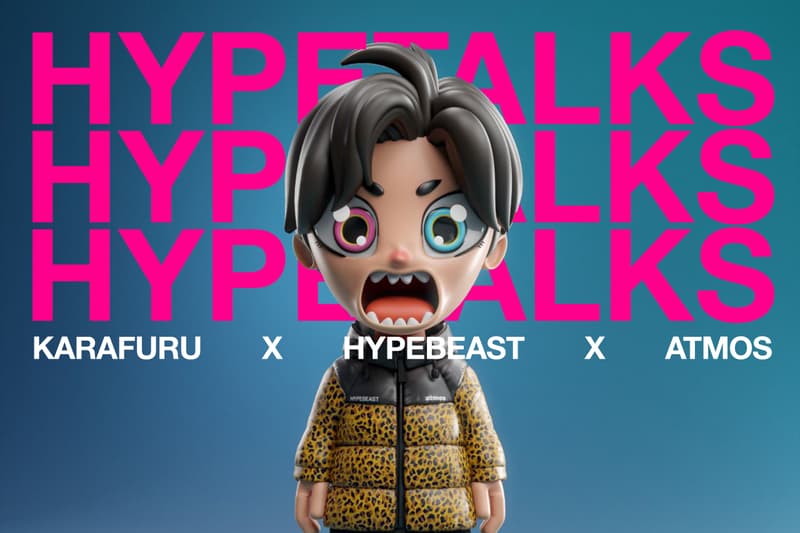 In anticipation of Karafuru's upcoming NFT project with HYPEBEAST and atmos, the next installment of HYPETALKS will take a deep dive into the three-way collaboration, exploring the origins of Karafuru, the adaptation of street culture into web3, and more.
Karafuru started with a Gensis Collection of 5,555 NFTs that comprises 12 characters, beckoning an escape from a drab reality into its colorful playground. And now, its upcoming 3D collection of 15,555 with HYPEBEAST and atmos is a big step closer to the Furu metaverse, with a closer look at 3 characters and their exciting genetic deviations, such as robots, zombies and more.
Moderated by Marc Wong, Editorial Operations Director at HYPEBEAST, the AMA will feature Karafuru Conceptor and Co-Founder Jeffry Jouw, Arktivak CMO and Co-Founder Brandon Salim, atmos USA's Director of Marketing & Digital Marissa Le, and HYPEBEAST's Director of Corporate Operations Kevin J Wong, where brand new information about the project will be revealed.
Tune in to HYPETALKS: Karafuru x HYPEBEAST x atmos on Monday, May 9 at 10 p.m. ET., via HYPEBEAST on Twitter Spaces — and stand a chance to win whitelist spots.
Tune into Twitter Spaces for our next #HYPETALKS where we'll be discussing our upcoming NFT collaboration with @KarafuruNFT and @atmos_tokyo @atmos_usa pic.twitter.com/3P8h5IOm2K

— HYPEBEAST (@HYPEBEAST) May 6, 2022
COMING IN HOT?@KarafuruNFT x @HYPEBEAST x @atmos_tokyo @atmos_usa

Are you ready, Furus? pic.twitter.com/BgjXnQVh1b

— Karafuru NFT (@KarafuruNFT) April 18, 2022