Diego Maradona's "Hand of God" Jersey Sells for $9.28 Million USD
Breaking two Guinness World Record titles.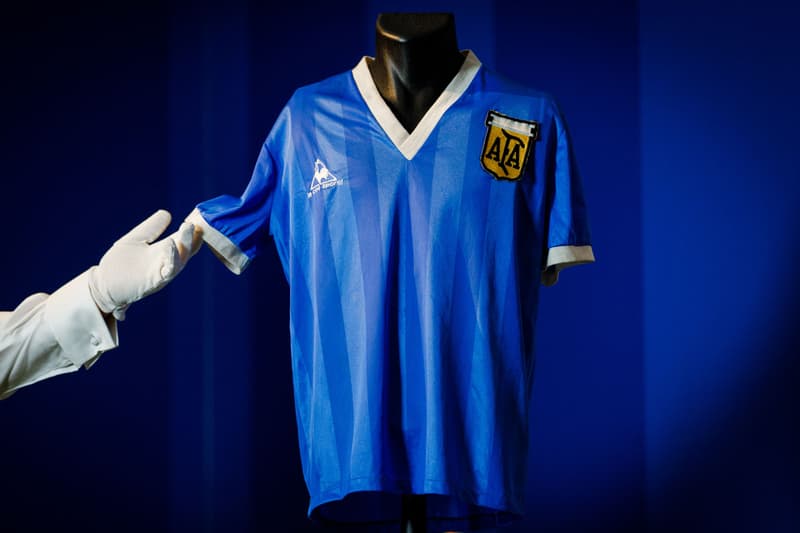 In the 51st minute of the 1986 FIFA World Cup quarterfinals, the Argentine national football team began mounting an offensive against team England. As a pass failed to fully connect around the penalty box, English player Steve Hodge lobbed the ball back to his goalie, but not before Argentine soccer legend Diego Maradona intercepted the pass, guiding the ball into the back of the net in what was registered by referees as a header.
It was "a little with the head of Maradona and a little with the hand of God," Maradona admitted after the match. Just four minutes after the goal, "The Golden Boy" dribbled past four defenders and the goalkeeper to solidify the lead in what was recognized by FIFA as the World Cup "Goal of the Century."
After defeating England, Argentina went on to overcome Belgium in the semifinals and West Germany in the finals to become the 1986 World Cup champions. Maradona received the Golden Ball award as the team's most valuable player and captain.
The jersey worn by Maradona in his iconic "Hand of God" and "Goal of the Century" match was put up for auction by Steve Hodge, the English footballer who traded shirts with Maradona after the game.
Announcing the auction, Hodge said:
"I have been the proud owner of this item for over 35 years, since Diego and I swapped shirts in the tunnel after the famed match. It was an absolute privilege to have played against one of the greatest and most magnificent football players of all time. It has also been a pleasure to share it with the public over the last 20 years at the National Football Museum, where it has been on display.

The Hand of God shirt has deep cultural meaning to the football world, the people of Argentina, and the people of England and I'm certain that the new owner will have immense pride in owning the world's most iconic football shirt."
The final selling price of $9.28 Million USD at a Sotheby's online auction, which nearly doubles the estimated price of $5 million USD, breaks two Guinness World Records for the "most expensive football shirt sold at auction" and the "most expensive sports memorabilia sold at auction."
In other news, Audi and Porsche confirm plans to join the Formula 1 grid.