Sole Mates: ArrDee and the Air Jordan 4
From a hometown rapper to a homegrown talent, ArrDee speaks on authenticity, style, sneakers and 'Pier Pressure.'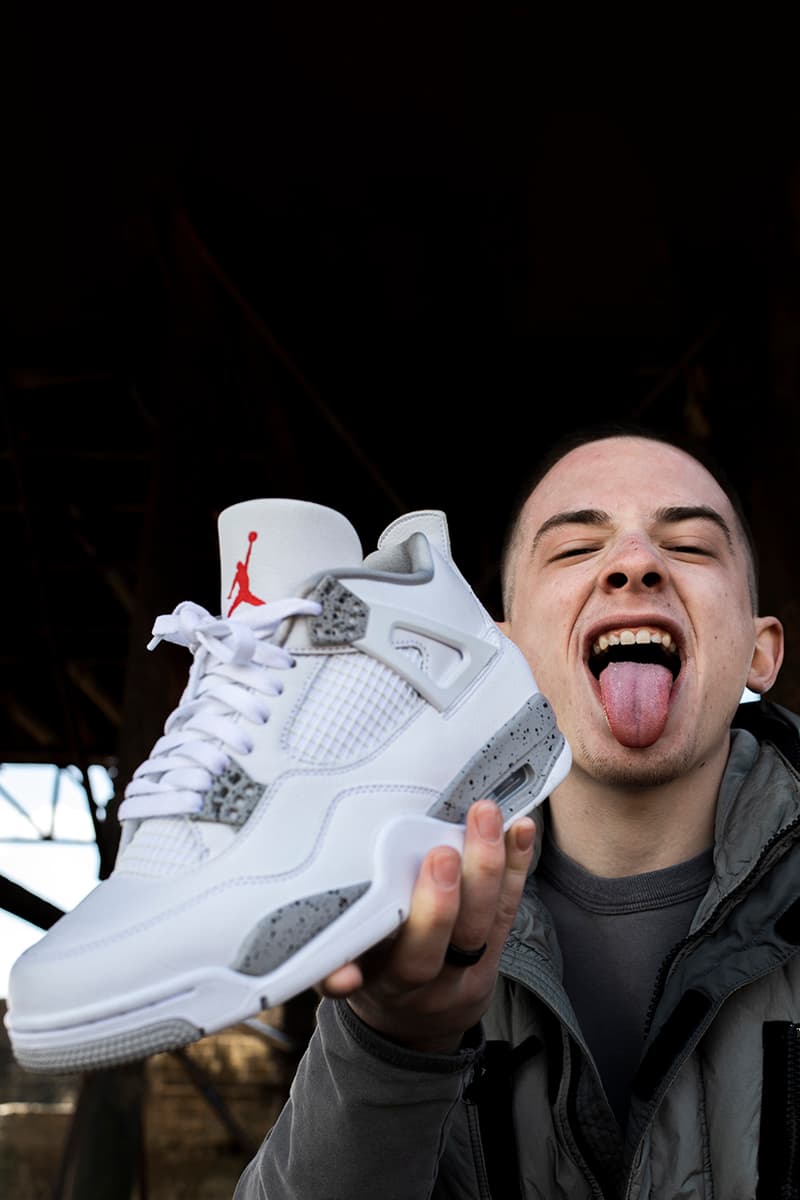 Sole Mates: ArrDee and the Air Jordan 4
From a hometown rapper to a homegrown talent, ArrDee speaks on authenticity, style, sneakers and 'Pier Pressure.'
As ArrDee has shown, you don't need to be from London to dominate the British rap scene. Aged just 19, the Brighton-born-and-bred rapper has accomplished feats that many rising stars could only dream of: he released his debut album Pier Pressure last month, his remix of Tion Wayne and Russ Millions' "Body" went to number one on the U.K. chart, as did "Flowers," a remix of Sweet Female Attitude's garage classic "Flowers" with nods to Destiny's Child's "Say My Name." With a keen ear for hit-making and a passion for being authentic, ArrDee is more than just a lad from Brighton making some noise, he's a relatable voice for people wanting to make it big. 
When ArrDee sat down with HYPEBEAST for tea in his hometown, the rapper arrived with friends after a night out. The "unapologetically lit" rapper was celebrating his homecoming tour, which for any musician is a momentous occasion. He's made it. 
But ArrDee isn't going to let success and fame change who he is. ArrDee represents a different side to not just Brighton – a seaside town known for being a hub of queer culture and vintage clothes – but also the U.K. in general. He speaks for the local kids, "chavs" and "council estates," as he put it. Kids that can relate to his sound, his style, his upbringing, and everything he stands for.
In this issue of Sole Mates, HYPEBEAST speaks with ArrDee about his rise to fame while learning more about how the codes of his style – ranging from his love of Stone Island to the Air Force 1 and Air Jordan 4 – make him the relatable spokesperson and performer that he is today.
HYPEBEAST: What is it like to represent Brighton on the U.K. rap map?
ArrDee: My tape's called Pier Pressure, it's about coming from Brighton – which has a pier – and about actual peer pressure, there's a responsibility to represent the town. But also, it's a f*cking laugh. We used to treat the town like it was our own but now it's at the scale that it's at, when we go around the town it's a massive laugh and everything goes our way. It's a responsibility but it's fun, but then Brighton is fun in itself, isn't it?
What does it feel like to now be a major player in the U.K. scene?
Nothing about me as a man has changed. Before I'd blown [up] I was in this scene, I'm the exact same person and I'm with the same people, we do the same stuff. I don't want to say that I keep it humble because it's not something that I actively try to do, it's just that nothing has changed me. If something was going to change me it would have happened already. 
London's always been the epicenter of U.K. rap, and now with the likes of Aitch, Bugzy Malone and Bad Boy Chiller Crew, the North is getting a lot of attention too. How are you trying to make Brighton – in the South – stand out?
Everything that people have labeled as a disadvantage to me – being out of London – I've flipped and used it as an advantage. When I started, everything I was rapping about was Brighton, the way I shoot the music videos is very Brighton, we're right on the beach. I'm not from London. 
I was rapping at the age of 13, I used to run a studio in a one-bedroom flat. At that time the music wasn't going anywhere, but as I grew up I made connections through Instagram, I'd bunk the train to London, I'd be working and sleeping in studios in London for three days on end, so I had to get the network out there. It was difficult because I was young, but it's who you know, it's important. 
But basically, everything that was "out of reach" for me, because I'm from Brighton, I've flipped. 
Brighton is known for its vintage clothing scene, and that's the side of Brighton that's most widely portrayed. What kind of Brighton are you speaking about? 
"Be proud of where you come from and who you are, don't lose yourself as you climb up the ladder."
From my viewpoint of Brighton, most of my mates are like me. We're very Stone Island, most kids are on Ralph Lauren, Stoney. Brighton is misinterpreted because while there is that side of Brighton you're talking about, it's like London – Oxford Street does not represent what the whole of London is like.
So does your style represents your reality of Brighton?
The way I hold myself and the way I am, [I represent] all the chavvy estate kids, you might not really fit in at certain places, but there are so many British people like that. That's what I represent: it's cool to be different and to be yourself, be proud of where you come from and who you are, don't lose yourself as you climb up the ladder, or whatever it is that society tells you to get to. I've got to where I am by being me and I'm not changing that. 
More specifically, how would you describe your style?
Stoney! It's literally the best brand in the world. I don't know what it is about it, but when you put a Stone Island jumper on you just feel it. I'm 90% confident, but that Stoney adds that 10%. 
You know, if I go to those Mayfair clubs I'll put on the Louboutins. I've dabbled, but it doesn't feel very me. I've worn the Dior and whatever, but it doesn't work for me. Maybe it's because of where I am from but I want to stay real. 
I do like wearing a suit because it makes you feel like a different man. When I went to the BRIT Awards I had my suit and tie. But if you haven't already, go grab a Stone Island jumper and see how it makes you feel. 
How important are sneakers to the overall ArrDee aesthetic?
I did a show in Manchester and I was bringing out Aitch. I had a different Ralph Lauren polo for each show and a pair of shorts, it was set out. I was going to wear Air Force 1s, but I wanted them to be clean. I called KickGame and they patterned me some Forces, they were pink and navy blue. I had a pink Ralph polo and navy shorts. I'm a UK 8.5 in 1s, these were like a 6.5. I bought them and wore them for the entire set. As soon as the set was done I took them off and gave them to my mom. 
That's the only way I describe how important shoes are for the outfit. 
For your issue of Sole Mates, you've decided to spotlight the Air Jordan 4. Why do you like this pair?
I wasn't that mad about trainers until I'd blown [up]. The only trainer I was wearing – slash, afford – was the Air Force 1. When I was in school they were about £65, but not now. 
But I like 4s. They are the comfiest and they go with everything. I can wear skinny, big, or baggy jeans. 1s only go with certain outfits. 
Air Force 1s and Jordans are sneakers that are ingrained in music culture. What do you think about the role of sneakers in the British rap scene?
Because of the game I'm in, the way I see it is it's all marketing. I always use Dr. Dre as an example, when he wanted to get his Beats headphones out there everyone had them. It was product placement and it becomes so ingrained into your mind that it becomes cool. 
"I will take the world because I'm very digestibly British."
In terms of the culture of rap and hip hop and being tied in with streetwear, that was a massive thing, they went hand-in-hand. Now, rap music has evolved so much so it's not necessarily just streetwear, they're doing all sorts. Certain rappers think you should have bust down chains and rings, a twenty grand jumper on and five bags for your shoes. 
The culture is evolving so that we can appeal to everyone, because not everyone can afford those Balmain jeans. If every rapper was wearing that, who would the kids that I represent relate to? They'd think they need to have those jeans to be sick, but that's half the reason why I wear what I wear. 
What are your thoughts on today's music scene?
I represent the U.K., that's where I come from, and before I blew up we'd speak about where I was going to go. I will take the world because I'm very digestibly British. If you're not from here you might think England is about Harry Potter and the Queen, but in a sense I am that. I wake up in the morning, I have my crumpets and I drink my tea. It's digestibly British. 
The scene is thriving. I'm not that in tune with [what's going on in] America. I listen to a lot of old school U.S. rap like Lil Wayne and The Game. I do like Kendrick, but he's not the new wave, I'm not into all that autotune stuff. At the same time, I'm also a big fan of BBE over here. 
U.K. rap is in a place where it's being appreciated. Rappers are getting paid for the deals. We have that scale now. We don't rely on anyone else. "Body" went to number one in the U.K., Australia too I think. Considering the tone of the song, it was a drill song and you've got me, Bugzy, 3x3E1 and ZT, people were talking prober badness on there. I said, "Look at the state of her body!"
I think it's great that through artists like yourself, smaller towns are getting their chance to be represented. 
Think of how many people there are in the world that are like you or me. When I met Aitch we jelled, he's the Manny version of me. You can be comfortable and confident without having to act bad. With how big drill is now, the way our generation is now is making kids act bad, but it's cooler to just be you.
Why is it important to you to collaborate with like-minded people such as Aitch?
Even if you take it down to the basics of working in a studio, I'm very loud and flamboyant, so if I were to collaborate with someone who was quiet, we might not gel in the studio. The studio has to be a vibe, the energy in the room has to be right. When Aitch and I got together, we worked and wrote in the same way, we recorded the same way, it was perfect. I haven't had any unnatural collaborations, it has to be organic and natural for me. 
Is authenticity the key to success?
Just be yourself. It's something my mom instilled in me. No one can be a better you than you.