The Punisher's Iconic Skull Logo Has Just Received an Update
Just in time for the release of 'Punisher #1' on March 9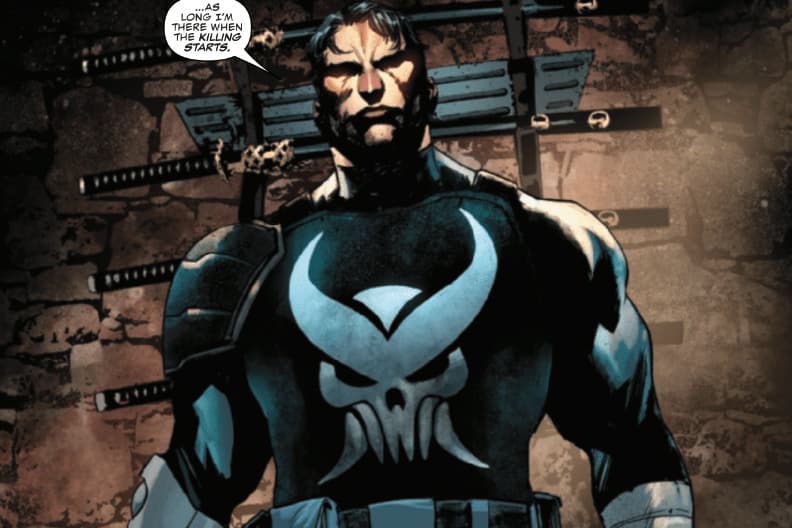 With Punisher #1 slated for a March 9 release, news has arrived that the vigilante hero has been incorporated into the upcoming issue Daredevil: Woman Without Fear #3.
While it's no surprise that Frank Castle makes special appearances across many Marvel Comics series, this new feature shows an update in his outfit. His iconic skull chest logo has been updated by artists Jesus Saiz and Paul Azaceta for a new one that suits his new role in the comic.
"After writing the Punisher over the years, I've always been fascinated by the character of Frank Castle. What moments made him the Punisher, even before that fateful day in the park? And how far will he go to win the war that has consumed his life? Spoiler: as far as it damn well takes," said writer Jason Aaron. "This story is the destined next step in the dark and tragic evolution of Frank Castle, from a troubled kid to heroic soldier to revenge-driven vigilante…to the duly anointed King of Killers. Believe me when I say, I am as excited about this story as anything I've ever written for Marvel."
Fans will see a new Punisher who opts for bladed weapons rather than automatic rifles, with his skull logo translating that primal and raw killer instinct via a more beastly appearance with horns and fangs.
In other entertainment news, John Cho shares disappointment over live-action Cowboy Bebop cancellation.