FC Barcelona's Home Stadium Will be Rebranded as Spotify Camp Nou
As part of a new $310 million USD sponsorship agreement.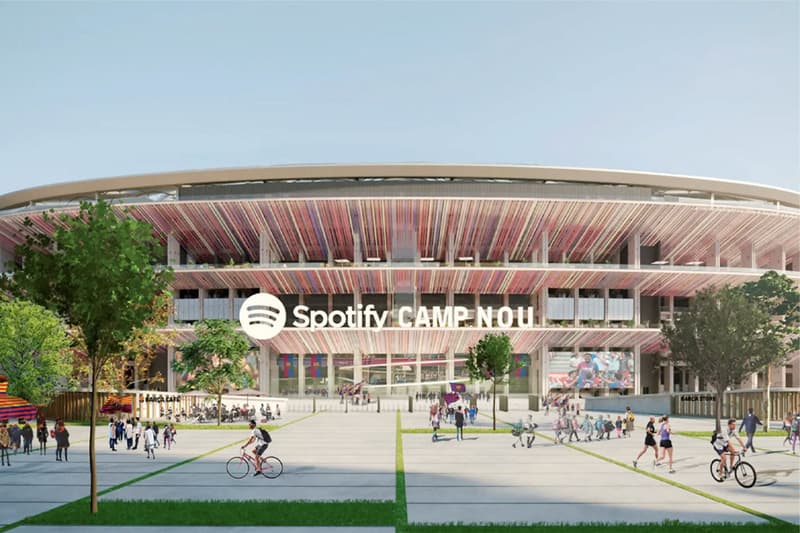 Spotify and FC Barcelona have announced a new four-season partnership which will officially begin in July 2022. The deal will include the addition of the Spotify logo on both the men's and women's team jerseys and training shirts, as well as a name change of the historic Camp Nou stadium to Spotify Camp Nou.
When asked why Spotify decided to partner with FC Barcelona, Spotify's Chief Freemium Business Officer, Alex Norström responded saying, "for Spotify the answer is very simple: It's about connecting fans with artists of every kind—players and artists, music and sports. Barcelona fans and audio lovers on Spotify will come together to form a massive, globally-connected community bridging the worlds of music and football."
"As we look to grow the Spotify brand worldwide, there are few partners that have this sort of scale and global reach. Being able to connect music and football fans from Barcelona to Mumbai, Jakarta to Rio de Janeiro, is really a unique opportunity," he continued. Norström also points to the football club's young fan base who are mostly under 30, an important audience for Spotify.
The FC Barcelona deal is Spotify's largest partnership to date, and the music streaming service looks to use the stadium as a platform to help artists and content creators interact with fans around the world. One of the projects Spotify is working on is leveraging in-stadium elements such as dynamic digital displays to showcase geo-targeted artists to Barça's TV audience.
Norström promises fans other "interactive and exciting experiences to connect with the artists they love" with more updates to follow down the line. Stay tuned for more details, and find the full announcement here.
In other news, Cristiano Ronaldo breaks FIFA's all-time scoring record.