Best New Tracks: Megan Thee Stallion x Dua Lipa, Benny The Butcher and More
10 music projects to dive into this weekend.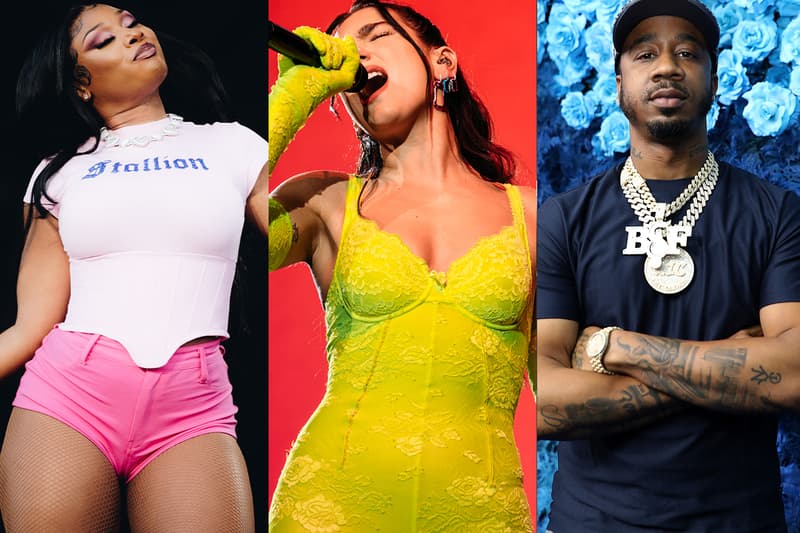 As the week in music comes to a close, HYPEBEAST has rounded up the best projects for the latest installment of Best New Tracks.
This week's list is led by releases from Megan Thee Stallion x Dua Lipa and Benny The Butcher, who dropped the collaborative track "Sweetest Pie" and the album Tana Talk 4 respectively. Also joining this selection are offerings from Pink Siifu, Lucky Daye, Shenseea, Tanna Leone, Aya Nakamura x Damso, Omar Apollo, tobi lou and redveil.
Megan Thee Stallion x Dua Lipa – "Sweetest Pie"
Megan Thee Stallion and Dua Lipa team up for the sugary collab, "Sweetest Pie." The track is produced by OG Parker, Romano and Platinum Library, and arrives a month after Dua Lipa kicked off her massive North American tour, which will also see Megan Thee Stallion supporting her for three stops in Denver, Tulsa and Phoenix.
Listen: Spotify | Apple Music
Benny The Butcher - Tana Talk 4
Benny The Butcher enlists J. Cole, Diddy, Conway The Machine, Westside Gunn, Boldy James, Stove God Cooks and 38 Spesh for Tana Talk 4. "With Tana Talk 4 I have a chip on my shoulder. No one thinks I can recreate that energy. I'm not trying to create the same energy, but TT3 was who I was then, what I was going through. The things you hear me talking about on Tana Talk 4, is me now and who I've become" he said in a statement. "It's special to me, because I get to talk about things that I would never talk about on any other project. Tana Talk is the series where you get me, my deepest, darkest feelings. I'm sure people are going to be surprised at the things I'm saying on TT4, but they are also going to get an inside look at things."
Listen: Spotify | Apple Music
Lucky Daye - CandyDrip
Lucky Daye is back with his first studio album in three years, CandyDrip. The 17-track project is billed as the artist's "redefinition of modern R&B through a futuristic, Sci-Fi world, shaped by the inspiration of Afrofuturism," and features collaborations with Smino, Lil Durk and Chiiild. "Candydrip focuses mostly on flavors," he explained, "and the idea of flavors versus Painted, which was about colors. These are a bunch of different flavors of songs, giving you ear candy in different ways."
Listen: Spotify | Apple Music
Shenseea - ALPHA
Shenseea's highly-anticipated debut studio album ALPHA is finally here. Anchored in dancehall, hip-hop and pop, the 14-track project features collaborations with Megan Thee Stallion, 21 Savage, Sean Paul, Offset, Beenie Man and Tyga, along with production work Rvssian, Scott Storch, London on da Track and more.
Listen: Spotify | Apple Music
Tanna Leone – "With The Villains/Lucky"
Tanna Leone, the newest signee of Kendrick Lamar and Dave Free's pgLang, shares his two debut tracks "With The Villains" and "Lucky," the former of which arrives with an accompanying music video helmed by Neal Farmer. "As an artist I want to represent disrupting the status quo, push people to focus on their growth as humans, and to be a voice for the voiceless through my artistry," Leone said in a statement. Dave Free added, "Tanna is a rare opportunity to disrupt. We're excited to partner with my young n*gga."
Listen: Spotify | Apple Music
Omar Apollo – "Killing Me"
Omar Apollo follows up "Invincible" with the new single, "Killing Me." The Mexican-American artist is set to release his newest album IVORY on April 8, and will feature appearances from Tyler, The Creator, Kali Uchis and Daniel Caesar.
Listen: Spotify | Apple Music
Pink Siifu – GUMBO'! Deluxe'!!
Pink Siifu unveils the deluxe edition of his latest album, GUMBO'!. Initially dropped on Bandcamp, the newest version includes ten additional tracks with features from Zelooperz, Valee, Remy Banks, Kamilah and more, plus production work form the likes of Kenny Beats, Swarvy and Michael White. Pink Siifu also surprised fans with a music video for the White-produced cut "ALL DAT."
Listen: Spotify
Aya Nakamura x Damso – "Dégaine"
French-Malian pop singer Aya Nakamura enlists rapper Damso for her latest single "Dégaine," translating to "attitude and swag" in French. Fans are patiently awaiting for Nakamura's next studio album, with her last effort dating back to 2020's Aya.
Listen: Spotify | Apple Music
redveil – "diving board"
redveil releases his newest, self-produced single "diving board." Arriving with a music video direct4ed by Manny Madrigal, the cut "is a statement of intent, announcing himself as an artist to watch this year through his technical ability, soul-bearing storytelling and an ear for production." The 17-year-old artist is set to join Freddie Gibbs, Zack Fox and MIKE this Spring for a series of North American tour dates, and then with Denzel Curry this Summer.
Listen: Spotify | Apple Music
tobi lou – Non-Perishable
tobi lou is back with Non-Perishable, a mixtape billed as the first installment in a trilogy set to be completed this year. The 11-track project also features the extended version of "2hrs+" with T-Pain, which was born from the rapper remixing the song on Twitch in September 2021.
Listen: Spotify | Apple Music