Koenigsegg's Compact 63-Pound Quark Electric Motor Can Produce 335 Horsepower
Pictured next to a 330ml energy drink.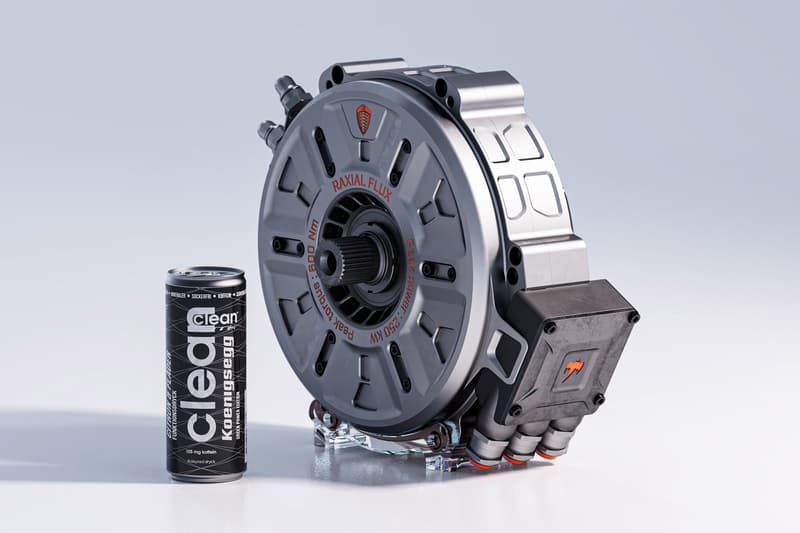 Koenigsegg has just released news of an impressive breakthrough in powertrain technology with its Quark electric motor.
Developed for the Gemera hypercar, the Quark weighs just 63 pounds and can produce 335hp and 443 lb-ft of torque. Koenigsegg drove home the point of how compact the motor is by photoing the Quark next to a 330ml energy drink can.
"The Quark is unique in its high efficiency in combination with its class-leading torque-to-power-to-rpm-to-weight matrix. This means, when using the Quark in applications such as marine, aircraft or VTOL, there is no need for a step-down transmission, instead direct drive can be achieved, as the RPM of the motor is right from the get-go. Small high-revving motors can have a higher peak power-to-weight ratio, but they need transmissions in most applications in order to get to the desired output rpm and torque, causing energy loss and adding weight and complexity to do the same job. So any benefit in size is lost," said Christian von Koenigsegg.
Combined with the Gemera's twin-turbo 600hp three-cylinder motor, the Quark electric motors help during low speeds for "brutal" acceleration — the Gemera has three of these Quarks placed at both rear wheels and one on the crankshaft.
In other automotive news, Maserati's MC20 is already proving to be a great investment.