JPEGMAFIA Absolutely Does Not Feel Fulfilled
On the first leg of his tour at Brooklyn Steel, the "Veteran" artist sits down to discuss his latest LP.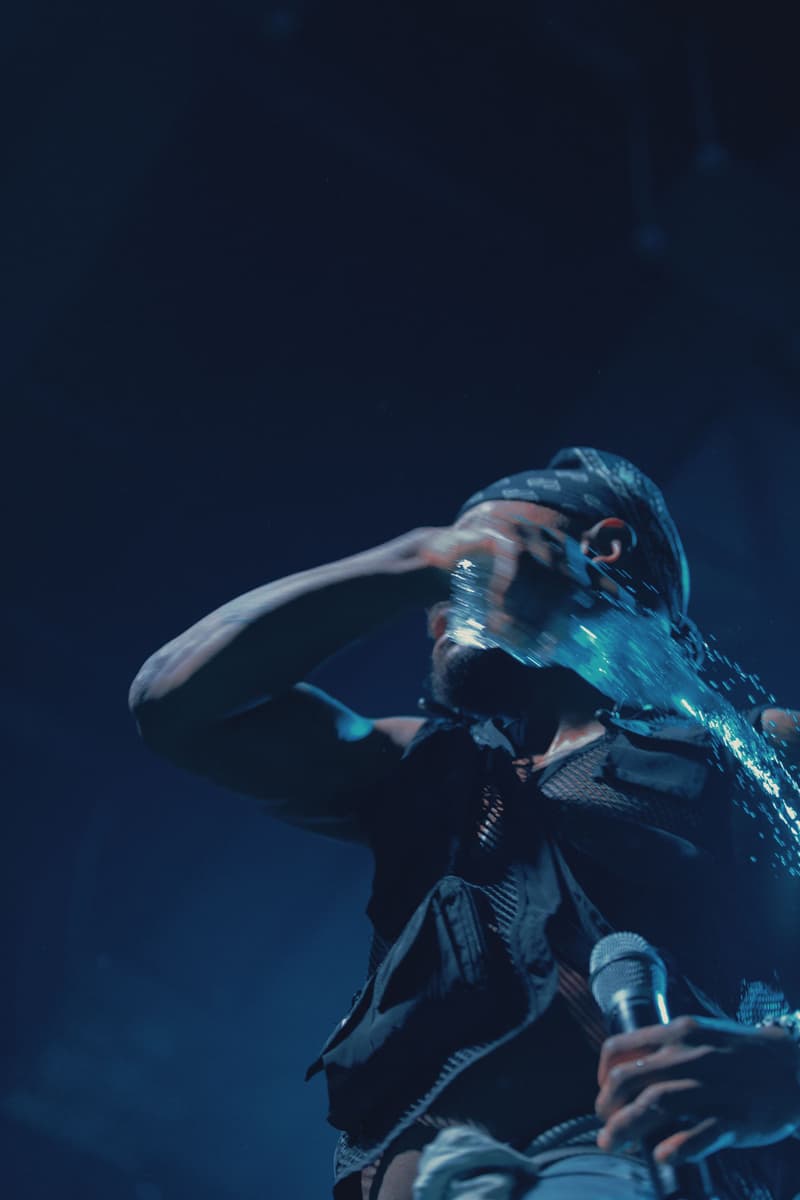 1 of 10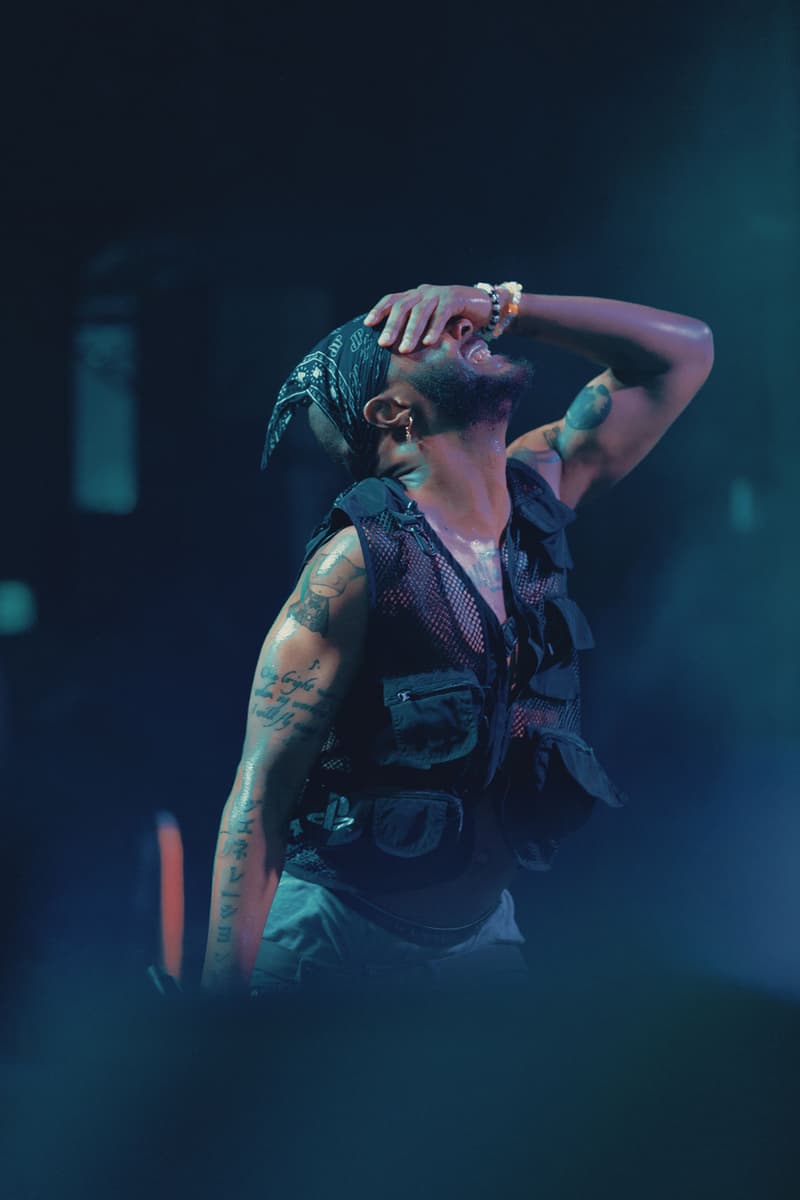 2 of 10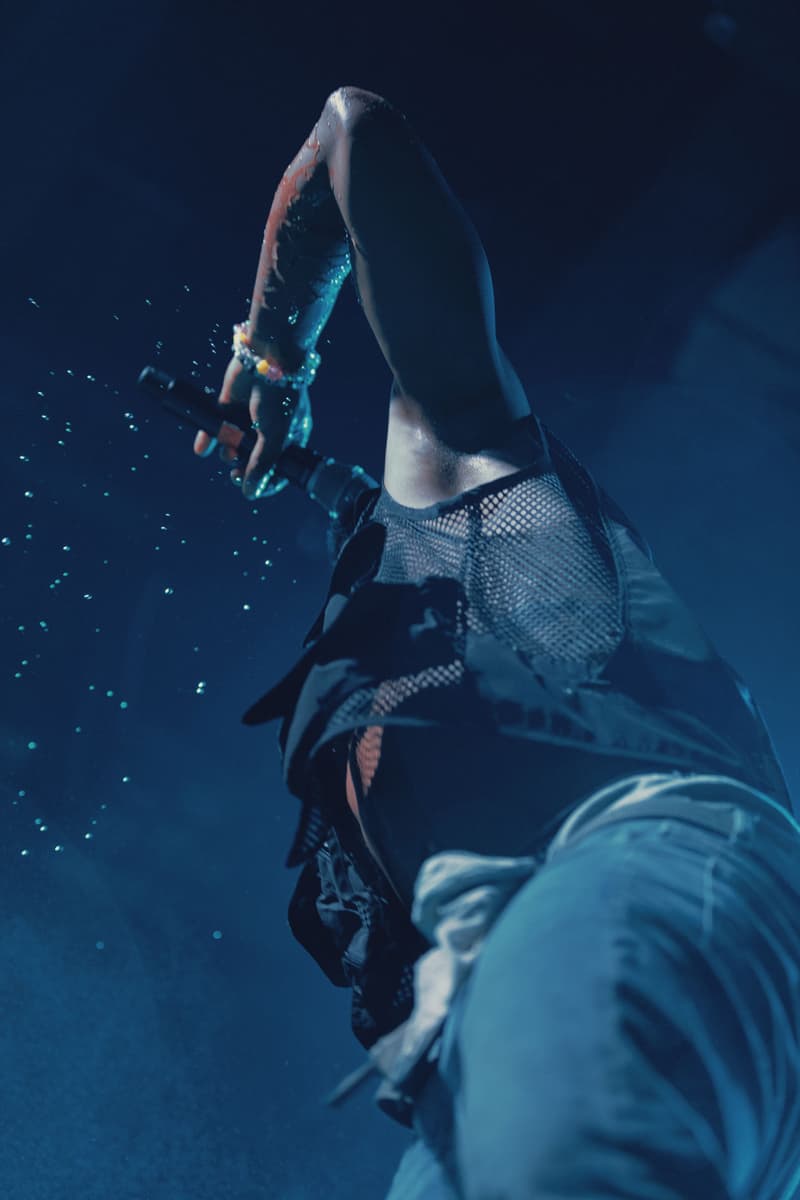 3 of 10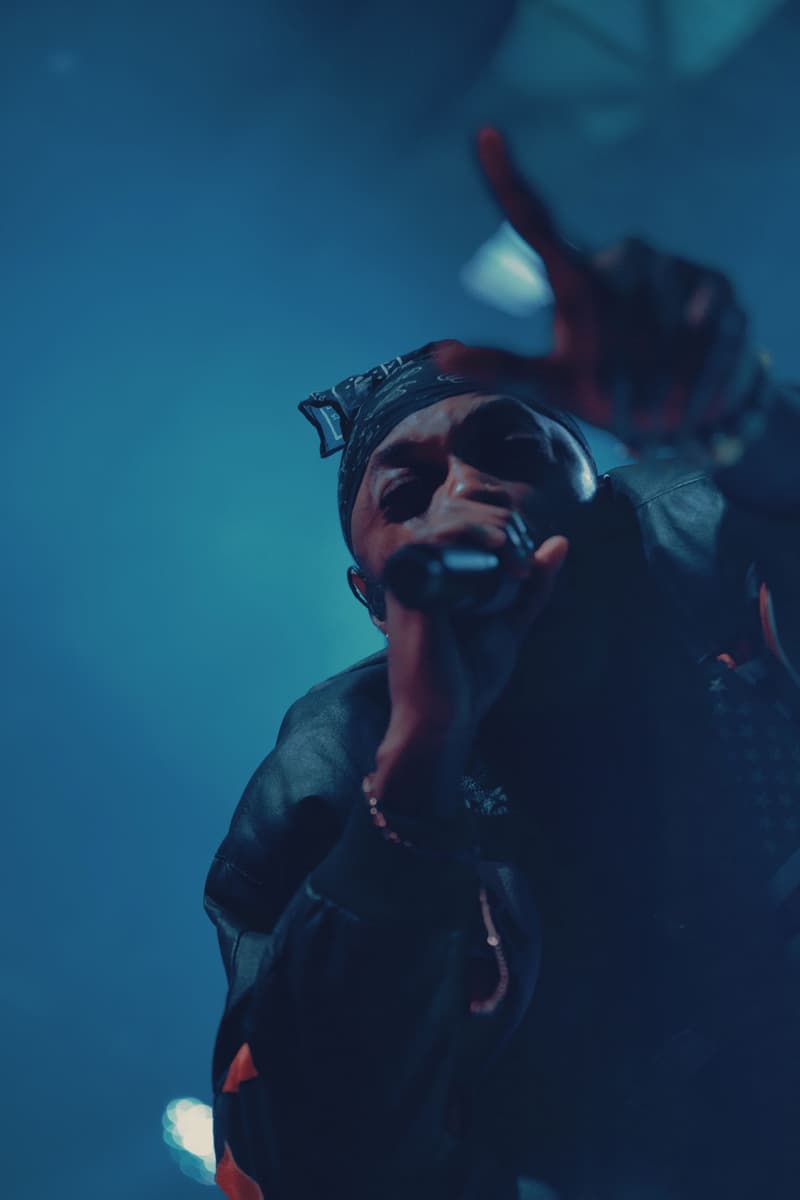 4 of 10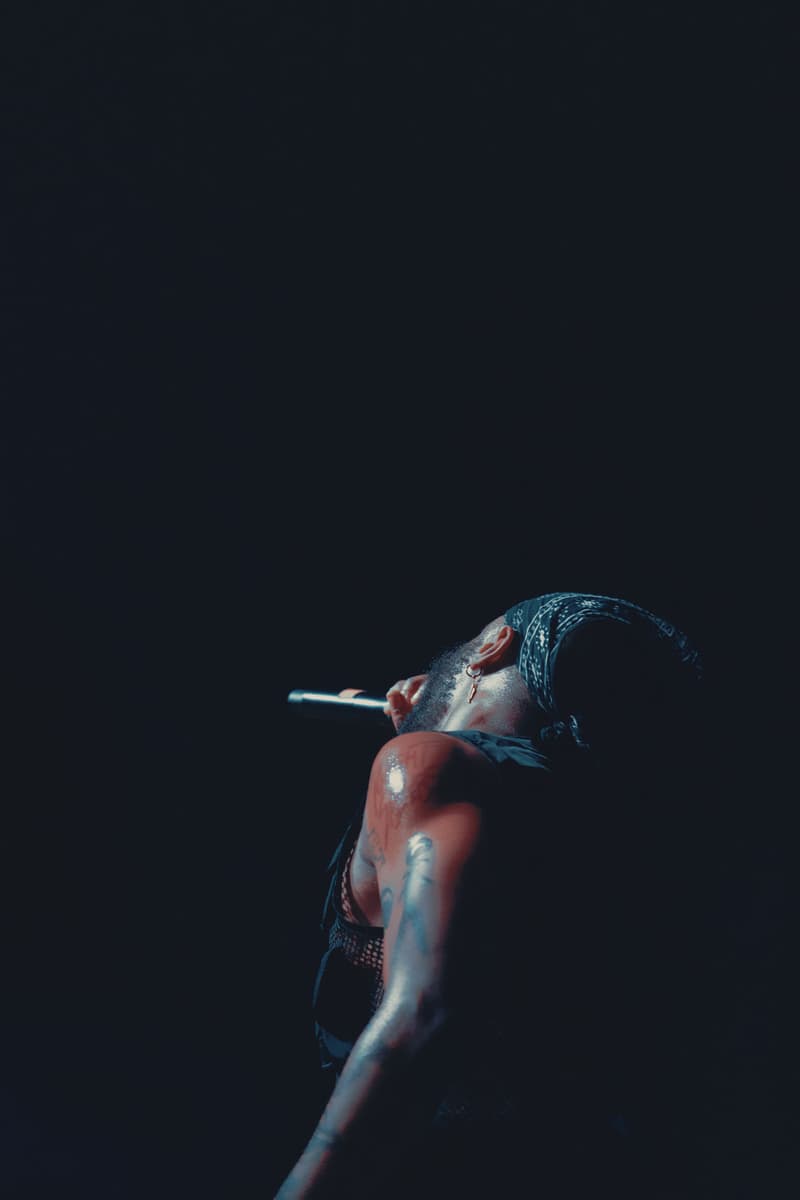 5 of 10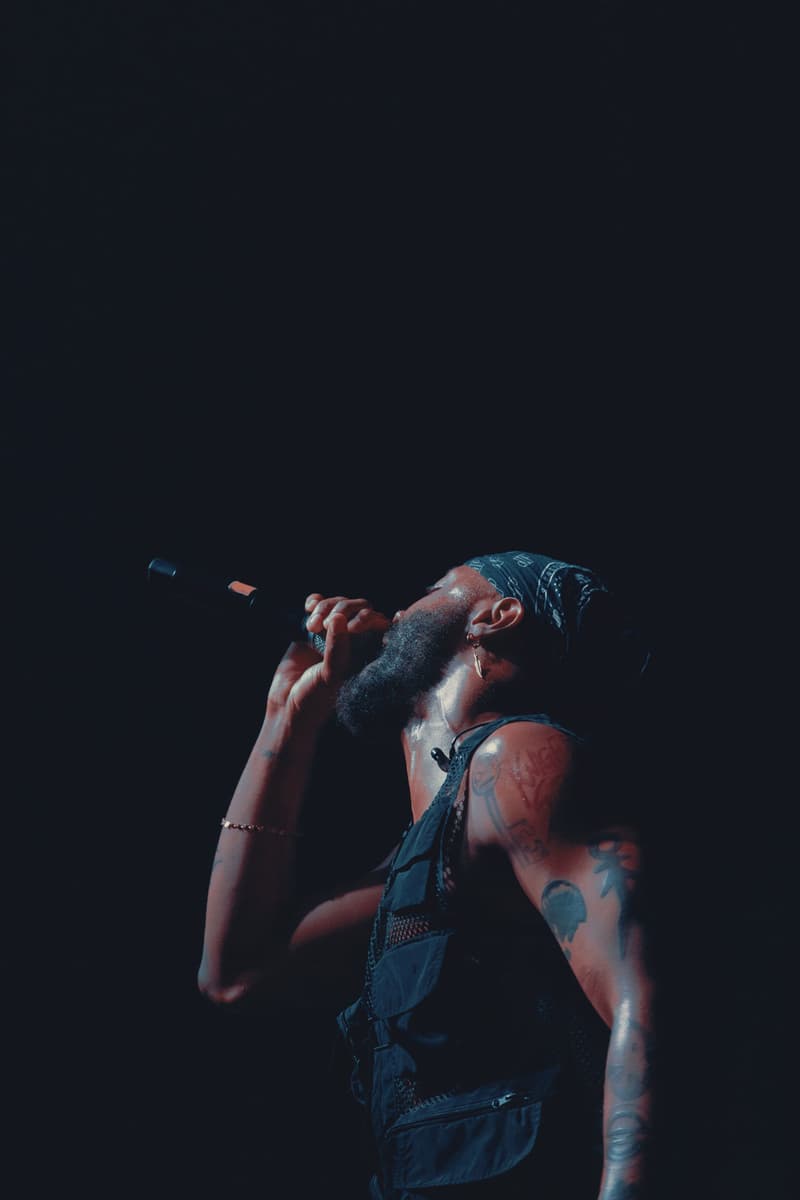 6 of 10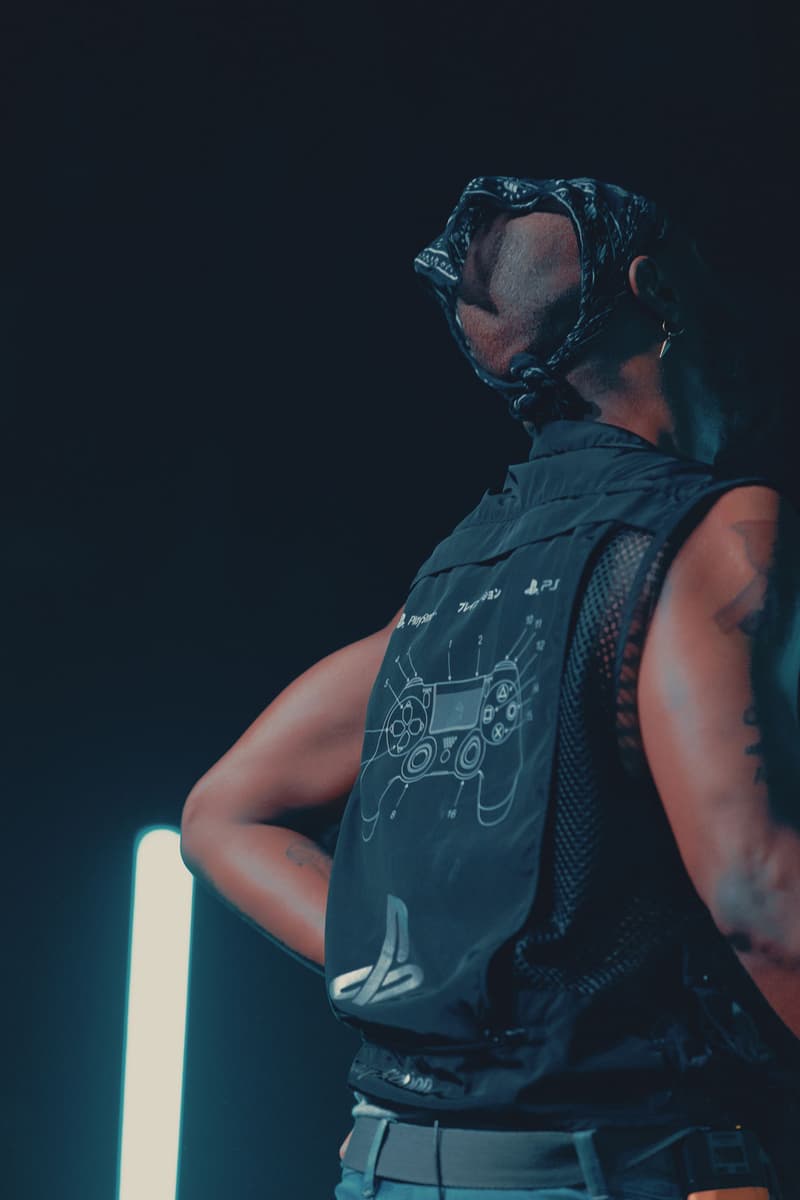 7 of 10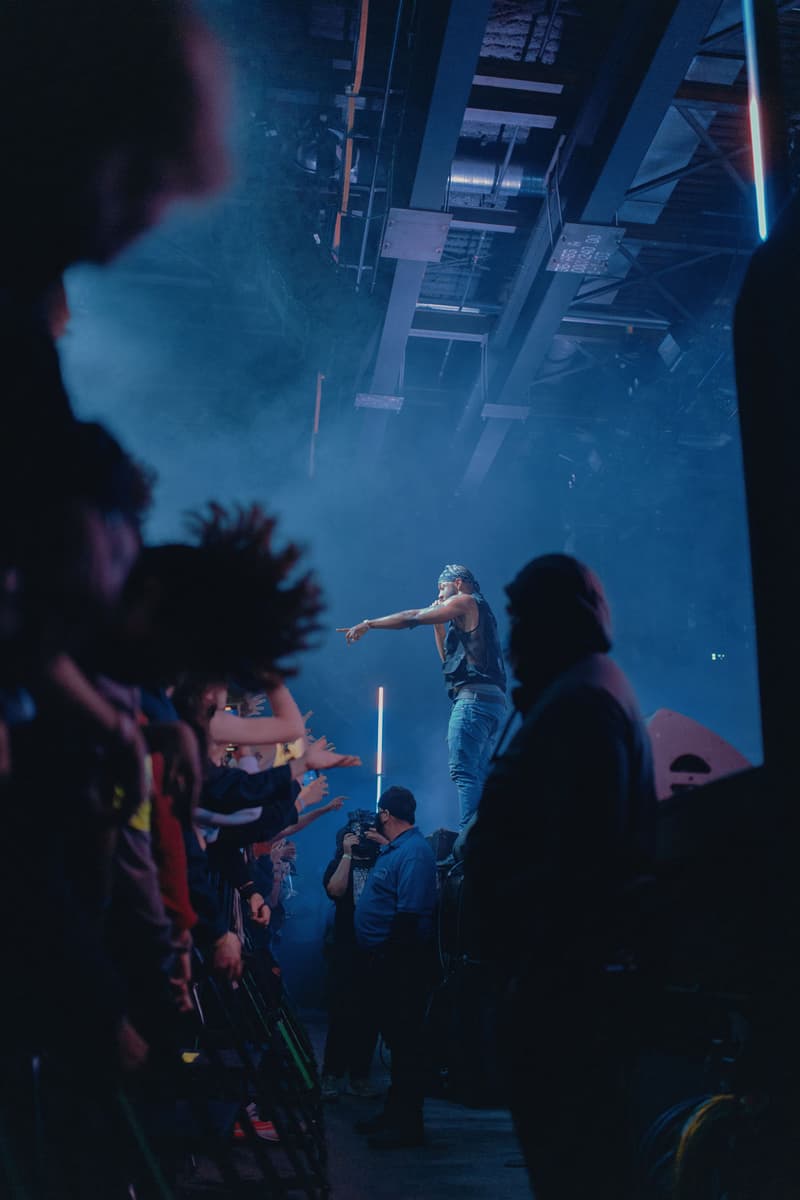 8 of 10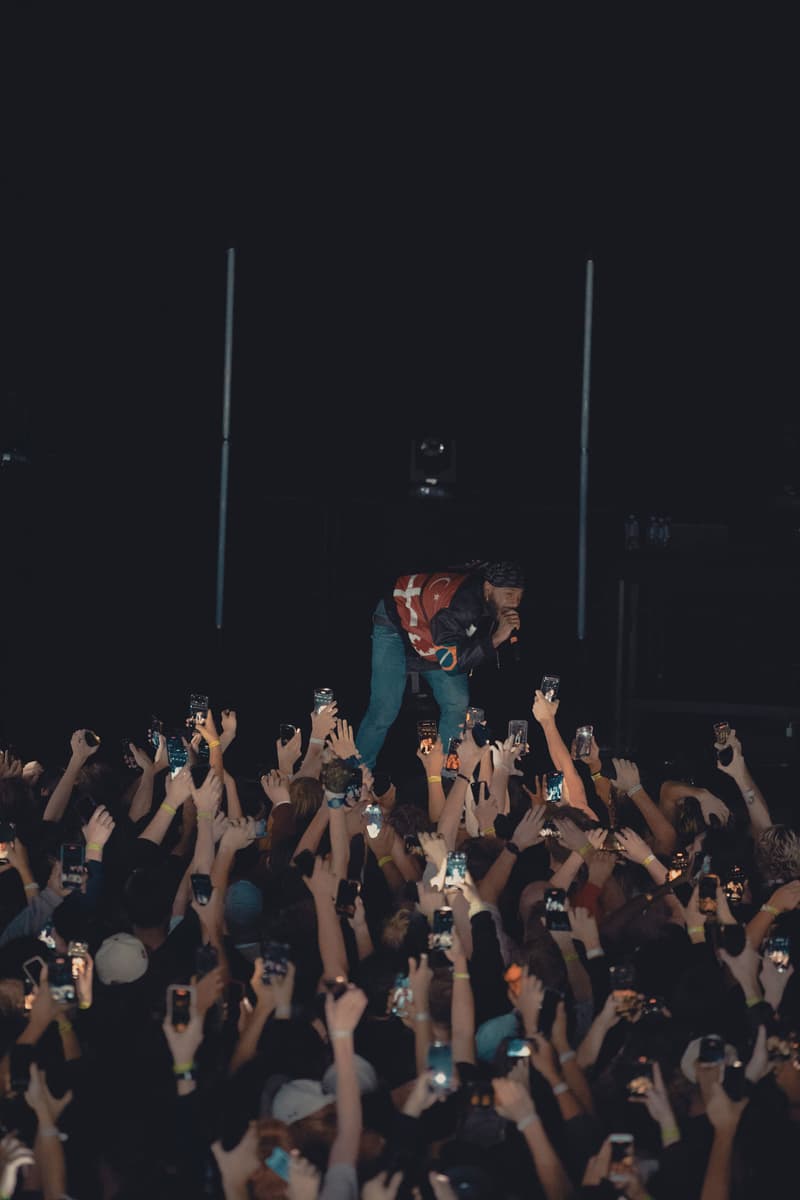 9 of 10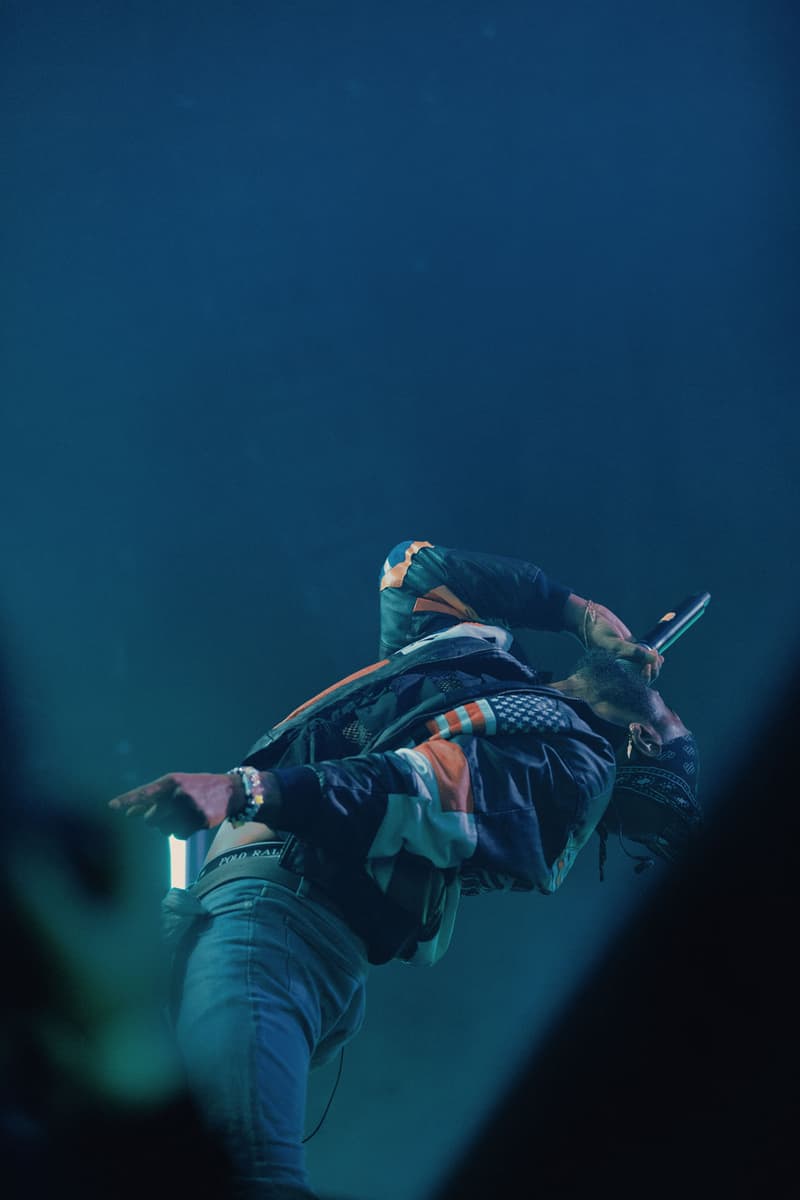 10 of 10
The first thing JPEGMAFIA says when we walk into the room, where he awaits us backstage at the Brooklyn Steel music venue of East Williamsburg, "Oh, I thought you were going to be a white guy? I was ready to be angry this interview. Come on, we can go to my actual room." The 32-year-old, Barrington DeVaughn Hendricks, may operate on the fringes of reality, between anti-establishment punk rap and internet-troll subculture, but Peggy really is who he says he is. This would be confirmed several times throughout the rest of the evening, from spitting in fan's mouths and having the crowd break out into "F*ck You Peggy" chants to dancing to Hanson's MMMBop in the mirror of his [Green] room.
JPEG, known most importantly as the producer and rapper, was born here in Brooklyn, and lived across several states in the South, relocating often as a kid. It was only a few years after high school when Hendricks found himself at a crossroads with what to do, before deciding to up and join the Air Force, where much of the inspiration for 2018's breakout LP "Veteran" would be born. After leaving, and seeing firsthand the wretched underbelly and inner-workings of America's sprawled, political factions, Peggy would go full force into music, heading up to Baltimore, where he'd establish himself as a fixture in the noise rap scene. The next stage to conquer was a critically acclaimed album, after years of getting into small quarrels with critics on twitter about their grading, he'd finally capture one in 2019 with the fun and irreverent All My Heroes Are Cornballs. 
In the past few years since that, he's kept busy, collaborating with the likes of Danny Brown ("3 Tearz," which also features Run the Jewels), Vegyn ("Nauseous/Devilish"), Tommy Genesis (Rough 7) and Tkay Maidza ("Awake") and dropping two opposite-ends of the spectrum with EP! and EP2! Now, he's returned to the scene, with his latest album, LP, littering the project with genre-bending, Peggy-isms. On his final project under EQT and Republic, JPEGMAFIA delivers his swan song in the form of two separate versions, a la Frank Ocean. The "Online" format, which can be found on the streaming services like Spotify, Apple Music, etc. and then, the "Offline" format, which is available on YouTube and Bandcamp, and consists of a few extra songs, different versions of existing ones and a newly ordered track listing. From the running list of nostalgia quirks to his heavily-layered sampling, JPEG is still arriving at inspiration in unsuspected places. For instance, when I ask about The Cardigans sample, from their song "Explode," on "ARE U HAPPY," he gestures a finger over his lips and calls it a "fake Three Six Mafia song."
JPEGMAFIA talked to HYPEBEAST about what the last year's been like for him, covering a Brittney Spears song, why Ye should've had him on DONDA, not feeling satisfied at all yet, and his all-new album, LP.
You're back in Brooklyn, how does it feel?
I'm originally from here — well not here specifically — but it feels good. Even though, I haven't lived here in a while, there's a familiarity when I come through. It feels like where I'm supposed to be. I had a weird childhood so I had to move around a lot and I couldn't stay.
Does it look different coming back now?
Parts of Flatbush look the same, but some definitely look different. Rest of that sh*t looks completely different though, except for where I used to live in Jamaica, Queens. I tried to take a group of people out there, friends that live in New York now and they're like, "Where are we going?" I started taking 'em down Rockaway going towards Jamaica [Queens] and they acted like we were going to Space. I was just like, "I could tell ya'll n*ggas never been out of Bushwick or some sh*t" [laughs]. So the parts that I grew up in, they're still there, but everything else has changed.
What's the last year been like for you? It's been a bit since we heard from you.
I spent the last year trying to get this album in order because I can't put out no bullsh*t. Even if it is bullsh*t, the effort I put behind it has to be 3000%. If it comes out and n*ggas think it's bullish*t, then it just is what it is, but I refuse to put something out that I didn't put my whole ass into. Because then if somebody says it's bad, I get into my feelings thinking, 'what if it is? Because I didn't go in.' But I spent the entire year, down to the last two weeks, trying to get this album to not be bullish*t.
It's destroyed my life also, I lost hella friends. My n*ggas still love me and my b*tches still love me. The rest of the people is gone though [laughs]. But seriously, some people just don't understand when you have a craft that you love and you have to disappear for a while to just work on that specifically. Some people just can't wrap their heard around that so some people dropped off out my life, but it's all good.
In this time, has the album changed at all? Has it gone through a lot of different stages? 
Hell yeah. I had a terrible song on there. I had a couple that were completely ass and I took em' off in the middle of working on it because it's the first album that I've had time to sit and listen to it and think because usually I make an album and I just put it right out. But this time I had to get it ready two or three months out, so I had the time to sit and kind of pick it apart. And that's how things like that Brittney [Spears] cover ended up on there, because that wasn't there originally. And I replaced a couple others too, until I was finally satisfied with the end result, about a week or so before it came out. Took a year and a half to make.
The Britney cover is "THOT'S PRAYER" right? That song stuck out, obviously because of the title, but also it's pretty much the most ironically sad and romantic song on there.
Yeah, a lot of the lyrics in those pop songs, if you repurpose them and redirect them, they can give you a new meaning, like based off the lyrics alone, rapped around other things, it can become dark. What's that Mariah Carey song? 'Boy don't you know you can't escape me, oh darling, cause you'll always be my baby.' That one! [laughs] It sounds so obsessive! I like the original songs usually too, so its more off an offspring of them, rather than me trying to outdo it or anything, I'm just trying to put my spin on it. I'm really glad Brittney Spears, Max Martin and Rami [Yacoub] cleared it. They didn't have to at all. They probably don't even know who I am and they still cleared it. So I very much appreciate that.
On "Nemo," it begins with your signature 'You think you know me' Edge soundbite and ends with a nod to Allen Iverson. Funny to even think of them two both being referenced in the same song.
When I was a kid, I used to come home from school and watch SportsCenter everyday. That's where the basketball and any sports references really come from.
That pocket you're rapping in is way different too.
I made that beat last year offhand. I have like three computers. I have one in each room and they all have different DAWs (Digital Audio Workstation). I have a different feel for each one so when I'm actually working hard, I'll go in a different room each day and work on a different DAW just to keep myself fresh. I made that out of a random pack of beats I made and I thought that beat was interesting enough to live on its own, so I wanted to find a different way to exist around it. Very boom-bap-y, and I like new age boom-bap. Not like the boom-bap people think of now, where n*ggas will just loop some sh*t, and not put drums on it. The boom-bap from the 90s is complex, it's like layered samples, the bass is from this song and the drums from this one— the snares from another, it's like a collage of genius. I like to kind of harness that approach. So that's what kind of rapping this is, it's like a new age take on a boom-bap rap song.
How's the process of making music shifted from Veteran and black ben Carson days to LP?
Now, my process is a lot different. I can just sit and edit songs down and take this out or that out, add this. Every song has a potential to either stay on the album or get kicked off. I remove my emotions from that process now. I put so much work into the song "TRUST!" that I was like yeah people are going to like this song. But they wasn't really f*cking with it [laughs]. So everything has a chance to hit or miss because even If I may think it's a hit, if people don't agree, then it is what it is.
That's interesting because I feel like most artists are usually like, even if people don't like it, that's their sh*t regardless and that's what they like, so that's what they're going to make.
I mean in private, yeah. But general consensus is just the truth for music. Because it's not like this is sports where you're tallying up wins and losses. It's the court of public opinion in this game. So if n*ggas think you trash, and you're saying you're good, somebody's lying.
How did Denzel Curry end up on "BALD! REMIX"? I know it came out a while ago. 
A few months after "BALD!" came out, Denzel hit me up and was like "Man I f*ck with that BALD! song and I actually put a verse on it." And I was like, "But you're not Bald?" And then he just sent me the verse and I… mixed it. That's exactly how it happened. But he killed that verse.
Yo, speaking of, I read somewhere where somebody wrote saying my version of "BALD!" was underdeveloped until Denzel fleshed it out. And I love when people say things like that. Because it's just like, you couldn't have found some other way to just say you don't like me n*gga. You don't have to pretend that you're actually critiquing my work. Talking about my shit "underdeveloped," b*tch it's my song! I developed it!
"DAM! DAM! DAM!" feels introspective. What kind of place were you in when you made that?
I was just trying to tell a story of me and somebody else. Being a rapper and dealing with groupie kind of sh*t. That's why I'm like 'Damn, this is the price of having fans,' like maybe not a direct reference to anything  but I was trying to capture the feeling, 'is this it? I'm a rapper now, I have money, there's b*tches everywhere. I'm playing shows every day. Is this it? Am I supposed to feel like I'm the man now.' Because what if I don't?
And then the title is from the show Good Times, there's a famous scene after her husband dies where she's trying to cook and she drops a pot or something, because the grief just hits her. So in the original version, that sample from the clip plays right before the beat drops.
I saw you tweeted about DONDA.
I liked it. I should've been on it.
Yeah I'm surprised Ye hasn't tapped in with you yet. I feel like it's going to happen though.
I hope so man, I look up to this guy a lot. There's part of me that suspects, and I'm just completely assuming, I honestly don't know, but that you need to have some kind of extracurricular activity going on. And I'm just not that. It's like I'm crazy as sh*t but when it comes to music, I'm coming in to work. So as far as work, me and Kanye could make something incredible and it's sad that we've never met or spoken. But yeah I should've been on that sh*t, I can flip gospel samples in my sleep, and if he got a full choir in that bih, we could just crank out heat all day.
You listen to a lot of gospel growing up?
Yeah, a lot. My family was really religious so I came up with gospel always playing in the background.
You said earlier, 'what if you don't?' Well, do you feel fulfilled?
Nah, I should have more monthly listeners than a lot of these n*ggas, to be honest. So no, I don't feel that fulfilled. For me there's a goal that I want to make it to as far as I can go, uncompromised. I think that's important. If I make it in any other way, and I'm not myself or completely free, like how I am now, then what's the point? So yeah I should have a lot more monthly listeners and until things like that happen, I absolutely do not feel fulfilled. I feel like I'm still scraping from the bottom.
What's next then? What do you hope to accomplish?
Next thing I do, is remaster this tape called the "Ghost Pop Tape" that a certain section of the internet really likes, I don't know why but the demand for it is enough to where I'm going to remaster it and put it on streaming. And that's my next thing I'm actually focusing on.
Then I'm taking like a long break because I've been releasing music for like ten years now and I'm f*cking tired. All these are overprivileged a*sholes who think they can talk to me some type of way. I'm just like, 'n*gga who the the f*ck do you think I am?' So after four years of that, I just need a break. I just need to be away from that sh*t so I can just be a more calm, centered person for an extended period of time.
How are you feeling about the reception to LP?
My fans seem to really like it and as long as they like it, I'm satisfied. Everything els is a bonus. Because when I released EP2!, they didn't really like that too much. So I felt terrible. I don't really care what anybody else said about it. But this one, they seem to be enjoying it. I think they expected me to be on cruise control but it's just like, I don't even know what that is. If I'm working on something, I'm going to put my whole everything into it, and this is the best I could do, in one of the worst periods of time in my life, mentally. So I'm just glad that they like it.