For Your Next Playlist, Stream These 9 Black Music Artists On The Rise
Hand-selected recommendations from YouTube's Tuma Basa and Spotify's Carl Chery.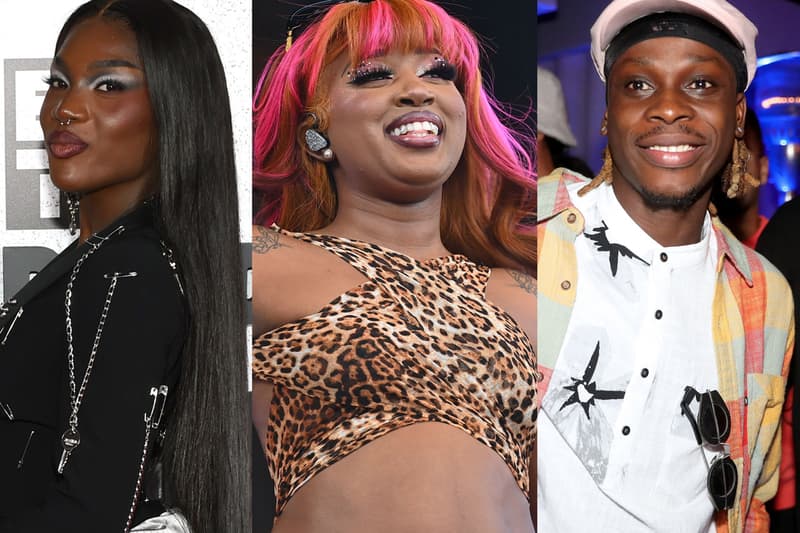 From rap and pop to R&B and soul, there is creative innovation happening in the music industry across genres. Perhaps now more than ever, musicians are utilizing social media and streaming platforms to collaborate, distribute and connect with new audiences through their music.
To help curate your next mix, HYPEBEAST reached out to two tastemakers in the music industry — Tuma Basa, Youtube's Director of Black Music Culture, and Carl Chery, Creative Director of Urban Music at Spotify — to discuss the modern intersection of Black culture and music and to highlight nine Black music artists currently on the rise.
Baby Tate

Atlanta rapper Baby Tate has been making music since 2015, though she hit her stride in 2020 after signing to Issa Rae's label Raedio and releasing the viral single "I Am" featuring Flo Milli. She also happens to be the daughter of soul singer Dionne Farris.
Basa says: "Every time I see her perform, I see the growth. Her music has great energy and she comes from a dope lineage. I listened to her mother back in the day too."
Listen: Spotify | Apple Music
Fireboy DML
Nigerian singer Fireboy DML burst onto the scene in 2019 with his debut LP Laughter, Tears and Goosebumps, followed by 2020's Apollo. He names Jon Bellion and Passenger as some of his contemporary influences.
Basa says: "I went to his concert in D.C. and I knew the music was solid. But I was even more impressed by the chemistry he had with his fans and the depth of his hits."
Listen: Spotify | Apple Music
Jonathan Ferr

Pianist and composer Jonathan Ferr is a staple in Brazil's growing Black jazz scene, creating music that weaves together Brazilian rhythms with Afrocentric themes.
Basa says: "He calls it urban jazz, but to me, it's music to reset your mind and your mood. It deserves to be played on the nicest speakers too. Changes energy in a room!"
Listen: Spotify | Apple Music
Dijon

When Dijon released his first full-length album, Absolutely, last November, he brought over a decade of production skills to the project. And in the months since its release, the Maryland-born artist has already made a splash with his laid-back R&B stylings. In January, he performed on Jimmy Fallon's Tonight Show.
Basa says: "He's got good vibes and dope artistry. Enough said."
Listen: Spotify | Apple Music
EST Gee

Louisville, Kentucky rapper EST Gee launched his rap career after watching rapper and future collaborator Lil Baby perform on TV. Four years and four mixtape releases later, EST Gee linked up with Lil Baby and made a guest appearance on his single "Real as It Gets." Both Basa and Chery have taken note of EST Gee's growing star power.
Basa says: "I love it when an artist from a non-traditional center of music gains traction and reps for their city the way EST Gee has. I'm excited for the upcoming joint project with 42 Dugg, whose music I also love."
Chey says: "We're in the midst of a street rap resurgence and Gee's poised to join collaborators like Lil Baby, Lil Durk and Moneybagg Yo as a star of the movement."
Listen: Spotify | Apple Music
Doechii

22-year-old rapper Doechii began her career on Soundcloud in high school, working out of her bedroom in Tampa, Florida. On her hit single "Yucky Blucky Freestyle," she raps about her childhood, anxiety and escaping poverty over a buzzy punchy beat.
Chery says: "One of the most multifaceted artists we've seen since Missy Elliott, Doechii has incredible range."
Listen: Spotify | Apple Music
Mike Dimes

The San Antonio rapper dropped his 10-track debut EP DLOG last year. A friend sent one of Dimes' songs, "MY STORY," to TikTok personality OccupiedLiving and, overnight, the song had accrued about one million streams.
Chery says: "From his authoritative tone to his choice of production, Mike taps into a neck-snapping energy that's been missing in hip-hop."
Listen: Spotify | Apple Music
Nardo Wick

Jacksonville-born rapper Nardo Wick is best known for his 2021 single "Who Want Smoke?," the remix of which features G Herbo, Lil Durk and 21 Savage. Who Is Nardo Wick? was released the same year and includes the remixed track alongside features from Future, Lil Baby and Hit-Boy.
Chery says: "Nardo was minted one of rap's most promising new artists with his debut album. He lived up to the expectations."
Listen: Spotify | Apple Music
Remble

Remble is often celebrated for his precise and poetic flow. In 2020, after a brief hiatus from making music, Remble tagged late rapper Drakeo the Ruler in his song "Ruth's Chris Freestyle" and the two collaborated on a remixed version. Remble went on to join Drakeo's Stinc Team, an L.A.-based rap collective and considered him to be a mentor.
Chery says: "Remble has done a masterful job of sounding familiar and original all at once."
Listen: Spotify | Apple Music