WhistlePig Embodies Its Name in Limited 10 Year Old "PiggyBank" Rye Whiskey
"An incredibly delicious whiskey that arrives from behind."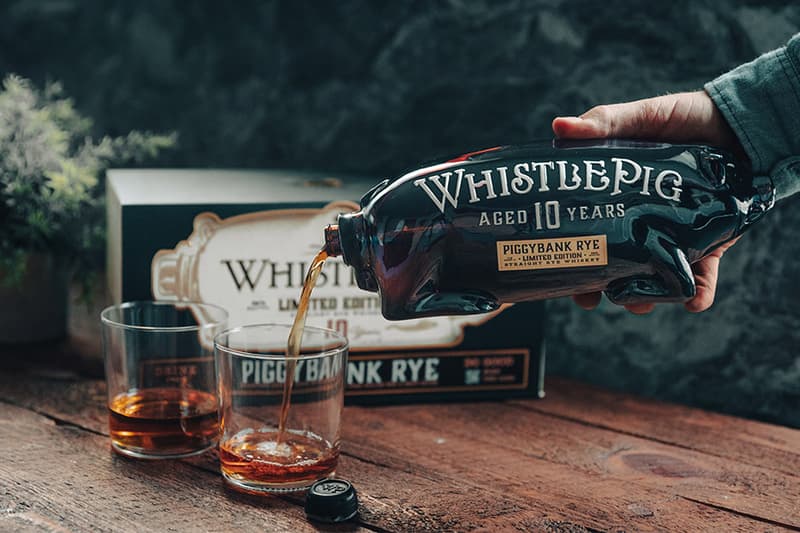 WhistlePig is back with another limited whiskey offering in the form of a 10-year-old PiggyBank Rye. Taking its name on a literal level, the Shoreham, Vermont-based distiller crafted a porcine decanter to house its 10-year Rye Whiskey.
"With zero generations of tradition behind us, we're only looking forward," says Liz Rhoades, Whiskey Scientist. "This is the story of the next decade of WhistlePig – one that will bring new frontiers beyond Rye, even bigger age statements, stupendous complexity and undoubtedly more pig hijinks. There's no better way to mark the occasion than with an incredibly delicious whiskey that arrives from behind."
This release also celebrates the distiller's recent milestone where WhistlePig auctioned an original 19th-century, antique Berkshire Bitter Pig filled with 20-year-old Rye Whiskey – 10 years for the first decade, 10 for the next – at Christie's in June. This lot sold for an impressive $125,000 USD where all proceeds went to benefiting the next generation of world citizens via the Gumball 3000 Foundation.
"We won our first 'Best Rye' award for an innovative whiskey release in 2012," says Jeff Kozak, WhistlePig CEO. "And we haven't stopped experimenting since. We've broken ground on nine Rye grain and experimental crop fields across 500 acres in Vermont, fermented yeast foraged from a ham's hind, delivered the Great Beer Rescue, countless epic finishes, and even a whiskey fueled car. We're erasing the boundaries of traditional whiskey making in an attempt to bring you the best of Rye the best way we know how – big, bold and unapologetic."
The WhistlePig 10 Limited Edition 1-Liter Pig Decanter PiggyBank is priced at $199.99 USD and can be found now over at WhistlePig.
DISCLAIMER: We discourage irresponsible and/or underage drinking. Drink responsibly and legally.
In other drink news, Siempre releases Exclusivo-Vivo tequila made with wild fermentation.