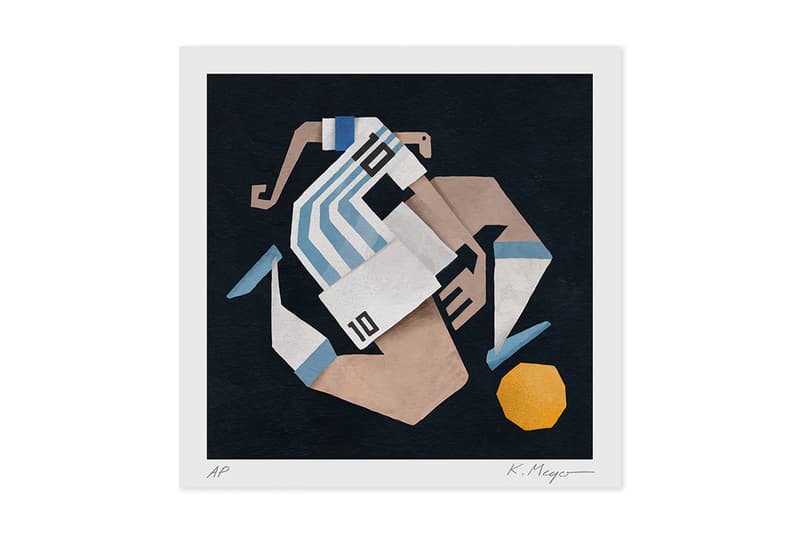 Grotesk Releases Limited-Edition Messi Archival Print
Vamos, Vamos, Argentina.
---
Much of the world is still trying to make sense of the combination of madness and brilliance that was the 2022 FIFA World Cup Final. It was a match that reminded football fans, old and new, why the sport is beloved around the world and like a proper blockbuster, fielded a number of player-personalities that rivaled even the best films and actors. The star leads, Kylian Mbappé and Lionel Messi, were nothing short of incredible — showcasing what many now believe the greatest footballer who ever lived against his heir apparent.
To keep the championship celebrations ringing, acclaimed artist Kimou Meyer, aka Grotesk, released a new Messi-inspired print for football fans to forever cherish on their walls. Set against a black background, the Swiss-born, Portland-based artist reinterprets the star footballer in his signature elongated forms as Messi dribbles a golden ball in the 'Albicelestes' home shirt.
LEO is a giclee print that sizes 11 x 11 inches and is printed on archival heavy photo rag paper. Limited to an edition of 100 (plus two artist proofs), the artwork comes signed and numbered by the artist and is available to purchase unframed for $100 USD.
Elsewhere, Geoff McFetridge presents Rust Drinkers at Louis Buhl & Co.